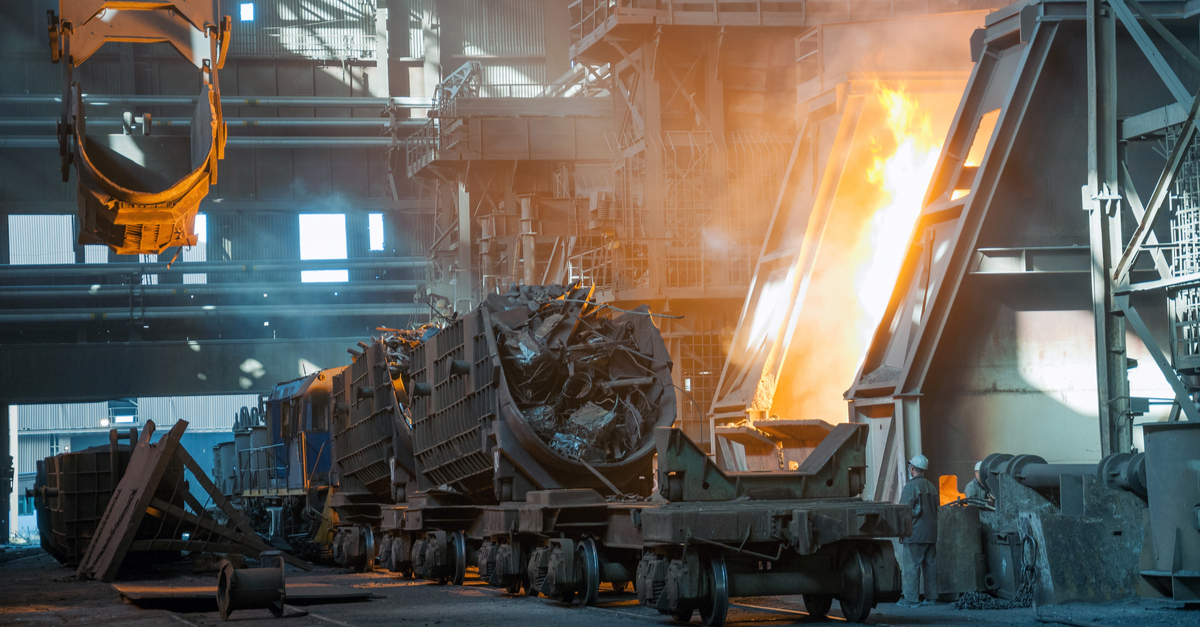 (c) shutterstock.com
Scrap is still the most important material for reducing emissions in steel industry
Despite Russia's military aggression against Ukraine and "green" agenda partial abandonment in Europe and China due to energy shortages and rising energy prices, the trend for decarbonisation in developed countries will not change. In steel industry, it includes switching to electric steelmaking facilities and increasing the use of scrap. About 630 million tons of scrap are processed annually worldwide, which makes it possible to reduce CO2 emissions by 950 million tons.
The situation in Ukraine and the world
According to the results of 2021, world consumption of scrap in steel production (without pig iron) increased by 12% compared to 2020, to 620 million tons.
In 2021, the share of scrap in steelmaking increased to 32%, while in 2019 it was 30%, and in 2020, at the height of the pandemic – 29%. China accounted for almost 40% of the total use of scrap in steel production. During the year, the country consumed 245 million tons to produce 1.03 billion tons of steel.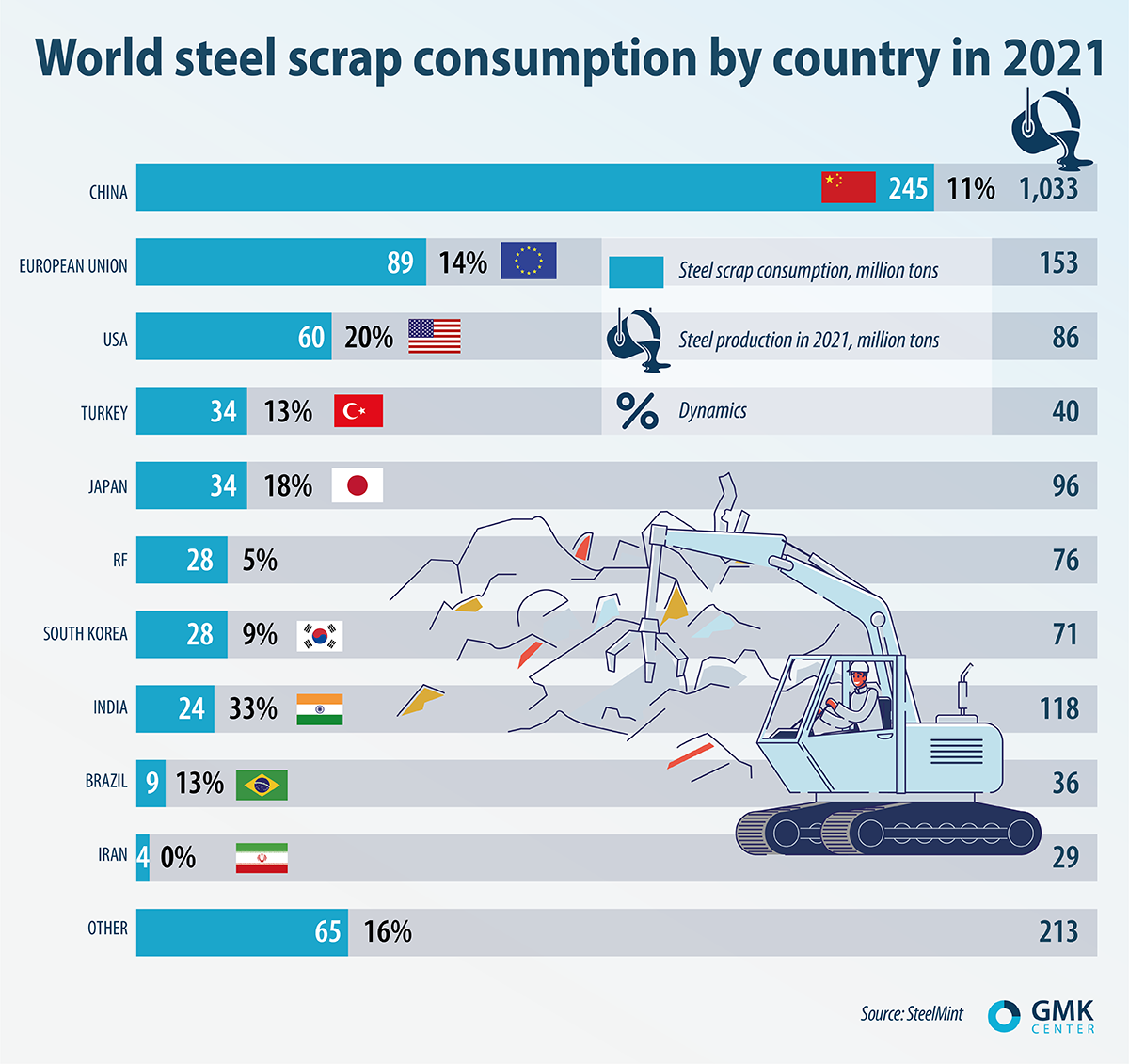 China will obviously be the largest consumer of scrap next years. Steel plants in China increase consumption of scrap to reduce carbon emissions and dependence on iron ore imports. The collection of scrap in China in 2020 is estimated at 250-260 million tons. It is expected that by 2025 the collection of scrap in China will increase to 300 million tons. By 2025, China intends to increase consumption of steel scrap by 23%, to 320 million tons. The Chinese government will support the import of scrap to achieve climate goals.
In Ukraine, on the other hand, in January-April 2022, the scrap collection decreased by 50.4% compared to the same period in 2021, to 620.1 thousand tons. Scrap supplies to steel plants fell by 47.1%, to 583.5 thousand. Exports of scrap for four months amounted to 7.1 thousand tons, while in January-April 2021, 87 thousand tons of scrap were exported.
In 2021 scrap collection in Ukraine increased by 34.6%, to 4.1 million tons. Scrap supplies to steel plants increased by 15%, to 3.3 million tons. Exports of scrap from Ukraine in January-December increased 17 times, to 615.7 thousand tons.
Nobody can say now how much scrap Ukrainian steelmakers will need in 2022 and how much scrap producers will be able to collect. No pre-war calculations are relevant, and the future is highly uncertain due to hostilities.
Scrap in the West
The European Union is likely to need more scrap this year, despite the expected decline in metal consumption. The European Steel Association, EUROFER, has adjusted its forecast for the consumption of metal products in the EU in 2022. Compared to the February forecast of metal consumption growth of 3.2%, the association now expects a decline of 1.9%. In 2021, the EU produced 152.5 million tons of steel, which consumed 88.5 million tons of scrap, which is 58% of total production.
ArcelorMittal, for example, plans to double the purchase of scrap. ArcelorMittal Europe's decarbonisation program includes the replacement of blast furnaces at all steel plants with electric arc capacities that use scrap and recovered iron as raw materials.
ArcelorMittal has acquired several scrap metal processing companies in Germany. The group became the owner of 10 scrap metal warehouses in the south of Germany, which process about 400 thousand tons of waste per year, most of which is scrap. Earlier in March, ArcelorMittal took over scrap trader John Lawrie Metals from Scotland.
Steel companies' efforts to switch to self-sufficiency in scrap are already becoming a stable market trend. American steelmakers Cleveland-Cliffs and BlueScope have acquired scrap processing companies in the Midwestern United States over the past few months. And recently the American steel company Steel Dynamics Inc. (SDI) has acquired the Mexican company Roca Acero, which processes ferrous and non-ferrous metals. Roca Acero has four scrap collection and processing sites in central and northern Mexico with a total capacity of 835,000 tons per year. SDI has bought a Mexican scrap supplier to supply raw materials for its new plant, located on the border with Mexico and designed to smelt up to 2.7 million tons of steel a year.
In turn, EUROFER proposes to stop export scrap to countries that do not meet EU environmental and social standards. Interestingly, a similar proposal the association has already declared in the spring of 2021.
At the same time, last autumn, the European Commission, following a review of waste transportation policy, proposed to limit the export of scrap to Economic Cooperation and Development (OECD) non-member countries. According to the European Commission's proposal, non-OECD countries can import scrap metal from the EU only with prior official request. At the same time, importers must prove that the processing of imported waste is carried out in compliance with environmental standards.
According to the European Commission, in 2020 the sale of scrap to non-OECD countries accounted for 25.6% of total scrap exports from the EU. By its decision, the European Commission protects the EU market from the growing influence of China on the scrap market.
As Turkey, a key importer of European scrap, is a member of the OECD, the consequences of this decision may not be very significant for it. According to Eurostat, the total volume of exports of scrap ferrous metals from the EU in 2021 reached 19.5 million tons (in 2020 17.5 million tons), which is 48% of all exported raw materials. Of these, 13.1 million tons were sold to Turkey. In general, in 2021, Turkey increased scrap imports by 11.5% compared to 2020, to 25.1 million tons. In addition to the EU, the Turks imported scrap last year from the United States – 3.8 million tons (-13, 7%) and CIS countries – 2.65 million tons (+ 8.8%).
Another barrier might be a proposal to control scrap exports to non-OECD countries. The European Commission wants to have a right to ban exports in a particular direction if there is a sharp increase in supplies and damage to the environment or public health.
Valuable resource
Scrap metal is the most valuable raw material for the decarbonisation process, and many countries are already taking solid steps to protect their domestic markets from the export of this resource. In 2021, Ukraine, Russia, Kyrgyzstan and Argentina introduced such measures. There probably will be a shortage of this raw material in some regional markets if many countries around the world limit their exports.
Scrap prices on the Turkish market rose sharply after the beginning of Russia's military aggression against Ukraine, from $506 per ton on February 23 to $650 on March 8. The price of $650 per ton lasted a little over a month, while consumers assessed the risks and decided on further action. However, since the second decade of April, scrap prices have declined just as sharply, to $462 per ton on May 20. The reason for lower prices is the weak demand for finished metal products and dumping prices for Russian billets with prompt shipment. However, in the long run, scrap will no longer be a cheap raw material, given its strategic importance for decarbonisation and the development of electric steelmaking facilities.
Wood Mackenzie, a consulting firm, forecasts that carbon emissions from the steel industry will be reduced by 30% by 2050 compared to 2021. Such results can be achieved with more and more plants are switching to less polluting electric steel capacities. Wood Mackenzie expects that in 30 years, about 48% of the world's steel will be produced in electric arc furnaces, compared to 30% in 2021.
---
---