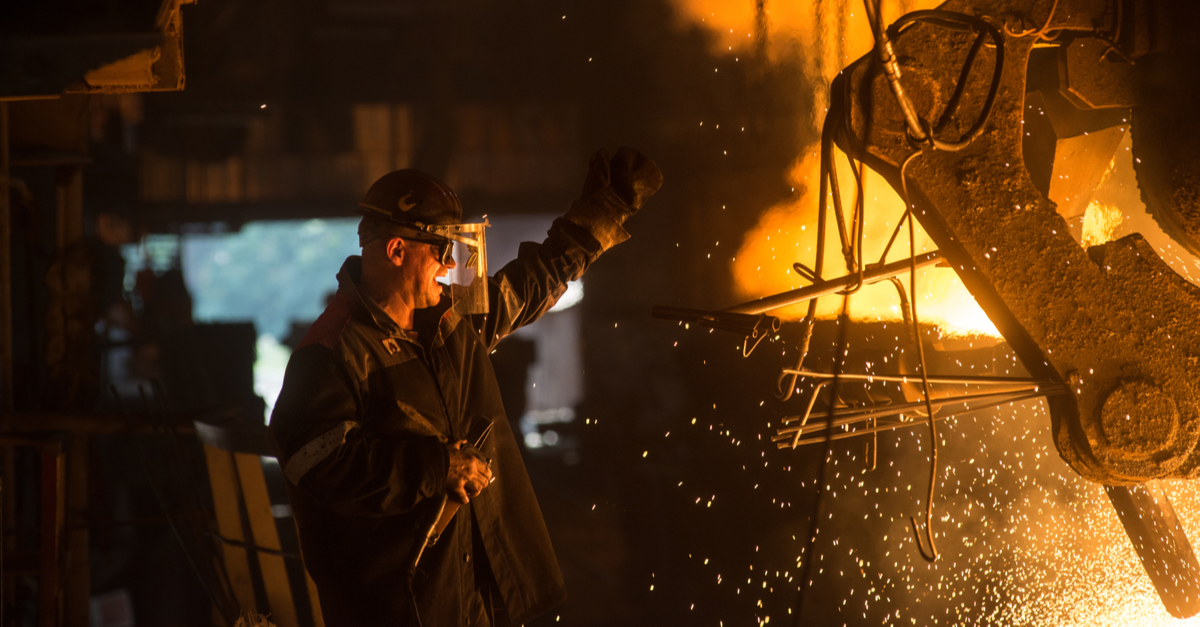 (c) shutterstock.com
The war, problems with logistics and raw materials deliveries are strongly affect the steel production too
Russia's military aggression against Ukraine affected mining and metallurgical complex drastically. Since March, many enterprises have reached an average load of 50% from pre-war levels. However, the hostilities, logistical problems, and low metal prices on the global market cast doubt on the industry's plans to increase load and production.
Plans collapse
Since March, Ukrainian steel enterprises have been increasing their production volumes. According to GMK Center calculations, 220 thousand tons of steel were produced in March, in June – 530 thousand tons. Therefore, there were expectations of a production growth, and working plants were preparing for that.
The current load level of working steel plants averages 40-50%, except Kametstal, where about 75% of pre-war capacities are in operation.
Metal companies planned to increase production. At Zaporizhstal they were about to restart blast furnace №3 in August. After that, the plant's capacity would have reached 75%. Now the company has two blast furnaces working, which delivers 50% load.
In June, ArcelorMittal Kryviy Rih launched one blast furnace, ensuring in May 20% of the total plant's load for the production of iron and steel. One of the six converters, two coke oven batteries, one continuous casting machine worked. In June, it was planned to launch another blast furnace, which would increase the load to 40-50%.
Steel plants operations restart contributed to the recovery of the Ukrainian economy. However, in June the situation on international markets deteriorated sharply.
Price reduction
Europe today remains the only market for Ukrainian steelmakers. Prices on the European market started to fall in mid-April, and in the second half of June, the decline accelerated. At the end of June, hot-rolled coil prices reached the level of early 2021, while iron ore prices fell by 26% over this period.
Until recently, hot-rolled coil was the scarcest product in Europe due to the cessation of supplies from Ukraine and the Russian Federation. It was extremely difficult to replace them. But the market adjusted itself – demand started to decline. Prices have dropped.
Many economists see signs of a recession in the current drop of demand in Europe. Commodity prices are a kind of main indicator.
The leading consulting company in the steel industry, World Steel Dynamics, uses a methodology to analyze the price situation in the markets, in which the key factors are:
demand for steel in the world outside of China;
export from China.
What do we see today? Falling global demand and forecasts for growing exports from China (+40 million tons, according to the Chinese consulting company SteelHome). This happens because of a number of factors:
energy prices shock and growth of inflation;
tightening of monetary policy in the US and expected similar steps from other regulators;
slowdown of the Chinese economy.
In such a situation, the steel market has no chance.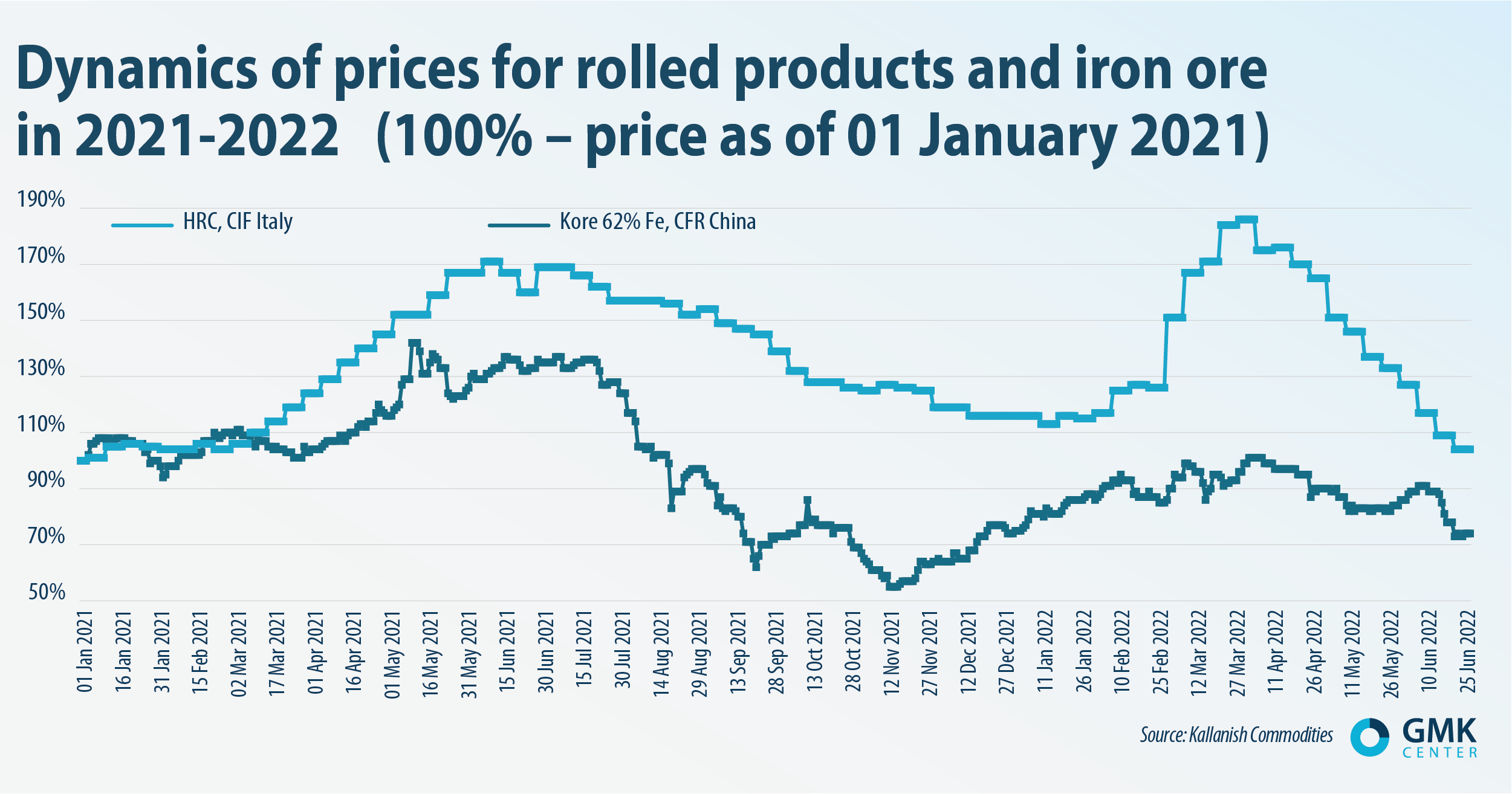 Both rolled products and iron ore prices are falling. Since domestic companies are vertically integrated, the fall in commodity prices reduces their sustainability. Earlier Ukrainian steelmakers could make money on iron ore if the steel prices went low. Now the situation has "flattened out" – prices have fallen on everything, margins have decreased both in the mining and metals segments. Given the problems with logistics and rising transportation costs, Ukrainian mining companies are operating almost on the edge of profitability.
In June, steel producers' margins were 25% lower than the 2018-2019 average, according to World Steel Dynamics. This is the world average. But in 2018-2021 the expenses of steel companies in Ukraine grew faster than their competitors, due to higher dollar inflation in Ukraine. In 2022, Ukrainian producers found themselves in a much more difficult situation because of the war.
Other challenges
Ukrainian mining & metals companies are trying to find new logistics solutions, as the Black Sea ports are blocked by Russia. The ports of Romania and Poland are accessible the most. The restrictive factors are the poor capacity of Ukrainian ports on the Danube and railway border crossings, rail cars congestions at border stations and competition with grain exports. Thus, the existing railway infrastructure will in no way be able to replace the Black Sea ports.
"Problems with logistics have not been resolved. We have significant problems with shipping our products to customers in the EU. All our routes before the war passed through ports, but so far, they are inaccessible. Now we are experiencing significant congestions at border crossings in western Ukraine. All this forces us to consider the option of reducing production, because our products simply cannot be transported across the border," explains Olexandr Myronenko, CEO of Zaporizhstal
Another significant problem is the import of coal. In Ukraine today, only coking coal grade K (hard cokingcoal) is mined. Supplies of other grades required for coking (soft, semi-soft), as well as anthracite, depended on the Russian Federation. Coal from Kazakhstan is also not available, as it was previously transported through Russia. Therefore, it turned out to be a difficult task to adjust to supplies from other sources in the conditions of the blockade of ports.
The simplest solution seems to be importing coal from Poland. However, in Europe, coal is supplied under long-term contracts – there is no significant supply on the spot. Overseas coal has to be transported through Poland, which means additional logistics costs.
Effects
Now, Zaporizhstal Iron and Steel Works is considering the option of reducing production volumes due to problems with logistics and the inability to ship products to consumers in Europe. Other companies will reconsider their plans too.
Earlier GMK Center expected a 63% decline in steel production in Ukraine, to 7.9 million tons. And to 6.5 million tons next year. Now these calculations look unrealistic.
If the economy of the Western countries really enters into recession, it will be a tough test for the domestic steel industry. Loading is so low. It is impossible to reduce production more, only completely stop the plants.
---
---