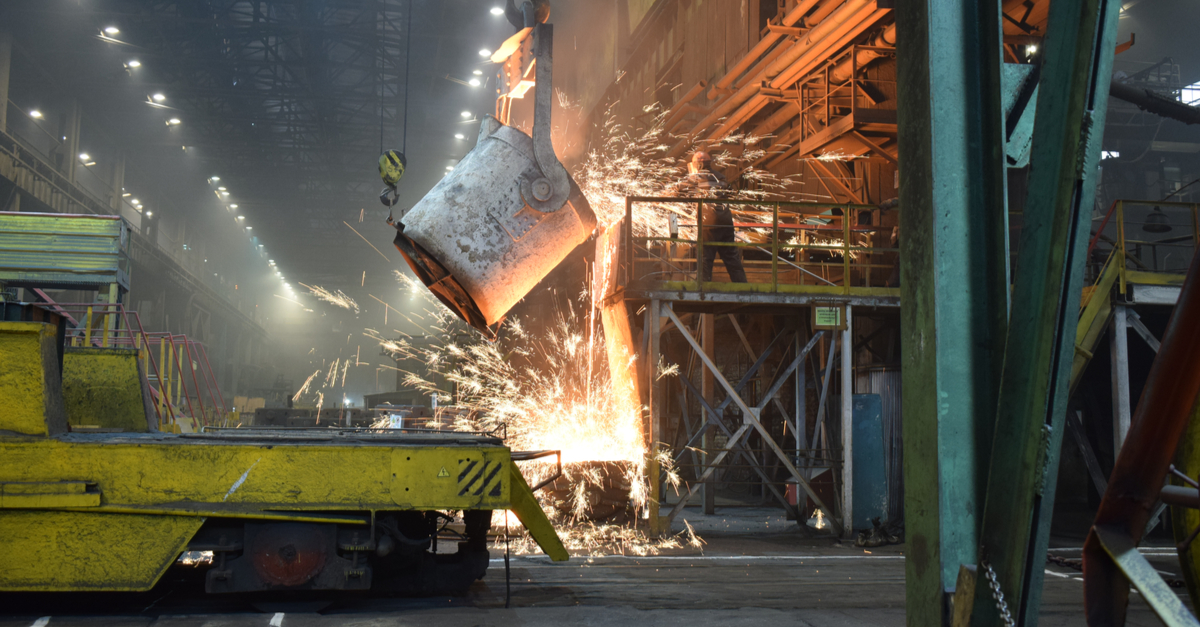 After 6 months of war, steelmakers from the Russian Federation are experiencing difficulties with exporting products and buying spare parts for equipment
Western sanctions did not work against Russian steel industry as it would have been desired. However, Russian steelmakers are forced to look for new markets and logistics routes – deliveries of steel products, semi-finished products and raw materials continue.
Many producers from Russia have been sanctioned. Canada, the UK, the United States and the European Union introduced sanctions against Russian steel products. The EU has imposed sanctions on finished rolled steel and pipes, but has left the open doors for iron ore and semi-finished products.
Asking price
It is difficult to accurately assess the impact of sanctions on Russian steel industry. Starting from June 2022, the Russian Federation stopped publishing official statistics on steel production. According to the World Steel Association (WSA), steel production in the country for the first 5 months of 2022 fell by 2.3% y/y, to 31 million tons. According to WSA estimates, steel production in Russia in June 2022 was at the level of 5 million tons (-22.2% y/y), in July the rate of decline slowed down and monthly production reached 5.5 million tons (-13.2% y/y). Thus, for January-July 2022, 41.4 million tons were produced (-7% y/y).
"We really do not see a significant decline in the volume of steel production in the Russian Federation. Exports from Europe were reoriented to the markets of Turkiye, China and a number of Middle Eastern countries. Although the search for sales in these directions was problematic. The reputational discounts of 15-40% were provided," says the chief analyst of GMK Center Andriy Tarasenko.
The dynamics of individual Russian steel companies' production according to the results of the first half of 2022 is as follows:
Severstal – a 14% decrease in production compared to the first half of 2021;
Magnitogorsk Metallurgical Plant – 15% decrease;
Novolypetsk Metallurgical Plant (NLMK) – reduction of steel production by 1% – to 8.9 million tons;
Evraz – revenue was $8 billion (+31%); net sales – $6 million compared to $1.21 billion for the first half of 2021;
Norilsk Nickel – the amount of revenue did not change ($9 billion); net sales increased by 18%, to $5.1 billion. Production indicators also increased: nickel output increased by 26%, to 100,000 tons, copper output – by 18%, to 204,000 tons;
RusAl – ruble revenue decreased by 55%, to 70.3 billion rubles, profit from sales fell by 55%, to 68.9 billion rubles.
Export-oriented Russian steel companies suffered the most. Some of them have decided not to publish financial statements for the first two quarters of 2022.
According to NLMK's forecast, by the end of 2022, Russian steelmakers will reduce production by 15% y/y, or by 11 million tons. The largest decrease in the production of flat products will be 23% year-on-year. The production of long products will decrease by 15% y/y. The output of semi-finished products will fall by 6% y/y.
At the same time, according to WSA estimates, steel consumption in Russia will fall by 20% in 2022, to 35.1 million tons, against 43.9 million tons in 2021.
"The trend of decreasing production and finances will appear closer to the end of the year. Due to problems with budget financing, Russian steel producers will not be able to actively support the domestic market, and the decrease in prices on world markets will reduce the opportunities for conducting an aggressive trade policy. Companies will experience financial problems," explains Andriy Tarasenko.
Bypassing sanctions
Sanctions against steel products from the Russian Federation forced producers to look for new sales markets, in particular in Asia. Russian steelmakers chose countries that did not join Western sanctions – China, India, Turkiye, etc. In particular, in 8 months of 2022, total Russian exports to China jumped by 50% y/y – up to $72.9 billion, while imports into the Russian Federation from Сhina increased by only 8.5% y/y, to $44.2 billion. In January-August 2022, Russian exports of semi-finished products increased many times over the year to China. However, Russian Federation's steelmakers will not be able to fully reorient steel supplies from Europe to Asia.
On the other hand, some of the Russian steel products (mostly semi-finished products) were in great demand, in particular due to the cessation of supplies from Ukraine. In particular, Russian steel semi-finished products were sold to Turkiye at significant discounts, which strengthened the competitiveness of local steel rolling companies.
"Price dumping was not a decisive factor for Russian producers, who had the world's largest margin of profitability and received, after all, state support. Russian semi-finished products in Turkiye, for example, were more profitable than buying scrap, which caused a drop in scrap prices. Therefore, such agreements were beneficial to buyers, and Russian steel found sources of sales. Sales with large discounts had a negative impact on the financial indicators of Russian producers. But we haven't seen this yet, as prices rose in the second quarter of 2022 due to the disruption of supply chains," Andriy Tarasenko emphasizes.
However, such a situation could not last long, because after Russian semi-finished products, finished rolled steel from the Russian Federation came to the Turkish market. Local steel companies were not interested in such supplies. According to the vice president of the Turkish Steel Exporters' Association Uhur Dalbeler, Russia reduced the prices of steel exported to Turkiye. This negatively affected the competitiveness of Turkish producers. Russian steel producers began to pursue a more aggressive policy on the Turkish market due to sanctions and improved their position by setting prices that were much lower than market ones. In other words, deliveries of Russian semi-finished products were beneficial to steel companies, and finished steel products – to direct consumers.
In the summer of 2022, India increased its purchases of steel products from Russia, as prices were very attractive. In July 2022, the import of ferrous metals from the Russian Federation increased fivefold year-on-year, to 29.7 thousand tons. According to Argus estimates, in August 2022, India increased the import of finished rolled products by 11.8% y/y, up to 442 thousand tons.
Russian owners of rolling mills in Europe invent their own methods of circumventing sanctions. Thus, NLMP supplies products to the EU market through the Belgian subsidiary NLMK Belgium Holdings SA and SOGEPA. Using the schemes, Russia delivered more than half of its steel exports to the EU in January-May 2022 – 4.7 million tons. According to official data, in January-May 2022, the European Union accounted for about 40% of steel exports from Russia (according to 5 months of 2021 – 37%). Due to deliveries to bypass sanctions, this indicator can reach 50%.
Causes and consequences
In the conditions of the global market, bypassing Western sanctions is not impossible. However, it takes time to find new buyers and establish new logistics routes. Currently, Russian companies are "taking" buyers by price dumping, but this situation cannot last long. Western countries threaten companies with secondary sanctions for circumventing established procedures.
Russian producers profit from almost unlimited supplies of cheap natural gas. At the same time, European producers are suffering from a rapid increase in energy prices. However, Russian steelmakers are already complaining about the unprofitability of export supplies due to dumping, the strengthening of the ruble, and logistics costs. In such conditions, exports become pointless, says NLMK. No less acute is the problem of an export surcharge in the tariffs of the Russian railway operator RZHD.
Also, a big problem for Russian steelmakers is the impossibility of working with Western equipment suppliers and engineering companies. Import substitution is a very weak point of Russian steel industry. Thus, Nornickel recently lost 50% of traditional suppliers of spare parts and equipment.
The sanctions policy of the West is inconsistent. Sanctions were partly imposed against the owners of industrial enterprises, and partly against companies. At the same time, after the introduction of personal sanctions, Russian owners began to massively exit their assets, formally removing them from the sanctions.
A classic example is Volodymyr Potanin, the owner of Nornikel, against whom sanctions were imposed by the UK and Canada. At the same time, the company found itself outside the sanctions lists, given its important role in the supply of nickel and palladium to the global market.
Moreover, the USA and the European Union despite everything are increasing purchases of aluminum and nickel from the Russian Federation. In March-June 2022, the European Union bought 13% more aluminum and 22% more nickel from Russia. The USA increased imports of these metals from the Russian Federation by 21% and 70%, respectively.
On the other hand, buying Russian nickel and aluminum, the USA practically stopped buying ferrous metals from the Russian Federation. This happened after the US revoke Russia's most-favored nation (MFN) trade status. In July 2022, the United States purchased ferrous metals from Russia worth $600,000, compared with $201 million worth of supplies in June. In 2021, the US accounted for 9%, or $2.8 billion, of the total volume of ferrous metals exports from Russia.
Europe is gradually abandoning Russian energy resources (coal, self-limitation of gas consumption by 15%, with which not all European countries agree). At the same time, supplies of Russian iron&steel complex remained outside the focus of the EU (supplies of iron ore, steel semi-finished products continue). They bring billions of dollars to the Russian Federation. In order to ensure the consistency of sanctions, Ukraine should have been given the opportunity to supply these products to the EU market instead of the Russian ones.
---
---