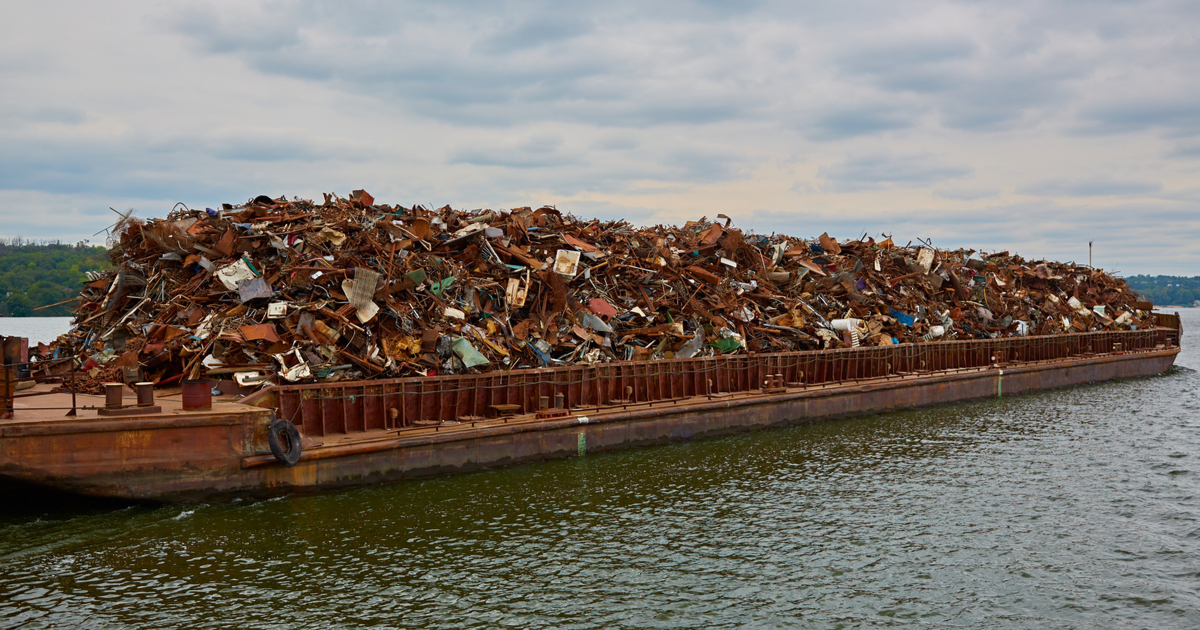 Scrap metal
More and more countries recognize scrap as a strategic raw material and limit exports
Ferrous scrap is an essential raw material, the use of which will allow different countries to achieve their climate goals. There was no increase in consumption in the first half of the year, but all forecasts suggest that the role of ferrous scrap in steel production will only grow in the coming years. At the same time, Ukraine continues to increase scrap exports to Europe, which already has no particular problems in scrap, being the largest scrap exporter in the world.
Global market
Despite the importance of scrap as a raw material, the global ferrous scrap market faced negative trends in the first half of the year. According to the Bureau of International Recycling (BIR), scrap consumption in all major countries and regions decreased compared to the same period last year. China remains the largest consumer, although even there the use of scrap decreased by 2.9% y/y – to 116.2 million tons.
In addition, global imports of scrap in the first half of the year decreased by 8% y/y – to 27 million tons compared to the same period of 2022. The top three leading countries in scrap mports in January-June 2023 are as follows:
Türkiye – 9.6 million tons (-22% y/y);
Bharat – 5.25 million tons (155%);
USA – 2.5 million tons (6%).
Decrease in consumption and import of scrap is directly related to decrease in steel production. Thus, global steel production in the first half of the year decreased by 1.1% – to 943.9 million tons, while in different regions the dynamics was even worse: steel production in the EU in January-June fell by 10.9%, and in North America – by 3.5%. The steel market is negatively affected by high credit rates, which slow down business activity, inflation and currency devaluation in different regions of the world, as well as high energy prices.
Global scrap consumption in 2022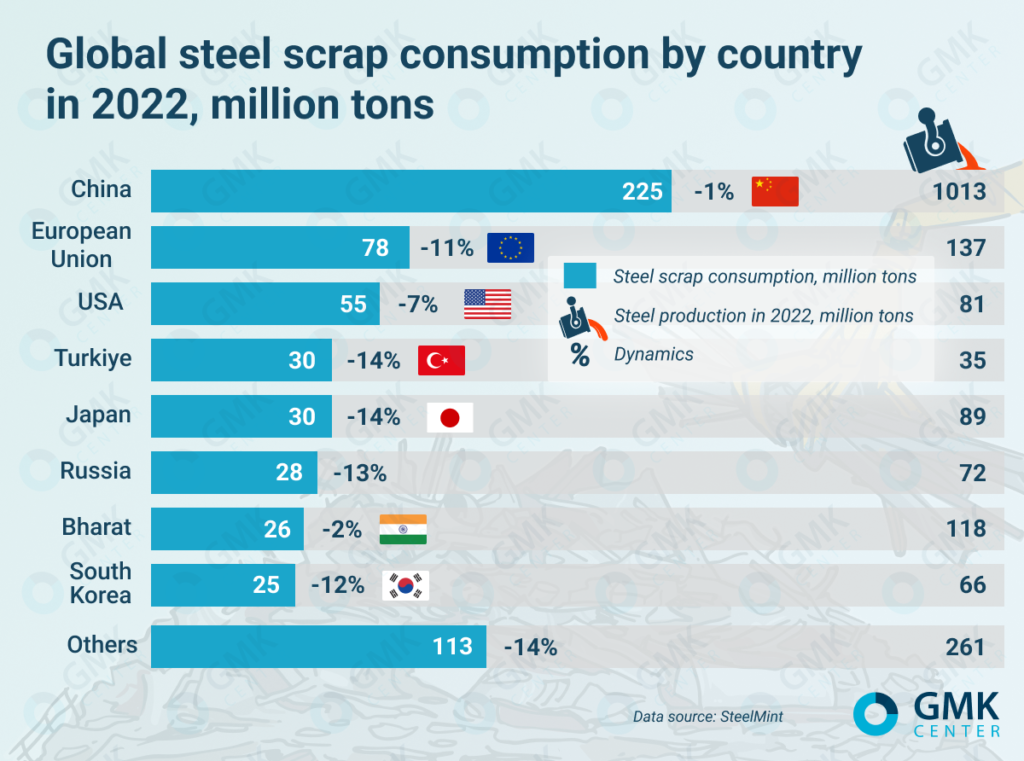 European scrap
The European Union is one of the largest consumers of scrap in the world. According to SteelMint, the volume and dynamics of ferrous scrap consumption in the EU were as follows:
2020 – decrease by 10.3%, to 77.5 million tons;
2021 – growth by 14%, to 88.5 million tons;
2022 – decrease by 11%, to 78 million tons.
The EU is also one of the largest exporters of scrap. In 2022, the EU exported 17.4 million tons of scrap, and in the first half of 2023 – 9 million tons (+4.5% y/y).
There are different views on scrap supply in Europe. EURIC, a specialized European association representing the EU recycling industry, currently sees no risks of scrap shortage for European steel producers.
At the same time, according to the estimates of the Association of Rebar Producers and Exporters (IREPAS), due to the transition of steel producers in Europe to electric arc furnaces (EAF), the EU may turn into a scrap importer in less than 5 years. In 2022, the share of EAF in European steel production was only 43.7%, but its share will grow substantially in the next 3-5 years.
The EU is officially preparing to include scrap in the list of strategic raw materials. The authorities of some European countries are making efforts to protect their market. For example, the Italian authorities have complicated the conditions for exporting scrap, which is now considered a critical raw material, and its export from the country is subject to declaration. Ukraine, as a future member of the EU, needs to take these regulatory factors into account, as they will affect us when we join the EU.
Turkish factor
Turkiye is one of the world leaders in the consumption (30 million tons in 2022) and import of scrap, which is due to the high share of electric steelmaking capacity in the local steel industry (71.5% in 2022). Turkiye in particular consumes the lion's share of European exports of these raw materials. In 2021, the EU exported 19.1 million tons of scrap, including 13 million tons to Turkiye. In 2022, the same figures were 17.4 million tons and 10.7 million tons respectively.
However, in 2022-2023. Turkiye was reducing its scrap consumption. In January-September 2023, Turkiye's scrap imports fell by 16.4% y/y – to 14.1 million tons, while in 2022, the country reduced its raw material imports by 16.5% y/y – to 20.9 million tons. The decline in imports was due to the fall in domestic and European demand for Turkish flat steel in 2022, as well as unrealized expectations of active demand for steel after the earthquake in February 2023, rising inflation and devaluation of the lira.
Ukrainian scrap
Despite the growth of scrap collection in 2023, the collection of raw materials is below the level of consumer demand. According to the UAVtormet association, the volume of scrap collection in Ukraine in January-October 2023 increased by 13.4% compared to the same period of 2022 – up to 993 thousand tons. Domestic consumption for the same period amounted to 797 thousand tons. At the same time, according to the calculations of Ukrmetallurgprom, in 2023 it is planned to smelt about 6.2 million tons of steel (for 10 months produced 5.2 million tons), for which steelmakers need 1.9 million tons of scrap. In total, Ukrainian scrap collectors forecast the collection in 2023 at the level of 1.25-1.3 million tons, but their forecasts are often overly optimistic, while there is not much time left until the end of the year.
There is a systematic growth in ferrous scrap exports throughout 2023. The dynamics of ferrous scrap exports has been wavy in recent years. According to UAVtormet, scrap exports for 10 months of 2023 amounted to 146.9 thousand tons, which is 3.9 times more than for the same period last year. At the same time, in 2022, exports of raw materials decreased by 11.4 times y/y – to 53.6 thousand tons, and in 2021 – increased by 17.2 times, to 615.7 thousand tons.
The volume of scrap exports in 2023 turned out to be much higher than market expectations. At the beginning of this year UAVtormet predicted the volume of scrap exports in 2023 at the level of 50-80 thousand tons, and in September this figure rose to 180-200 thousand tons.
The main export destination for Ukrainian scrap is the EU. The largest importers of Ukrainian scrap in January-September were Poland, which received $32.7 million (86.6%), Greece – $2.7 million (7.2%) and Bulgaria – $1.1 million (2.9%). According to Eurostat, in the first half of 2023, scrap exports from Ukraine to the EU amounted to 89.8 thousand tons of raw materials, including 82.2 thousand tons to Poland.
Ukraine's European integration has led to a geographical export collision. The cost of the certificate of origin (EUR.1) for scrap exports to Europe is €3 per ton, while external deliveries to other regions of the world will face a customs duty of €180 per ton. On the one hand, Europe does not depend on Ukrainian scrap and is the largest exporter, but on the other hand Ukraine will soon become an EU member and the ferrous scrap market will be common within the EU, but with regulation at the country level.
Since the EU is a net exporter of scrap, supplies of similar raw materials from Ukraine do not play a big role for the European market. UAVtormet believes that Ukraine will be able to export about 500 thousand tons of scrap to Poland from next year. Such volume of export at the insufficient level of scrap harvesting can lead to a shortage of raw materials in the domestic market and bury the hopes of the European Commission on greening of Ukrainian steel production. In March 2023, Interpipe Steel's electric steelmaking complex has already briefly suspended operations due to scrap shortage. Therefore, steelmakers are in favor of toughening the conditions for exporting scrap to Europe, in particular, for temporary limitation of scrap export and elimination of gray schemes.
The role of scrap in Ukrainian steel industry will inevitably increase in the conditions of post-war economic recovery. The issue of renewal and modernization of steel capacities will arise in the context of Ukraine's membership in the European Union. European steelmakers are moving towards the construction of electric arc furnaces and direct reduced iron (DRI) plants. Ukrainian steelmakers may also choose this option, as Ukraine has suitable iron ore reserves for DRI production. However, DRI is mixed with scrap in electric arc furnaces, so the availability of scrap will determine the decarbonization possibilities of Ukrainian metallurgy in the long term.
Demand outlook
Scrap is a strategic raw material for achieving carbon neutrality goals by the global steel industry. Steelmakers around the world are now making plans or already implementing projects to increase EAF utilization, so global scrap consumption will increase. It is expected that while the ratio between steelmaking in oxygen converters and electric arc furnaces is now 70/30, it will change to 60/40 by 2030. More than 300 million tons of scrap per year will be needed to provide additional production at EAF technology during the transition to environmentally friendly steel.
For its part, China plans to increase the use of scrap in steel production to reduce its dependence on imported iron ore and cut carbon emissions. According to MIIT, the PRC could have 100-200 million tons of new EAF capacity by 2030.
POSCO Research Institute estimates that global scrap consumption will reach 778 million tons by 2030, up 15.1% from 2021. For their part, Fact.MR analysts expect the global steel scrap market to grow at an average annual rate of 4.9% and reach 1.05 billion tons by 2033.
The growth in demand for scrap will be observed worldwide, but it will be mainly formed by the increased needs of fast-growing and developing economies, such as China, Bharat (in this country scrap availability problems are already predicted) and others. In particular, scrap consumption in China, the world's largest steel producer, is estimated to grow from 260 million tons in 2022 to more than 350 million tons in 2030.
In many countries, ferrous scrap is already defined as a strategic raw material rather than a waste product. Most countries will focus on domestic consumption rather than exports, which will increase domestic and regional scrap trade and measures to encourage scrap imports by the largest consumers. By contrast, the largest exporters will increasingly restrict scrap exports.
Using scrap for steelmaking in electric arc furnaces is the easiest way to reduce CO2 emissions in the steel industry by utilizing existing production technologies. However, the problem is that globally not enough scrap is collected to fully switch to electric arc steelmaking. Therefore, countries are already beginning to compete for access to scrap and this competition will increase in the future.
And demand will increase for high quality scrap with minimal harmful impurities. In theory, scrap can be melted into steel an infinite number of times, but in practice, with each such remelting, the content of harmful impurities in scrap increases, which then deteriorate the quality of finished products. Therefore, the prospects of the scrap industry are also related to the development and implementation of technologies for sorting scrap and purifying it from impurities.
The future of global steel industry directly depends on the state of the scrap industry. On the one hand, steelmakers and scrap collectors are partners. On the other hand, their interests often diverge, so it is important to find a balance between them through government economic policy.
---
---