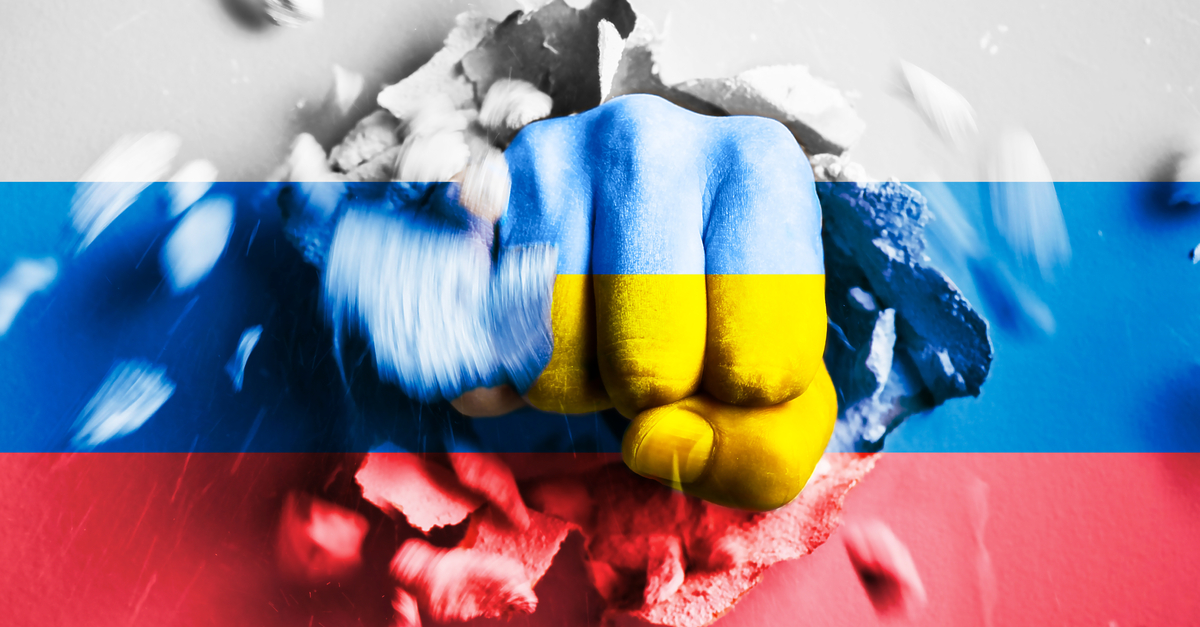 (c) shutterstock
Consequences of the aggression against Ukraine for the world gross product in 2022 will be at least -1% down growth, or $1 trillion
The global economy is still not recovered from the coronavirus, but the new "Black Swan" has already flown here. The share of Russia, and Ukraine in world gross product is not higher than 2%, these two countries are big suppliers of energy resources, agricultural products (wheat, corn, barley, sunflower oil), and various raw materials.
The Russian aggression against Ukraine, and instant break of supply chains, was a shock for an uncertain time, and depth, and led to prices growth almost in the whole world. It can become a medium-term factor of volatility in case of continuous military operations.
The war in figures
Analytic companies, and organizations, corrected their growth rates to forecast evaluations of world gross product, when others will do it in the near future. According to the Organization of Economic Cooperation, and Development (OECD), the world gross product growth will be down by 1%. It's equal to $1 trillion.
The review of forecast evaluations of world gross product in 2022 after the beginning of military operations in Ukraine
| Organization | New Forecast | Previous Forecast |
| --- | --- | --- |
| Fitch | 3,5% | 4,2% |
| Moody`s | 3,6% | 4,3% |
| OECD | 2,4% | 3,2% |
| S&P | 3,4% | 4,1% |
| Oxford Economics | 3,8% | 4,0% |
It's not a recession yet, but a certain slowdown of the growth rate. That is why there is a   high possibility of further world gross product down growth in case of continuous military operations. Russian aggression, and its influence on the global economy worsened anticipation on the growth of bigger economics. According to Fitch, anticipations on GDP growth rates of euro-zone countries worsened to 3% from 4.5%, USA – to 3.5% from 3.7%, Great Britain –  to 3.8% from 5%.
Aggression effect
The effect of Russian aggression has many aspects. Some of the possible consequences could be overcome relatively quickly. Solution of others could take years, and hundreds million dollars of investments. One thing is clear: consequences of the Russian war against Ukraine will become noticeable in the whole world.
Inflation
Inflation will be the main problem for many countries. It will have influence on the decisions of central banks about monetary policy with consumer sentiments. According to OECD, as a result of the Russian aggression against Ukraine the global inflation will rise on average by 2.5 p.p. Fitch forecasts basic inflation this year in the USA around 7% (in comparison with the forecast in December 2021 – 4.5%), in euro-zone countries –  5% (2.6%), in Great Britain – 6.6% (4.5%).
The origin of inflation in the last year or two was a gap between demand, and supply for many kinds of products, and raw materials. It formed a deficit, while prices rose slowly. Seems like, governments of different countries handled the price growth, but the new "Black Swan" in the form of Russian aggression created new market turbulence.
To fight inflation, the US Federal Reserve System is forced to respond with faster interest rate increase than was expected. It will slow down up to a point an economic growth in the USA, and in the whole world.
Energy prices growth
Western sanctions against Russia, and refusal of many countries from Russian energy sources unbalanced the global trade of energy sources, which led to price growth. According to Fitch, Russia supplies around 10% of global energy sources, including 17% of natural gas, 12% of oil.
Also there is a possibility of Russian tit-for-tat sanctions on energy sources supply, even if they are unlikely. Nevertheless, according to experts of the Federal Reserve Bank of Dallas, the absence of Russian energy sources on the global market for a long time could lead to the global recession.
Anyway problems with Russian aggression mostly hit Europe, considering its strong dependence on natural gas, and oil from Russia, and traditional business connections with Russia. In Europe deficit, and controlled energy consumption are possible in case of sudden stoppage of deliveries from Russia.
A problem from consumers is in complexity quickly diversifying energy supplies, the significant part of which is connected to long-term contracts. Moreover the creation of new productive capacities will take much time.
The price shock of energy sources increases production expenses, and decreases consumers' real income. Western average consumers face the price growth of petroleum. Therefore from the autumn of last year the industry struggles because of the energy supply's price growth, including natural gas price growth. It leads to shutdown of power-consuming industries, and price growth of industrial products.
Destruction of supply chains
Western sanctions against Russia, and tit-for-tat sanctions against developed economies led to supply chains break. Restrictive measures against Russia – cancelation of air travels, closing of ports for Russian ships by certain countries, refusal of global container lines to work with cargo from Russia, and other sanctions – strongly complicate global logistics.
Also, global logistics could suffer from Russian tit-for-tat sanctions. A part of response measures was already taken, but it doesn't significantly damage other countries. However, there could be tougher restrictive measures, especially in the case of metals supply (steel semis, aluminum, nickel, copper, palladium, etc), and energy resources.
At the same time, now the Russian economy collapses due to the exit from the market of biggest international companies – embargo on supply of raw materials, components, and spare parts, refusal from service maintenance.
Food price growth, and deficit risk
According to OECD, Ukraine, and Russia are accountable for 30% of global wheat, and 20% of corn export. These two countries are top exporters of agricultural products to the countries of the Middle East, and Northern Africa. Logistics interruption due to Russian aggression led to price growth of bread, and other essential products in these regions. Anyway, Europe also struggles because of the food prices growth.
Worse is the embargo of Russia on the export of the grain crops – wheat, rye, corn, and barley – to the countries of Eurasian Economic Union. Earlier EAEU countries actively sell Russian agricultural products to third countries, buying it in Russia at local prices. However, Ukraine also embargoed the export of meat, sugar, buckwheat, and a number of other products. A special permit is needed for export of wheat, corn, and sunflower oil.
The UN forecasts hunger in countries dependent on the supplies of agricultural products from Ukraine, and Russia, and the collapse of the global food system. According to the Ministry of Agriculture of Ukraine, the country supplies over 400 million people with food in the whole world not including the population. The USA will provide $11 billion, and the EU – €2.5 billion for food safety due to the decrease of supply from Ukraine, and Russia.
Investment cutback
Higher energy supply costs, and profit reduction of companies leads to decrease of accessible investment capital. The more uncertain economic future will be, the quicker, and the larger companies will cut investments.
Now there are only hints on possible worsening of investment expectations. From February 24, around 80 companies put on pause financial contracts amounted to at least $25 billion. It is mainly postponed business deals (amounted to over $18 billion), postponed IPO, and also M&A deals.
Long-term play
Russia makes no secret that aggression against Ukraine is connected with the rebuilding of the world, shaping of the new world order, in which Russia reckons upon a bigger role, than just "petrol filling station", of course.
Russian invasion put an end to globalization in the form, which lasted three centuries. The world will be divided more into regional blocks. In these blocks countries will try to protect their interests, including economical ones by creating trade barriers.
All of this will strongly change capital flow, supply chain, and also the structure of energy markets, influence on commodity markets, and its prices. Perhaps, perspectives of global economics hang upon the end of the war more than from the new variant of COVID-19 in China.
---
---