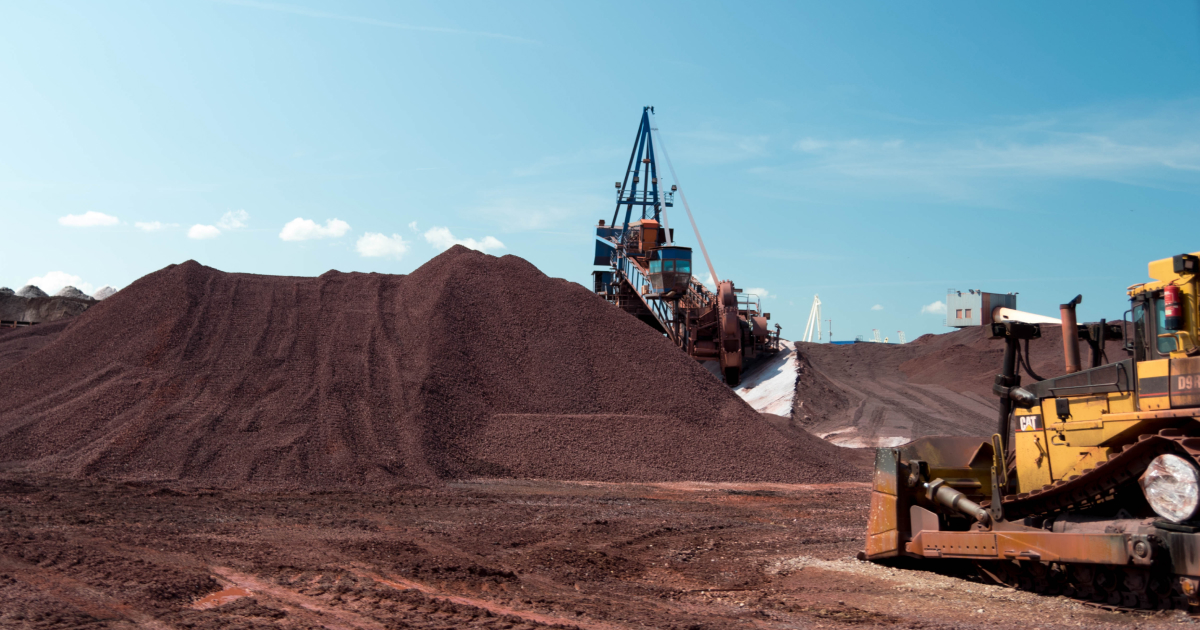 Ukrainian exporters earned $1.86 billion on supplies of iron ore to China in January–June
As in 2019, high ore prices in H1 2020 helped maintain production and exports of Ukrainian mining companies. GMK Center figured out what exactly influenced this situation and how long a favorable period of high prices will last for Ukrainian exporters.
Early this year, when China became the epicenter of the pandemic, iron ore prices went down. However, within a few weeks, they returned to their initial levels. This is due to the fact that Chinese steel producers virtually did not stop production during the entire period of lockdown restrictions in China. In March, prices for iron ore slightly decreased, but not as much as those for metal products.
In May–June, iron ore prices jumped again, exceeding $100 per ton. This was a result of a decrease in iron ore reserves in China and the spread of the coronavirus, which strongly affected iron ore production.
In Australia, quarantine lockdowns have caused breakdown in work schedules of ports. In Brazil, they led to a ban on iron ore production at some mines, and, as a result, a cut in production and interruptions in supplies. In the long run, Vale Corporation, the largest iron ore producer in Brazil, cut exports of iron ore by 11.7% to 90 million tons in January–May.
The price of iron ore futures was to a certain extent influenced by political problems in relationships between China and Australia. At the same time, the total supply of iron ore remained unchanged. This enabled Port Hedland, the largest iron ore port in Australia, to increase iron ore shipments by 5.6% in May against April and by 8.4% in June.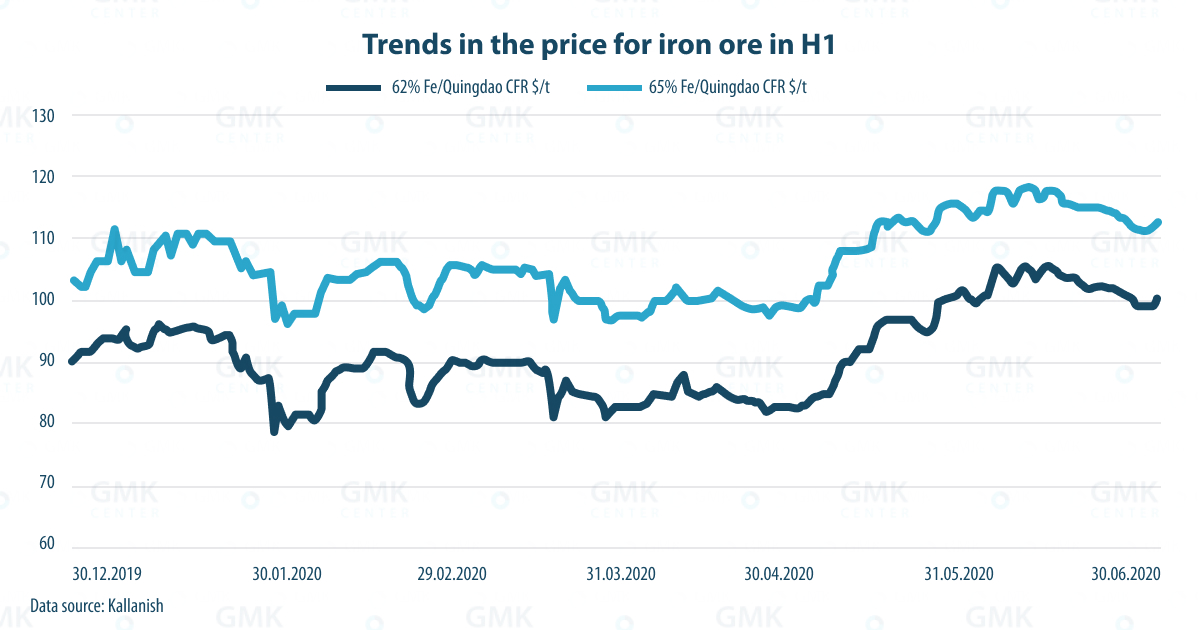 According to Dmytro Khoroshun, analyst at Concorde Capital investment company, trends in iron ore prices were influenced by the following three factors.
First, despite the pandemic, a surprising stability of China's imports strongly supports prices.
Second, exports from Australia are stable, amounting to around 2.3 million tons per day in 2018–2020. Moreover, in the past two months, for which data are available, exports were higher: 2.46 million tons per day in April and 2.44 million tons per day in May.
"Iron ore mining is the largest segment of Australia's mining industry. It benefited from the retained high prices for iron ore. Specifically, in May–June 2020, iron ore prices exceeded $80 per ton. This enabled Australian companies to maintain such price levels due to falling supplies from Brazil, which had a significant coronavirus outbreak. According to the Office of the Chief Economist at the Department of Industry, Energy, Science and Resources of Australia, in 2019–2020, the country's iron ore industry received $103 billion in export revenue, which is an absolute record for all the years," added Andrii Glushchenko, GMK Center analyst.
Iron ore exports from Australia and Brazil and China's imports, mln t/day
| | Australia, exports | Brazil, exports | China, imports |
| --- | --- | --- | --- |
| June 2020 | – | 1.0 | 3.39 |
| 5 months 2020 | 2.28 | 0.76 | 2.93 |
| 2019 | 2.3 | 0.96 | 2.93 |
| 2018 | 2.29 | 1.07 | 2.92 |
Data sources: The Ministry of Development, Industry and Foreign Trade of Brazil, the Australian Bureau of Statistics, the Customs General Administration
Third, exports from Brazil declined back in 2019 (due to the dam accident and related production restrictions). And in the first 5 months of 2020, a decline was even greater. It also helped keep prices up.
In actual fact, in H1 this year, almost the same situation was observed as in H1 last year, characterized by a hike in prices due to force majeure circumstances. Although the reasons were different (last year — the Vale mine accident, this year — the coronavirus pandemic), the result is the same — a decline in production and problems with exports of iron ore to China pushed prices up.
An iron ore boost
Ukrainian mining companies could benefit from high prices mainly due to a cut in iron ore supplies from Brazil. Unlike steel producers, mining companies increased their production in January–June. Specifically, in H1, Ferrexpo ramped up pellet production by 4.6% to 5.6 million tons, whereas in 2019, the company reduced production by 0.8% to 10.5 million tones.
In January–June, mining companies increased iron ore exports:
in physical terms by 16.8% — to 23.15 million tons;
in monetary terms by 8.7% — to $1.86 billion.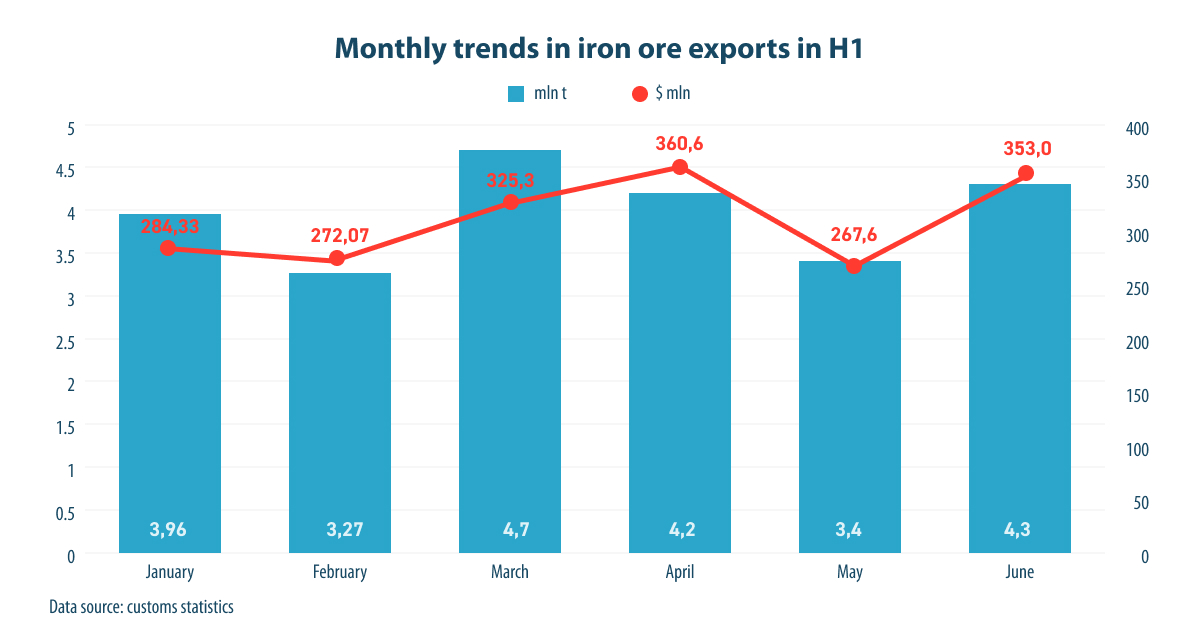 As reported earlier, in 2019 Ukraine increased exports of iron ore by 8.1% to 39.9 million tons in physical terms. In monetary terms, Ukraine's exports grew by 18.5% to $3.4 billion.
The largest importers of Ukrainian iron ore and iron ore concentrate were:
China — 14.21 million tons (a 2.5 fold increase) worth $1.153 billion (a 2.6 fold increase);
Poland — 2.148 million tons (-28%) worth $170.5 million (-31%);
The Czech Republic — 1.907 million tons (-24%) worth 122.7 million (-34%);
Austria — 1.268 million tons (-19%) worth $114 million (-26%);
Slovakia— 847.9 thousand tons (-53%) worth $60.5 million (-65%).
Hence, following a natural decline in demand in Europe, Ukrainian companies successfully occupied a niche of spot supplies to the Chinese market.
"Demand has shifted towards Asia. Say, in 2018, Ferrexpo shipped just 13% of its products to China, whereas now it exports about a third of its output. In terms of quality, Ukrainian iron ore is no worse than Australian or Brazilian. The main indicator is iron content and form (iron ore pellets or iron ore concentrate). A lion's share of Ferrexpo products is 65% Fe pellets deemed to be a premium product. It is however important to understand that the quality of iron ore is a matter of cost and availability of relevant beneficiation capacities (i.e., a strategy to sell lower-quality products is not necessarily a failure). When it comes to spots, it all depends on a sales strategy. As far as I know, Metinvest sells more in the spot market, whereas Ferrexpo places a focus on long-term deals," says Konstantin Fastovets, the Head of the Analytical Department at Adamant Capital.
China as a driver
China was and is the driver of the global steel industry. In January–May, China increased steel production by 1.9% to 411.75 million tons compared to the same period of the previous year. There is no reason now to believe this trend will change. According to the Bank of America, a demand for steel in the PRC will grow by 2.4% in 2020.
China is one of the few countries where steel production is expected to boost in 2020. According to the World Steel Association, steel production in the PRC will increase by 1% this year. At the same time, a 2020 global demand for steel will drop by 6.4% to 1.65 billion tons.
In turn, S&P Global Platts says a 2% increase to 1.016 billion tons is expected in China's steel production in 2020 against the past year. As reported earlier, in 2019, the country increased steel production by 8.3% to 996.34 million tons against the past year.
A 'pig iron' argument
Due to a hike in iron ore prices amid a decline in supplies from Brazil, a situational niche has been formed for Ukrainian steel producers. China started to increase imports of pig iron instead of iron ore shipments. This has led to an increase in pig iron prices since mid-April.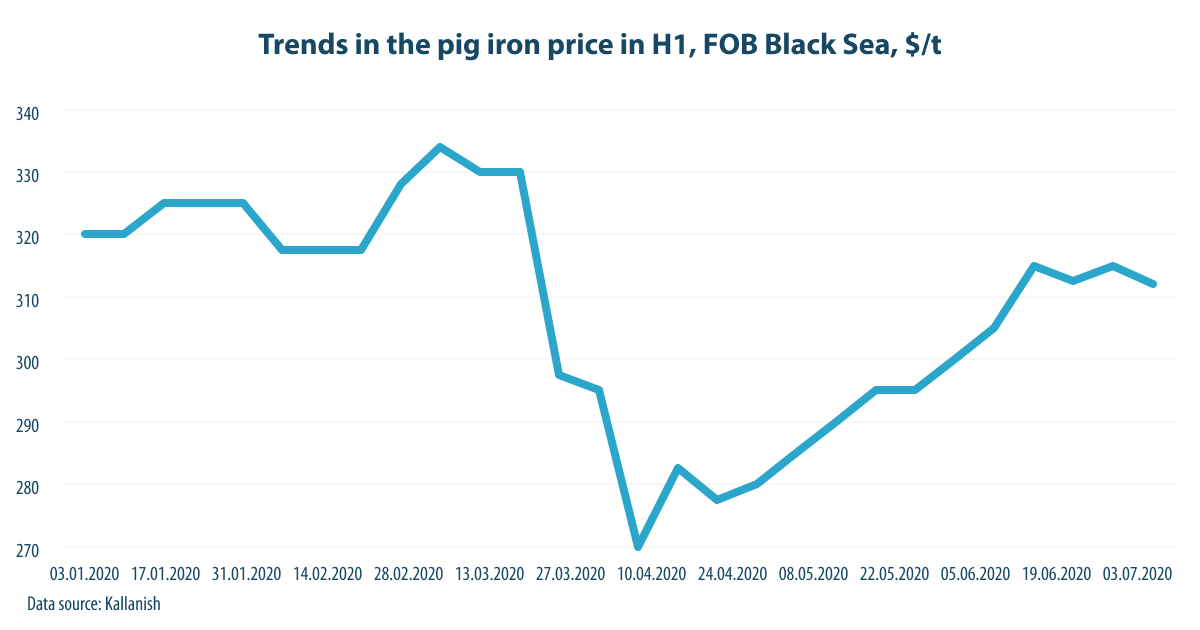 Ukrainian steel producers took advantage of this opportunity and significantly increased exports of pig iron in H1:
in physical terms by 22.8% — to 1.47 million tons;
in monetary terms by 8% — to $422.3 million.
"China has appeared on the list of buyers of Ukraine-made pig iron, with sales of nearly 300 thousand tons in January–June estimated at $87 million. This is a record gain compared to the same period of the previous year, since in January–June 2019, Ukraine simply exported pig iron to China. In general, last year's supplies in this direction amounted to just 111 thousand tons worth $29.5 million," Andrii Glushchenko noted.
In H1, Ukrainian companies also managed to increase pig iron supplies to the key market, the U.S.: 822.3 thousand tons (+6.7%) worth $236.5 million (+21.3%).
As reported earlier, in 2019, Ukraine reduced exports of pig iron by 14.2% to 2.58 million tons in physical terms and by 23.8% to $801.8 million in monetary terms. At the same time, pig iron was exported mainly to the U.S. (58.73% of supplies in monetary terms), Italy (12.43%) and Turkey (10.27%).
A price forecast
The global coronavirus pandemic has not subsided yet. This means that amid today's uncertainty, only conventional forecasts and assumptions are possible. On the other hand, the situation in the global economy is nevertheless more predictable than at the beginning of the imposition of quarantine measures.
In the summer, a demand for steel in China falls due to seasonal factors, such as rains and heat, which prompts a suspension in construction. In addition, according to Steelhome, as of 10 July, iron ore stocks in Chinese ports hiked to 110.1 million tons over a week from 109.8 million tons a week earlier.
PMI of China's steel industry dropped in June by 1.6 p.p. to 49.3% against May. Analysis of PMI elements shows a spike in production, but attended with a weakened demand in the market. As a result of this imbalance, an increase in stocks is recorded. According to CISA, in June, stocks of finished metal products in China increased by 5.77%," says Andrii Tarasenko, GMK Center Chief Analyst.
Trends in iron ore prices in the near term will depend on how quickly Brazilian authorities will cope with the coronavirus and full operation of mining facilities will be resumed.
Suppliers also expect a decrease in prices for iron ore in H2. This is exactly what Vale forecasts, as the company intends to significantly increase production in H2, which will lower prices for iron ore in the coming months.
According to Dmytro Khoroshun, exports from Brazil has also spiked in June (by 32% compared to the first five months of 2020), to 1 million tons per day. The stabilization of stocks in China and growing exports from Brazil are not interrelated, because it takes vessels around 7 weeks to ship iron ore to China. In other words, effects of the growth of Brazil's exports in June will be noticeable in July–August.
"I guess a further drop in iron ore prices to $70–90 per ton is likely in H2 2020. In July–August, the market is to respond to the effects of a jump in exports from Brazil in June (vessels will arrive), and prices may drop to $90–100 per ton in Q3. I mean, the dynamics will be the same as in 2019 — high prices in H1 followed by a drop," says Dmytro Khoroshun.
However, there is doubt about prospects for recovery of supplies from Brazil. No one can guarantee that the pandemic in this country will decline, as even the country's President has coronavirus.
"I also see a risk, or I'd rather say a likelihood, that prices will remain high, around $100 per ton and even within a range of $100–120 per ton in Q3 and Q4. The first factor is further problems with supplies, primarily from Brazil, including due to the coronavirus situation in that country. The second factor is a continued period of China's strong demand. The stimulation of the economy may further increase demand for steel and iron ore in this country. I mean, prices may be supported by the same two factors that pushed them up in H1 2020," Dmytro Khoroshun added.
In turn, Australian authorities forecast both a high demand for iron ore among Chinese steel producers and a decrease in iron ore prices to $79.50 per ton (FOB) in 2020. Next year, the cost of iron ore may drop even stronger, to $71 per ton.
Mining expectations
The largest iron ore producers currently maintain fairly positive forecasts for mining and exports of iron ore. Vale in April reduced its annual forecast for iron ore mining to 310–330 million tons, which is still higher than 302 million tons in 2019.
Australia forecasts iron ore exports in 2020 at the level of 866 million tons and its increase in 2021–2022 by 7.4% to 915 million tons against 2019–2020. However as a result, according to GlobalData estimations, the global production of iron ore in 2020 will decrease by 1.2% to 2,230.8 million tons.
In general, China imported 547 million tons of iron ore in January–June, 9.6% up from H1 2019. Imports fell by 9% in May against April, but was 3.9% up against the same period a year earlier. China's iron ore imports are expected to reach 1.12 billion tons in 2020 and 1.3 billion tons in 2022.
---
---