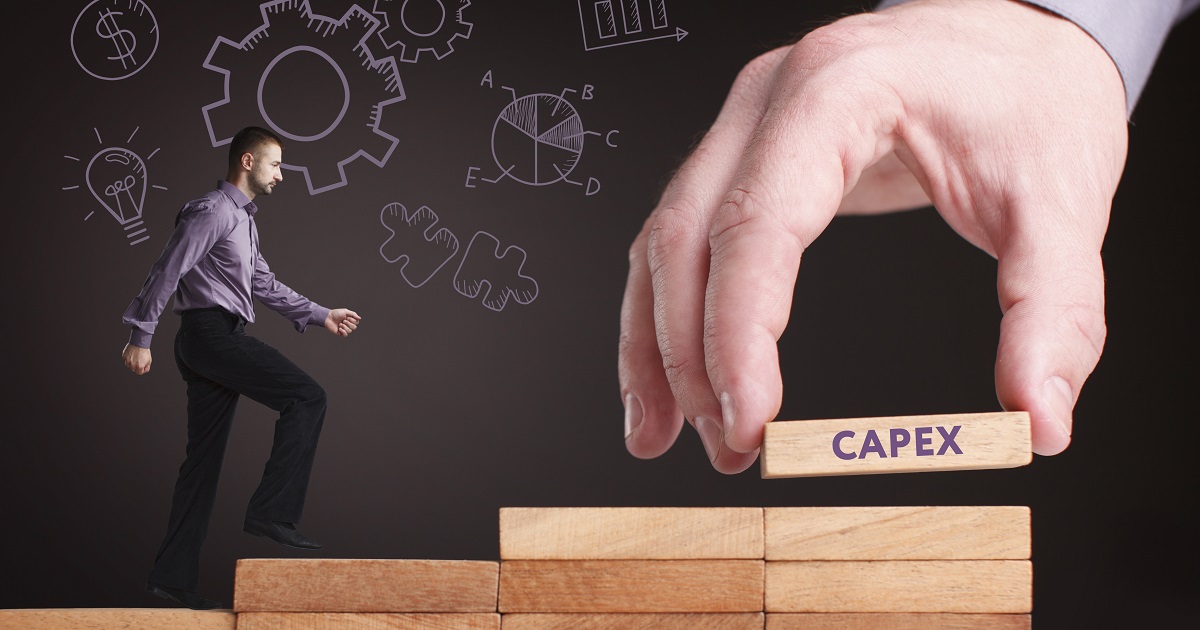 (с) shutterstock.com
The mining & metals sector seeks to develop production of high value-added products
Ukrainian mining & metals companies steadily account for about 25–30% of capital investment in industry and 7–11% of the total domestic capital investments. According to GMK Center estimates, capital investment in the mining & metals sector in 2010–2020 averaged $2 billion. Importantly, even during the crisis periods, investments never went below $1 billion. Investments of Ukrainian mining & metals companies in 2010–2020 totaled $22.2 billion. These data were presented in the study "Mining & Metals Sector of Ukraine: Investment in the Future" prepared by GMK Center in partnership with Interpipe.
Investment climate
In short, today's investments in Ukraine's mining & metals sector have the following trends and impact factors.
The core problem of the sector lies in hopelessly outdated production capacities inherited from the USSR. Nonetheless, as a result of gradual upgrading, tangible asset depreciation in the steel industry and iron ore mining in 2020 improved to 55.8% and 52.5% respectively. At the same time, the total economy-wide depreciation reached 58.5% in Ukraine.
Interestingly, the economy-wide depreciation of tangible assets in 2017 was 55.1%, while in the steel industry and iron ore mining along it was as bad as 66.1% and 57.5% respectively. So, apparently mining & metals companies are progressing in upgrading their production assets. It is possible only because of large-scale investments.
It is important to stress that mining & metals is a very capital-intensive sector, where every large project costs hundreds of millions of dollars at least. Investment plans tend to span a decade or more. Apart from planning difficulties, another barrier is Ukraine's notorious adverse investment environment with its corruption and lack of political and economic stability.
All this together explains why major foreign industrial investors are reluctant to enter the Ukrainian market and why the existing capital owners have their projects halted.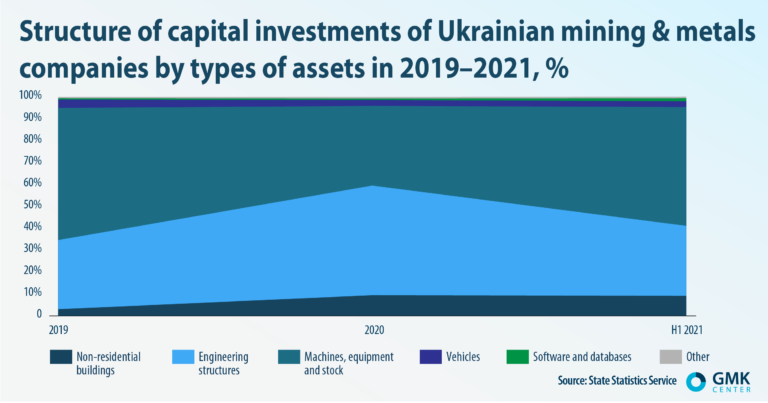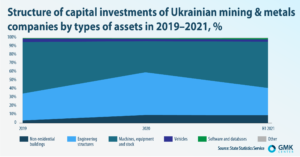 Nonetheless, companies of the sector, with minor exceptions, continue to invest. To date, the most striking example of a green field investment in the mining & metals sector is Interpipe Steel EAF mill. The holding company has invested a total of $1 billion in its construction through over 10 years. And now this plant features environmental performance on a par with the world's best practices.
"Interpipe has been implementing a strategy for increasing the share of hi-tech products in its portfolio for over a decade. The key element of this strategy is a strategic investment program that enables deployment of new production capacities. Construction of Interpipe Steel and related infrastructure to replace an outdated, pollutant-intensive open-hearth production facility has been the first investment in the series and cost the Company $1 billion. Today, Interpipe can work with virtually any grade of steel to meet our clients' needs," underlines Denys Morozov, Deputy CEO at Interpipe.
Another characteristic of investments in the mining & metals sector is lack of support from the government and lack of access to cheap funding. In the Ukrainian context, this is an especially adverse factor.
"Few onlookers care to muse upon problems and obstacles faced by steelmaking companies in Ukraine and at what cost those investments come by. Ukrainian mining & metals companies depend on movements in product prices. And even more so than their direct competitors from Russia, Turkey, and the EU, as Ukrainian manufacturers have no access to cheap external funding and are therefore forced to count solely on their own resources. Thus, investment volumes in the sector directly depend on revenues," comments Stanislav Zinchenko, GMK Center Director.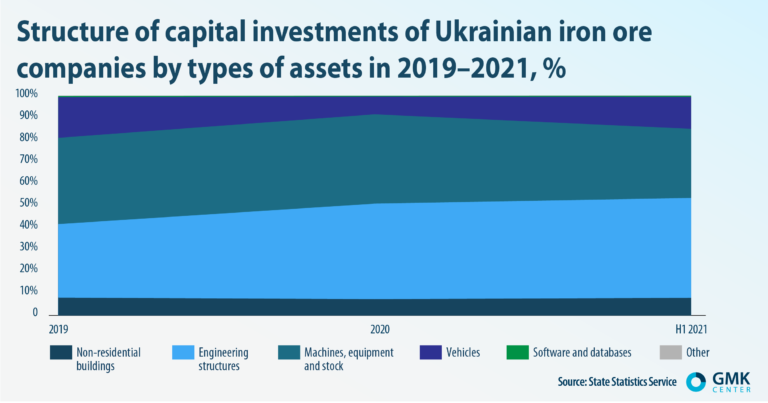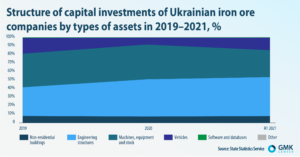 During periods of drop in product prices, investment opportunities contract and investments in the Ukrainian mining & metals sector reduce. A decrease in investment causes contraction of Ukraine's GDP and compromises future competitive abilities of Ukrainian steelmakers.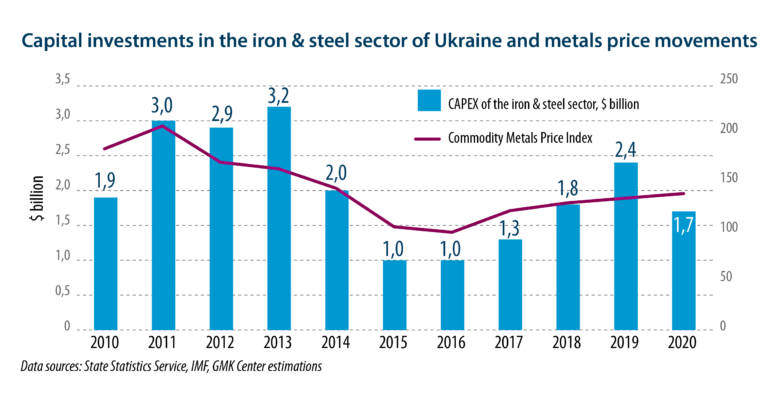 Looking into the future
Among the positive trends, the upcoming changes in the capital investment structure are promising. Almost 60% of all investment projects of steelmaking companies within the last five years were related to primary conversion, i.e. production of pig iron, steel, sinter ore and coke. This is because these operations are at the beginning of production chain and directly affect the quality and cost of finished products.
"Mining & metals companies of Ukraine are currently finishing projects aimed at modernization of primary conversion facilities and get increasingly focused on development of production of high value-added products and iron ore products that drive decarbonization of the steel industry (DRI pellets)," says Andrii Glushchenko, GMK Center Analyst.
Today's trend in the mining & metals sector is development of BF and BOF routes, sinter plant modernization, and improvement of iron ore quality. Starting 2023, the agenda is going to be focused on production of high value-added products and DRI, as well as strengthening of DRI-based EAF steelmaking capacities.
According to GMK Center Chief Analyst, Andrii Tarasenko, the key priorities to be incorporated in investment policies of Ukrainian mining & metals companies for the years to come include the following:
Tackle the investment backlog that increased in the last five years.
Promote cost leadership through increasing productivity, increase the share of high value-added products and strengthen vertical integration advantages.
Move towards decarbonization, but here the government has a key role to play, because a sound environmental policy is becoming a factor of producer competitiveness.
The sector will need around $25 billion within the next 20 to 30 years to achieve carbon neutrality. As reported earlier, Ukraine committed to cut greenhouse gas emissions to 35% by 2030 (compared to the 1990 level).
Increasing prevalence of environmental effect, sometimes even over the economic one, is already becoming an important trend in the mining & metals sector investments for the years to come.
"The "green" component of our steel production is our additional advantage. All the leading European companies have already declared decarbonization as their goal. СО2 emissions associated with our EAF route are several times lower than in the BOF route, which enables our clients to have more environmentally-friendly supply chains and lower CO2 emissions," explains Denys Morozov.
Mining & metals companies are planning to increase investments in the current and following years. According to their data as at the beginning of this year, their investment ambitions for 2021 were as follows:
Metinvest — $800–850 million,
Interpipe — $136 million (in 2020–2022),
Ferrexpo — $300 million,
ArcelorMittal Kryvyi Rih — $600 million for three large projects.
According to Andrii Tarasenko, a comprehensive policy, with the targets listed below, is important to reduce dependence on market factors, ensure the sector's sustainability and maintain big investments:
Improvement of the investment climate in Ukraine, implementing a balanced fiscal and monetary policies.
Development of the domestic metal products markets (investment in infrastructure renovation, defense industry development, implementation of leasing and interest rate reimbursement programs for purchasers of Ukrainian mechanical engineering products).
Implementation of a comprehensive environmental policy (creating conditions for faster decarbonization, including environmental taxation system reform, launch of greenhouse gas emissions trading system).
Resistance to protectionism (trade diplomacy, conclusion of bilateral trade agreements, proactive attitude of the government in anti-dumping investigations).
"Investments create new possibilities. Possibilities for growth and development. Mining & metals companies support the country's macroeconomic stability more than any other business. We can see this from changes in Ukraine's GDP, which decreases in parallel with a drop in capital investment by mining & metals companies," summarizes Stanislav Zinchenko. "Today's amount of investment by mining & metals companies defines tomorrow's output of mechanical engineering companies, the volume of transported cargo and the volume of electricity transmitted via power grids."
---
---