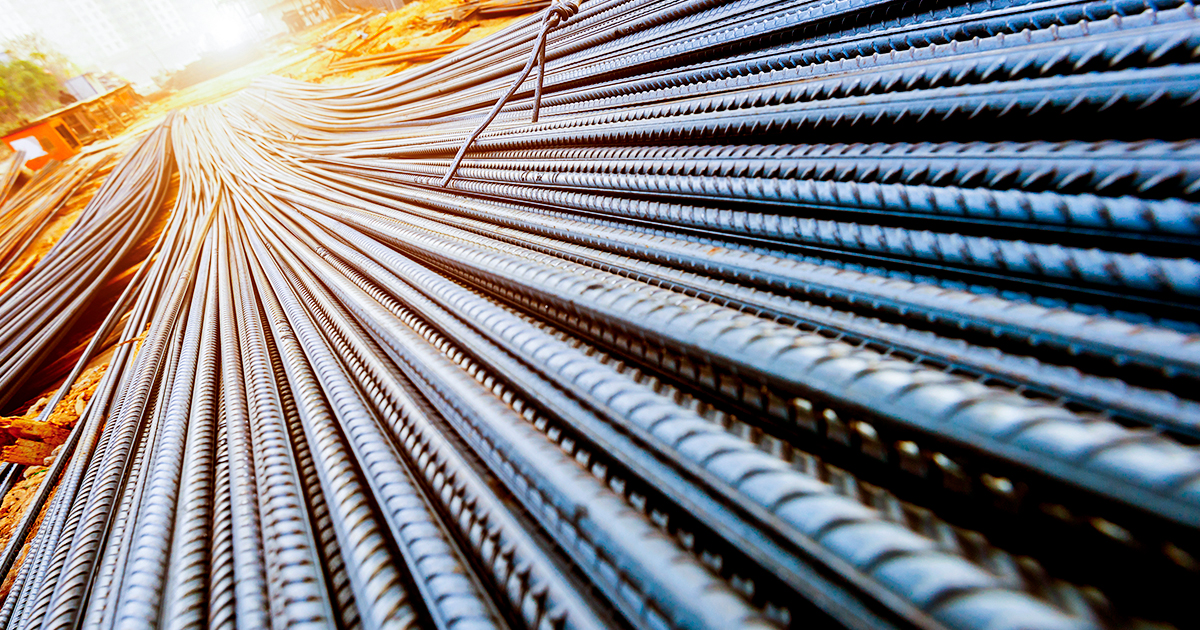 China, Türkiye, South Korea and India have become the beneficiaries of sanctions against Russian long products
Russia's full-scale invasion of Ukraine has changed the situation in many segments of the global steel market. One of these segments is the market for long products, where Ukraine and the Russian Federation traditionally supplied their products. By 2023, the supply of Russian products to the EU market has completely ceased, but this niche has been occupied by suppliers from China, Turkiye, South Korea and India. The possibility of supplying long products from Ukraine is limited due to the war, including due to logistics problems.
Long euro import
According to Eurostat, imports of long products to the EU in 2022 increased by 4.7% – up to 8.89 million tons. Among the largest sources of imports last year, the following countries can be distinguished:
Türkiye – supply growth by 33.6%, up to 1.8 million tons;
China – growth by 90.3%, up to 1.1 million tons;
Ukraine – decline by 9.7%, to 505.6 thousand tons;
India – growth by 76.6%, up to 491 thousand tons;
South Korea – an increase of 21.4%, up to 203.2 thousand tons;
Japan – decline by 4.7%, to 59.7 thousand tons;
Taiwan – growth by 7.8%, up to 43 thousand tons.
Although the supply of long products from the Russian Federation to the European Union in 2022 fell by 49.5%, they still remained very large – 760.8 thousand tons. However, for a number of items of long products, Russian exports have completely or partially stopped since the middle of 2022, related to the imposition of EU sanctions.
In the current year, the dynamics of the steel import market has become negative. In January-April (Eurostat only provides data for such a period so far), imports of long products to the European Union fell by 25% – to 2.7 million tons compared to the same period last year. The largest import sources showed multidirectional dynamics:
China – growth by 108%, up to 626.3 thousand tons;
Türkiye – a decline of 54%, to 365.2 thousand tons;
India – decline by 37.3%, to 126.8 thousand tons;
Ukraine – decline by 39.7%, to 112.5 thousand tons;
South Korea – an increase of 54.8%, up to 104.1 thousand tons;
Japan – decline by 13.2% to 17.3 thousand tons;
Taiwan – growth by 16%, up to 13.8 thousand tons.
Since exports of long products from Russia were not recorded in 2023, the main beneficiaries of the departure of Russian products and the reduction in supplies from Ukraine have become China, which in 2022-2023 showed multiple growth rates, as well as South Korea with an increase in shipments of 21.4% and 54.8%, respectively. In addition, Turkiye and India were major suppliers, but their longs supplies to the EU declined in January-April 2023 by 54% and 37.3% respectively.
The most demanded long products in the EU are wire rod (31% of imports), rebar (24-27%), other alloy steel bars and wire rods (14%), angle, shaped and special profiles (7%) and wire ( 6-8%).
According to the EUROFER association, imports of finished steel products to the EU from third countries in the first quarter of 2023 decreased by 30% y/y after a 33% decline in the fourth quarter of last year. In particular, imports of long products decreased by 15% y/y.
Winning quotas
The sharp increase in the supply of long products to the EU from a number of countries is associated with the EU sanctions policy. The fourth package of sanctions, which included a ban on the supply of Russian steel products to the EU with a total value of €3.3 billion, at the same time increased quotas for imports for other countries outside the European Union. Steelmakers from Turkiye, China, India and South Korea took full advantage of this. At least Turkish steelmakers expected $1 billion of additional profit due to the redistribution of quotas.
It is noteworthy that part of the import quotas remained unclaimed. Rebar import quotas in the EU in this period were only 24-66% exhausted (depending on the country of origin), during the first quarter of 2023 they were used very slowly. The reason was weak demand in the European market.
Ukrainian export
Ukrainian steelmakers in the first half of 2023 reduced export of long products by 40% y/y – up to 253.4 thousand tons. Most likely, our steelmakers will not be able to reverse the downward trend in the second half of the year. Long products are commonly used in the construction sector and the EUROFER association expects decrease in construction volumes in the EU in 2023 by 0.5%. Moreover, the association has downgraded its overall assessment of steel demand in the EU this year to -3% from an increase of 0.3%.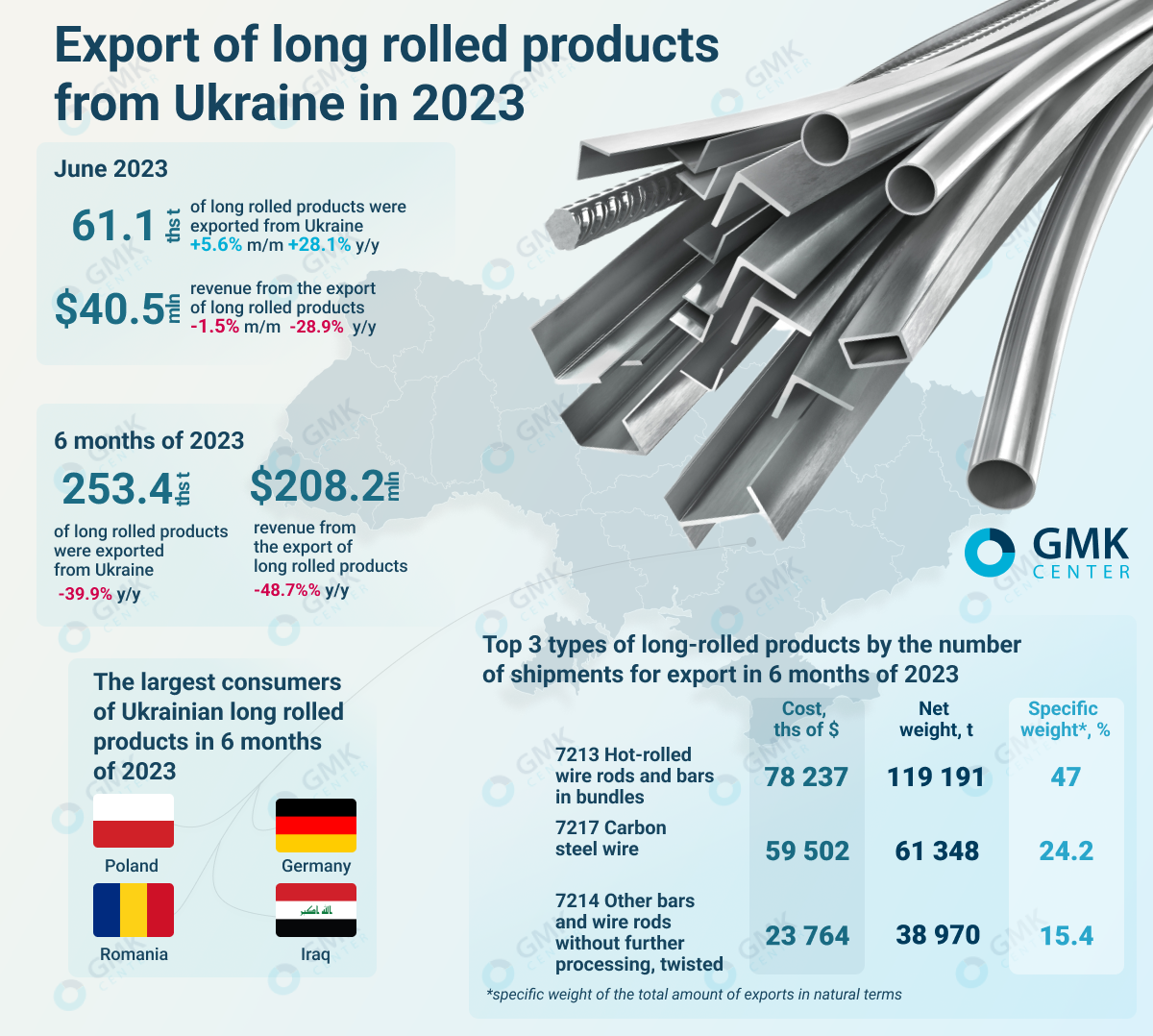 Most of all, in 6 months, rods and hot-rolled bars were exported (HS – 7213) – 119.2 thousand tons for $ 78.2 million. Also, 61.4 thousand tons of carbon steel wire (HS – 7217) were exported for $59.5 million. The third position among the top exported long products is other bars and rods made of carbon steel, without further processing, twisted (HS – 7214) – 39 thousand tons for $ 23.8 million. Thus, a significant part of exports of long products from Ukraine is wire rod.
"We see the main growth factor in relation to wire rod as an increase in the volume of exports of hardware products. Wire rod is a raw material for hardware products, and almost 90% of all manufactured products are exported. Therefore, having requests for these products outside of Ukraine, their production output increased,"previously explained Sergiy Kovalenko, commercial director Vartis.
The largest consumers of Ukrainian hot-rolled bars and rods for 6 months of 2023 were Romania and Poland – 47.3% and 26.4%, respectively, in monetary terms. Poland (37.9%) and Germany (21.2%) consumed about 60% of Ukrainian wire. Among the main buyers of other bars and rods are Iraq (33.8%), Moldova (28.3%) and Romania (16.9%).
In 2022, Ukrainian steel enterprises reduced exports of long products by 59.7% compared to 2021 – to 748.95 thousand tons. Steel producers' revenue from the export of such products fell by 55% y/y – to $693.53 million. Most of all, hot-rolled bars and rods in coils (HS – 7213) were exported – 406.6 thousand tons by $310 million, which is 56.1% and 54.2% respectively less compared to the indicator 2021.
Export prospects
According to Research And Market, it is expected that by 2030 the volume of the world market for long products will grow to $1.01 trillion. Its growth dynamics in the period 2023-2030 will average 3.8%. The development of the construction market in the world will contribute to the demand for rebar and wire rod. Key players in this market are already expanding capacity and introducing new products.
The situation in the Ukrainian market of long products, for obvious reasons, differs from the global and European ones. In 2021-2022 the share of longs exports from Ukraine to the EU was 5.7-6.6% of the total volume, but decreased to 4.2% in January-April. While in 2021 Russia supplied 1.5 mln tons of longs products to EU (17.8% from EU imports), in 2022 Russian exports to EU stopped. Ukraine could take this market share, which is estimated at hundreds of thousands of tons of steel products. However, for this, at least you need to have stable and cheaper logistics, as well as conditions for increasing domestic production. In Ukraine, long-rolled products are produced by ArcelorMittal Kryvyi Rih, Kametstal and the Dnipro Metallurgical Plant.
"On the one hand, the abolition of EU duties on Ukrainian products, together with the ban on the import of rolled products from Russia, creates certain conditions for the import of long products from Ukraine. However, these conditions are not enough. All the risks associated with hostilities in Ukraine remain. In addition, sales directions are determined by the policies of the parent companies and the nature of the integration of Ukrainian plants into European value chains. Due to these factors, we cannot expect that ArcelorMittal Kryviy Rih will increase the supply of long products to the EU, since in this case it will compete with European plants of ArcelorMittal," said GMK Center analyst Andriy Glushchenko.
In other words, Ukrainian suppliers will be able to replace Russian supplies only in the absence or mitigating of force majeure circumstances (for example, interruptions in energy and water supply), the deblockade of seaports, or at least the improvement of railway logistics with Europe. Otherwise, Ukrainian long products will not be able to compete with products from China, Turkiye, South Korea and India in terms of price and delivery guarantees.
---
---