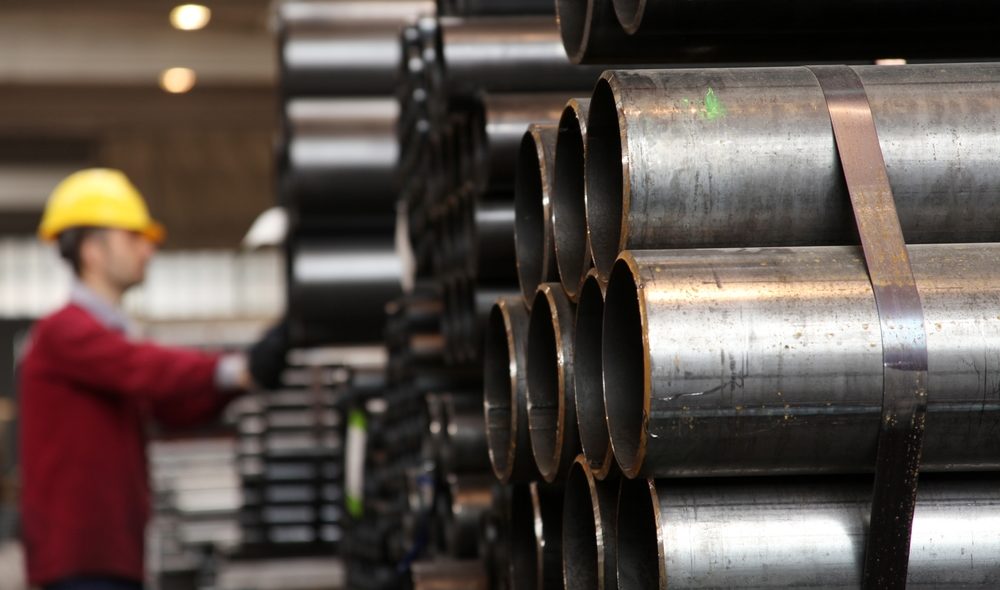 Its prospects depend on the speed of recovery in construction and engineering
After fall by 55% last year, the Ukrainian steel trading market in 2023 shows signs of recovery. Although business activity in Ukraine largely depends on force majeure factors (for example, the availability of water and electricity supplies), Ukrainian companies are already quickly adapting to new conditions, including in the supply of steel products.
Market dynamics and positive signals
The NBU Business Expectations Index (BEI), which shows business's assessment of the current state of the economy, has been rising in the past few months, indicating an improvement in business activity. In December 2022, when there were missile strikes on energy infrastructure and interruptions in the supply of electricity to industrial enterprises, BEI was at the level of 42.1 points, and in April-May 2023, when the situation improved, it was 51.5 points and 50.5 points respectively.
A survey of steel trading market operators conducted by the GMK Center showed the presence of multidirectional trends – from assessments of stagnation (in industry as a whole or its individual segments) to insignificant growth
Eurometal: According to Vitaliy Prytula, the demand for certain types of steel products has stabilized and there are no more distortions that were in 2022. Now everything is for sale – a sheet, a beam, a profiled pipe and a corner.
"Since the beginning of this year, the dynamics of steel products sales has been in line with the same period in 2022. For us, this indicates that the steel trading market is in stagnation, which is also confirmed by feedback from customers. This is hard to explain, because May is month when the trading boom usually began, but this year it actually did not take place. At the same time, last year our sales in volume terms grew 4 times," adds Vitaly Prytula, head of the Eurometal company, which specializes in the sale of imported steel products.
Vartis: The improvement in business activity correlates well with the growth in demand for steel products. According to Sergyi Kovalenko, the commercial director of Vartis, at the beginning of the year, demand was expected to increase by 10-15%, this trend is generally continuing, and the forecasts were confirmed by the actual results.
"There was no drop in demand in any of the rolled steel groups. In the period from January 2023 inclusive to May 2023 – only an increase in consumption. According to our estimates, the largest increase in consumption occurred in profile pipes, rebar are in the second place, and wire rod – is in the third," says Sergiy Kovalenko.
TACT Metal: "In the first half of 2023, our sales grew by 20%, which correlates with the growth in demand from the engineering industry," – adds Igor Udovichenko, director of marketing and sales of the company TACT Metal (specializes in the sale of steel products for mechanical engineering).
Assessments of the market situation
Metinvest-SMC, in January-May 2023, estimates the capacity of the Ukrainian market of steel products (excluding pre-painted steel) at almost 1 million tons, which is about 1% lower than this indicator for the same period last year.
The dynamics of demand in different segments of steel products in January-May 2023 varied greatly. The largest growth in January-May 2023 compared to the same period last year in percentage terms is observed in the cold-rolled steel segment. This segment grew by 34% – up to 88 thousand tons. At the same time, in the segment of hot-rolled steel, which is the largest in the structure of flat steel, there is a slight decrease in capacity – by 4%, to 310 thousand tons.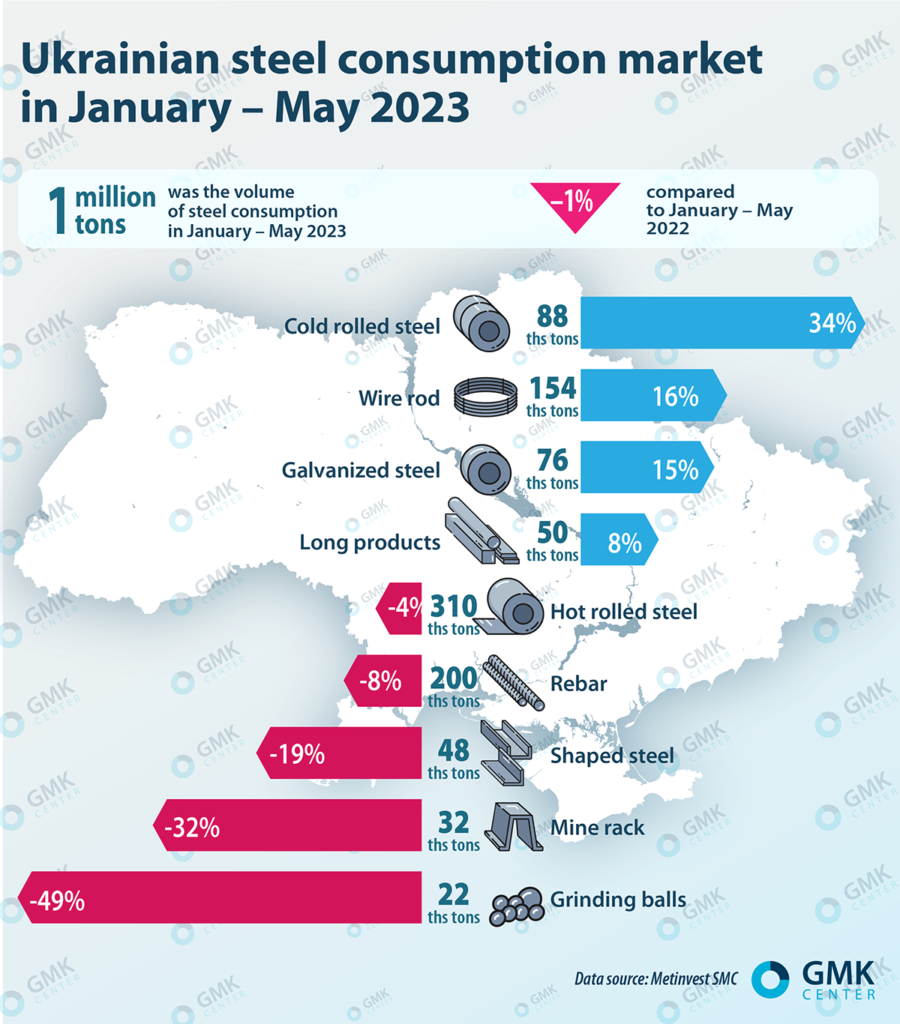 According to Metinvest-SMC, since the beginning of 2023, a seasonal recovery has been observed for cold-rolled steel from 12 thousand tons in January to 19 thousand tons in the spring months, for galvanized steel the growth was from 14 thousand tons to 16-18 thousand tons, for hot-rolled flat products the increase was from 31 thousand tons in January to 74 thousand tons in the spring. A significant recovery was observed in the segment of shaped and long products – from 10 thousand tons to 22 thousand tons.
Industries-consumers
According to Metinvest-SMC, in January-May 2023, sales in the hardware industry increased by 22%. Monthly deliveries of wire rod were in the range of 28-33 thousand tons, without any seasonal growth in supplies. Metinvest-SMC also notes an 18% increase in demand for steel products in the construction industry. Rebar deliveries to the Ukrainian market increased from 18.4 thousand tons in January to 44-50 thousand tons in March-May. Despite the activation in the spring, the average monthly capacity of the rebar market does not exceed half of the capacity of January 2022.
"We see the main growth factor in relation to wire rod as an increase in the volume of exports of hardware products. Wire rod acts as a raw material for hardware products, and almost 90% of all produced products are exported. Therefore, having requests for these products outside of Ukraine, the volume of its production as a whole increased. There is an increase in demand in the construction industry. Currently, the construction of residential complexes is being resumed, primarily those that are at the final stage of construction, especially in the Western regions of Ukraine. Consumption in private households also increased, especially in areas where there was the greatest amount of destruction from military operations. The market of developers in Kyiv evenly revived»,  explains Sergiy Kovalenko.
According to Igor Udovichenko, among the engineering industries that actively consume steel, we can single out carriage building and mining engineering. These are industries that today provide stable demand in the domestic market. Demand from the agricultural machinery industry is weak because this sector is recovering very slowly.
"A significant part of our clients is represented by steel structure plants, but I don't see them having large portfolios of orders, except for the manufacture of bridge structures. That is, the situation on the steel structures market is even worse than last year," adds Vitaliy Prytula.
Steel prices
Prices for steel products on the domestic market correlate with quotations on international markets.
"Amid rising world prices in early 2023, the February earthquake in Turkiye, as well as industrial fires at steel plants in Europe, led to a monthly price increase in January-March by 4-5% in the Ukrainian market. In April, there was a reversal of the price trend, prices began to fall, and in May this fall accelerated. In general, prices in May increased by about 3% compared to January, that is, the fall in recent months practically leveled the price increase at the beginning of the year," Metinvest-SMC notes.
According to Vitaliy Prytula, in January-February, prices for imported steel products rose sharply by 15-20%, but since the end of March there has been a downward trend to the level of December 2022, that is, one of the local minima.
According to Vartis estimates, since the second half of April there has been a slight decrease in prices, in particular for the following types of rolled steel:
rebar – by 11%;
wire rod – 8%;
shaped steel (angle 25-63 mm) – by 5%;
thick rolled plates (10-12 mm) – by 3%;
hot-rolled sheet steel – 3%;
cold-rolled steel (1.5 mm) – 3%.
"Since the beginning of June, we have seen a positive trend in all export markets, which has led to an increase in prices in Ukraine," adds Sergiy Kovalenko.
Import substitution
According to Vitaliy Prytula, the most scarce in 2022 on the Ukrainian market (and needed import substitution) were thick sheets from 10 mm and above, an I-beam, an angle and a channel. Now all these positions have already been replaced.
"All the deficit positions formed due to the suspension of the production of certain steel products at Ukrainian enterprises have already been closed. Import substitution has already taken place, and there is no shortage of certain steel products on the market. We import products from different countries – Turkiye (50% – sheet, angle, profile pipe) and Europe (50% – beam, channel, profile pipe)," emphasizes Vitaliy Prytula.
Thick sheets from 10 mm and above are brought from Romania and Italy, the rest of the steel products are imported from Turkiye, Slovakia, Romania and other countries.
"First of all, after the loss of Mariupol steel assets, the question of importing hot-rolled plates arose. Imports are carried out both from Italian assets that are part of the Metinvest group, and from European plants LIBERTY GALATI and U.S. Steel Kosice, as well as Turkish producers. From the Bulgarian asset of Promet Steel, regular deliveries of rebar, angle, as well as long products are carried out," Metinvest-SMC notes.
A separate story is galvanized steel. Due to the fact that its largest producer Ilyich Iron and Steel Works was destroyed, its domestic production in 2022 decreased by 74% y/y – to 127 thousand tons. At the same time, according to Metinvest-SMC, imports of galvanized steel increased by 27% y/y last year – up to 84 thousand tons.
"In connection with the planned repair of Unistil, as well as the expansion of the assortment, Turkish-made galvanization is being supplied," Metinvest-SMC added.
A similar situation, where domestic demand for steel products is covered by imports, is observed with respect to coated rolled products. However, in this case, even before the war, Ukrainian own capacities were insufficient to cover the domestic market. According to Metipol, domestic production of color-coated steel decreased by 38% y/y in 2022 – to 37.5 thousand tons, and out of the volume of apparent consumption of 152.5 thousand tons, only 19% fell on national producers.
Thus, in terms of galvanized and polymer-coated rolled products, Ukraine will definitely remain import-dependent. The beneficiaries of this situation will be European, Turkish and Chinese producers.
Status «net»
After the end of the war, Ukraine has every chance of turning into a net importer of steel products in certain positions. This primarily applies to flat products, including galvanized and painted.
As an example, we can cite import figures for four months of 2023. During this period, Ukraine increased import of flat products by 2.4 times y/y – up to 232.4 thousand tons. For comparison: this indicator in 2022 decreased by 32.8% y/y – to 472 thousand tons. The situation with the import of long products is the opposite: deliveries in physical terms in January-April 2023 decreased by 24% y/y – to 30.3 thousand tons. In 2022, this figure fell by 70.5% y/y – to 96 thousand tons
The bulk of imports came from European countries. In the total volume of import deliveries of flat products in 2022 and in January-April 2023, the share of European suppliers amounted to 46.6% and 27%, for long products – 44.4% and 46.6%, respectively. Despite the overall decline in imports of flat products in 2022, deliveries of these steel products from Europe to Ukraine increased by 22% y/y – up to 220.4 thousand tons. At the same time, imports of European long products decreased by 46.9% y/y – to 26 thousand tons, since domestic production is unlikely to be able to cover the needs of post-war recovery. Amid this, European producers will be able to increase the supply of their products to Ukraine.
The need to import flat products is directly related to the destruction of two Mariupol plants and the insufficient capacity of the remaining ones. At the same time, Ukraine's needs for long products are not as great as for flat products, since long products are used mainly in construction, and this sector of the economy is unlikely to show significant positive dynamics until the end of the war.
Also, the Ukrainian status of a net importer refers to a number of specific profile steel products – railway rails, etc. For the purchase of the latter, France allocated a loan of €37.6 million to Ukraine, which will allow it to purchase more than 25 thousand tons of rails. After the destruction of Azovstal, Ukraine did not have its own production of railway rails.
Prospects for the steel trade
Obviously, until the situation improves in Ukraine's two key steel-consuming industries – construction (a drop of 65% compared to 2021) and mechanical engineering (-41.1%), there will be practically no significant prerequisites for increasing domestic demand for steel products. Great hopes are pinned on the comprehensive post-war restoration of infrastructure, but so far more is said about this than done and allocated funds for it.
At the same time, steel trading market players give cautious optimistic forecasts for the current year. Vartis expects growth in sales of rolled steel products at a level of at least 10-15% compared to last year and plans to expand the network of steel centers. The market expects an increase in work as part of a program to restore infrastructure damaged by Russian aggression.
"Our expectations for the second half of the year are quite optimistic, based on the dynamics of the steel products market recovery from the beginning of 2023. Major infrastructure projects, the adaptation of industrial enterprises to new realities, the search for new sales markets and supply chains will help increase demand for steel products," summarize Metinvest SMC.
---
---