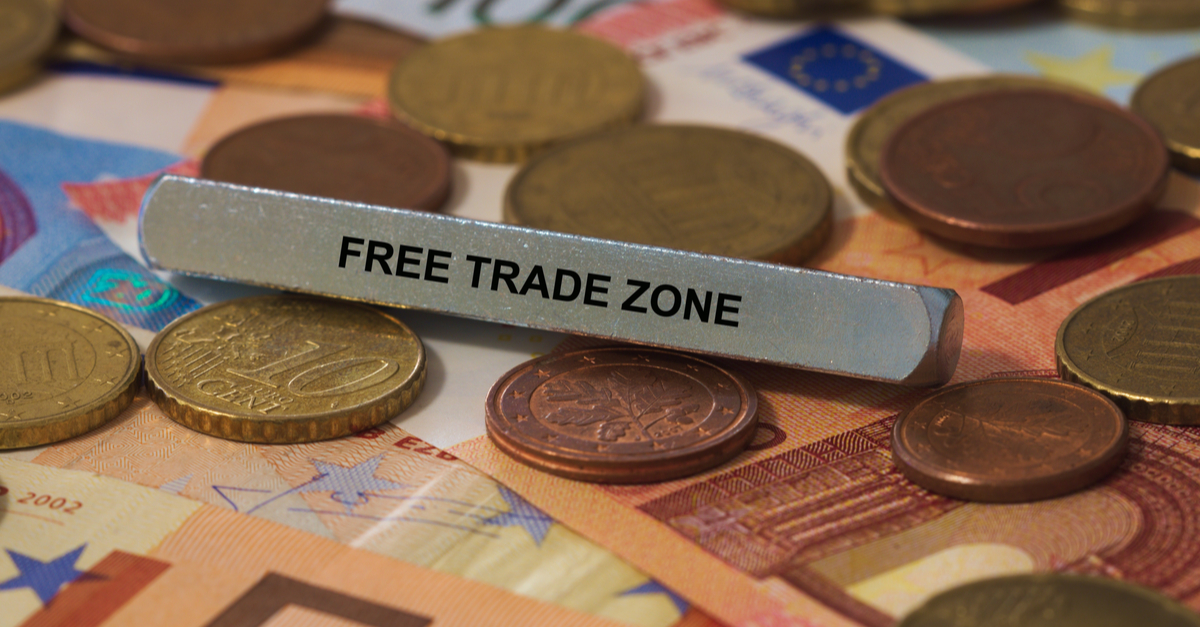 (c) shutterstock
Export opportunities are more important than macro-financial assistance or loans
Ukraine's economy will fall by 30-50% this year, and the public budget needs subsidies of up to $5 billion a month. The production and export potential of our country has been harshly affected by the war. At the same time, Ukraine suffers significant losses due to the developed countries reluctance to trade. The barriers are import restrictions, or so called protectionism. Trade policy change in the EU and US would provide much more support to the Ukraine's economy than macro-financial assistance or loans.
World steel industry is the leader when it comes to protectionist measures. In Ukraine, iron and steel industry is accounted for 32% of exports. Various trade barriers imposed at different time periods have caused a decrease in the volumes of Ukraine's steel exports, amounting to 3.3-3.5 million tons or about $3 billion in export revenues The damage for Ukrainian economy from the introduced trade barriers in foreign markets is estimated at 1.8-2.0% of GDP. And now every percentage is important.
Against us
There are 38 measures to restrict metal products imports from Ukraine in 15 countries, including 33 anti-dumping measures. Over the past six years, an average of four new measures per year have been introduced against steel from Ukraine. Even in 2021, four new measures were introduced against Ukrainian steel. So, it becomes more and more difficult for Ukrainian steelmakers to sell their products.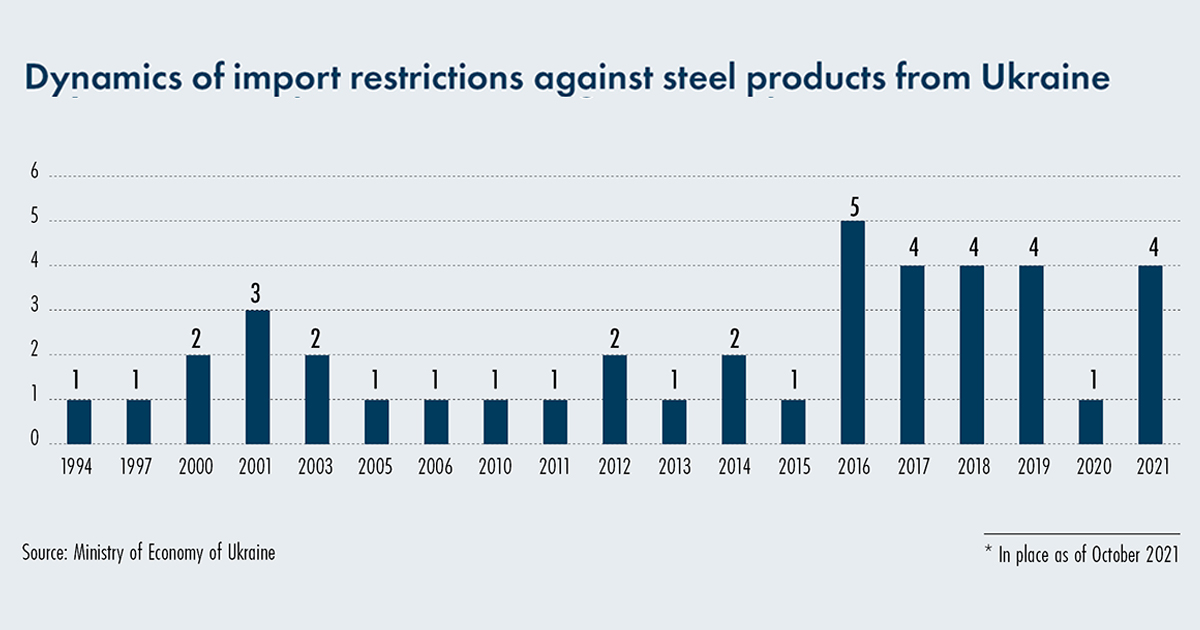 At the same time, our closest political partners have implemented the maximum number of measures to restrict trade with Ukraine. United States, which has set nine restrictions, are in the first place. Russia, which has started war against Ukraine, along with other Eurasian Economic Union countries, introduced seven measures. In addition, on the list of those who do not want to trade with Ukraine are Canada and Mexico. Together they have introduced eight measures, as they have close relations with the United States and have a close trade policy. Only three measures have been introduced against us in the EU, but they are, in fact, the most painful of all.
US trade barriers are: anti-dumping duties on imports of ferroalloys (in force since 1994), hot-rolled flat products (since 1997 and since 2001), rebar (since 2001), pipes (since 2014 and 2021), wire rods (from 2018), wire (from 2021) and one protective measure under section 232 for semi-finished products, rolled products and pipes (from 2018).
The anti-dumping duty on imports of hot-rolled steel to the United States costs more than 300,000 tons of supplies. The duty makes it impossible to test deliveries and show that Ukraine is trading fairly. This old measure has been running for over 20 years.
In addition, section 232 has seriously undermined the possibility of exporting metal products from Ukraine to the United States. This is a 25% duty on imports of all steel products. During the pre-war period, steel industry players repeatedly appealed to President Volodymyr Zelensky to initiate negotiations on the abolition of this duty. However, in peacetime there was no progress on this issue.
EU measures include anti-dumping duties on imports of seamless pipes (in force since 2006) and hot-rolled coils (since 2017), as well as one safeguard measure on rolled products and pipes (since 2018). For example, in 2015-2016, Ukraine supplied the EU with about 1.2 million tons of hot-rolled roll. This was a very difficult period for the industry, as prices fell. In 2017, an anti-dumping duty of €60.5 per ton was imposed on Ukrainian producers, and they lost production and sales of 700,000 tons.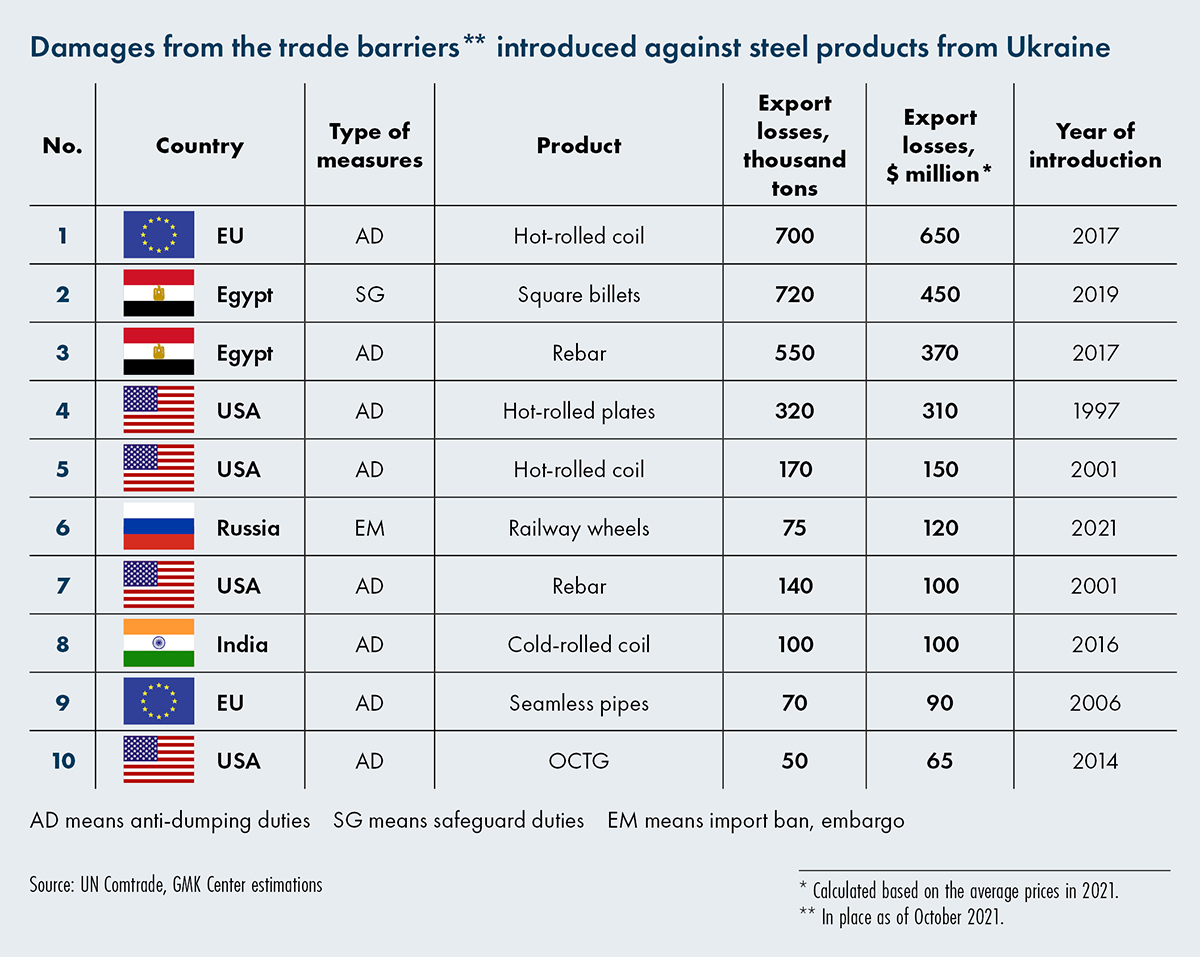 It is worth mentioning Egypt too. Egypt's introduction in 2019 of a protective duty on the import of square billets was very painful. Losses of Ukrainian producers amounted to more than 700 thousand tons of exports. This measure applied to all countries. But Russia immediately began negotiations with Egypt to exclude tariffs. Ukraine has not even started such negotiations.
Egypt was also one of the largest markets for Ukraine's rebar. 550,000 tons of fittings were supplied there, but the introduction of an anti-dumping duty actually pushed Ukrainians out of this market. This largely accounted for the steel production reduction in Ukraine in 2017, as it was impossible to find a similar market. This restriction is to be reviewed this year. It is important to do everything possible at all levels to abolish this duty.
The first steps
Since the start of Russian war against Ukraine, Western countries have changed their attitude to trade with Ukraine. The United Kingdom was the first in this. London unilaterally abolished import duties and quotas on all goods imported from Ukraine. Prior to the abolition, the average tariff on Ukrainian imports was about 22%. When it comes to ​​steel imports, Britain has copied EU safeguard measures in and their tariff quotas. They quotas were too small to make profitable shipments by sea. Now they will not work for Ukraine. However, UK was not that big market for Ukraine.
Much more important is the long-term abolition of tariffs in the EU, both anti-dumping and protective. As a result of these measures, Ukraine lost nearly 1 million tons of steel production and exports. Tariffs abolishing in the EU should help Ukraine as it suffers from a limited geography of exports. In fact, the only way to export from Ukraine now is by rail to the EU. However, the European Commission wants to release Ukrainian products from customs tariffs for only one year.
Ukraine does not need a temporary solution during the war, when logistics flows disrupted. Ukraine needs a long-term abolition of import quotas and tariffs for a rather long period of post-war recovery. It is also very important to make a special regime for the country during the implementation of the EU's Carbon Border Adjustment Mechanism (CBAM), as Ukraine's investment opportunities have been severely undermined by the war.
In addition, it is necessary to demand the exclusion of Ukraine from the section 232 in the United States. As a result of bilateral trade agreements, about 90% of total US steel imports have already been exempted from this measure. And President Joe Biden's administration is considering a temporary suspension of tariffs on steel imports from Ukraine, although under the current conditions it is more of a symbolic action.
Indeed, partners have already taken the first steps towards trade liberalization with Ukraine. But much remains to be done. It is important not to make an immediate decision, but to systematically change the EU's policy on trade with Ukraine. This will be useful for the partners too as it will allow to solve the issue of shortage of supplies after the Russian products import refusal.
---
---