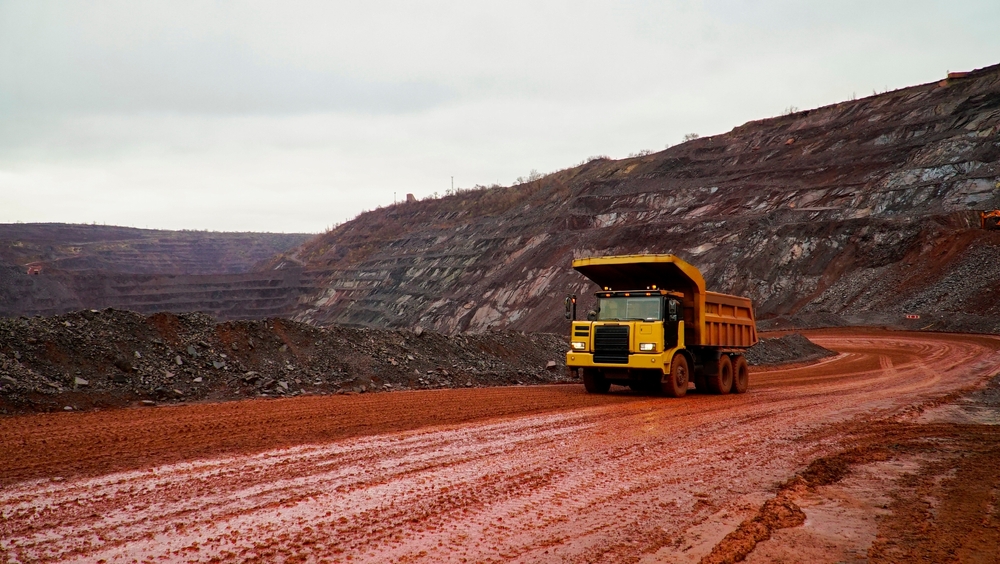 In January-April, Ukrainian iron ore exports to the EU amounted to 19.7% of the total European imports
The global iron ore market is changing. China and India continue to increase their role and influence. Europe focuses more on imports of DR-grade iron ore products. Despite all the military risks and logistical difficulties, Ukraine remains an important supplier of iron ore. The EU countries have become the key market for Ukrainian exporters instead of China.
Global market
According to the US Geological Survey (USGS), global production of iron ore in 2022 decreased by about 3% and amounted to 2.6 billion tons. All three of the leading countries in the production of iron ore showed a decrease:
Australia – by 3.5%, to 880 million tons;
Brazil – by 4.8%, to 410 million tons;
China – by 3.6%, up to 380 million tons.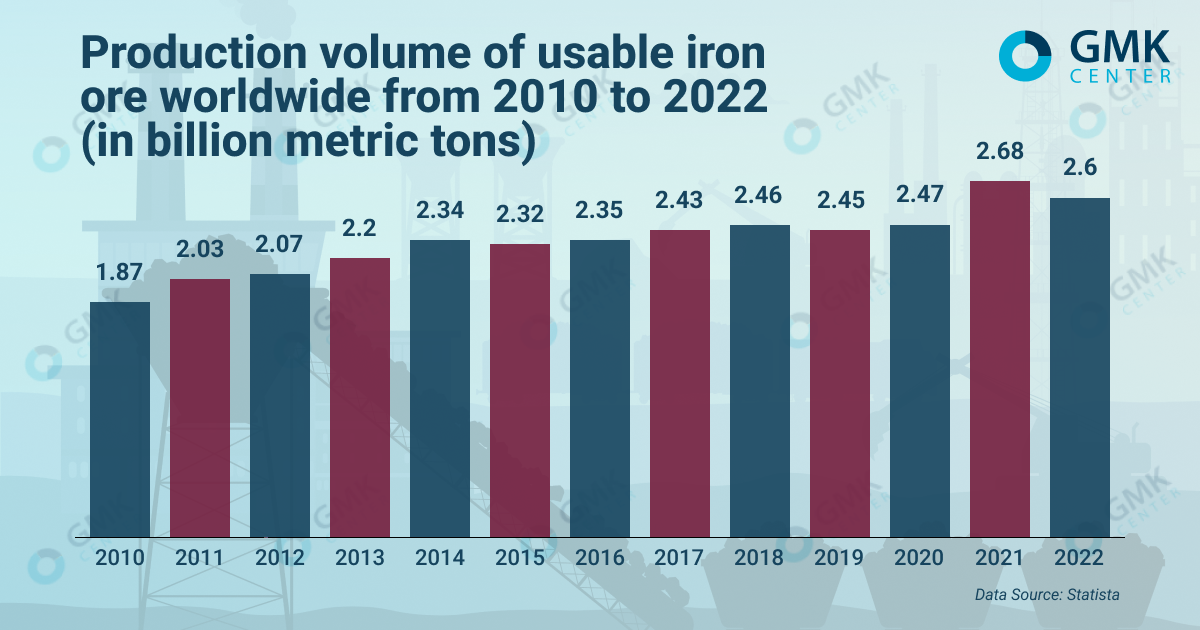 The production figures of the three largest mining companies:
The British-Australian Rio Tinto increased production by 1% in 2022 – up to 321.6 million tons. In the first half of 2023, production increased by 7%, to 160.5 million tons.
In 2022, the Brazilian Vale reduced iron ore production by 2% – to 308 million tons. However, in January-June 2023, this figure increased by 6% – up to 145.5 million tons.
In 2022/2023 financial year (expired June 30, 2023), the Australian BHP increased its iron ore production by 1% compared to the 2021/2022 financial year – up to 257 million tons.
Positive demand expectations are favorable for iron ore producers. Thus, the Worldsteel Association expects that global demand for steel in 2023 will grow by 2.3% – to 1.82 billion tons. In turn, the OECD Steel Committee expects growth by 1%.
At the same time, market players are cautiously evaluating market prospects due to problems in the Chinese economy, assessing the likelihood and strength of the impact of new measures to stimulate growth in different ways.
«China's economic recovery has fallen short of initial market expectations, as the property market downturn continues to weigh on the economy and consumers remain cautious despite monetary policy easing. Manufacturing data in advanced economies showed a further slowdown and recessionary risks remain,» Rio Tinto said in its quarterly report.
Analytical agency Benchmark Mineral Intelligence predicts an increase in iron ore production in the coming years – by an average of 2.3% per year in the period 2023-2027. Australia and Brazil will retain their leading positions in the global iron ore market.
Ukrainian export of iron ore
Iron ore now remains one of the few types of mass export products in Ukraine. According to the indicators of individual companies, the decline in the industry has not been overcome, despite some improvement in recent months. Thus, Ferrexpo produced 1.97 million tons of pellets in the first half of 2023, which is 2.3 times less than in the same period last year (4.8 million tons). At the same time, the production of pellets in the second quarter of 2023 increased by 18% compared to the previous one – up to 1.07 million tons.
In the first half of 2023, Ukraine exported 8.3 million tons of iron ore, which is 51% less compared to the same period in 2022. The common reason for decreased production and exports is the blocked ports of the Black Sea. In June, iron ore exports decreased by 2.9% compared to May 2023 – to 1.48 million tons and by 15.8% compared to June 2022. In 2022, Ukrainian iron ore exports fell by 45.9% y/y – to 24 million tons. Almost 30 million tons of iron ore, or 60% of all iron ore exports in 2021, were exported through the Black Sea ports that are blocked today.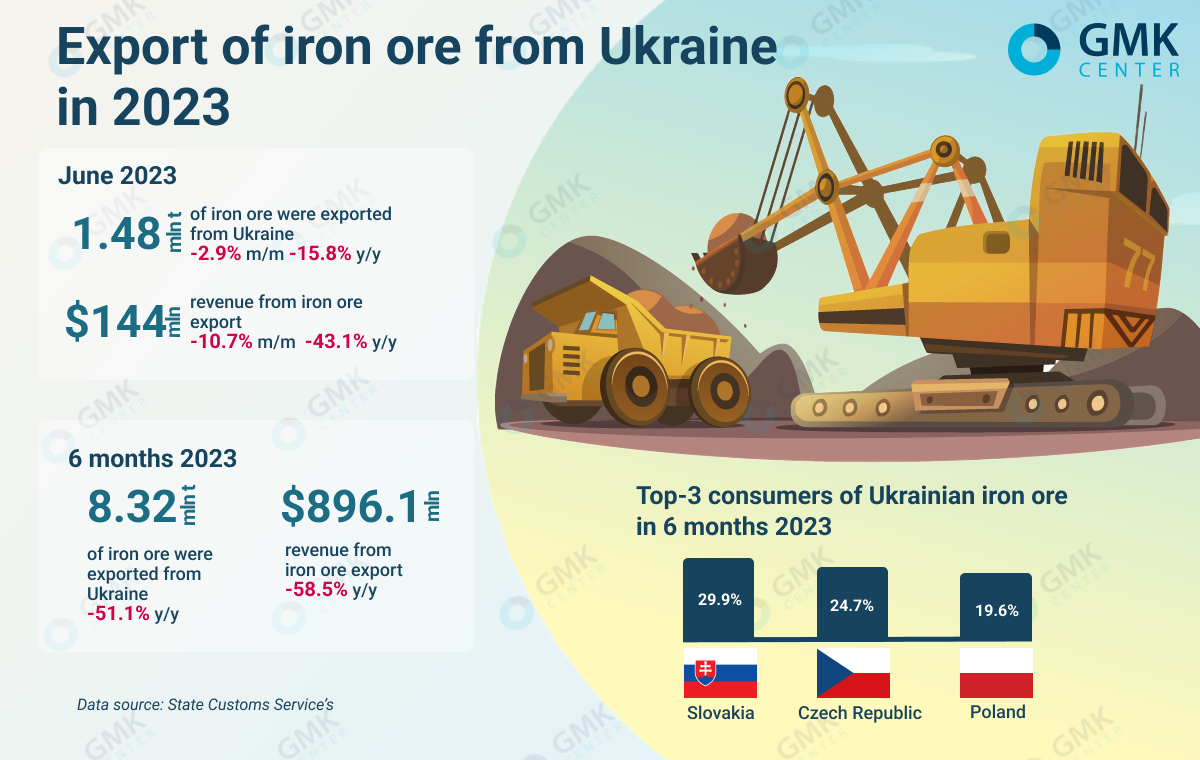 Orientation to Europe and utilization of Ukrainian iron ore mines
Before the start of the war, China was the main consumer of Ukrainian iron ore, but due to the blockade of Ukrainian seaports, the supply of raw materials to China became economically inexpedient. Therefore, the EU countries have become key markets for the export of iron ore.
Ukrainian exports of iron ore to the EU in 2022 fell by 21.5% y/y – to 12.9 million tons. In January-April, this figure decreased by 9.7% compared to the same period in 2022 – to 4.93 million tons, or by 19.7% of the total figure.
in In January-June 2023 Slovakia was the biggest consumer of Ukrainian iron ore – 30% of total exports (in monetary terms). Czech Republic is in the second place – 24.7%, and Poland is in the third – 19.6%. A similar structure of iron ore exports from Ukraine was in 2022 – Slovakia (19.2%), Czech Republic (17.3%), Poland (16.5%).
Türkiye remains a significant consumer of iron ore from Ukraine. In January-May 2023, our exporters shipped 257.5 thousand tons of iron ore to this country (+9.4% y/y). At the same time, in 2022, this figure was 585.2 thousand tons (-50.6% y/y). Last year, Ukraine was the 4th major iron ore supplier to Turkiye – Ukraine supplied 6.2% of the imported iron ore to this country.
The general situation among the main producers:
– one of the Ukrainian mining facilities (Zaporizhzhia Iron Ore Plant) today is not controlled by Ukraine;
– Metinvest's mining facilities are utilized by only 35-40% of the pre-war level;
– mining department of ArcelorMittal Kryvyi Rih – by 40%;
– Rudomine operates at 50% of its capacity;
– KZHRK (Kryvyi Rih Iron Ore Plant) – by 40-50% of the capacity of the pre-war period;
– Ferrexpo's mining and beneficiation facilities operate at approximately 50% capacity;
The systemic crisis in Ukrainian iron ore industry connected to low production and export volumes can only be resolved if the Black Sea ports are unblocked and safe for navigation. While they are blocked, there are additional problems with logistics. Amid the cancellation of the grain deal, agricultural exporters will put even more pressure on the cargo flow through the Danube ports and western railway border crossings, reducing the opportunities and volumes of iron and steel products export.
European market
High volatility in the steel market affects the need for European steelmakers in raw materials. According to Eurostat, total EU iron ore imports fell by 12.7% y/y in 2022 – to 81.7 million tons. In January-April 2023, this figure decreased by another 14.6% compared to the same period last year – to 25 million tons.
The main exporters of iron ore to the EU were Canada, Brazil, Ukraine, South Africa.
According to Eurostat, their supply dynamics looks like this:
Canada was able to increase iron ore exports to the EU last year by 6% y/y – up to 21.9 million tons. At the same time, in January-April, this figure decreased by 3.2% – to 6.35 million tons.
Over the past year, iron ore exports from Brazil to the EU decreased by 10.8% y/y – to 20.3 million tons. Over the four months of 2023, the decline continued, it amounted to 15.4% – 6.6 million tons.
Exports of iron ore from Ukraine decreased by 21.5% y/y – to 12.9 million tons. In January-April, there was a decrease by 9.7% – to 4.93 million tons.
South Africa reduced export supplies of iron ore to the EU by 12.8% y/y – to 10.5 million tons. Over the four months of 2023 – by 7.3%, to 3.1 million tons.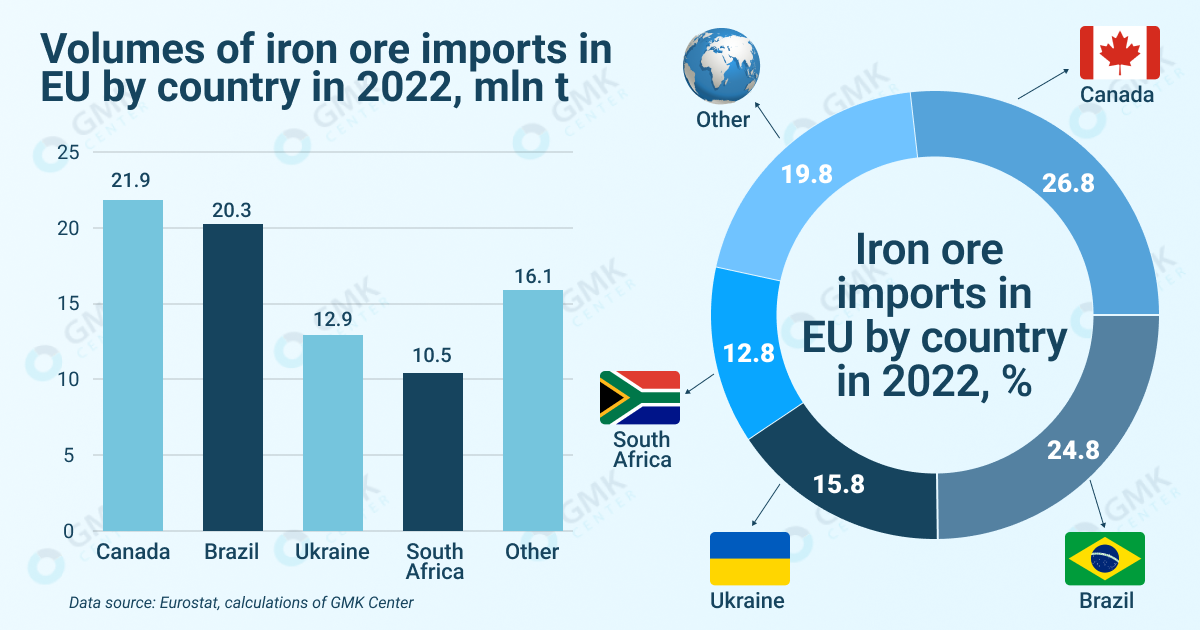 In total, in 2022, Canada occupied 26.8% of the iron ore export market to the EU, Brazil – 24.8%, Ukraine – 15.8% (in 2021 – 17.6%), South Africa – 12.8%.
Australia, one of the world leaders in the production and export of iron ore, increased supplies to the EU last year by 36.5% y/y, but their volumes were insignificant – only 632.9 thousand tons.
At the same time, supplies from the Russian Federation have been decreasing over the past year, but remain quite stable: in January-March 2023, Russian enterprises shipped 357.74 thousand tons of DRI to the EU, iron ore supplies from Russia to the EU in April alone amounted to 82.34 thousand tons.
Prospects for the global iron ore market and the role of Ukraine
According to Reportlinker, global iron ore market will increase from $405.1 billion in 2022 to $447 billion in 2023 at a CAGR of 10.3%. Growth in the iron ore market is possible only with increased steel production and new capacities in China and India.
Iron ore prices largely depend on the situation in the Chinese economy. S&P Global estimates that the Asian iron ore market is likely to show price declines in Q3 due to expectations of weaker demand from Chinese steelmakers amid extreme weather conditions and weak production margins. But this can only remain a negative expectation, because in January-June, Chinese steel producers increased iron ore imports by 7.7% – up to 576.1 million tons.
But it must be taken into account that the largest consumers of iron ore today and in the future plan to increase their own production. Nanhua Futures estimates that China's iron ore output will grow by 3.5% y/y in 2023 – up to 238 million tons. This is due to the fact that mining companies are introducing new production capacities. A similar situation is in India, according to SteelMint forecasts, iron ore mining in India in fiscal year 2023/2024 will increase by about 10% y/y – up to 275-285 million tons, 20-30 million tons more than in the previous period.
The iron ore market is changing. European steel companies are massively investing in the construction of new plants for the production of direct reduction iron (DRI). The leaders of steel production in the EU have chosen the main technology for the production of green steel – production using DRI based on green hydrogen.
According to Rostyslav Shurma, Deputy Head of the President of Ukraine's Office, if we can become a member of the EU, then we will become part of the large European steel market, which in the next 10 years will face an increase in the demand for raw materials in the form of direct reduced iron (DRI) or hot briquetted iron (HBI).
«The peculiarity of our state is that we have the largest reserves of iron ore needed for steel production and a great potential in green energy, which will be the main source for hydrogen production. In the future up to 10 years in Ukraine there is a potential to build 20-25 standardized installations for the production of HBI or DRI, depending on the chosen technology. However, the pilot project must be implemented in the next 3-4 years, having built one or two units,» he said.
Industry leaders are also looking in this direction. In particular, the Metinvest group has joined the government's green recovery platform for the steel sector and is already investing in the development of projects for the production of DRI in Ukraine and the modernization of production facilities to switch to this technology.
«A big advantage is that magnetite iron ore is mined in Ukraine, which can be enriched to DRI and HBI quality using already known technologies. The idea is to build DRI facilities at our enterprises in Ukraine to supply consumers in the EU. And this, in my opinion, should become an integral part of the restoration of Ukraine. It is also a way to bring Ukraine closer to the EU by entering the common EU product chain in this green steel movement,» pointed out Yuriy Ryzhenkov, CEO of Metinvest Group.
Even before the war, Ukrainian companies began modernization in order to produce iron ore with a higher iron content. In the spring of 2020, Metinvest's Central Mining had launched production of DR pellets with an annual capacity of 2.3 million tons. In the future, Metinvest planned to launch a similar production at the Northern and Southern Minings. In July 2021, Metinvest estimated the prospective annual production at 8 million tons of direct reduced iron and 12 million tons of DR pellets after technological upgrades.
Ferrexpo is the largest exporter of DR pellets with an iron content of 67%. In 2022, Ferrexpo produced up to 6.05 million tons of pellets, of which the production of DR pellets with a 67% iron content amounted to 353 thousand tons.
That is, Ukrainian companies are ready for new challenges of the global and European iron ore markets.
"16 projects for the construction of DRI/HBI modules with a total capacity of 40 million tons by 2030 have been announced in the EU. This will require about 40 million tons of DR-quality iron ore imports. For comparison, in 2020-2021 the entire international trade in commercial DR pellets was also about 40 million tons. That is, a significant increase in supply will be required. Iron ore producers from Ukraine have flexible capacities and can increase the output of DR pellets if the market situation requires it. In this way, Ukrainian companies could help European companies in their green transition and close their needs for raw materials," sums up Andriy Tarasenko, chief analyst at GMK Center.
---
---