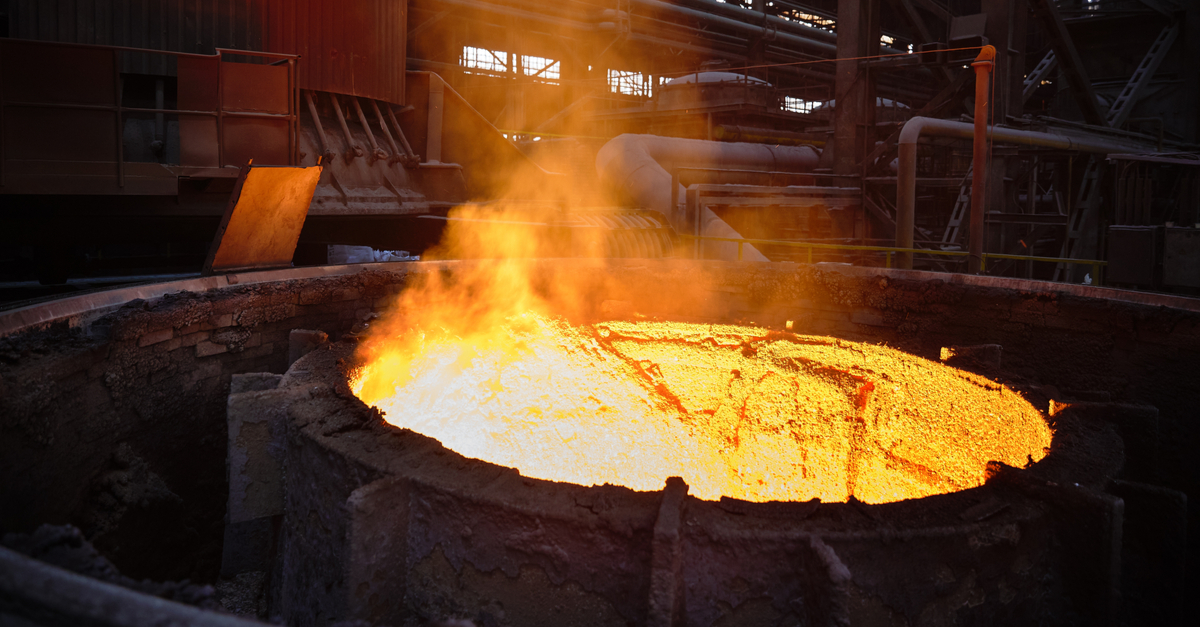 (c) shutterstock
More, and more industry enterprises, and related industries are back into production which was stopped due to the war
The Ukrainian authorities are actively urging business to resume their work. Some iron & steel companies did not stop their operations, although they work with a reduced utilization.
Compared to the previous analyzed period, more and more iron & steel companies, and supply chains are starting up capacities.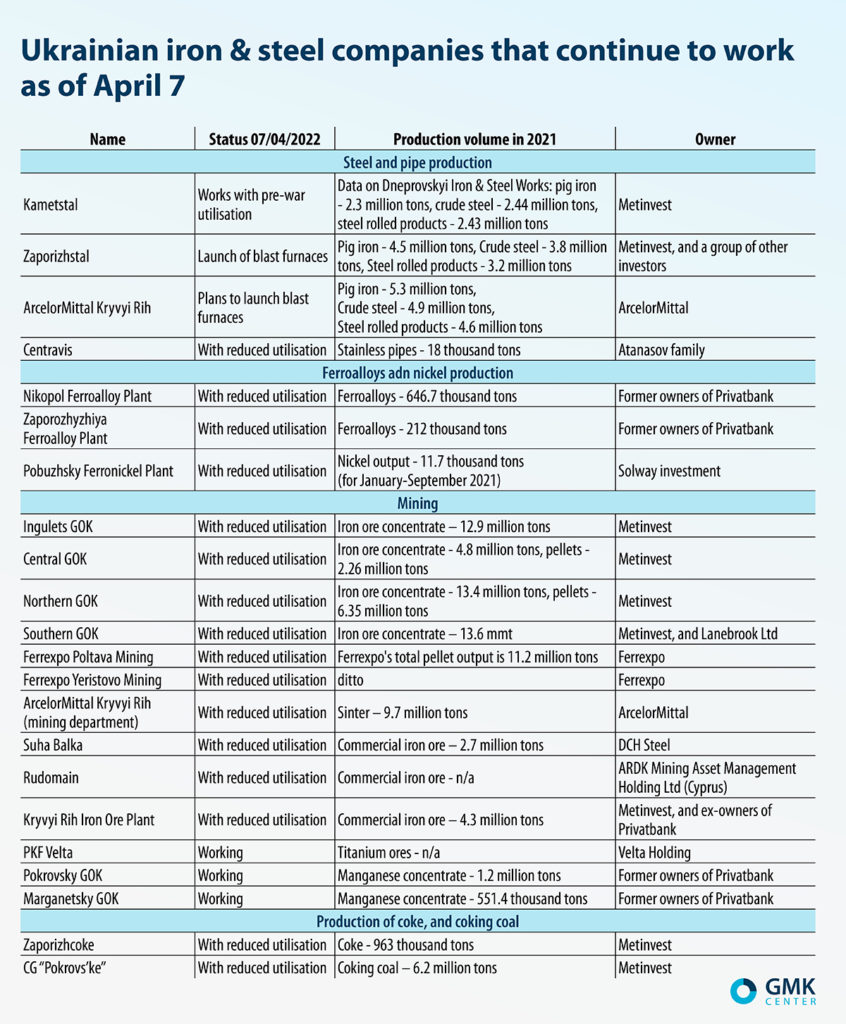 Data taken from official public sources. The data prepared by the GMK Center may be incomplete, since not all enterprises report their activities or, on the contrary, directly avoid any public mention for security reasons.
The words "with reduced workload" can mean a wide range of options – from the completion of work in progress to 60-80% workload with the possibility of partially shipment of products to European consumers.
Steel Power
Kametstal is the only plant in Ukraine, which worked almost at pre-war level in March. The plant operates at approximately 80% of its technical steelmaking capacity.
Steelmaking capacities of Interpipe Steel, and the Dneprovskyi Metallurgical Plant DCH Steel have been suspended. The Mariupol plants,  Mariupol Ilyich Iron and Steel Works and Azovstal Iron & Steel Works were in hot conservation mode, but were bombed and shelled. According to the management, it is realistic to restore the facilities, but it is necessary to maintain Ukraine's control over Mariupol.
ArcelorMittal Kryvyi Rih plans to resume operations at one out of the four blast furnaces, as previously reported. In the future, the plant plan to put into operation a continuous casting machine. So we could expect resuming of all production chain at the plant.
After partially resuming of the cold rolling shop Zaporizhstal put into operation two out of the four blast furnaces. The plant plans to start steelmaking, production of semi-finished products, and steel rolled products by the end of April. At the same time, the plant began repair and maintenance of the equipment of the hot rolling shop worth UAH 30 million.
Disruptions of supply chains, in particular due to the cessation of slab exports from Ukraine, have led Metinvest's rolling mills in Bulgaria, Italy, and the UK to operate as stand-alone businesses. These plants will be able to diversify raw materials supply within two months.
Iron ore production
Iron ore companies in Ukraine are utilized at about 30-75% of their capacity, working mainly for exports to the EU, and partly for warehouses. Logistics tasks are being successfully solved, and it can be expected that shipments to China through European ports will soon be formed.
The Mining Department of ArcelorMittal Kryvyi Rih continues iron ore mining at a reduced utilization. In April, the plant plans to increase the production of iron ore concentrate to 500,000 tons compared to 320,000 tons shipped in March.
Ferrexpo reduced its pellets production volumes, but continues to support the export of pellets to the EU by rail.
Suha Balka DCH Steel continues to work. The enterprise specializes in underground mining of sintering ore with a capacity of about 3.1 million tons per year.
Iron ore plants of Metinvest in Kryvyi Rih work with reduced workload – at 35-40% of capacities. In particular, Ingulets GOK exported 10 thousand tons of iron ore concentrate to consumers in Europe in March.
The Southern Mining and Processing Plant (Southern GOK ) produced 411 thousand tons of iron ore concentrate in March 2022, despite the martial law in the country. The plant shipped the bulk of its finished products to consumers in Western Europe.
Rudomain continues to restore production to pre-war levels.
Pipe capacities
Centravis previously resumed the work of several sectors in order to fulfill orders from unfinished pipes at different stages in the hot, and cold shops.
Interpipe does not work, the situation has not changed. The steelmaking enterprise Interpipe Steel, as well as pipe enterprises – Interpipe-NTZ, Interpipe NMTZ, and Interpipe Niko Tube – stopped.
Ferroalloys, nickel production
The Nikopol, and Zaporizhyzhya Ferroalloy Plants continue their work. Nikopol Ferroalloy Plant paid wages to employees for February, and March in advance, and paid UAH 400 million in taxes to the budget in advance.
The Pobuzhsky Ferronickel Plant also continues to work, and due to the blockade of seaports operates with a 50% product capacity utilization level.
In return, the staff of the Zaporozhzhiya Ferroalloy Plant has been helping to prepare their city for defense and in solving humanitarian issues since the beginning of the Russian aggression against Ukraine. In addition, the plant has mastered the production of anti-tank hedgehogs and field stoves.
Coke production
Avdiivka Coke does not work, being on hot conservation, as it is located in the direct zone of active hostilities.
Metinvest brought the main subdivisions of Zaporozhcoke out of conservation mode. The plant partially resumed the work of the coal preparation and coke shops, the shops for capturing, desulphurization, as well as auxiliary units. Three coke oven batteries are being brought out of conservation mode to planned production level.
CG "Pokrovs'ke", Ukraine's largest producer of coking coal, continues to work. The specialists of the enterprise continue repair work – 57 units of blocks, and mechanisms of stall equipment were repaired in a month.
Auxiliary production
Zaporizhzhya Casting & Mechanical Plant partially resumed operations. The company plans to produce and repair equipment for Metinvest enterprises – Zaporizhstal, Kametstal, Metinvest Pokrovskugol, and Mining & Processing Plants of Kryvyi Rih. The plant also plans to produce new types of products – spare parts for mining, and lifting vehicles.
The enterprise for the production of refractory products, Zaporozhogneupor, brought out of conservation mode shop of magnesia products, and aluminosilicate shop. Service centers were launched in Zaporizhyzhya, and Krivyi Rih.
New Hope
We can state that since the last review (10 days ago) Ukrainian iron & steel industry is recovering, and getting ready to launch its capacities. Great hopes are pinned on Zaporizhstal, and ArcelorMittal Krivyi Rih, the two large steel plants.
Solving logistics problems, and building new routes to the EU, and through EU ports for export to China is the second most important challenge that Ukrainian iron & steel companies.
The whole world is watching for the work of Ukrainian iron & steel industry during the war. The influence of Ukraine on the global markets of raw materials, iron and steel products is difficult to overestimate. We hope that the next review will please us with positive news.
---
---