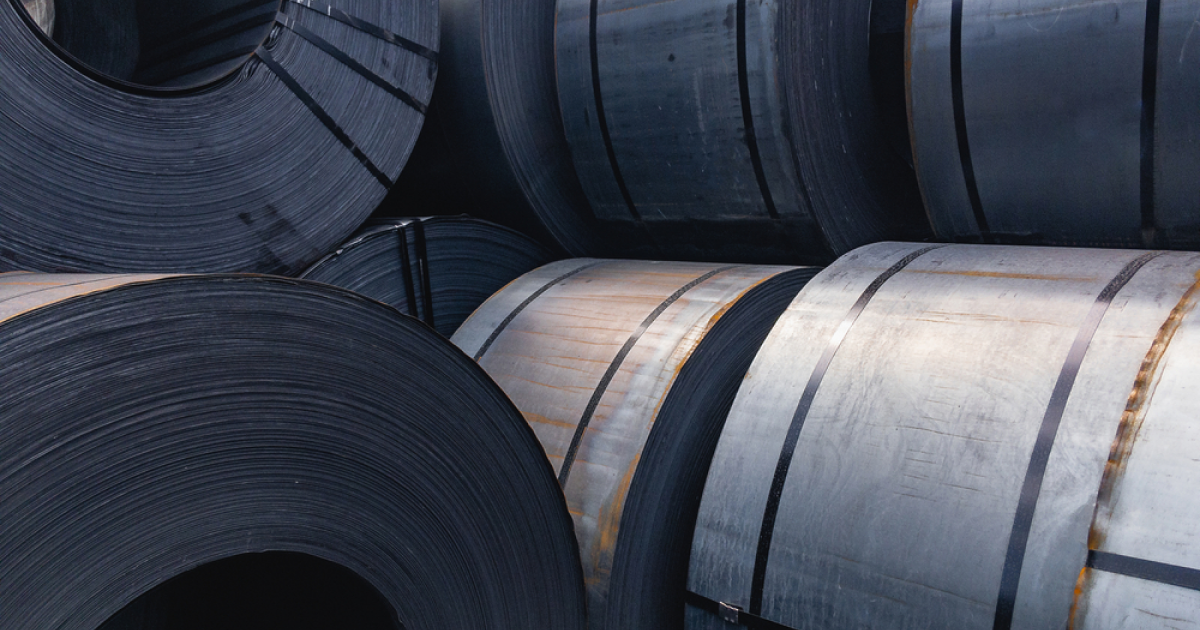 Flat rolled steel
The war changed the structure of suppliers in the EU flat steel market – Asian companies were able to increase sales
The European flat steel market is traditionally dependent on imports, and the share of imports is growing. Thus, according to the EUROFER association, if in 2012 imports accounted for 13.5% of the flat steel market, then in 2021 it will already be 23.7%. Moreover, in the segment of cold-rolled sheets, the dependence on imports is higher than in the segment of hot-rolled sheets: in the first case, imports accounted for 30.5% of supplies to the European market in 2021, and in the second case – 24.8%.
Before the war, Ukraine was one of the most significant suppliers of flat products to the European market. In particular, in 2021, Ukrainian producers exported 2.2 million tons of flat products to the EU, which accounted for 37.1% of the total export of these products. However, in 2022, due to the war, the situation changed dramatically.
On the one hand, the possibility of deliveries from Ukraine has decreased, including due to the cessation of production at the Mariupol steel plants. On the other hand, the EU blocked the supply of flat products from Russia – Russian quotas were redistributed among other countries. GMK Center decided to update the information and find out in more detail what is happening on the European sheet steel market now.
European flat imports
According to Eurostat, imports of flat products to the EU in 2022 decreased by 8.8% – to 21.9 million tons. Among the largest importers with a positive supply trend, the following countries can be distinguished:
South Korea – +30% y/y, up to 2.8 mmt;
Taiwan – +26.5% y/y, up to 2.1 mmt;
China – +63.3% y/y, up to 1.96 mmt;
Japan – +75.1% y/y, up to 1.42 mmt.
The following countries showed the negative dynamics of flat-rolled products supplies to the EU in 2022:
Türkiye – -17.9% y/y, to 2.9 mmt;
India – -30.6% y/y, to 2.4 mmt;
Ukraine – -58.7% y/y, to 891.5 thousand tons;
Russia – -75% y/y, to 713.3 thousand tons
Due to EU sanctions, deliveries of flat products from Russia to the EU in 2022 fell by 75%, but still remained significant due to the first half of the year. For almost all positions of flat products, Russian exports have ceased since the middle of 2022. The exception was insignificant deliveries in the second half of 2022 in the range of 4-6 thousand tons of alloyed steel (HS – 7225) per month.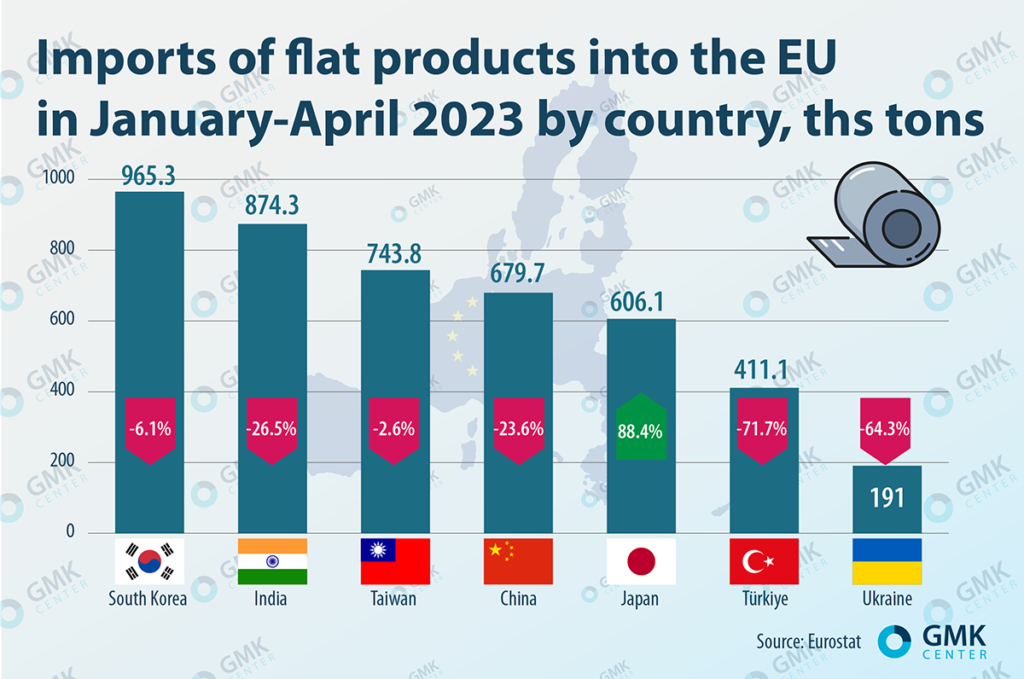 In 2023, imports of flat products dipped significantly. In January-April (Eurostat only provides data for this period so far), this figure fell by 33% compared to the same period last year, to 6.2 million tons. Almost all major importers showed a downward trend:
South Korea – by 6.1%, to 965.3 thousand tons;
India – by 25.6%, to 874.3 thousand tons;
Taiwan – by 2.6%, to 743.8 thousand tons;
China – by 23.6%, to 679.7 thousand tons;
Türkiye – by 71.7%, to 411.1 thousand tons;
Ukraine – by 64.3%, to 191 thousand tons.
Only Japan was able to increase deliveries by 88.4% in four months of 2023 – up to 606.1 thousand tons. In 2023, there were practically no exports of flat products to the EU from Russia.
The main beneficiaries of the departure of Russian products and the reduction in supplies from Ukraine were South Korea, Taiwan, China and Japan, which significantly increased the supply of flat products to the EU. However, other major exporters have reduced supplies of flat products to the EU in 2023, many quotas left unused.
According to Argus, in the first half of 2023, EU imports of hot-rolled steel decreased by 7.5% y/y. – to 4.44 million tons. Despite a record performance in May, it fell sharply in June to 786,300 tons, down 27% from the previous month. This occurred as several quotas were nearing exhaustion. Notably, the «other countries» allocation is fully filled for the first time since the measures were introduced in 2018.
The structure of HRC imports changed in favor of Asian suppliers. Their share is more than 70% of the total volume, up from 50% in June last year and 27% in June 2021. Most suppliers – Japan, Taiwan and others – use 'other country' quota clearance materials.
India has its own country quota, and by the end of the second quarter, it had taken up only 78% of the allocated volume. South Korea fully utilized its quota. Turkey used only 11% of its quota of over 1.2 million tons during April-June. However, Turkish imports are likely to rise from September as several deals have been struck in the EU on expectations that not all of the hot-rolled steel to be imported under the «other countries» quota in October will be delivered.
"European consumers tend to order products from those countries whose producers offer the lowest prices. Therefore, the quarterly quotas of Korea and other countries (Japan, Vietnam, Indonesia) are exhausted during the first month of deliveries. However, the need for imports remains, and there are not so many suppliers who could offer attractive prices and large volumes of deliveries. Therefore, before the start of the next quota period, a slight increase in prices for flat products in the EU market is quite possible, both for imported and domestic products," said analyst at GMK Center Andriy Glushchenko.
Ukrainian export
In the first half of 2023, Ukraine reduced the export of flat products by 68% compared to the same period in 2022 – to 422.5 thousand tons. Most of all, hot-rolled flat products (HS – 7208) were exported in January-June – 312.3 thousand tons for $219.3 million. Also, 89.6 thousand tons of cold-rolled flat products (HS – 7209) for $61.9 million and coated steel (HS – 7210) – 20.13 thousand tons for $26.24 million were exported.
Despite the decline in exports, Ukraine still managed to gain some benefit from the withdrawal from the European market of flat products from the Russian Federation. In particular, Metinvest replaced Russian roll suppliers on the EU market.
In the first half of 2023, the largest consumers of Ukrainian hot-rolled steel are Poland and Bulgaria – 57.2% and 13.9%, respectively, in monetary terms. Poland (33.4%), Bulgaria (13.9%) and Portugal (10.4%) consumed about 60% of cold-rolled steel. Among the main buyers of coated steel are Poland (65.4%) and Romania (27.4%).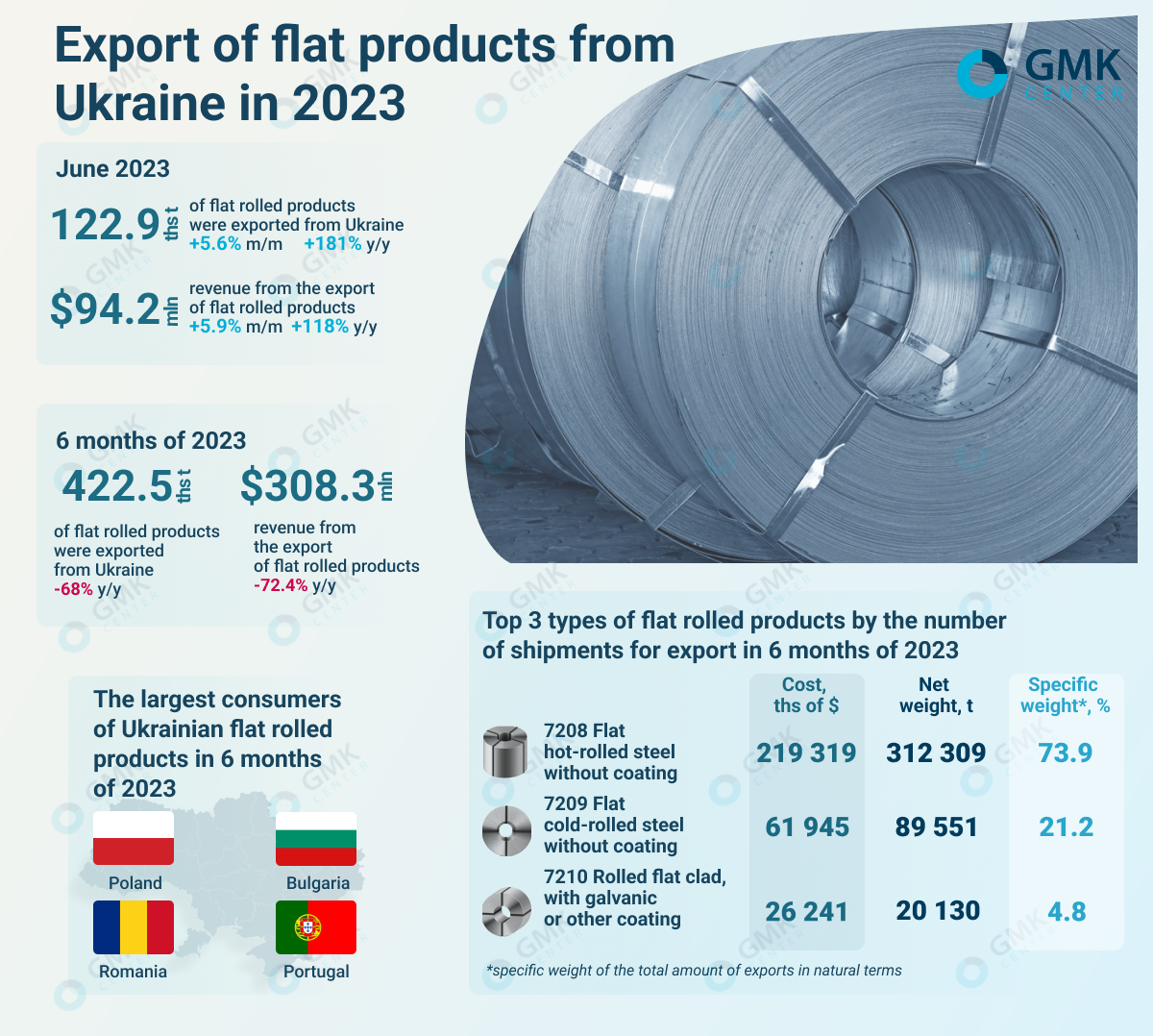 In 2022, Ukrainian steelmakers exported 1.63 million tons of flat rolled steel, which is 73% less compared to 2021. Hot-rolled steel (7208) was the most exported product – 1.3 million tons for $1 billion, which is 72.5% and 73% respectively less than in 2021. Also, 194.6 thousand tons (-72% y/y) of cold-rolled steel (7209) were exported for $169.8 million (-73.6% y/y). Exports in 2022 of coated steel (7210) fell by 75.1% y/y – to 85.5 thousand tons, and export earnings – by 74.3% y/y, to $108.2 million.
The largest consumers of Ukrainian hot-rolled steel were Poland and Turkiye – 24.5% and 15.9%, respectively, in monetary terms. Poland (21.4%) and Bulgaria (14%) consumed about 35% of cold-rolled steel. Among the main buyers of coated steel are Poland (63.2%) and Romania (17.4%).
Turkiye dropped out of the list of the largest importers of Ukrainian flat steel products in 2023. It is likely that Ukrainian exports of flat products to Turkiye will continue to decline, since there, since May 1, increased import duties on flat products were introduced.
Export prospects
Export prospects of Ukrainian flat products depend on the situation in the country and production dynamics. The only producer of hot and cold rolled flat products in Ukraine is Zaporizhstal Iron and Steel Works, which is increasing production. Thus, in January-July, steel production at the steel plant increased by 24.5% year-on-year – up to 1.26 million tons. This is approximately 55% of the level of the same period in pre-war 2021.
Zaporizhstal's ability to increase production and exports is limited due to the war factor, as well as the difficulties of logistics. Under the current conditions, Ukrainian flat products will not be able to compete on the open market with products from China, Japan, Turkiye, India, South Korea and Taiwan in terms of price and delivery guarantees.
At the same time, there are certain prospects for growth in demand for flat products on the European market. In particular, in the second quarter of 2023, Metinvest increased the production of flat products by 9,000 tons – up to 294,000 tons due to an increase in the portfolio of orders for hot-rolled plate at its rolling mills in Italy.
In addition, one of the largest consumers of flat products in the EU is the automotive industry, where this year increase in production is expected. The construction sector also uses a significant amount of flat products, but other dynamics are expected here. EUROFER predicts decrease in construction volumes in the European Union in 2023 by 0.5%.
"In our opinion, the negative expectations for the construction sector in the EU are exaggerated. Despite the decline in new construction starts, construction activity through already launched projects is quite stable. Real mortgage rates remain negative amid high inflation, which makes it profitable to attract loans for housing construction. In autumn, it may well turn out that the demand from construction is not as low as it was thought," Andriy Glushchenko notes.
In any case, for Ukraine, the EU market remains the main direction for the supply of steel products. The significance of this market is growing: if in 2022 54.1% of the total exports of flat products were sent to the EU, then in the first half of 2023 – already 82.1%. In the foreseeable future, all opportunities for restoring the production of flat products in Ukraine are associated with integration into European supply chains and solving logistical problems that limit export opportunities.
---
---