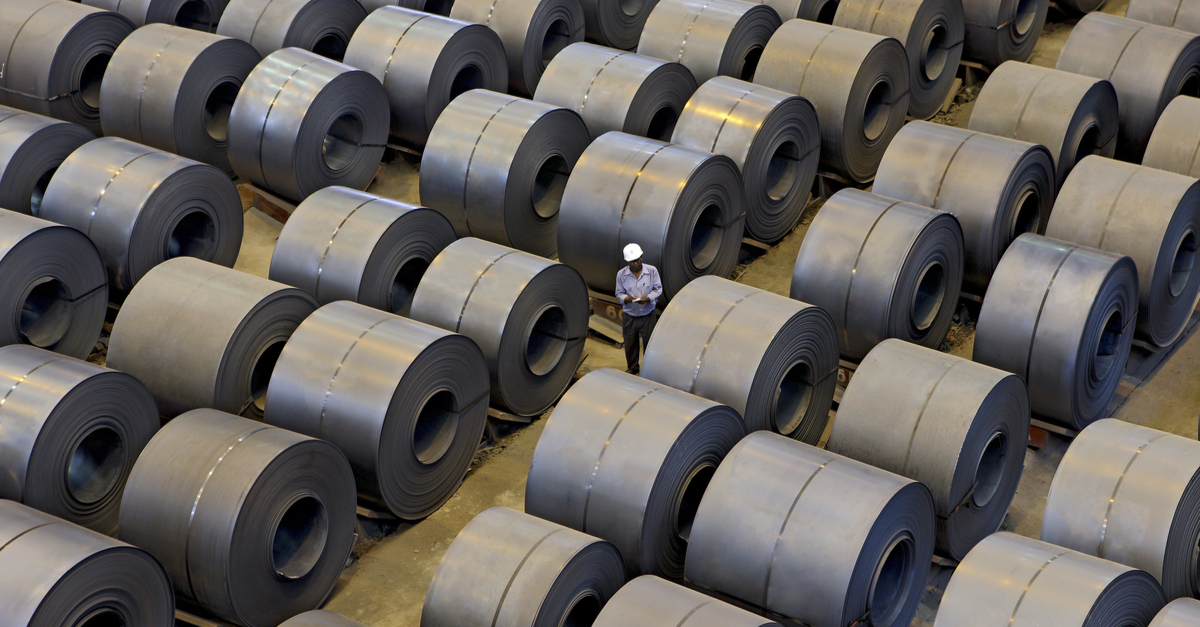 (c) shutterstock.com
Having weak domestic demand, Indian steel companies want to increase metal products exports to Europe
India is the second largest consumer of steel in the world after China. Any important event or decision in the Indian steel or iron ore market inevitably affects the global or regional industry.
Unexpected restrictions
On May 22, India introduced an export duty of 15% on exports of pig iron, non-alloy flat hot-rolled and cold-rolled products, non-alloy coated products, rebar etc.
To increase the availability of iron ore and some steel semi-finished products, the one export duty was, and 10 new ones were introduced. In total, the duties apply to 11 types of metal products and raw materials.
The duty on iron ore and concentrates was increased to 50% for all categories compared to 30% previously applied to "lump" ore with iron content above 58%. For iron ore pellets, a duty of 45% was introduced.
At the same time, in order to reduce the cost of locally produced metal products, the import duty on coking coal and anthracite was reduced from 2.5% to zero, and on coke and semi-coke – from 5% to zero.
Steel export taxes are part of changes in the tax system aimed at curbing high inflation. In addition, this decision will help local automakers and other machine-building enterprises, as the export tariffs increase supply and reduce prices at the domestic market.
Earlier, Moody's said that due to the growth of public investment in construction and infrastructure projects, apparent consumption of steel products in India in 2022 will increase by 10% compared to last year, despite the volatility in the automotive industry.
According to Moody's, Tata Steel and JSW Steel vertically integrated Indian companies will be in the most beneficial position, while the rest will face difficulties due to high raw material costs.
The consequences
In 2021, the volume of Indian steel exported under the duties amounted to 13.3 million tons, or 66.5% of total exports of metal products. The largest exports were hot-rolled and coated flat products.
At the same time, Indian steelmakers are trying to compensate weak local demand by increasing supplies to Europe, where the steel market has suffered due to Russia's invasion of Ukraine. According to Reuters, Indian steel companies have about 2 million tons of unfinished export orders, mostly for Europe, which are stuck in ports or are in various stages of production.
Thus, the introduction of export duty in India will rise prices and hit external customers. The abolition of customs tariffs on coking coal, coal and anthracite, as well as the introduction of export duties on iron ore may not be enough to lessen the damage.
Not everything is clear with the duties on iron ore. The local mining association is convinced that the increase in export duties on iron ore will lead to large extras within the country and will hit mainly low-grade ore producers who depend on foreign markets. The association called the iron ore export duties increase "doomed to failure." Moreover, exports of Indian iron ore to China are declining due to its low quality.
Growth slowdown
India is the seventh largest exporter of steel in the world, selling 19.9 million tons of steel abroad in 2021. The largest export markets in 2021 were Vietnam, Italy, Belgium, the UAE and Turkey.
According to GMK Center chief analyst Andriy Tarasenko, India was seen in Europe as a possible alternative supplier of pig iron and flat products after losing imports from Ukraine and Russia. Now imports from India will cost 15% more expensive. India is one of the top three suppliers of cold-rolled and coated metal products to the EU, as well as stainless steels.
India is also the world's second largest consumer of steel after China. According to Worldsteel, in 2021it consumed 106.1 million tons of steel. US, at the same time, consumed 97.1 million tons. According to forecasts, in 2022 the consumption will hit 114.1 million tons, and in 2023 – 120.9 million tons. However, there is a slowdown in consumption. If in 2021, the growth was 18.8%, in 2022 and 2023 – 7.5% and 6% respectively.
---
---