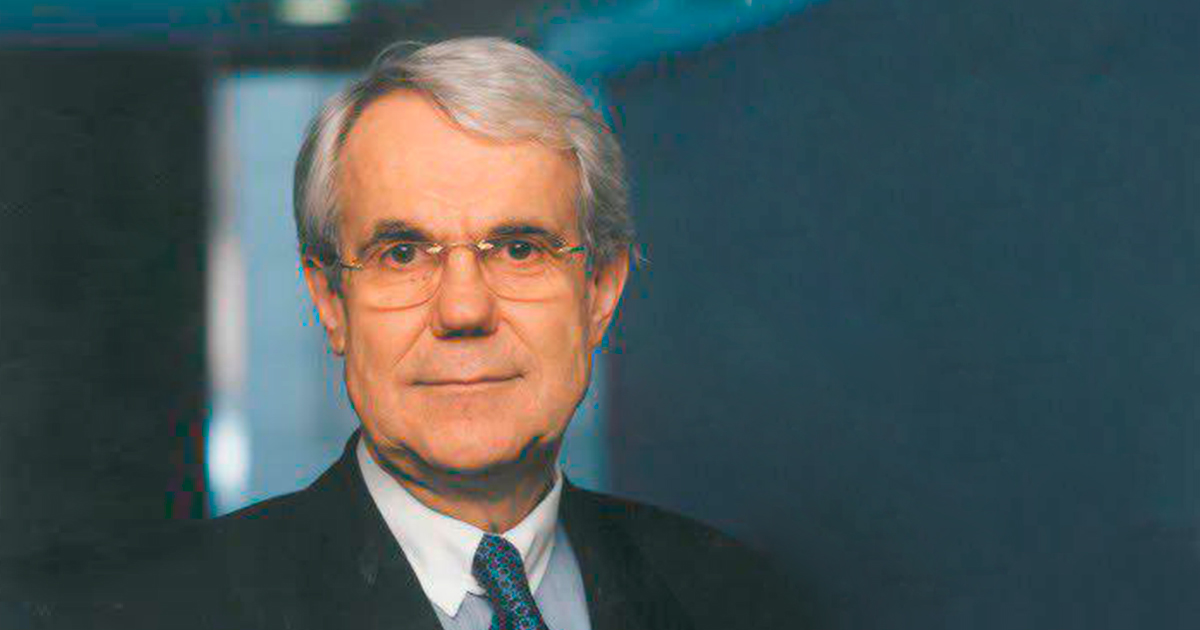 Horst Wiesinger Consulting's CEO shares his thoughts about the future of the European steel industry
Austrian consulting company Horst Wiesinger Consulting (HWC) is ready to share its best practices and experience in upgrading production facilities, quality improvement and enhancement of operational efficiency with Ukrainian businesses. HWC and GMK Center have agreed on a long-term cooperation to ensure successful entry of the former into the market. In the near future, both companies are going to focus on joint research and projects in the areas of energy efficiency, operational efficiency and reduction of СО2 emissions.
In his interview to GMK Center, Horst Wiesinger, the HWC's founder and CEO, shared his thoughts about the challenges that the European steel industry is facing today, and about the position the Ukrainian steelmakers may attain in the EU market and what they should do to that end.
How did you start your career in the steel business?
— After graduation from the technical high school, I worked for about one and a half year in the design office of a bridge-building company. Over that period, I developed a subjective opinion that I was as good as any of my colleagues with a twenty-five or thirty-year experience. This impression was certainly wrong. I've always had a passion for development of new technologies. That was why I decided to continue my education, and in 1960, I entered the University of Leoben to study iron and steel making. That was actually the start of my steel business career.
After graduation, I started to work in the Engineering Division of Voestalpine. I joined a team working on a continuous slab casting concept — that was my first assignment in this company.
Was it interesting to you to work on that technology?
— At that time, continuous casting technology was yet at the early stage its large-scale industrial introduction. Our technology was about using a straight mold, liquid core bending, and straightening, and smaller roller spacing – contrary to the competitors. It was an advanced solution based on high-quality demand. At that time, only the USSR used the straight mold technology. European manufacturers designed curved mold machines. We launched our first innovative slab casting machine in 1968 in Linz.
In 1970 when we started to sell our product outside of Austria I really felt a kind of missionary [laughing — editorial comment]. Our product was different from what our competitors offered, and it was soon by the market.
I'll only say that today, almost no one sells slab casters with curved mold anymore.
Nonetheless, your technology has proved itself to be good…
— History shows that we were right. In the years that followed, we developed new technologies, Corex technology, reduction smelting, strip casting and put a strong focus on automation of processes.
I ended my career in the Voestalpine Industry Group (VAI) as the Chairman of the Board. From 1998, I was the Vice Chairman and the Chief Technology Officer of VA Tech. Engineering and technology have always been my passion.
Even when I became a top manager, I was still focused on technologies development. It turned out to be very helpful when I started my own business in consulting.
What made you engage in consultancy?
— I retired from VA Tech in 2001. I decided to use my vast experience in steel plant engineering. I gathered together a group of specialists and founded a new company under the name of Horst Wiesinger Consulting (HWC). I did not try to invent an artificial name because I had already been known in the steel industry, and we made my name our trademark.
When we entered the market in 2001, there were many companies that invested in greenfield projects having limited experience in technology, project planning, project management and engineering. There were also companies engaged in brownfield projects trying to improve the processes, cut costs and improve quality. Our company had specialists almost for each task and every technology.
Was it hard to bring together a team of experts?
— Actually, no. Here, in Linz, we have a steel company, Voestalpine, and an engineering company, VAI (now Primetals). And there is a metallurgical university in Leoben. This is where we found specialists with the experience we needed in addition. We've also built an entire network in Europe.
Professionalism becomes increasingly important. Human resources are not about the numbers — they are about competence. Now steel plants employ less workers but with higher qualification. That's why in-house training of employees in the companies will be of increasing importance. I also recommend introduction of best practices.
What was the situation in the industry when you launched Horst Wiesinger Consulting?
— At that time, steel plants worldwide needed reconstruction or modernization. The existing plants had to be reconstructed and new plants had to be built from scratch. That was the time when the rapid ramp-up of the Chinese steel industry was coming. The steel business started to cut costs, improve quality and go green.
How many projects has your company implemented since then, and in what countries?
— Over the eighteen years since the foundation of our company, we completed 132 projects in 42 countries on each continent.
Do you manage all these projects from Linz or have offices all around the world?
— No, we don't have offices worldwide. In some countries, we are networking with local experts, especially in Europe.
As far as I understand, your company implements several projects simultaneously. Was it difficult to implement so many projects worldwide from Austria?
— Yes, we can run several projects simultaneously. In the first two years, there were fewer projects, of course. But our specialists had a strong reputation in the global steel community. Our team grew as our portfolio expanded. We now have a healthy combination of older experienced experts and younger specialists. With our present workforce and our international network, we can handle several projects in parallel.
Which projects did you find most interesting and why?
— The most challenging and interesting projects for us are brownfield projects where we have to make an assessment of the existing plants and introduce new technologies, new production processes. This is more challenging than greenfield projects. You can only succeed in this business if you have operational experience in addition to the knowledge of technologies.
Please, tell us about the most challenging project.
— It is difficult to single out one specific project. The most challenging projects, as I've already mentioned, are brownfield projects, because in such projects, we have to build comprehensive strategies to meet investors' goals. This includes increasing capacity, improving quality, addressing environmental issues, introducing new technologies and optimizing flows of materials. And this is something that only highly-qualified and reliable experts can handle.
We are proud that not only small companies but also global giants like U.S. Steel, Thyssen, Voestalpine, Arcelor, big Russian, Japanese and Chinese companies are among our clients.
Could you determine the formula for your company's success?
— It's knowledge of technologies, project management, a team of highly-qualified specialists and absolute independence from any equipment suppliers. We have a profound knowledge of all technologies, that's why we provide competent and feasible recommendations. We know the equipment suppliers but we are independent. And this is important to our clients.
How did the services provided by Horst Wiesinger Consulting changed over the years?
— We started with steelmaking technologies — from hot metal to final products. Subsequently, we launched consulting on front-end mining and beneficiation activities, and then logistics, environmental issues, automation and digitalization.
It is also crucial for a consulting company to be able to conduct market and feasibility studies, because feasibility at the end of the day is a 'decision maker' for each and every investment.
The environmental issues are becoming more and more important, especially in the recent years. In the years to come, they will become even more important. Reduction of CO2 emissions will be a priority. We have already accomplished three projects with reputable companies in which we developed concepts for reduction of CO2 emissions and solutions for transition from blast furnace/converter to electric arc furnace or hybrid technologies.
But that requires large investment, doesn't it?
— Investment is certainly always a cost factor, especially where introduction of an environmental-friendly technology is concerned. A benchmarking analysis – the best available technology (BAT) vs existing – could be a good method for assessing the potential for immediate reduction of energy consumption and emissions, which could be the first step in the right direction.
However, to keep the global warming below two degrees Celsius until 2050, all greenhouse gas emitters should join efforts. The EU has set itself a goal to reduce CO2 emissions by 80% until 2050, including in the steel industry. This ambitious target can only be achieved through full global commitment of all CO2 emitting sectors of economy.
To what extent the existing zero-carbon plans of European companies and of the European Commission are realistic? Are the technologies ready for that?
— I think it's impossible to achieve zero-carbon production in short-term perspective. But several companies are already developing a new technology enabling replacement of carbon with hydrogen as one of the possible reductant substitute. I think hydrogen in steel production will play an important role in the future. It's just that there's no technological base to achieve that so far. But I believe, we'll have such technology in place in the next 15 to 20 years.
Undoubtedly, the climate change will be the "dominate challenge in the coming decades". I believe that if all parties (including politicians) join efforts, take an informed approach and give up populistic statements, these challenges can be overcome.
What are the latest trends in steel consultancy and how do they correspond to the challenges the European steelmakers are facing?
— Today, the European steelmakers are facing environmental challenges and the issue of higher scrap utilization. Scrap will play a dominant role in the future worldwide. I believe that in a long-term perspective, steel production will be based on a closed-cycle scrap utilization. Its share in the structure of production will probably reach 80%. That means that one of the most challenging tasks for steelmakers will lie in production of top-quality steel from scrap. Under these circumstances, preparation of scrap for steel production will be one of the most challenging developments.
Europe will only be competitive if they maintain their present level of quality and even improve it further. Development of new materials will be increasingly important. It is especially important for such countries as Ukraine which is struggling to enter the European market. Such countries have one substantial advantage — a lower cost. But I strongly recommend that they focus on quality improvement. They have to shake off a reputation of a low-quality supplier.
I understand that this image is not 100% correct. But improvements are needed. They can only be successful in the European market if they come up with high-quality products and better post-sale service.
And who has the advantages in this battle for the European market: Ukraine, Turkey, China or Russia?
— Those who supply best quality products.
Turkey?
— No, today it's not Turkey. They still fall short of the European level. I think Ukraine and Russia have a good position to export steel to Europe. Their advantage is the vertical integration from ore to the final product, which results in lower cost. Besides, Ukraine has a profound and vast experience in steel producing and a great number of well-educated employees in the business. And professionalism becomes an increasingly important factor in this competition. But now, they have to focus on quality first of all. You may cut corners on everything else in these hard times for the steel industry, but not on quality.
E-marketplace is a new growing trend in the steel industry. Do you think e-marketplaces will oust steel trading companies from the market?
— I think the importance of steel trading companies will decrease but it's not only because of the e-markets. Again, coming back to Ukraine, suppliers offering high-quality products must maintain tight contacts with clients. So, you have to sell your steel, your metal products directly to clients, taking into account their feedback and providing them with high-quality post-sale service, and you should not do it through an intermediate. Opening service centers close to the main market areas and customers might also be practicable.
What opportunities do you see in cooperation with GMK Center and why is this project interesting to you?
— First of all, I like the idea of mutually beneficial cooperation with companies like GMK Center, and we have many partners. I like your company's approach to business; it's high-quality and in-depth analysis and knowledge of local conditions. I believe that our partnership will become a basis for new successful projects in Ukraine, in other Eastern European countries and in other regions. I see new opportunities and am ready to fully cooperate.
---
---