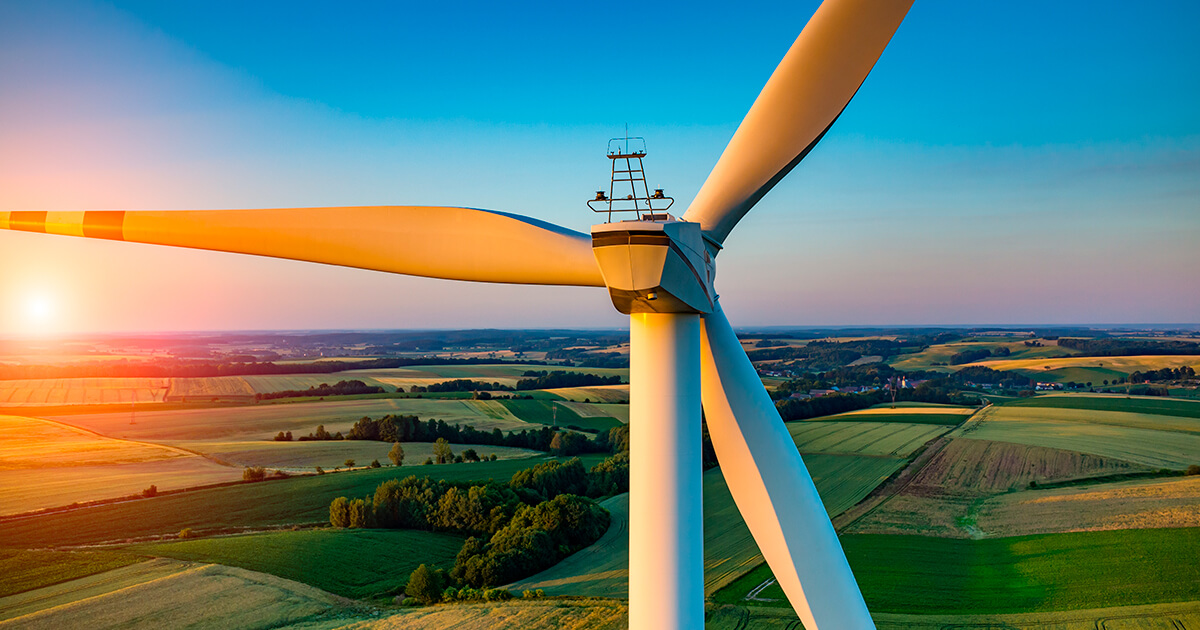 © shutterstock.com
Our metallurgists supply fittings to Ukrainian builders of wind power plants. To Europe - sheet metal
Although wind energy in Ukraine is developing differently dynamic like the sun, but its pace against the background of other sectors of the economy can be considered very high. In 2018-2019, the total capacity of wind farms in Ukraine increased one and a half times – from 465 MW to 706 MW. Only in the first quarter of this year, 173 MW of wind farms were installed.
According to the estimates of the Ukrainian Wind Energy Association, by the end of 2019, more than 350 MW of new wind power capacities can be expected to be commissioned. This will allow reaching approximately 880 MW of wind power capacity by the end of the year.
GMK Center decided to ask how much and what kind of products metallurgists supply to builders of wind farms.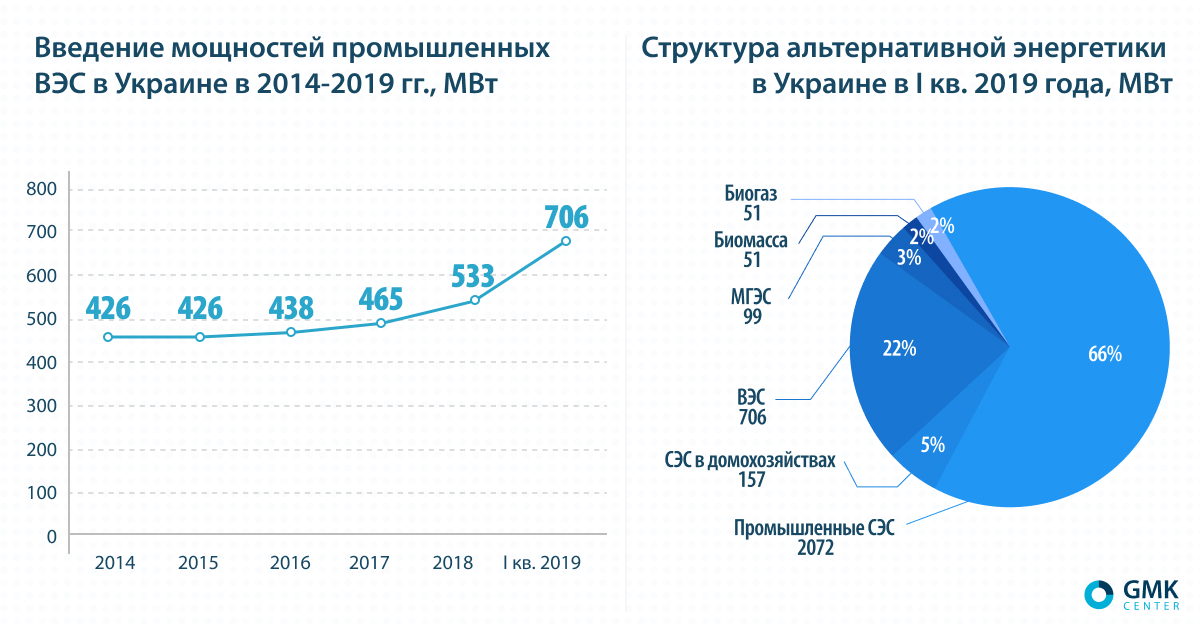 Fittings of large diameters
Wind energy companies act as the customer of the project, whose task is to select contractors, suppliers of turbines and other necessary products. Turbines for wind farms are most often imported. But contracting organizations order rolled metal for construction from domestic metallurgical enterprises.
"The main range of rolled metal products that we supply, A400/A500 rebar, is used for foundation casting. These are fittings of large diameters (20-32 mm). Depending on the dimensions of the wind turbine, the volume of reinforcement required for manufacturing also varies," Metinvest notes.
Now it is difficult to estimate the exact volumes of supplies, since the projects with which the metal suppliers work are underway.
Overseas supply of sheet
According to Metinvest, in 2015-2016 the company shipped more than 86 thousand tons of rolled products for wind turbines in Europe. In the field of wind energy, the company cooperates with customers in Italy, Spain, Portugal, Germany, Turkey and other countries, depending on the location of the tower assembly facilities.
"For manufacturers of wind turbine towers and nacelles, we offer rolled sheets up to 3300 mm wide and up to 200 mm thick, produced in accordance with the requirements of the leading world standards at the Ukrainian and European plants of the company. If necessary, sheet products can be delivered after preliminary preparation (cutting, chamfering, shot blasting, priming). For products intended for use in the north, Metinvest offers a wide range of steels with guaranteed operation at temperatures down to -60 °C.
Deliveries are made both directly to turbine manufacturers such as Enercon, Nordex, Siemens Gamesa, Vestas, as well as to large affiliated enterprises that process sheet. Sales can be carried out directly after negotiations and as a result of tenders.
In 2016, Metinvest supplied 77 thousand tons of hot-rolled sheet for the production of wind turbine towers, in 2018 – 68 thousand tons. Metinvest Trametal (Italy) shipped 90% of the material.
"Practically all supplied material is a sheet of structural steel grades with a predominance of EN S355 in various modifications. More than half of the material undergoes ultrasonic testing to ensure the required structure for further assembly," Metinvest explains.
An important requirement for a supplier of steel for wind turbine towers is the ability to produce rolled products of various sizes, including long thick plate in a wide range of thicknesses. Equally important is the availability of the required volumes of material and compliance with delivery times. After all, generator manufacturers strive to optimize supply chains and minimize the warehousing of work in progress.
Wind prospects
In 2019, a number of large investment projects are planned to be implemented in Ukraine. In particular, the launch of wind farm projects with a total capacity of 400-500 MW is expected in the south of the country.
At the end of 2018, 13 WPPs with a total capacity of 893.3 MW were under construction. Another 46 wind farms for 3330.4 MW were at the design stage.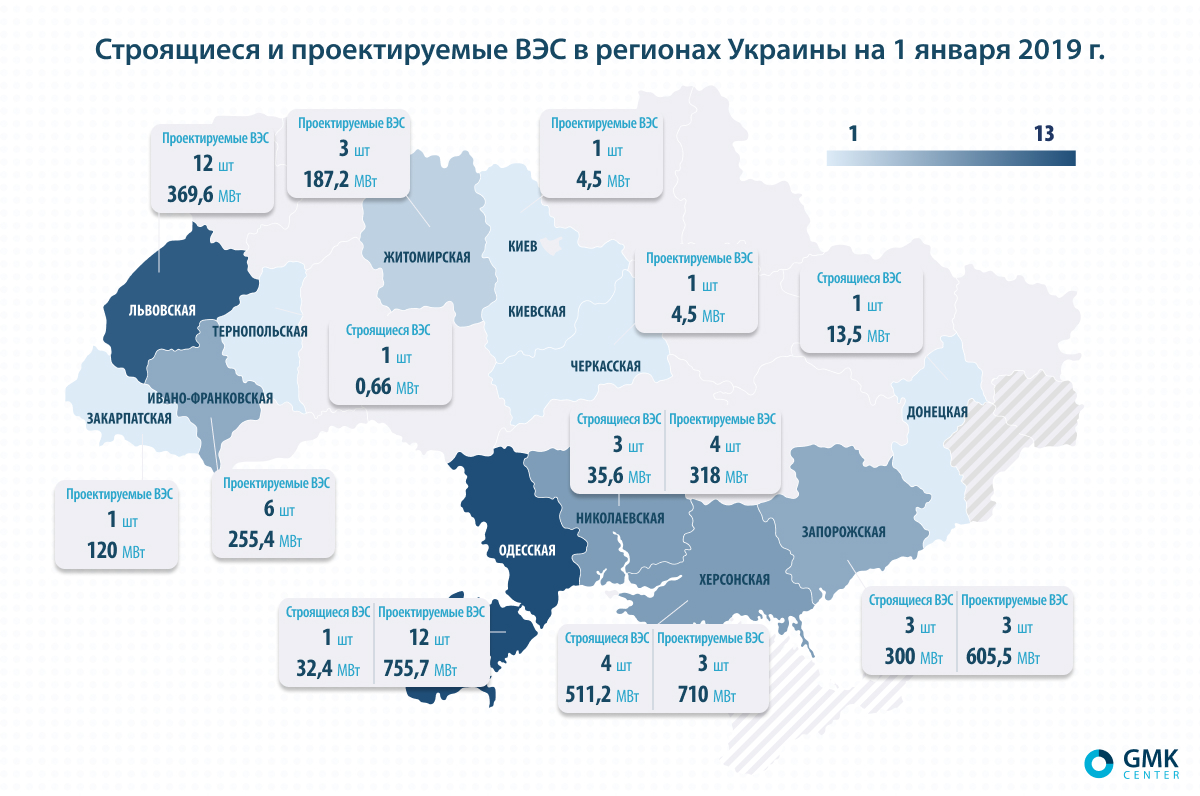 For example, the Primorsky wind farm (installed capacity of 200 MW), the construction of which is divided into two phases, and the Orlovskaya wind farm (100 MW), where preparatory work is already underway, are under implementation by DTEK RES. The project of the Botievo wind power plant has already been implemented.
Global investment in wind energy in 2018 increased by 3% compared to 2017, to $128.6 billion. This indicates a moderate development in this area. In connection with the continued focus on environmental initiatives in the EU and in the world, the growth in the construction of wind power capacities will continue in the medium and long term. In particular, in Europe, by 2022, an average of 16.5 GW of capacity is expected to be installed annually. This means consumption of more than 1 million tons of sheet per year.
"Despite continued growth, the market situation is complicated by a high level of competition between tower manufacturers, exacerbated by the gradual reduction of government subsidies for wind energy and lower project budgets," Metinvest concluded. "After the optimization of capacities by producers, we expect a more positive conjuncture in the sector and stable high steel consumption."
---
---