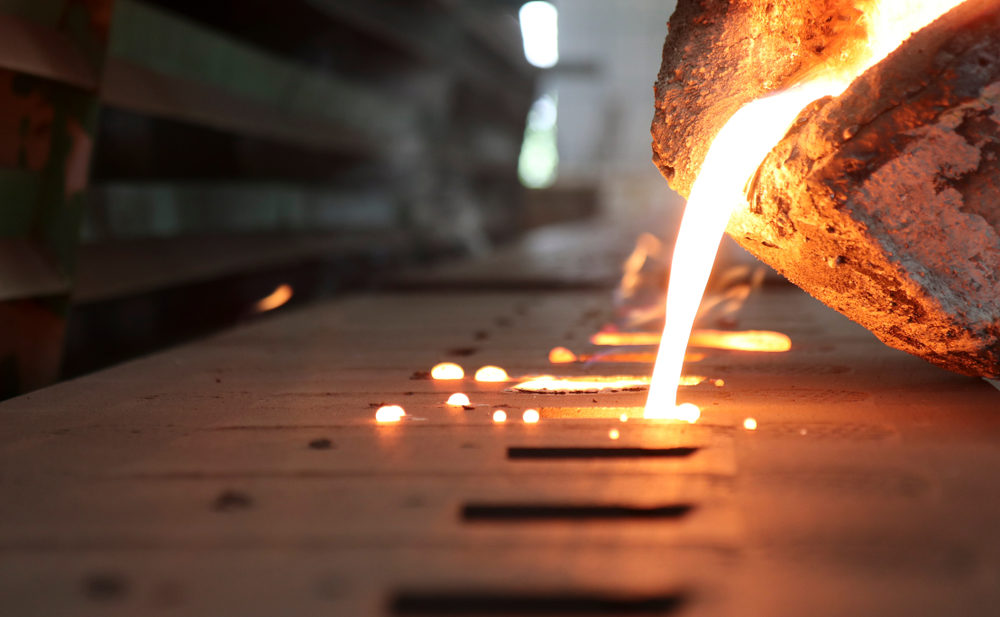 The reduction in the supply of pig iron by Ukraine and Russia led to a global drop in exports by 21% in 2022
The war in Ukraine has changed the overall picture and supply chains in the global pig iron market. Before the war, Ukraine and the Russian Federation accounted for about 60% of global pig iron exports. Due to the loss of two steel plants in Mariupol and logistical difficulties, Ukraine partially left the pig iron export market. In turn, some pig iron consumers were forced to look for new suppliers.
World market
According to the Worldsteel Association, in January-May, global pig iron production increased by 1.17% y/y – up to 595.1 million tons. In 2022, pig iron output decreased by 3% y/y and amounted to 1.39 billion tons. Countries produce pig iron mainly for their domestic needs.
The reduction in the supply of pig iron by Ukraine and Russia to the world market led to a global drop in exports of pig iron in 2022. Thus, the world pig iron trade last year fell by 21% – to 9.2 million tons compared to 11.7 million tons in 2021. Brazil became the only major pig iron exporter to increase external supplies by 15% y/y – up to 3.74 million tons.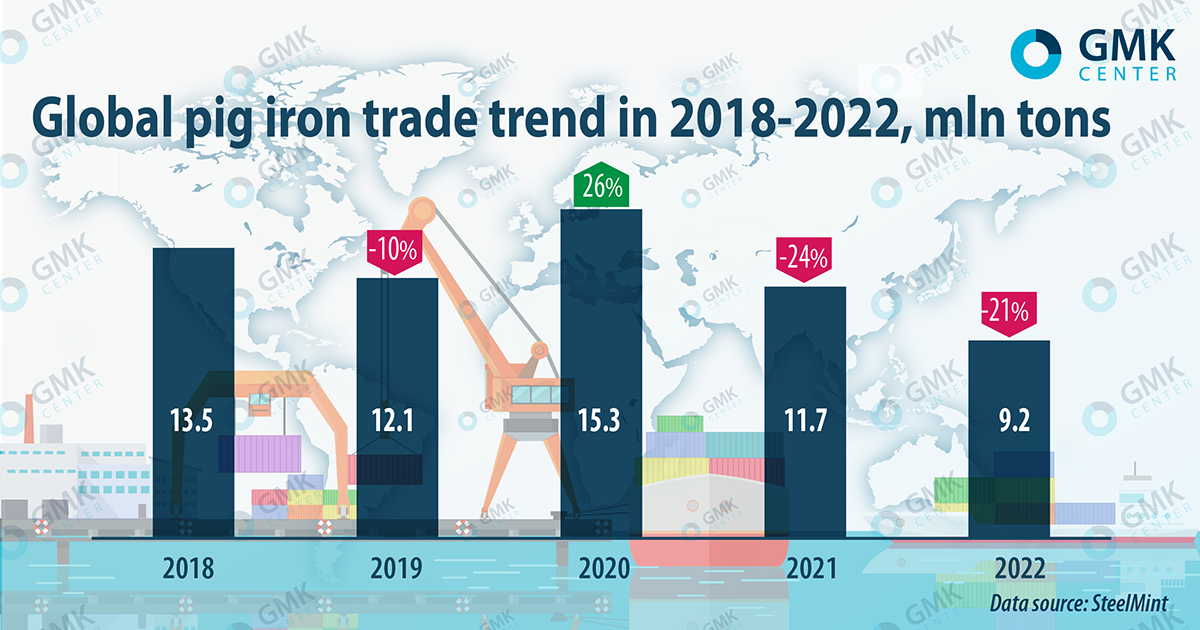 Supplies of pig iron from India fell sharply, where from May to November the export of this product was subject to a 15% duty. SteelMint estimates that Indian pig iron exports fell from 1.13 million tons in 2021 to 0.5 million tons in 2022.
Effective April 1, 2023, the United States also introduced 70% duty on the import of pig iron from the Russian Federation, on which there was a relatively high dependence. In 2021, the Russian Federation exported more than 2 million tons of pig iron to the United States, but in 2022 this figure fell to 637.9 thousand tons (deliveries were made from January to May 2022). In 2022, Brazil became the largest exporter of pig iron to the United States (2.34 million tons), which partially replaced the decline in pig iron supplies from Ukraine and Russia.
In June 2022, Ukraine resumed deliveries of pig iron to the United States through Polish ports and reached a total of 698.9 thousand tons in 2022. According to UN Comtrade, Ukrainian exports of pig iron in January-April 2023 amounted to 419.6 thousand tons.
According to SteelMint estimates, total US pig iron imports in 2022 decreased by 26% compared to the previous year – to 4.5 million tons. As a result, American steel producers faced a shortage of raw materials after the cessation of supplies from the Russian Federation and were forced to partially replace pig iron with scrap.
Ukrainian pig iron
In 2022, Ukrainian pig iron exports fell by 59% y/y – to 1.32 million tons. However, already in the first half of 2023, thanks to the restoration of production levels, Ukraine began to regain its position in the global export market of pig iron. In the first half of 2023, Ukrainian steelmakers increased the export of pig iron by 26.1% compared to the same period in 2022 – up to 799.7 thousand tons. The main consumers of Ukrainian pig iron in January-June were Poland (66% in monetary terms), Spain (15.8%) and the Czech Republic (8.1%). Before the war, more than half of the pig iron exported from Ukraine was consumed by the United States.
In general, in January-June 2023, Ukrainian steel enterprises reduced pig iron production compared to the same period in 2022 by 37.5% – to 2.84 million tons. Thus, the share of exports of pig iron to its production amounted to 28.2%.
According to Olexandr Kalenkov, President of Ukrmetallurgprom, pig iron exports largely depends on the trade policy of the countries, the main importers of Ukrainian steel products. There are no restrictions on pig iron, unlike finished products, so Ukraine is often forced to export pig iron, rather than products with a higher added value, for example, to the United States.
«Now it is difficult to predict anything in terms of pig iron exports from Ukraine. Currently, pig iron is produced by three Ukrainian enterprises – Zaporizhstal, Kametstal and ArcelorMittal Kryvyi Rih, which primarily use it for steel production. In addition, at the moment it is not completely clear how much, in particular, ArcelorMittal will be able to produce pig iron due to problems with water supply after the Kakhovska HPP dam was blown up,» Kalenkov notes.
The above enterprises have the following BF capacities:
ArcelorMittal Kryvyi Rih – 4 blast furnaces (now one is in operation with a capacity of 3.5-4 thousand tons of pig iron per day);
Kametstal – 3 blast furnaces with a nominal capacity of 4.35 million tons (two of them are in operation);
Zaporizhstal – 4 blast furnaces for 3.8 million tons (now there are three furnaces in operation).
In the absence of force majeure circumstances in the country and economy, Ukraine will be able to further increase the export of pig iron. In particular, Metinvest's steel enterprises are already loaded at 60-70% of their pre-war figures. The key markets for Ukrainian pig iron will remain the EU and the USA.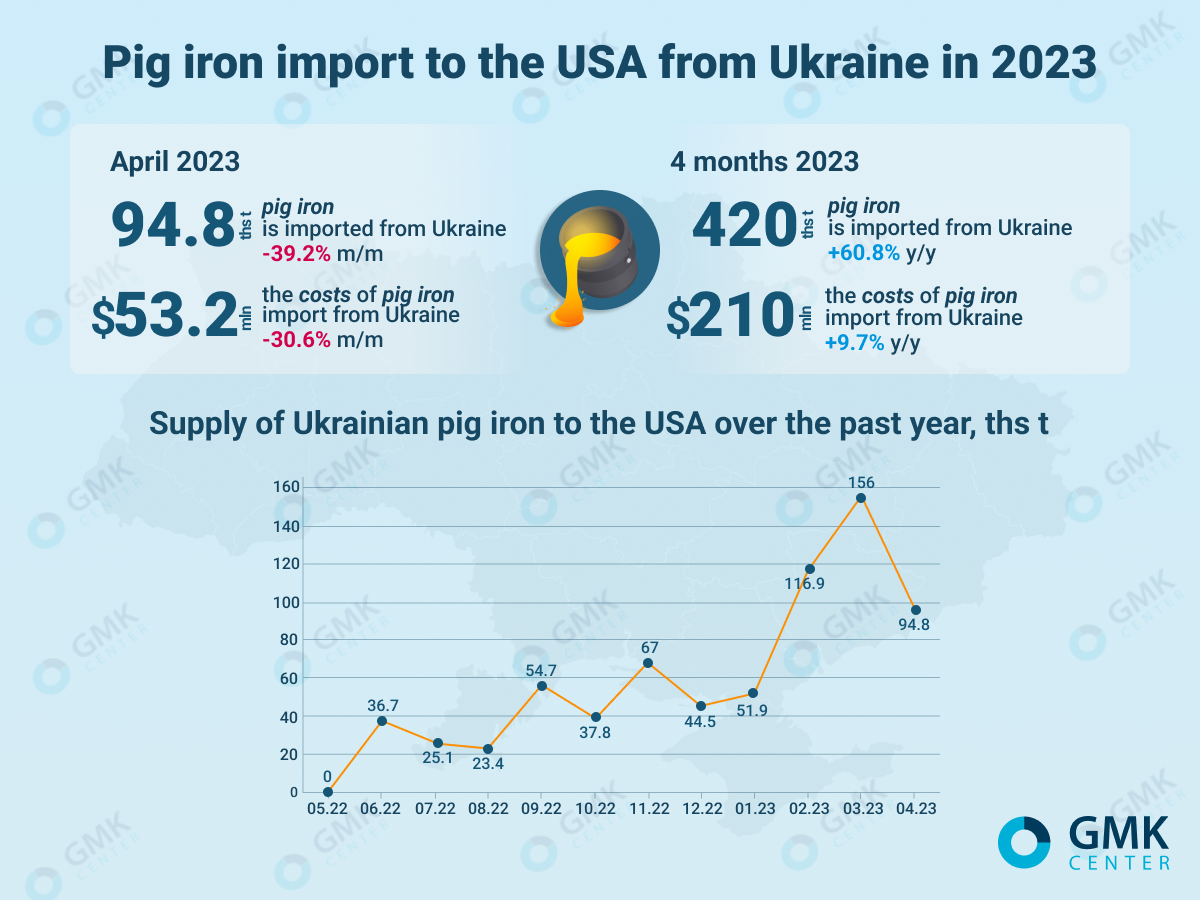 European pig iron market
According to the WorldSteel association, in 2021-2022, pig iron production in the EU decreased. In particular, last year it decreased by about 10.5% – to 70.7 million tons from 79 million tons in 2021. Apparent consumption of pig iron in 2022 was 73.1 million tons.
Europe depends on the supply of Russian pig iron, which is why these products were not included in any EU sanctions package, although the alliance banned the import of almost all types of steel products from the Russian Federation.
According to Eurostat, in 2022 imports of pig iron to the EU amounted to 2.44 million tons worth $1.42 billion, while Russian exports of pig iron to the EU in 2022 amounted to 1.17 million tons. Italy was the major pig iron importer in EU: total imports amounted 1.28 million tons, of which 964.4 ths tons was supplied by Russia.Ukrainian supplies of pig iron to the European Union last year look small amid it – 255.5 thousand tons.
In January-April 2023, the EU reduced imports of pig iron from Ukraine by 28.1% y/y – to 98.7 thousand tons. During the same period, European consumers purchased 351.2 thousand tons (-25% y/y) of Russian pig iron for €145.8 million – 3.5 times more than Ukrainian.
The inconsistency of the European sanctions policy, logistical difficulties, internal force majeure circumstances (risks of stability in the supply of electricity and water supply to enterprises) and market conditions in the short term limit the supply of Ukrainian pig iron. Subject to the cessation of hostilities, Ukrainian steelmakers with its supplies of pig iron may well replace the market share of Russian products.
Pig iron substitution
In the future, we can expect a decrease in the role of pig iron in the world market due to the introduction of new steel production technologies. The largest steel companies and countries – the European Union, the USA, China – set themselves the task of reducing greenhouse gas emissions and introducing new technologies.
«Pig iron market in the EU will cease to exist in 7 years. We believe pig iron will be completely replaced by HBI by 2030. The entire supply of pig iron in the EU is an import. Therefore, the introduction of the CBAM mechanism and the increase in the cost of CO2 emission quotas in the EU will lead to an increase in the price of imported pig iron in 2030 by €140 per ton. This will make pig iron uncompetitive with HBI. HBI is a more environmentally friendly raw material. The cost of CBAM for HBI produced on natural gas will not exceed €50 per ton. The supply of HBI on the world market is still insufficient, but a number of projects have been announced, which will allow supplying 3-5 million tons of HBI to the EU in the future until 2030, in particular from the MENA region,» notes GMK Center Chief Analyst Andriy Tarasenko.
Pig iron quotes completely repeat the dynamics of prices for steel products in the world. In spring 2023, the price was $470/t Black Sea FOB and $525/t Brazil FOB. Pig iron prices continued to decline in early July to $360/t Black Sea FOB and $460/t Brazil FOB. The rise in prices for steel products, expected by many, will also allow quotations for cast iron to grow.
Forecast for 2023 indicates an increase in global pig iron exports, although it will be still lower than in 2021 (11.7 million tons). Demand should improve as a result of a more favorable macroeconomic environment, with the main increase in supplies coming from India, which has already canceled export duties on pig iron that were in effect last year.
---
---