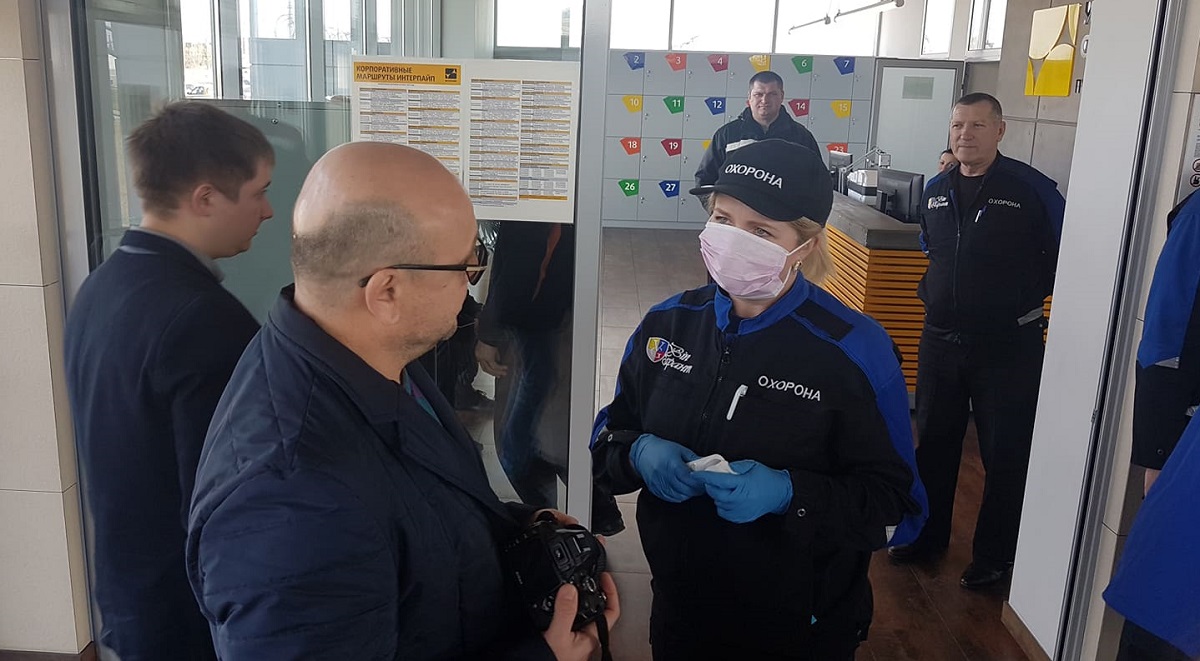 На проходной Interpipe Steel
Companies are taking action to prevent the spread of the virus and minimize its impact on production
Like many companies from other sectors of the economy, Ukrainian steelmakers have taken action to prevent the spread of coronavirus at their plants. They conduct outreach activities, inform employees about all measures needed to prevent the disease and work towards minimizing the negative effects of quarantine in the country.
Their efforts are targeted at maintaining production. These include actions to organize, together with local authorities, the delivery of personnel to and from work amid the partial closure of public transport and restrictions on the number of passengers. According to ArcelorMittal Kryvyi Rih PJSC, Kryvyi Rih authorities "took into account the interests of the Company and announced readiness to bring additional trolley buses and busses to the route." Ferrexpo's measure claims attention. Bicycle traffic is allowed for the personnel of Poltava Mining.
The Company's list of coronavirus preventive measures is fairly standard. Although it will differ for production and office personnel for obvious reasons.
Production personnel
The following key measures are taken at production sites to reduce the risks of infection:
disinfection of working vehicles and areas; increased frequency of cleaning; working areas are provided with disinfectants;
employees are provided with gloves and masks;
mandatory medical examinations at the Company's medical center (AMKR) and mandatory entrance breathalyzer checks (Interpipe) are suspended;
control of the health of employees is enhanced, e.g. the use of non-contact thermometers at Interpipe;
health checks for representatives of counterparties, e.g. drivers of other companies' vehicles.
"We should not wait for coronavirus cases in the Company or in cities of our presence. Today, we must be proactive and take precautionary measures. We developed an action plan for the period of the epidemic. Work is continuing on site as normal, subject to enhanced precautions," said Fadi Hraibi, Interpipe CEO.
All employees of Poltava Mining, after return from foreign trips and/or after return from foreign trips of their relatives living together with them as well as after return from trips to Ukraine's oblasts where confirmed cases of coronavirus are reported, are recommended to stay home for 14 days even if they have no symptoms of the virus. At the close of the self-isolation period, employees will be paid for it.
Office personnel
Preventive measures for office personnel:
work-from-home policy for some employees;
cancellation of business trips;
online format of conferences and meetings;
cancellation of crowded events and actions.
"Our strategy in combating the virus is to reduce the number of contacts where possible, join efforts to eliminate the risk of infection of our employees, do our best so that the territory of Metinvest would not become a hotbed of coronavirus spread," Metinvest CEO Yuriy Ryzhenkov said in his message to employees.
Strategic initiatives
SCM proposed an initiative of a larger scale — to set up a 'brain center' for Ukraine's revival, economic health headquarters, to find tools for retaining the economic health of the country with joint efforts of authorities and businesses in the current difficult conditions. The proposal was announced on 17 March.
A day before, on 16 March, President Volodymyr Zelenskyi had a meeting with owners and top managers of largest Ukrainian companies and business groups to discuss contributions of large businesses to countering the spread of the coronavirus. The meeting was attended by businessmen Rinat Akhmetov, Ihor Kolomoiskyi, Serhiy Tihipko, Oleksandr Yaroslavskyi, Yuriy Kosiuk, Leonid Klimov and Andriy Stavnitser.
"We agreed to create a fund to give resources to the country for providing hospitals with necessary means. Except for money, we will help with people, resources, logistics, expertise," Andriy Stavnitser, shareholder and founder of TIS and MV Cargo, wrote  in a commentary.
Context
As reported earlier, on 17 March, the Ukrainian Parliament passed a package of draft laws aimed at helping various branches of power combat the consequences of the spread of the coronavirus disease and rendering support to business in the current conditions.
Specifically, anti-coronavirus measures for business include:
opportunity to work from home or stay home from work;
ban on public supervision and control measures;
quarantine is counted as force majeure;
amendments to articles of the Labor Code on the terms of paid leave.
---
---