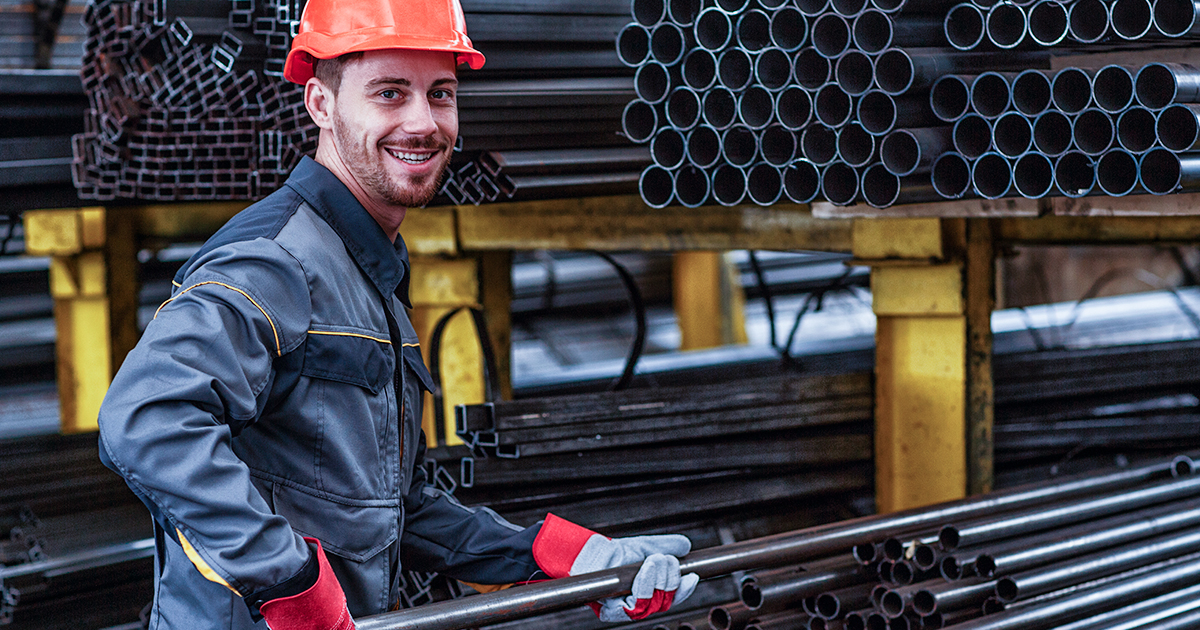 shutterstock.com
The annual pipe consumption in the domestic oil & gas industry is estimated at around 100–130 thousand tons
According to the Government Concept for Development of Ukrainian Gas Production Industry, domestic gas production should grow up to 27.6 billion cubic meters until 2020. State-owned Ukrgazvydobuvannya (UGV) should provide about 20 billion cubic meters of the total production volume. It must be admitted that due to a decrease in gas prices, non-issuance of licenses for new fields, difficult production conditions, and high capital intensity of the Concept, its implementation has already been frustrated.
Nevertheless, significant changes took place in the gas sector over the past three years, laying the foundation for a production growth. According to Roman Opimakh, Executive Director of the Association of Gas Producers of Ukraine, tax incentives were introduced for new wells drilling, the sector was deregulated, rent was decentralized, geological information was disclosed, and EITI international reporting standards were introduced. Oil and gas e-auctions on ProZorro.sale platform, and international calls for tender for product sharing agreements (PSAs) were launched early this year.
Moreover, this year, Western companies, Canadian Vermilion Energy and American Aspect Energy, have entered the Ukrainian market to develop oil & gas fields, and Ukraine has for the first time taken a lead in Europe in the world-renowned index Baker Hughes GE Rig Count in terms of the number of active drilling rigs.
Last year, Ukraine produced 21 billion cubic meters of gas, 2.4% more than a year earlier. UGV increased gas production by 1.6%, up to 15.5 billion cubic meters. Private companies increased production by 7.3%, up to 4.4 billion cubic meters.
In January — August 2019, gas production in Ukraine grew by 1% to 13.9 billion cubic meters compared to the same period of the last year. UGV curtailed production by 0.6%, down to 10.1 billion cubic meters. Conversely, private companies increased production volumes by 4.3%, up to 3 billion cubic meters.
Pipe consumption
In general, annual consumption of pipes for oil & gas production in Ukraine could be estimated at about 100–130 thousand tons. The trends in consumption fully depend on new wells drilling and the amount of investment rather than on the intensified utilization of existing fields. Besides, tens of kilometers of line pipelines should be built to arrange new wells. For instance, in 2017 alone, UGV built 25 km of gas pipelines, and connected 222 km of flow lines to 57 new wells. This also affects pipe consumption.
Earlier, UGV's plans for 2019–2020 included the following:
construction of gas pipelines with a pipe diameter of 159–325 mm: 155 km worth UAH 935 million and 70 km worth UAH 420 million;
construction of flow lines with a pipe diameter of 32–114 mm: 360 km worth UAH 1.08 billion and 380 km worth UAH 1.14 billion;
purchase of 23 thousand tons of pipes worth UAH 1.5 billion;
purchase of 28 thousand tons of pipes worth UAH 1.8 billion.
According to UGV, drill pipes hold the largest share in all tubular goods. They are used at the initial stage, i.e. drilling of prospecting and production wells.
"Drill, casing, and tubing pipes are used for drilling, while line, gas-lift seamless as well as welded pipes are used for transportation of hydrocarbons," a source in Interpipe explained.
Interpipe, the largest pipe manufacturer in the country, increased its supply of products to the domestic market by 29% in 2017, up to 148 thousand tons, followed with another increase of 22% in 2018, up to 179 thousand tons. At the same time, supplies of oil & gas products grew 2.2 times in 2017 and by 15% in 2018.
"There is no clear differentiation between pipes used separately for oil and gas production. The entire growth in the supply of oil & gas pipes to the Ukrainian market is due to, first of all, an increase in the supply of UGV's premium products — pipes with UPJ-M premium connection (testing level CAL IV)," the source added.
In the beginning of the year, UGV planned to use in 2019:
casing pipes — 40 thousand tons;
drill pipes — 4 thousand tons;
drill collars and HDWP — 850 pieces;
pipes for the construction of gas pipelines — 13 thousand tons;
tubing pipes — 17.3 thousand tons.
According to Ukrnafta, the company bought 6.4 thousand tons of tubing pipes in 2018. In 2019, UAH 500 million were earmarked in its budget for this purpose.
According to Roman Opimakh, it was initially expected that all Ukrainian oil & gas companies would use 110 thousand tons of pipes in 2019, mainly domestic. However, as the UGV's drilling plan was revised, that figure may decrease by 10–15%.
And forms of procurement may vary.
"We involve contractors in the implementation of projects. Depending on well design, it is the contractor who procures pipes and arranges necessary columns. The only exception is tubing pipes, which we procure on our own. Their volume also depends on a specific project. Last year, we purchased about 100 tons. This year, with regard to projects on construction of new wells and overhaul of active ones, the total consumption of tubing pipes could reach around 200 tons," said Dmytro Marchenko, Head of the Procurement Department, Smart Energy Group.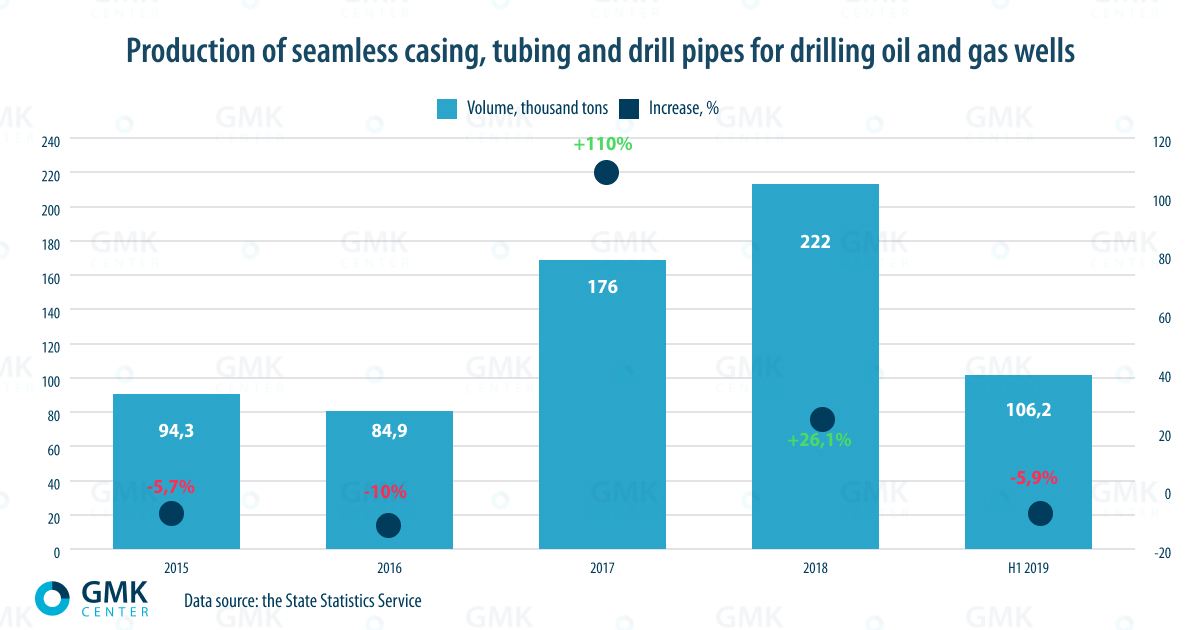 Buyers and sellers
Oil & gas production is impossible without the use of thousands of tons of various pipes — casing, drill, and tubing ones, as well as pipes for construction of gas pipelines. UGV is the main consumer of Interpipe's pipes in the domestic market. According to ReadMetal, in 2017–2018, the company purchased pipes from Interpipe for the amount of UAH 10.8 billion, and the share of supplies was 84.2% and 77.8% respectively. However, there are other consumers.
"The main buyers of oil & gas pipes are hydrocarbon producing companies: Ukrgasvydobuvannya, Ukrnafta and private producers (Ukrnaftoburinnya, DTEK Naftogaz (production), Poltava Petroleum Company, Zakhidnadraservis). The largest of them is Ukrgazvydobuvannya, for which Interpipe has specially developed and certified its own Ukrainian Premium Joint (UPJ-M) for OCTG pipes meeting ISO 13679 standard of CAL IV level," says an Interpipe representative.
According to Dmytro Marchenko, Smart Energy uses both domestic and foreign tubing pipes. Tubing pipes must have premium threaded connections, that is, be gas-tight.
In turn, mining companies have several pipe suppliers each. This is due to both different product requirements and the competitive nature of procurement procedures.
"UGV procures pipe products through the ProZorro electronic system. Procurement contracts are awarded to both Ukrainian and foreign suppliers. Interpipe Ukraine LLC is the main contract winner. It is followed by such Ukrainian manufacturers as Drill Collars and Kellys Plant Subsidiary Enterprise and Dnipropetrovsk Tube Rolling Plant LLC. Among foreign suppliers there are Chinese, German and Romanian companies, including Nefteservis LLC (Austria, Germany), Tenaris Global Services SA (Romania, Italy, Mexico), Vorex LLC (China), Liberty Tool International (China), a representative of Ukrgazvydobuvannya pointed out.
According to Ukrnafta, which purchases both domestic and foreign tubing pipes, although the main award criterion is the value for money, sometimes the company prefers foreign products, since they better meet the requirements of the company's production processes.
"We call for tenders to select suppliers. The most optimal and advantageous offer wins, regardless of whether it is a foreign or Ukrainian company," Dmytro Marchenko added.
| Activity | Product type | 2015 | 2016 | 2017 | 2018 |
| --- | --- | --- | --- | --- | --- |
| Production | Casing pipes | 58.4 | 41.4 | 107.4 | 129.9 |
| | Tubing pipes | 29.8 | 32.1 | 42.1 | 50.3 |
| Export | Casing pipes | 40.5 | 19.9 | 67.5 | 76.2 |
| | Tubing pipes | 27 | 31.8 | 35.7 | 34.3 |
| Import | Casing pipes | 2 | 2 | 9 | 17 |
| | Tubing pipes | 1 | 1 | 4 | 6 |
| | Drill pipes | 1 | 6 | 3 | 16 |
| Visible consumption | Casing pipes | 20.1 | 23.6 | 49.2 | 71.2 |
| | Tubing pipes | 3.4 | 1.8 | 10.6 | 22 |
| | Drill pipes | 1.2 | 6.1 | 3.2 | 16.4 |
| Domestic shipments | Casing pipes | 18.7 | 21.6 | 40 | 53.8 |
| | Tubing pipes | 2.8 | 0.4 | 6.5 | 16 |
The ghost of deficit
A shortage of domestic pipes could obviously be covered by foreign products. Fortunately, there are a lot of producers of tubing goods in the global market. UGV says that the Ukrainian market does not fully meet the company's demand for chrome and stainless pipes. Most likely, this is due to the low demand for this type of pipes in Ukraine.
Hence, one can expect that the range of Ukraine-made tubing goods will expand, covering the missing segments and replacing imported analogues.
"Interpipe covers all needs of Ukrainian oil & gas companies. Yet, since the conditions for hydrocarbon production are getting tougher all the time, and the requirements of oil & gas companies to products are constantly growing, we continue to invest in and develop new types of products," producers stressed.
Prospects for gas production
Ukraine's gas reserves and, consequently, the prospects for pipe consumption, seem quite optimistic.
"To date, there are 260 billion cubic meters of natural gas reserves in Ukrgazvydobuvannya's portfolio. Experts say that the volume of proven gas reserves in Ukraine is 1 trillion cubic meters, and that this figure could be increased by 1.5 trillion cubic meters due to the development of gas fields in the waters of the Black Sea and the Sea of Azov. Needless to say, Ukraine has every chance to turn into an energy-independent country in the years to come. Though the amount of investment in the domestic gas sector will determine whether this occur in 5 or 10 years," UGV underscored.
On the other hand, according to an annual report, BP Statistical Review of World Energy 2018, the proved reserves of natural gas in Ukraine are estimated at 1.1 trillion cubic meters. The country ranks second after Norway. Ukraine annually produces less than 2% of its gas reserves. With this level of primary energy production, the country's oil & gas reserves will last for 54 years. In terms of the reserves-to-production ratio (R/P ratio), Ukraine takes a lead in Europe, with an average value of 12 years. In other words, Ukraine could produce more of its own gas, and several times more intensively due to attracting investment and state-of-the-art technologies to the sector.
According to Roman Opimakh, Western investors together with other contract winners undertook in 2019 to invest some USD 600 million over 5 years. In 2018, the amount of investment in the oil & gas industry totaled USD 1.3 billion, including USD 400 million from private companies. UGV is the main market engine, as it increased investments from UAH 12 billion in 2017 to UAH 28 billion in 2018.
The oil sector
The situation in the oil sector is somewhat different. Oil production in Ukraine in 2018 increased by 5.3%, up to 1.5 million tons. The largest players in this market are Ukrnafta (+5.7%, up to 1.4 million tons) and UGV (-8.5%, up to 73.6 thousand tons). Other companies in 2018 increased production of oil by 20.6%, up to 38.6 thousand tons, and gas condensate by 15.7%, up to 217 thousand tons. Within the first 6 months of the year, Ukranfta increased its production of oil with condensate by 6.3%, up to 756 thousand tons.
As of early 2018, Naftogaz's oil and gas condensate reserves amounted to 45.9 million tons, including 38.3 million tons (proved reserves — 24.1 million tons) held by Ukrnafta and 7.4 million tons held by UGV (proved reserves — 5.4 million tons).
"Ukraine has sufficient oil reserves allowing us to ramp up production. With its current output, Ukrnafta's estimated reserves will allow oil production for more than 50 years," said the Company's press service. "In the meantime, the Company's current oil rate is insufficient for a number of objective reasons (outdated equipment, depleted oil fields, and lack of drilling). This is also due to the limited investment opportunities of the Company caused by its overdue tax debt."
The Company says that when the debt problem is resolved, Ukrnafta will almost double oil production until 2028.
---
---