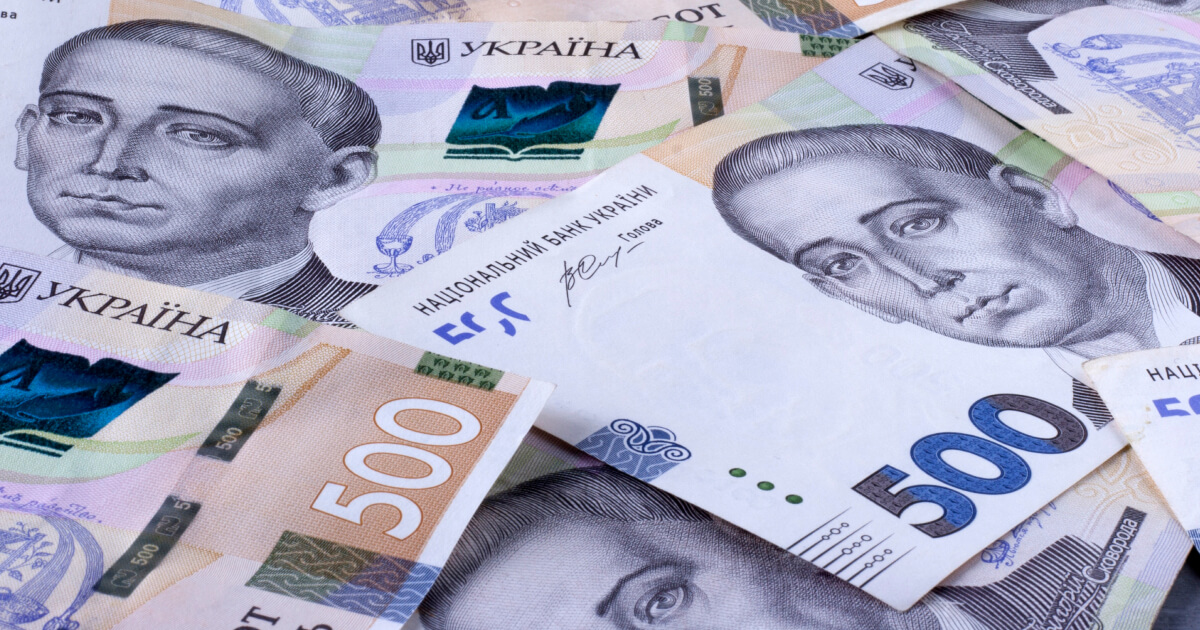 (c) shutterstock.com
In 2020, investment of mining & metals companies may reduce by a third against last year
The level of capital investment is an indicator of investment climate for both entire economies and specific industries. In 2019, capital investment in Ukraine increased by 15.5% to ₴584.4 billion. Its growth was 16.4% in 2018, and 22.1% in 2017.
The mining & metals sector is among the most capital-intensive industries. The share of mining & metals companies in the total capital investment in the country in 2018–2019 was 8.1% and 8.5% respectively, in industry 19% and 21.3%.
GMK Center figured out how much and where steel producers invested in 2019, and how the pandemic and unfolding global recession affected their development plans in 2020.
Volatile investment
Over the past 10 years, the capital investment level of the mining & metals sector was not that stable. The capital investment dynamics fully reflected the situation in Ukraine's economy. Capital investment of the mining & metals sector plummeted in 2014–2015, stabilized in 2016, and started growing since 2017.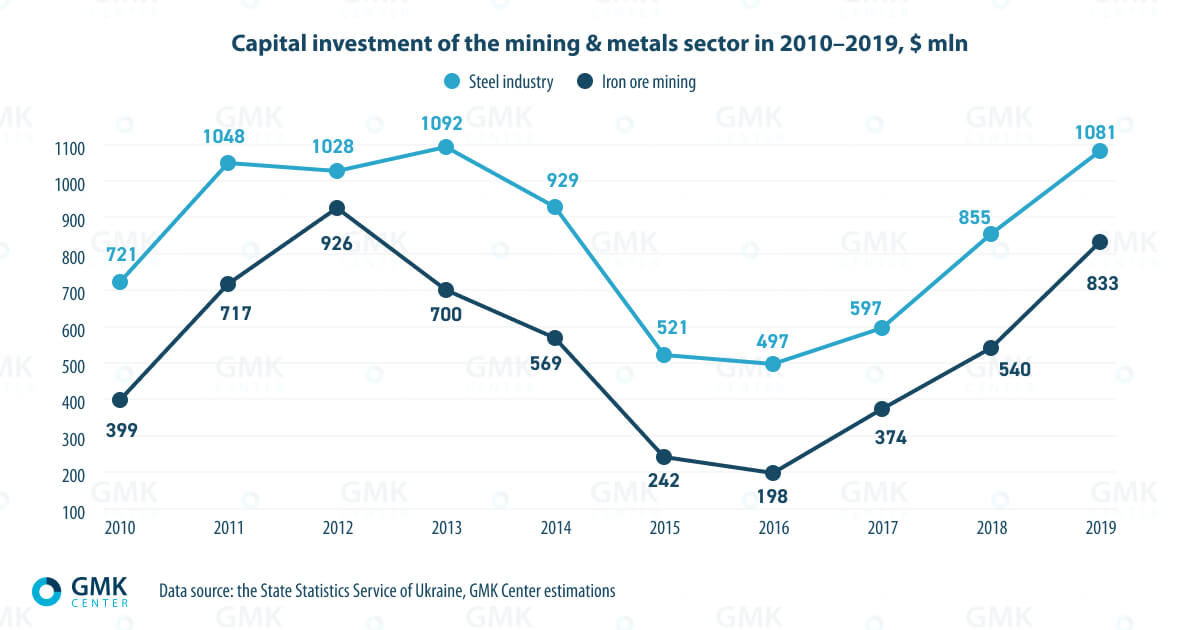 During 2010–2019, the maximum level of capital investment in the mining & metals sector was recorded in 2012, $1.953 billion. In 2019, capital investment in the industry increased by 37.3% to $1.914 billion against 2018.The lowest level over the decade was in 2015, $762.2 million. In other words, annual investment of $1.5–2 billion can be deemed as an acceptable level with the following shares of the industry segments: 60–70% of capital investments in the steel industry, 30–40% in iron ore mining. In 2019, for instance, Metinvest's share in capital investment in the steelmaking segment accounted for 49%, and 48% in the mining segment. In 2018, these indicators were 57% and 41% respectively.
"In 2019, capital investment in Ukrainian steelmaking companies per ton of steel were record high since 2007 and amounted to around $50. Domestic companies took advantage of the good market situation in 2018 and in H1 2019 and launched large projects. This is normal, because we need to close the gap between us and the rest of the world. According to our estimations, in 2014–2018 alone, we have accumulated a lag in investments of $3 billion, if we compare the investment level in our country with a world average. $50 per ton of steel is a record high figure for us, but this is a normal, average world level," explains Andrii Tarasenko, GMK Center Chief Analyst.
The total capital investment of the four largest mining companies amounted to $942.1 million in 2017, $1.425 billion in 2018, and $1.66 billion in 2019. In this period, the annual growth was 51.4% and 16.5% respectively.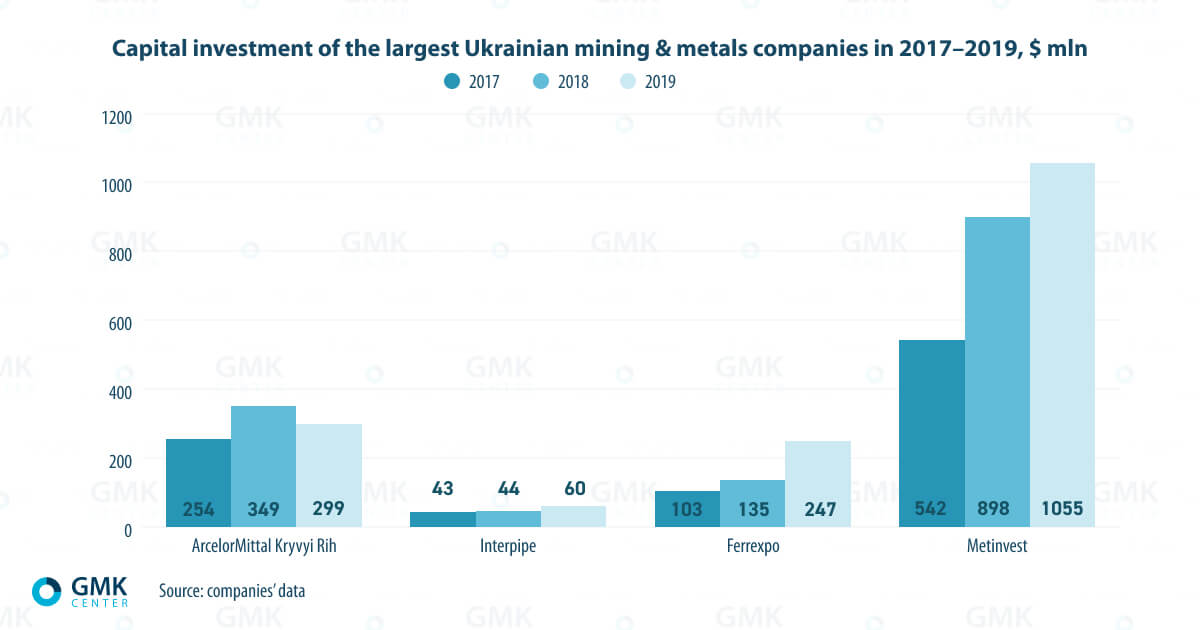 "Most investment was made in the so-called supporting projects. Domestic producers spend on average 70% of their investment programs for these purposes. This means the annual amount of investment in the sector should not be less than $500–600 million just to maintain facilities operating. If we see these figures, this means the industry has no opportunity to develop. A favorable market situation in 2017–2018 allowed companies to roar back a little. Companies invested in energy efficiency, environmental measures, introduced new products and the like. Now they will have to slow down, because the times of crisis have come," says Andrii Tarasenko.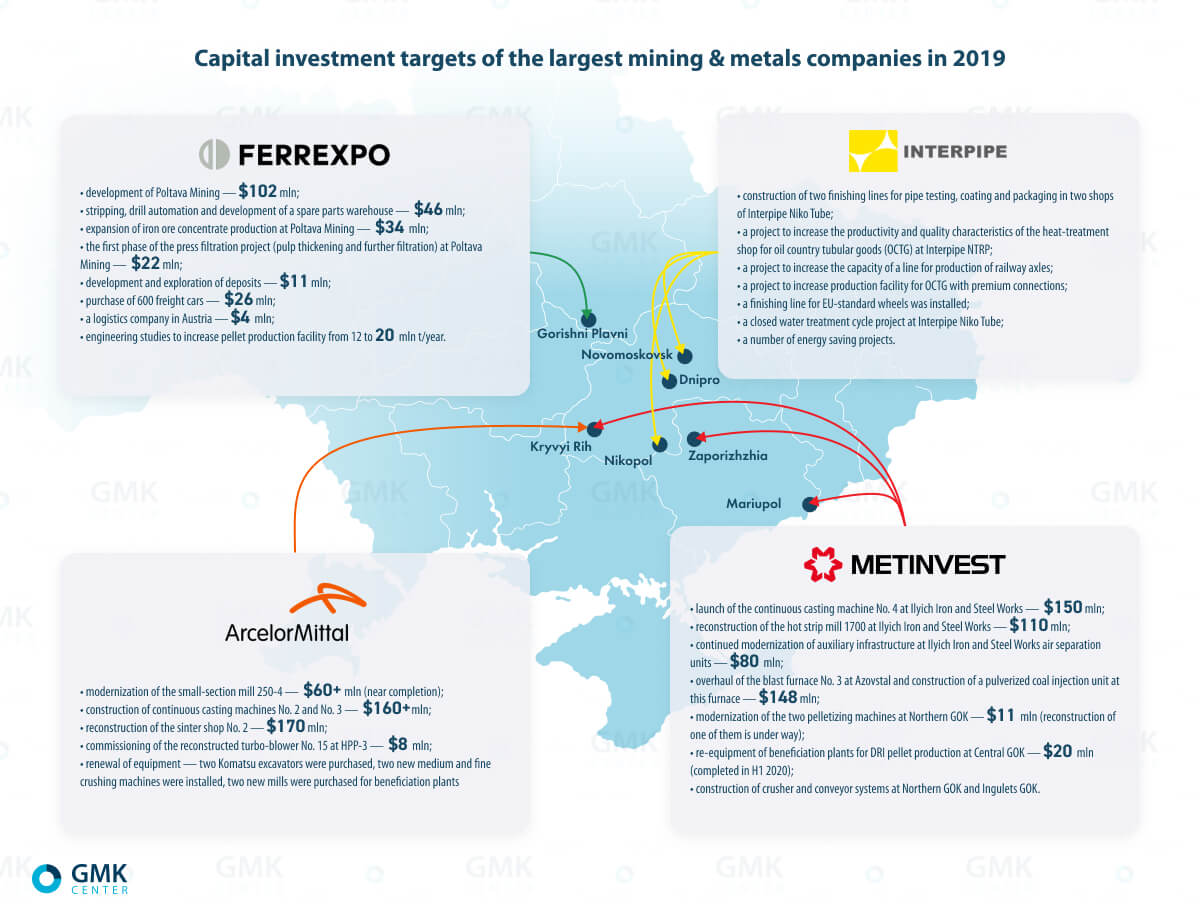 Environmental investment
Given the importance and social significance of this issue, mining & metals companies can make investment for environmental purposes. As a rule, these are projects relating to modernization, reconstruction and repair with a significant environmental component. Their amount in the total capital investments is unknown, but there are data on some companies.
Metinvest's environmental capital investments in 2019 amounted to $155 million, 66% up from the previous year. Last year, Metinvest's environmental capital investment was centered on:
reconstruction of the sinter plant at Ilyich Iron and Steel Works;
some projects are under way, including at Ilyich Iron and Steel Works: construction of a new aspiration system at the blast furnace No. 3, replacement of the gas-cleaning system at the basic oxygen furnace No. 3 and repair of the sewerage system;
reconstruction of the gas-cleaning system of the pig iron desulphurization unit, continued overhaul of the coke oven battery No. 1 at Azovstal;
extended overhaul of coke chambers at Avdiyivka Coke Plant and Zaporizhzhia Coke Plant;
replacement of gas-cleaning equipment at the pelletizing machine at Northern GOK;
reconstruction of tailings facilities, recycling water supply system, as well as current repairs of the tailings pipeline at Central GOK.
In 2012–2018, environmental projects and environmental operating expenses of Metinvest have exceeded $1.5 billion.
In turn, ArcelorMittal Kryvyi Rih in 2019 reduced its total environmental costs by 6.2% to ₴562.9 million against 2018. In 2019, the company invested in the following environmental projects:
reconstruction of the rotary furnace No. 3 of the lime and refractory shop;
repair of draft equipment and construction of two-stage gas-cleaning units (GCSs) as part of the reconstruction of the sinter shop No. 2;
introduction of an automatic system of sintering zones environmental monitoring at GCSs;
start of environmental modernization of the fourth sinter machine;
reconstruction of Obyednane and Myroliubivske tailing dams, construction of the first phase of the Central tailing dam and their recycling water supply.
In 2006–2019, AMKR invested a total of ₴6.8 billion in environmental modernization. Over this time, the company has reconstructed and built more than 120 highly efficient gas-cleaning units, cut air emissions by 42.7% and wastewater discharge by 78.4%.
Investment plans put on hold
One of the most important anti-crisis measures in any industry is a partial or complete suspension of investment. This allows maintaining financial stability of businesses for their uninterrupted operation. Ukraine's mining & metals sector is no exception in this sense.
Mining & metals companies started to change their investment plans prior to the outbreak of the coronavirus crisis, in the fall of 2019, when prices for metal products significantly fell followed by a drop in production. Specifically, Metinvest had to reduce the implementation of the 2019 investment program. The implementation of some projects was suspended, except for critical ones and projects with significant environmental effects.
Now mining & metals companies postpone some projects as well. Yet, they continue to carry out urgent ones, those at their final phase, or environmental projects.
"We have to revise our current operating plans, and there may be delays in short-term investment plans due to the current situation. Yet, we do not intend to change our long-term development strategy for the next five years. All initiatives for the implementation of environmental projects will not be put on hold," said Mauro Longobardo, CEO of ArcelorMittal Kryvyi Rih.
In turn, Interpipe postponed, until the situation with the pandemic is settled, the construction of a hydraulic press in the shop No. 4 at Interpipe NTRP and the heat-treatment shop at Interpipe Niko Tube.
Implementation of projects in 2020
Although some projects were postponed, capital investment plans for the current year are quite impressive. For instance, AMKR names the following investment areas this year:
construction of a new pelletizing plant to produce 4.5–5 million tons of pellets per annum;
replacement of gas-cleaning units of the first block of the BOF shop (BOFs No. 1–3);
reconstruction of the blast furnace No. 9;
construction of a new oxygen block;
modernization of the sinter shop No. 2;
construction of a continuous steel casting shop (two new continuous casting machines).
Interpipe leaves standing its plans for projects to modernize the heating system in all shops at Interpipe Niko Tube (completion — Q3 2020) and to increase capacity for assembling wheel pairs at Interpipe NTRP (completion — Q4 2021).
"Our top priority is to expand our beneficiation plant to process more iron ore concentrate and increase pellet production, and we are still on a path to increase annual pellet production by 14% to 12 million tons until 2021. There are two main projects for this goal: to increase beneficiation facilities for annual processing of 6 million tons of crushed iron ore into concentrate, the project is more than 85% completed; and to build an iron ore concentrate warehouse, which will allow us to separate operations of our beneficiation plant and pellet shops, the project is more than 60% completed," a representative of Ferrexpo's press service told GMK Center.
This year, Metinvest launched a pulverized coal injection unit at the blast furnace No. 3 at Azovstal. The company is also building a new gas-cleaning unit worth ₴110 million for the mixer department of the BOF shop. Moreover, Metinvest has started construction of an oxygen complex worth $78 million and a new aspiration system for the mixer department worth ₴168 million at Ilyich Iron and Steel Works. In addition, the company continues to modernize its sinter plant at Ilyich Iron and Steel Works and has tapped a credit facility to finance the purchase and installation of a hydraulic down coiler for hot strip mill 1700.
This year's capital investment
It is difficult to estimate this year's drop in capital investment of mining & metals companies. The situation in the industry and in the world in a short-term perspective will only get more complicated, with a large extent of uncertainty remaining. The steel sector is just entering a decline in production; plans are constantly changing. What seems to be temporarily postponed today may be removed from agenda tomorrow until 'better days'.
At the same time, as of March, Interpipe retained its plans to invest $136 million in production in 2020–2022. In turn, AMKR maintains plans to invest some $1.5 billion over the next five years, including $700 million in modernization of equipment for environmental purposes until 2023.
However, based on companies' estimations, a drop may be significant. According to analyst at Concorde Capital investment company, Dmytro Khoroshun, in a telephone conversation with investors on 4 March, Metinvest shared its plans to reduce capital investment in 2020 by 38% to $650 million against 2019. It is important to take into account that after the disclosure of these plans, back in late March and in April, steel prices (FOB Ukraine) fell by 15–25% and profitability prospects deteriorated.
In a telephone conversation on 23 April, Interpipe mentioned that the company originally planned a capital investment of $82 million in 2020, 37% up from the past year. Yet at the same time, the management stated its intention to abandon all planned development projects and is going to invest only in maintaining facilities ($32 million per annum) and in already launched projects. I guess the situation in the pipe market will remain disastrous after the collapse of oil prices, as railway wheels will also fall in price compared to the record year 2019, and Interpipe's investment in 2020 will amount to around $40 million. This is 33% down from 2019," Dmytro Khoroshun said.
According to Ferrexpo, in 2020 the company plans CAPEX at the level of about $150 million, but the amount will depend on market conditions.
"In a telephone conversation with investors on 18 March, Ferrexpo revealed plans to reduce capital investment to $150 million in 2020, 39% down from 2019. At the same time, the management mentioned that it can cut capital investment to $120 million, 51% down from 2019, if necessary," Dmytro Khoroshun added.
In general, it is possible to conclude from the plans of the industry leaders that a fall in capital investment in 2020 may be at least 40%. For instance, large Russian producers (Severstal, Novolipetsk and Magnitogorsk metallurgical plants) have already announced a 15–25% reduction in their investment programs for 2020. And under a stressful scenario, the fall dynamics may be worse.
"Under the worst coronavirus scenario (no end of the pandemic this year, no strong economic recovery), or if, for some reason, a bad situation occurs in the markets (a fall in iron ore prices to $70 per ton or lower, and no recovery of steel prices to their level in late April), a greater decline of 50–60% in capital investment may be expected," Dmytro Khoroshun summarized.
---
---