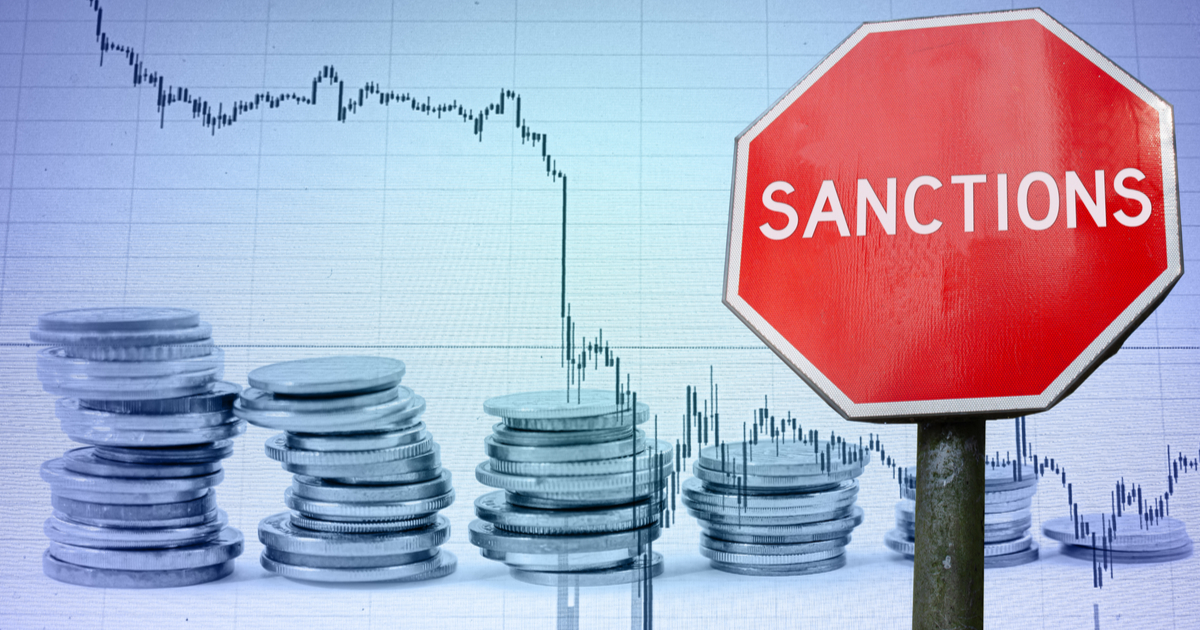 Sanction
European producers continue to buy products from the Russian steel industry, since the current sanctions do not ban imports completely
After the start of the war, the European Union began to impose economic sanctions against Russia. Among the sectors affected by the sanctions was iron and steel complex. Since Russian steel companies were traditional suppliers in the European market, the sanctions were imposed in a targeted manner so as not to harm the EU economy. GMK Center decided to trace the history of the sanctions and understand how effective they turned out to be.
Sanctions history
The introduction of sanctions against the Russian steel industry consisted of several stages. Restrictions were introduced in 2022-2023 as part of the first few sanctions packages, as well as the 8th and 11th packages.
Almost from the beginning of the full-scale aggression of the Russian Federation against Ukraine, the EU banned the import of finished steel products (hot and cold rolled sheets, long products, some types of welded and seamless pipes) of Russian origin and semi-finished products included in HS codes 72-73, with the exception of raw materials, in particular, pig iron, ferroalloys, scrap, iron ore. Since October 2022, the EU has also banned the import from third countries of steel products made from Russian pig iron and steel under the above codes.
As part of the eighth package of sanctions, the EU expanded previously imposed restrictions on the import of steel products, extending the ban on the import of steel products from third countries if they were made from Russian steel.
The eighth package of sanctions came into force on September 30, 2023, with the exception of semi-finished products – square billets and slabs, for which separate deadlines are provided. The import of square billets is prohibited from April 1, 2024, and slabs – from October 1, 2024. At the same time, import quotas were introduced for the transition period (until supplies will be completely banned).
Quotas for square billets provide for a gradual reduction in imports from Russia: in the first quota period (10/7/2022 – 09/30/2023) – by 10.1% compared to average monthly imports in 2022, in the second period (10/1/2023 – 12/31/2023) – by 37.1%, in the third period (01/1/2024 – 03/31/2024) – by 64.1%. Allowed monthly slab imports will be only 20% lower than actual average monthly imports in 2022. For comparison, slab imports in 2021 amounted to 3.7 million tons.
As part of the 11th package of sanctions, the European Union has further tightened restrictions on the import of steel goods. Companies supplying steel products subject to sanctions to the EU will have to additionally provide evidence that the raw materials used for production were not supplied from the Russian Federation. These requirements came into force on September 30, 2023.
Effectiveness of sanctions
Despite the imposed sanctions and a decrease in export revenue, iron and steel industry of the Russian Federation continues to receive relatively high income from exports to the EU. In particular, in 2022, total exports amounted to 7.92 million tons for €3.87 billion.
In January-July 2023, the European Union reduced imports of steel and raw materials from Russia by 44.8% compared to the same period in 2022 – to 3.24 million tons. Export revenue of Russian companies decreased by 43.2% year-on-year – to €1.65 billion.
Consumption of different iron & steel products supplied by Russia into EU showed following dynamics:
semi-finished steel products – decrease by 40.8% y/y – to 1.92 million tons;
iron ore – decrease by 84.9% year-on-year, to 322.7 thousand tons;
ferroalloys – decrease by 79.3% year-on-year, to 24.2 thousand tons;
scrap – decrease by 73% year-on-year, to 20.44 thousand tons;
pig iron – growth by 25.3% year-on-year, to 952 thousand tons.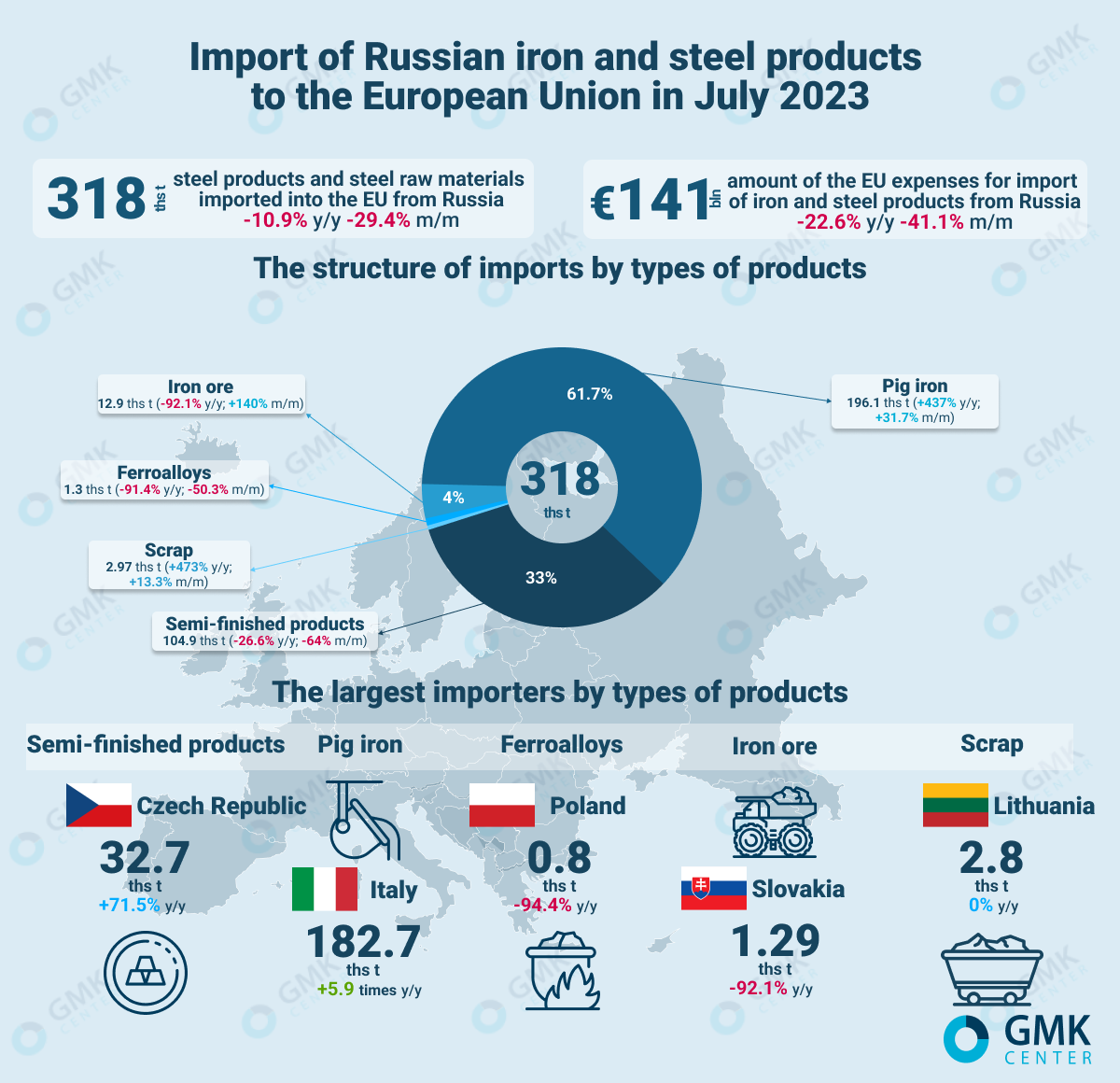 Consumption of Russian pig iron grew because this product is not subject to European sanctions
. Italian steel mills remain the main consumers of Russian pig iron in the EU: in January-July 2023, Russia exported 3.81 million tons of pig iron to Italy (50.7% of exports). Outside the EU, a major consumer of pig iron is Turkiye, which has not imposed any sanctions against Russia. In 7 months of 2023 Turkiye imported 1.2 million tons of pig iron from Russia. Due to the use of Russian raw materials and semi-finished products Turkish steelmakers can maintain their competitiveness in the European market and even increase supplies when the situation is favorable.
Turkish steel companies import slabs and billets from Russia in large volumes. In particular, in January-July Turkiye imported 1.05 million tons (+19.8% y/y) of billets from Russia, which is 47% of the total imports for seven months (2.24 million tons). However, measures of the 11th package of sanctions may have a negative impact on Turkish imports from Russia, as the European Union has imposed a ban on the supply of steel products made from Russian raw materials.
Weak spots
The sanctions do not completely ban supplies
of steel products from Russia. Russian companies may continue to export pig iron and iron ore  without restrictions. Supplies of semi-finished steel products will be gradually restricted until the full import ban comes into force. This decision was made taking into account the opinion of European rolling mills that consume Russian slabs.
In addition, Russian companies that own European steel assets (rolling mills) are actively lobbying for favorable decisions for themselves. For example, NLMK Group's asset – NLMK Belgium – insists on extending quotas for slab imports from Russia for another four years. Such activity is connected with the fact that in October 2024 the import quota for Russian slabs in the amount of 3.74 million tons will expire, after which a complete ban on imports of these semi-finished products from Russia to the EU will follow. This year, Russia exported about 4.2 million tons of slabs, which is about 36% less compared to 2022. It cannot be ruled out that other consumers of Russian semi-finished products, in particular Italian producers, will not join this campaign. Currently, approximately 80% of slab imports from Russia to the EU are supplies within NLMK Group.
A weak link in the recent sanctions measures is control over the country of origin of steel raw materials. In conditions when third countries (Turkiye, China, a number of CIS countries) are actively helping Russia to circumvent sanctions by using "gray" schemes and redirecting imports, control of certificates of origin will not be effective.
"Any producer of steel products acquires raw materials from various sources and sells products on various markets. As a result, it is virtually impossible to control which raw materials are used to produce a particular batch of products. A buyer of Russian semi-finished products may insist that it sold its products on the domestic market, while the products exported to the EU were made from other raw materials. Therefore, there are great risks that the procedure for controlling the country of origin of raw materials will be ineffective," notes chief analyst of GMK Center Andriy Tarasenko.
Sanctions prospects
To a large extent, the EU has already exhausted the possibilities of increasing sanctions pressure on Russia. There are still areas of the economy that are insensitive to sanctions or certain industries where it is not favorable for Europeans to impose sanctions (for example, against nuclear power). Therefore, the EU can only tighten control over compliance with the already imposed trade restrictions.
New EU sanctions against Russia (the 12th package) may be presented as early as October. The package will presumably include a ban on imports of Russian diamonds, a mechanism for using profits from frozen assets of the Central Bank of Russia to help Ukraine, as well as new steps to limit Russia's ability to circumvent sanctions through third countries.
According to preliminary information, the 12th package will probably not include new sanctions against Russian steel industry. At the same time, the association of European steel producers EUROFER supports tougher sanctions against exports of Russian steel products and iron ore raw materials to the EU.
Conclusions
EU sanctions against the Russian steel industry remain fragmented. Only imports of finished steel products are completely banned, while opportunities for pig iron and iron ore supplies from Russia remain unrestricted.
The EU also continues to import slabs and square billets from Russia within the established quotas. It is likely that the quotas will be prolonged if European producers are unable to find alternative suppliers of semi-finished products.
There is no information that there is a dialog on imposing new sanctions on Russian steel products, so there is little prospect of new restrictions. At present, the problem of monitoring compliance with the sanctions already in place remains relevant, as there are opportunities for supplying and processing Russian products in third countries.
It is paradoxical that the growth of Russian pig iron imports to the EU is taking place amid a decrease in supplies of similar products from Ukraine. In January-July 2023, Ukraine reduced its pig iron exports to the EU by 13.5% compared to the same period in 2022 – to 140.2 thousand tons. At the same time, Russian producers increased supplies to the EU by 25.3% over the same period.
According to GMK Center's research, Ukrainian iron and steel products can gradually replace similar Russian products in the European market. Even under the current conditions, Ukraine can increase exports of iron products to the European market by $74 mln monthly. This figure reflects the possibility of increasing exports of pig iron and iron ore, taking into account:
production facilities that remain in Ukrainian-controlled territory;
needs of European consumers, which were satisfied by Russian suppliers (volume of imports from Russia in 2022).
The maximum potential for increasing exports of pig iron and iron ore is much larger (about $230 mln monthly). However, in order to achieve it, the remaining Ukrainian-controlled steel companies must be able to return to pre-war production levels. This is a longer-term issue.
---
---