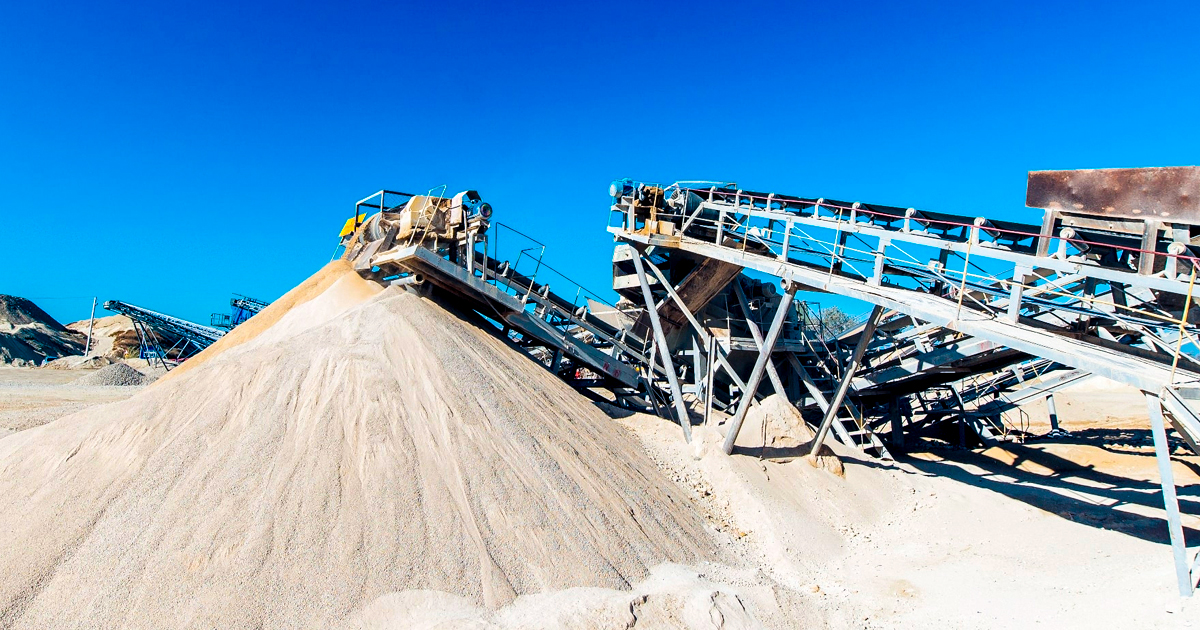 This year, limestone imports will keep growing, while the share of domestically produced limestone will decrease.
Limestone producers count on growing steel production and exports. As a result, they expect growth in certain segments of their market.
According to the forecast of the Ukrainian Lime Industry Association (ULIA), limestone extraction will grow by 5% this year. Lime production can increase by the same percentage. However, limestone production is expected to go down. Meanwhile, imports will keep growing.
Main consumer
Steel industry is the main buyer for the lime industry. Mining & metals companies account for two thirds of the volume.
It is assumed that around 50 kg of quicklime is used to produce a ton of steel or pig iron. Lime is the main slag used to refine iron ore. Lime is added to iron ore as a flux to reduce smelting temperature.
In the course of smelting, lime products form a safety film on the steel surface. It reduces heat loss and allows for energy saving. Lime is also used for water treatment.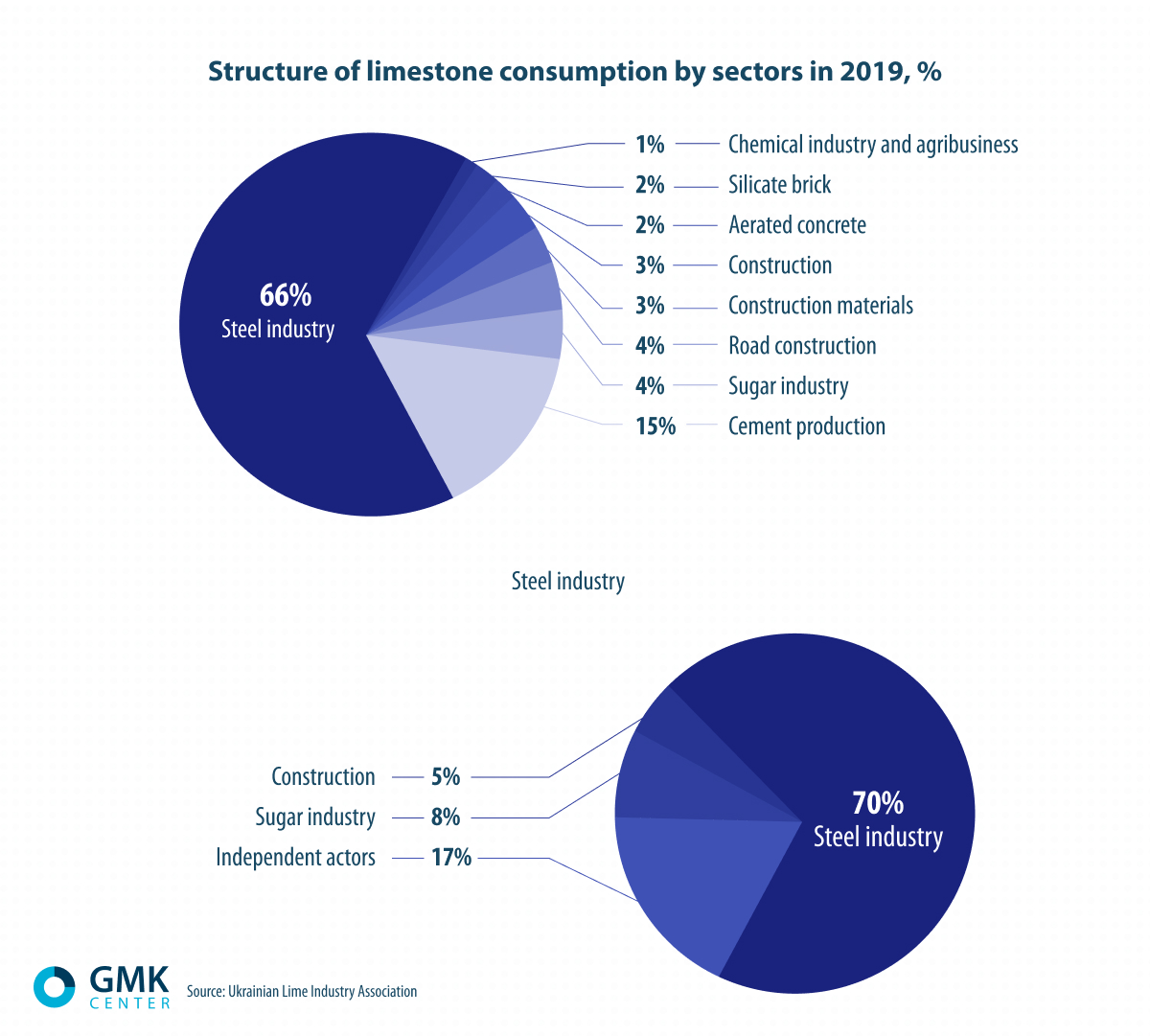 "If we look at the previous years when around 70% of limestone was used in the steel industry, we can see a slight decline last year, down to 66%. It can be attributed to the suspension of production in the east of the country. A slight increase can be explained by the resumption of production. According to our forecasts, limestone consumption will have remained at the same level by the end of 2019", said Roman Gladunenko, CEO of ULIA.
Main producer
In the past years, there has been a trend towards consolidation of actors in the lime industry. At the end of 2018, top three companies increased their market shares accounting for 74% of the total production. According to ULIA, last year they accounted for only 67%.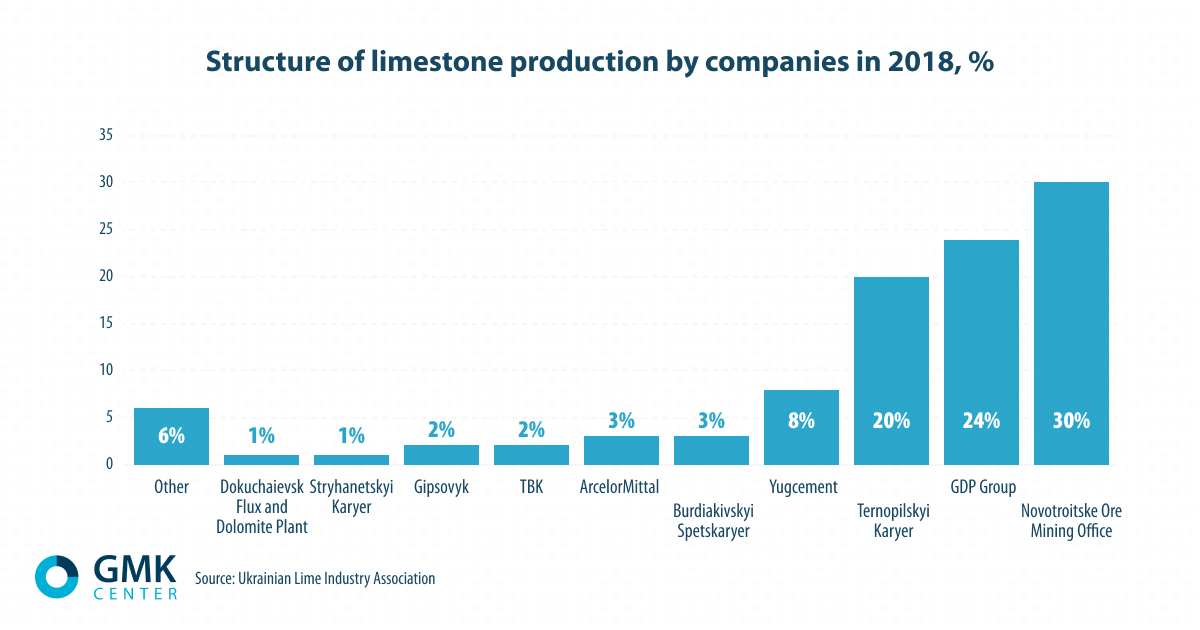 However, Novotroitske Ore Mining Office and GDP Group have achieved only a slight increase in their shares. By contrast, Ternopilskyi Karyer increased its market share by 5% compared to 2017. A major downturn was observed at smaller quarries, down to 63% year-over-year.
According to ULIA forecasts, this year limestone extraction will increase by 5% compared to the previous year, up to 15.7 million tons.
"In 2019, we expect an overall slight growth in the limestone market. Last year, the market growth was caused by increased imports," said Roman Gladunenko.
The lime market volume will also increase by 5% compared to the previous year, up to 2.6 million tons. However, limestone production is expected to decrease by 2%, down to 11.9 million tons.
Key importer
According to ULIA, at the beginning of 2019, a multiannual trend towards increased imports preserved. During the first three months of the year, limestone imports increased by 12%, up to 0.8 million tons. All-time high imports, 317 thousand tons, were recorded in March.
It is clear that the largest consumer sets the rules for both domestic producer and importer.
"We use a small amount of domestic limestone only for the purpose of steelmaking. Limestone from western Ukrainian quarries does not fit our purposes. It has low strength, therefore it has a powdery coating when delivered. In case of ingress of moisture, mud clogs BOFs and can lead to reduced production. That's why we import limestone from Moldova," explained Albert Zhyliakov, Head of Raw Materials and Fuels, Zaporizhstal.
At the same time, there are much more favorable conditions for domestic producers in the lime market. Lime imports have never exceeded one percentage point of domestic production. However, a moderate growth in imports has been observed in the country in the last few years. In 2018, it amounted to 22%. However, as early as in the first quarter of 2019, the trend reversed and lime imports decreased by 6%.
Consumers are fine with the quality of domestically produced lime.
"We purchase lime only in the domestic market. We have no imported lime," assured Vitaliy Gorzhiy, Chief of Raw Material Procurement Bureau, Dniprovskyi Iron and Steel Works.
Near-term prospects
At the balance meeting this January, steelmakers predicted a 12.7% growth in the industry at the end of the year, up to 23.8 million tons. At that time, Ukrmetallurgprom's projections were slightly higher as compared to the last-year results, at the level of 21.5 million tons. Since then, industry forecasts have been adjusted several times. However, all market actors expect the steel industry to demonstrate growth by the end of 2019. Lime producers share these expectations.
According to ULIA, "apparently, large producers are increasing production through expansion and modernization."
In Ukrmetallurgprom's opinion, the current situation will encourage a hike in prices for domestic products. They will have to catch up with the cost of imported products.
---
---