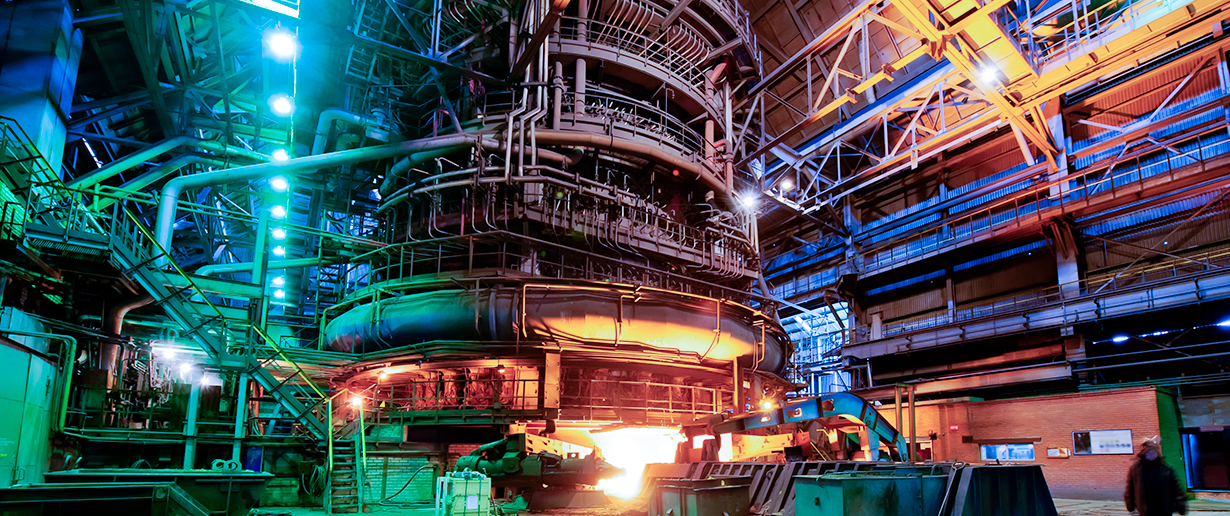 Capital investment in the sector increased by 42% in 2018
Capital investment in technical re-equipment of Ukrainian steel-producing companies reached the European level for the first time in 2006–2007. According to Metallurgprom (the former name of the Ukrmetallurgprom), capital investment per ton of steel produced in those years was $28.3 and $48.5 respectively.
Following that, the industry ran straight into a barrage of difficulties, ranging from the global financial and economic crisis of 2008–2009 to the loss of control over some assets in Donetsk and Luhansk oblasts in 2017.
However, judging by the last year's performance, steel makers could return to the previous level of investment. GMK Center looked into the focus of activity of Ukrainian steel companies in the process of modernization.
Return of values
In 2018, capital investment in the steel industry and production of finished steel products grew by 41.7%, up to UAH 25.56 billion compared to the previous year. This was reported by the State Statistics Service of Ukraine.
According to Ukrmetallurgprom, in 2017, the total capital investment of Ukrainian steel-making companies alone reached UAH 15.7 billion (UAH 737, or $26.3, of average investment per ton of steel).
"Within 9 months of 2018, this indicator amounted to UAH 12.85 billion (UAH 815, or $29.1, of average investment per ton of steel)," the company's press service reported.
Representatives of Ukrmetallurgprom said that this is the best indicator over the past 9 years. For instance, in 2010, steel makers invested only $17.1 per ton of steel.
Great difference
The volume of capital investment of ArcelorMittal Kryvyi Rih РJSC (AMKR) in 2007–2008 and 2017–2018 was UAH 3.3 billion and UAH 16.3 billion respectively.
"This difference can be explained, first and foremost, by a significant devaluation of the hryvnia and inflation in Ukraine over the past 10 years. Secondly, it is linked to the initial period when the new owner only got acquainted with the company and assessed in detail its resources, needs, and opportunities… At the same time, a development strategy was mapped out, and soon the time for large-scale projects came," ArcelorMittal Kryvyi Rih РJSC representatives explained to a GMK Center correspondent.
AMKR's development program was approved by ArcelorMittal parent company that allocated a considerable amount of funds for its implementation.
"We have an opportunity to implement several large projects simultaneously. In 2018 alone, our capital and operating costs amounted to $443 million, which was the highest figure ever recorded in our company," the press service of the plant pointed out.
Over the past 10 years, Interpipe industrial company has invested more than $1 billion in production facilities.
"We built Interpipe steel plant worth $700 million from scratch. About $300 million were invested in modernization of the production of pipes and railway products," an Interpipe representative said. The company however did not specify the amount of capital investment over the past two years.
Record investment
Last year, the investment program of the Metinvest Group (that includes mining & metals assets) amounted to $900 million, .
At Zaporizhzhia-based Zaporizhstal, a GMK Center correspondent was told that since the change of ownership in 2012, the company has been implementing a large-scale, comprehensive program of environmental modernization.
"During this period, over UAH 10.6 billion have been invested in environmental reconstruction of the company," said its representative.

metinvestholding.com
Repairs and modernization
The press service of Dniprovskyi Steel Plant (DSP, Dnipro; part of the DCH Group owned by Oleksandr Yaroslavskyi) reported that in 2017–2018, investments exceeded $15 million.
"Investments were spent for the overhaul repair of blast furnaces and coke ovens, as well as installation of a turbogenerator at thermal power stations (TPS)," a DSP representative underscored.
Dniprovskyi Iron and Steel Works (DISW, Kamianske; officially controlled by the ISD Corporation), which in 2017 had to stand idle for several months, gradually recovers after the crisis. In the summer of 2018, its administration announced a number of industrial modernization projects to reduce the environmental pollution.
Plans for the current year
According to representatives of Ukrmetallurgprom, the volume of capital investment in Ukraine's steel companies is expected to increase.
"Our goal for 2019 is to invest $450 million," an AMKR representative claimed.
The total volume of capital investment in the production development of AMKR in 2018–2022 will increase from $1.5 billion to $1.8 billion.
According to the company representatives, the major projects scheduled for this period include capital repair of the blast furnace 9, construction of a new blast furnace slag granulation facilities for the blast furnace 9, installation of a new electric air blower at TPP-3, reconstruction of sinter machines 1 and 4 and sinter workshop 2, construction of a tailings dam '3rd card,' and a number of other projects.
As reported by GMK Center, more funds are expected this year under Metinvest's investment program.
Pipe prospects
Following the construction of an up-to-date electric steelmaking facilities, Interpipe is now focused on finishing premium products production lines. The company has big plans for the wheels segment, in particular it is going to increase capacities for wheel dressing and performing special finishing operations, enter the passenger car wheels market, and expand axles production.
"Equipment for these lines has already been selected, and supply contracts were signed. We should get it approximately in 2019," said an Interpipe representative.
Also, this year, the company expects the supply of two lines for cutting threaded joints of casings and manufacturing casing couplings. The plans for this year include bringing operation capacities in line with the planned indicators and stabilizing operation of the pipe finishing line installed at workshops of Interpipe Niko Tube in 2018.
Repair of blast furnaces
DISW plans to overhaul the blast furnace 2 and the rolled workshop 1 in 2019.
On a short-term horizon, DISW plans to replace or overhaul sinter machines, blast furnace 9, continue reconstruction of gas coolers at BOFs 1 and 2, and replacement of locomotive engines.
To improve the quality of its output, DISW is going to fund the reconstruction of the cooling system for as-cast billets at the steel billet continuous casting machine (CCM) 1 and 3. DISW also intends to automate processes in the rolling production (mill 400/200 and ball mill).
DISW's website quoted Oleksiy Piatkov, the Head of DISW Investment Department, who said, "In 2019, works will continue on updating the auxiliary equipment in repair workshops of the plant."

"If some areas lack financing, there is a risk of failures in the technological chain and unscheduled outages," a representative of ArcelorMittal Kryvyi Rih РJSC summarized. "This may result in a loss of intermediate and final output. Failures in one area may threaten the entire production chain."
---