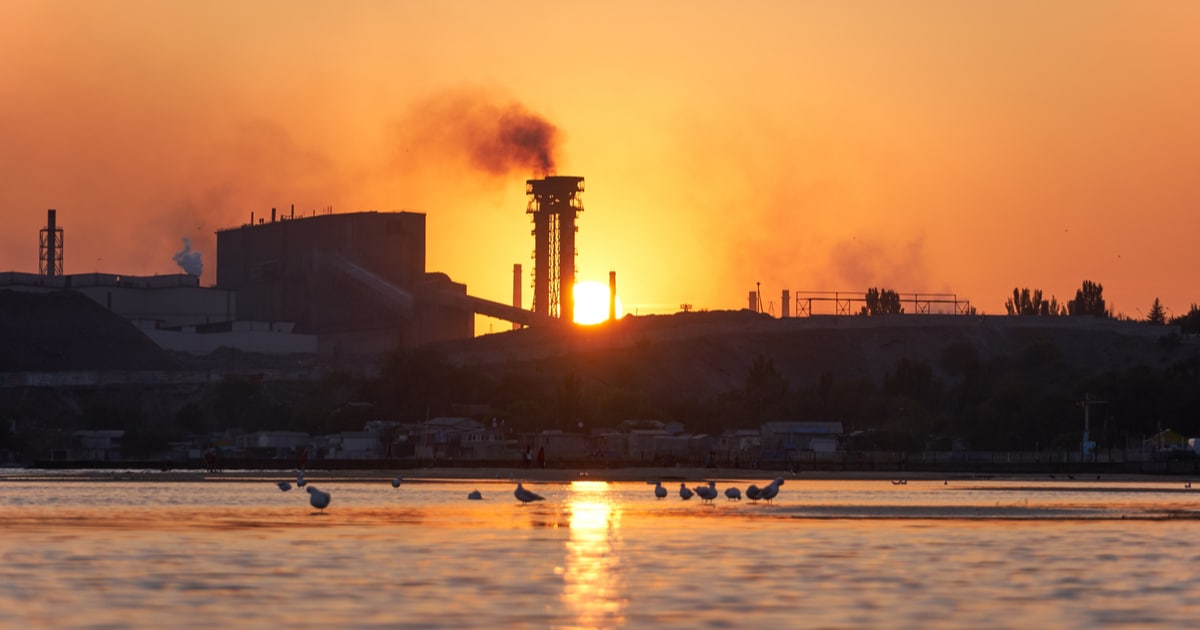 (c) shutterstock
The plant accounts for every 5th ton of steel, 0.6% of Ukraine's GDP and 3.8% of exports of goods
Many articles and news are published now with the references to Azovstal plant as the war in Ukraine and the defense of Mariupol are still undergoing. But what does the world know about the role and importance of Azovstal for Ukraine's steel industry, for its economy, for Europe and the world?
Azovstal Metallurgical Plant was founded in 1933. It occupies a huge area of ​​11 square kilometers, and before the war it employed 10.7 thousand employees. The plant accounted for $2.6 billion of Ukraine's exports, or 3.8% of all exports of goods from Ukraine. In total, including the supply chain, Azovstal provided 0.6% of Ukraine's GDP. Since 2013, more than $1 billion has been invested in the metallurgical plant.
In 2021, Azovstal produced 4.34 million tons of steel, which is 3.5% more than in 2020. This is one in five tons of steel produced in Ukraine. Last year's total output was 4.1 million tons (+ 4.1% compared to 2020), pig iron – 3.8 million tons (at the level of 2020).
The plant was one of the biggest suppliers of slabs to the European market. It covered more than 30% of the slab market in the European Union. The Italian and British plants of Metinvest were completely dependent on Azovstal. Due to disruptions in the supply chain, they decided to fulfill planned repairs ahead of time.
"It is a serious shock for the European steel industry, which has been integrated with Ukraine quite deeply," Metinvest head Yuri Ryzhenkov said in an interview.
In recent years, Azovstal has been actively developing. In 2020, 20 new types of products were mastered, including 2 types in the segment of continuously cast steel semi-finished products, 18 in the segment of rolled steel. In 2021, Azovstal got a ship steel certificate from the US Classifier. In early 2022, Azovstal received a quality certificate for steel supplies to the United Kingdom.
Azovstal is the only Ukrainian manufacturer of wide gauge railways and rail fasteners. The plant also produced other types of these products. Kyiv city purchased 200-300 tons of rails annually from Azovstal to repair tram tracks. Thus, the loss of such an important plant will be a problem for Ukraine. Damaged infrastructure will have to be restored with import supplies.
The steel produced at the plant was used in the construction of the most famous architectural projects: the London skyscraper The Shard, San Giorgio Bridge in Genoa (built instead of Morandi Bridge), the residential district Hudson Yards in Manhattan.
Azovstal is a full-cycle steel enterprise and part of Metinvest Holding. The company produces flat, high-grade and shaped products, and has coke production facilities.
Its main products are semi-finished products, as well as sheet metal. Azovstal's sheet metal used in shipbuilding, energy and special engineering, bridge construction, production of large diameter pipes for main gas and oil pipelines.
---
---