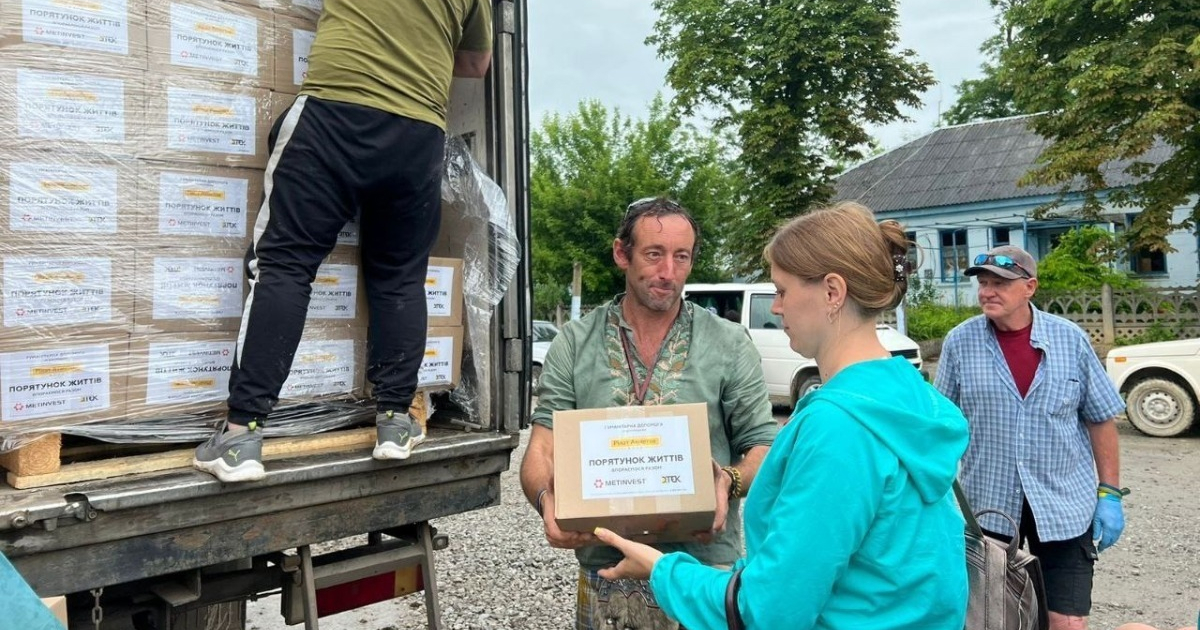 Residents of the Kalynivka community received humanitarian aid, more than 80% of which was flooded due to the Russians undermining the Kakhovska HPP
The humanitarian project of the Metinvest Group «Saving Lives» provided humanitarian assistance to the residents of the Kalynivka community in the Kherson region, who suffered from the terrorist attack by the Russian occupiers at the Kakhovska HPP. This is stated in the press release of Metinvest.Media.
«In addition to the nine-month occupation, the residents of the Kalynivka community had to go through another difficult test. After the enemy blew up the Kakhovska HPP, more than 80% of its territory was flooded. The peasants found themselves in a difficult situation and needed the help of those who care,» the message says.
Metinvest handed over 1,000 food kits and 528 packages with hygiene products. The most vulnerable sections of the population and those who were most affected by the tragedy received them. The delivery of the cargo was carried out by the partners of «Saving Lives» – the Siobhans Trust and "M.R.I.A" charitable funds.
In addition to the humanitarian cargo for civilians, Metinvest provided 25 bulletproof vests to volunteers in the Kherson region who save people and animals.
«The blowing up of Kakhovska HPP became another evidence of the crime of the Russian Federation against Ukraine and Ukrainians. The entire state united to help the residents of Kherson region. Metinvest Group also supported the victims. We sent kits with products and hygiene products to the Kalynivka community. For people who find themselves in extremely difficult conditions, this is a very significant and important support,» said the director of sustainable development and interaction with the Metinvest Group team Tetiana Petryk.
During the 15 months of the full-scale war, «Saving Lives» helped almost 500,000 people in 70 territorial communities. Ukrainians received approximately 4.2 thousand tons of products and hygiene products, and hospitals received medical drugs, consumables and equipment worth €250 thousand.
As GMK Center reported earlier, Metinvest handed over to the doctors of the Armed Forces of Ukraine 30 ambulances worth approximately UAH 18 million. The cars were assembled for more than a month, all of them were delivered from Italy.
Since the beginning of the full-scale invasion of the Russian Federation, the company sent for help 3.7 billion UAH to the state and its citizens, more than 2 billion UAH of which are for the needs of the army through Rinat Akhmetov's «Steel Front» military initiative.
---
---