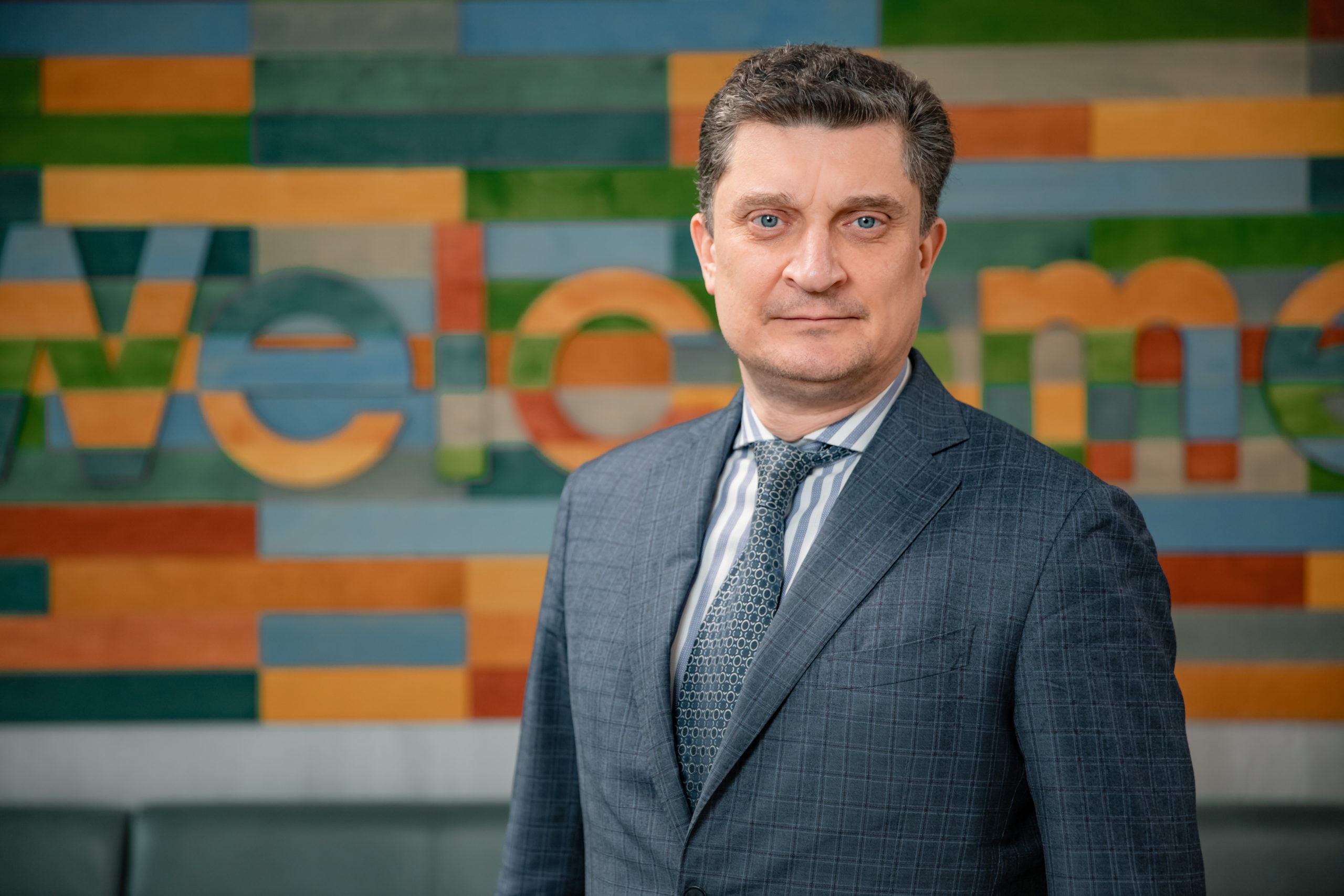 How the company adapted to logistical restrictions in the situation of blocking sea ports
The war brought significant changes in the logistics chains of Ukrainian steel industry. Companies had to urgently look for new ways and cope with many other challenges that full-scale war brought with it. In an interview with GMK Center, the first deputy chairman of Poltava Mining's board, Dmytro Spatar, told how the Ferrexpo iron ore company ensured systematicity in logistics chains.
The issue of logistical constraints was and is one of the main challenges for export-oriented business. How much has this affected Ferrexpo?
– Before the full-scale invasion, sea transport provided Ferrexpo with 60% of sales. So of course it was a big challenge. But I must say that the company was well adapted to this kind of challenge. Ferrexpo usually works under long-term contracts, which makes it possible to understand and plan transportation volumes in advance. Since 2006, Ferrexpo has been developing logistics, purchasing wagons, and developing its own railcar repair base. I also want to note that our company traditionally shipped about 10% of its products across the Danube. We have our own river logistics on the Danube – it is the Austrian company First-DDSG.
That is, river transport plays a key role in overcoming logistical constraints?
– Yes, you are absolutely right – river transport helped our company to overcome logistical problems. In certain periods, the volume of river transport tripled compared to the pre-war level. Currently, we ship through the port of Izmail, as the depth of the berths is sufficient and the delivery time satisfies customers. This is a traditional way of supply for us. We have been cooperating with this port for 35 years. First-DDSG has its own river fleet – it is 214 vessels, but we also attract vessels of other owners. Some of Ferrexpo's customers receive cargo directly through the port of Izmail on the Danube River.
Now Constanta is the main export port gate of Ukraine. Are there long queues, or is there enough capacity to handle your specific loads?
– Constanţa is a seaport that Ferrexpo uses today for sea transportation to the countries of Western Europe, the Middle and Far East and others. But if you plan two or three months in advance, it is possible to find free volumes. Ferrexpo works under long-term contracts, which allows us to use this route efficiently.
And regarding the use of other ports, for example Poland?
– In 2022, Ferrexpo shipped products through Polish ports, including the port of Gdansk. Small volumes can be exported from Polish ports to European ports. We temporarily abandoned this route, as it is an unpopular destination, and the cost of freight is several times higher than from deep-sea ports.
With iron ore prices in China at the level of $120-130, is it appropriate to export pellets from Ukraine to other regions, such as Asia?
– Currently, logistics is a key component in the price of finished products and is always taken into account when deciding on a destination.
Are there prospects for increasing exports through the port of Constanta to the same MENA countries, Turkiye?
– Yes. Constanta is a deep sea port, but there is a problem with logistics to Constanta. We are talking about the availability of a certain number of barges, the possibility of the port of Izmail. The more elements in the chain, the more restrictions. And the first restriction on Constanta is the restriction of the port of Izmail and the railway infrastructure to the port.
During the summer in Europe, the situation was tense due to the shallowing of rivers, which made it impossible to supply products for many companies. How did Ferrexpo deal with it?
– Yes, it caused certain difficulties. But we found a way out of the situation. The company First-DDSG put empty barges on shoals, where loaded barges could not pass, and part of the cargo was transshipped right on the spot. In this way, the barge rose and passed this shoal. It was a forced step for several weeks. This made it possible to process vessels and continue to carry out logistics. Because otherwise the vessels would simply stand still and not have the opportunity to work. Although someone probably used other ways – just did not load the barge fully.
How do restrictions on rail transport in Ukraine affect Ferrexpo exports?
– Any restrictions on the part of Ukrainian Railways and the operators of foreign partners have an impact on the volume of transportation: queues at the border and waiting time on the road increase, turnover slows down, and there is a need to attract additional rolling stock. The issue of integrating the Ukrainian and European railway infrastructure into a single transport system and increasing the capacity of border crossings is extremely important.
Is the problem with customers having to wait longer for their orders?
– No, there is no problem in this. Ferrexpo's long-term agreements allow you to plan transportation volumes in advance. But there is another problem related to delivery times. Along with the doubling of railcar turnover times, the need for wagons increased. Ferrexpo has its own fleet of about 3,130 wagons. And before the war, the company almost completely ensured the shipment of products under contracts with its own rolling stock. However, currently, to meet the needs, we have started to attract wagons from other carriers, which of course leads to an increase in transport costs.
Ukrainian Railways calls the main problem at the border – delays in the work of European partners, and not in throughput from the side of Ukraine.
– The working conditions faced by all market participants after the beginning of the military invasion of Russia were and remain extremely difficult. We hope for the support of European countries in establishing effective communication with the Ministry of Transport of Ukraine and Ukrainian Railways regarding the achievement of organizational and technical compatibility of Ukrainian and European railways and the formation of a developed market for rail transport services.
Do you mean the reduction of queues and idling of railcars at railway border crossings?
– Today, delays at the border are shorter. Border crossing terms depend on Ukrainian Railways, as the carrier managing the process. They work with a foreign partner, a foreign railway. But we, on our part, provide system support to Ukrainian Railways, which can increase the efficiency of processes – we provide documents from our partner if, on the other hand, it has narrow-gauge railcars idle and does not have our cargo. This allows us to speed up the acceptance of our goods through customs.
Is a systemic solution to this problem possible? If the Ukrainian ports are not opened, how can the problem of bandwidth at the crossings be solved?
– This is a complex issue that should be considered in the context of the development of a logistics strategy, which should include the issue of wide and narrow track, the necessary amount of warehouse space at transshipment terminals, an extensive network of maneuvering routes, provision of narrow track with empty wagons to load Ukrainian products, etc. Difficulties caused by queues and idle railcars can be resolved by ensuring fruitful cooperation between the domestic railway operator and operators of European countries. The process should be built in such a way that, first of all, the wagons of those customers who timely and regularly pick up cargo from transshipment terminals on the border with Europe are transferred. Such an approach will help to form a queue of declared wagons in accordance with demand and reduce the congestion of European railways with abandoned wagons.
Do you consider the creation of buffer warehouses, sites in countries near Ukraine or near your customers – Austria, Romania near the ports of Constanta, in Poland, maybe in Hungary – as a potential solution in logistics chains?
– Yes, we have been studying this issue in detail for a long time and are negotiating with our European partners.
How quickly will Ferrexpo be able to resume exports if Ukrainian ports are unblocked?
– In my opinion, it is possible to restore supplies within one month. But we consider the restoration of Ukrainian ports as only one of the scenarios. Optimistic.
---
---