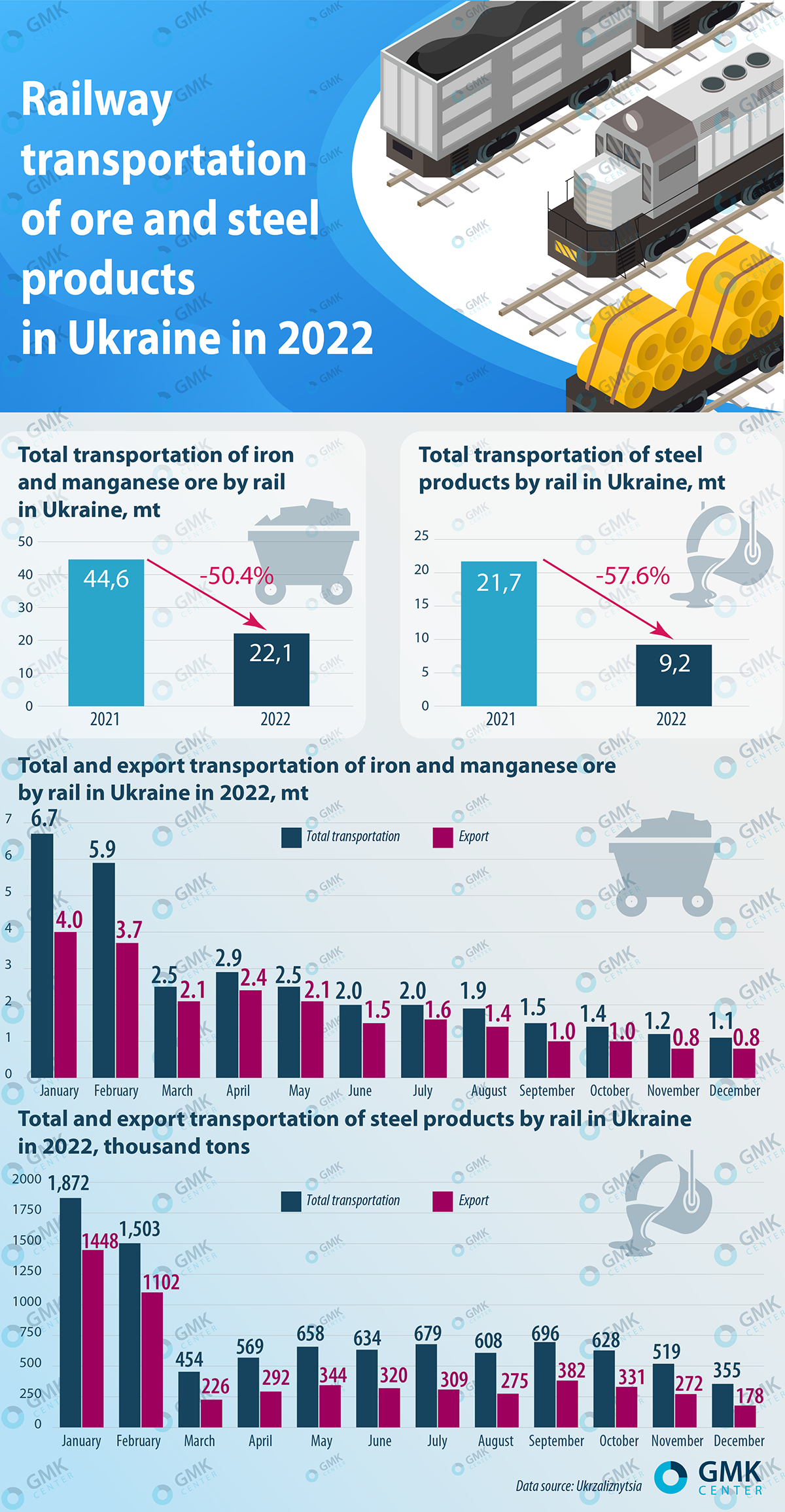 Last year, due to the blockade of ports, the railway became the main mode of transport for export cargo
At the end of 2022, Ukrzaliznytsia reduced the transportation of iron and manganese ores by 45.9 million tons, or by 59.2%, compared to 2021 – to 31.7 million tons. The volume of ferrous metals transportation during the same period decreased by 57.8% – to 9.2 million tons.
From the very beginning of the war, Ukrainian iron and steel companies experienced difficulties in exporting both finished products and raw materials. The blockade of ports forced the companies of the industry to reorient shipments to the railway and ports located in the EU countries.
Border railroad crossings could not cope with the influx of cargo, because of which the wagons with products stood in queues for weeks. To a certain extent, the queues of wagons at the border were associated with the inability of European ports to process cargo coming from Ukraine. As of February 9, 2023, the line with iron ore was 7,700 wagons, with steel – 666 wagons. The longest queue is at the Chop border crossing – 4165 wagons with iron ore, at the Uzhgorod crossing – 2383 wagons with iron ore.
The main challenges for Ukrainian exports by rail in 2022 include the following:
Limited capacity of border crossings and certain sections of European railways. The main problem lies in the different railway gauges in Ukraine (1520 mm) and Europe (1435 mm), as well as the need to rearrange the wagon bogies. According to Ukrzaliznytsia, the nominal capacity of all border crossings is more than 3400 wagons per day, while according to GMK Center it is 1800.
Initial lack of integration between the railway structures of Ukraine and neighboring countries.
Lack of wagons from European rail carriers.
Lack of sufficient transshipment capacity at the border.
Duplication of control procedures in Ukraine and European countries.
In total, UZ transported 150.6 million tons of cargo in 2022, which is 52.1% less than in 2021. Export traffic through western border crossings increased by 12.4% y/y – up to 34 million tons.
---
---