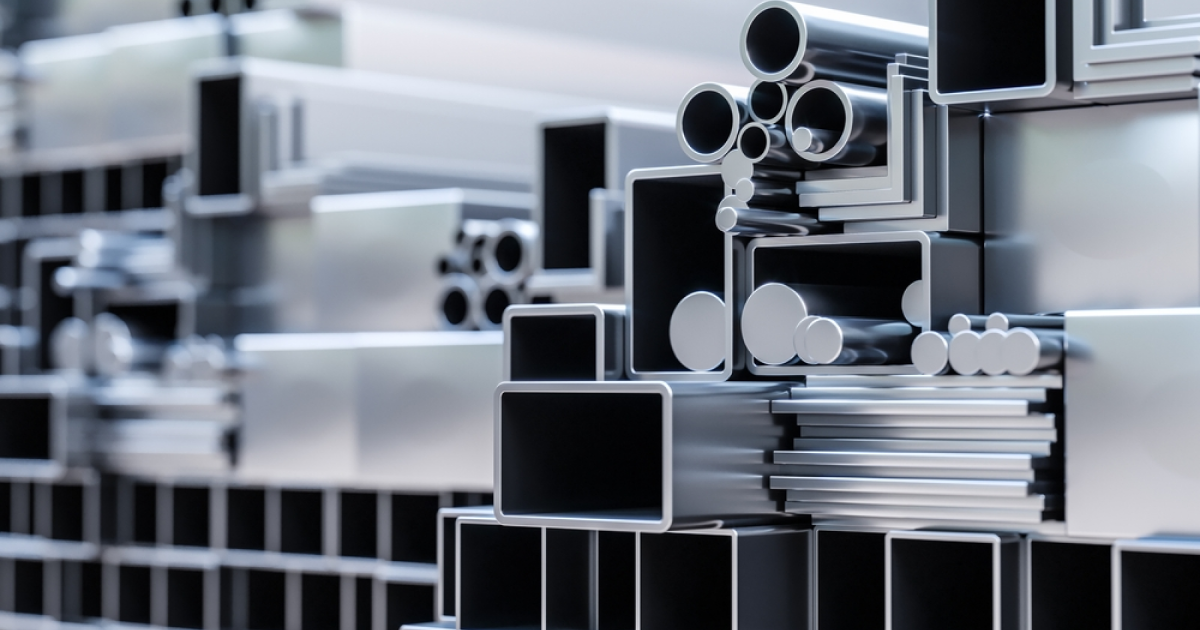 Ukraine provided 51% of European imports of square billets in January-April 2023
The war in Ukraine has significantly changed the supply chains of many types of steel products and raw materials. The hostilities and their consequences affected the supply of semi-finished products to the European Union and, in particular, square billets from Ukraine. Europe did not immediately close its market from the supply of semi-finished products from Russia: sanctions against square billets will come into force only in 2024. Turkiye continues to play a significant role in the regional semi-finished products market.
European import
The European steel market is heavily dependent on imports of semi-finished products, including square billets from Ukraine and Russia. Square billets are used by European producers for the production of rebar and wire rod.
According to Eurostat, in 2022, the EU increased imports of square billets by 5.4% – to 1.55 million tons. In the four months of 2023, imports amounted to 555.3 thousand tons.
In recent years the main suppliers of imports to the EU have been Russia, Ukraine and Türkiye. The dynamics of deliveries varied significantly:
Russian exports of square billets to the EU decreased by 28.8% y/y last year – to 346.7 thousand tons, and for the four months of 2023 – to 31 thousand tons.
Ukraine exported 710.6 thousand tons in 2022 (+10.1% y/y), in January-April 2023 – 284.3 thousand tons.
The third largest importer of square billets to the EU was Turkiye, which shipped 69.7 thousand tons of this product to the EU last year, and 52 thousand tons in January-April. At the same time, Turkish suppliers in these two time periods showed fantastic dynamics – the growth of supplies amounted to 4 and 29.7 times, respectively.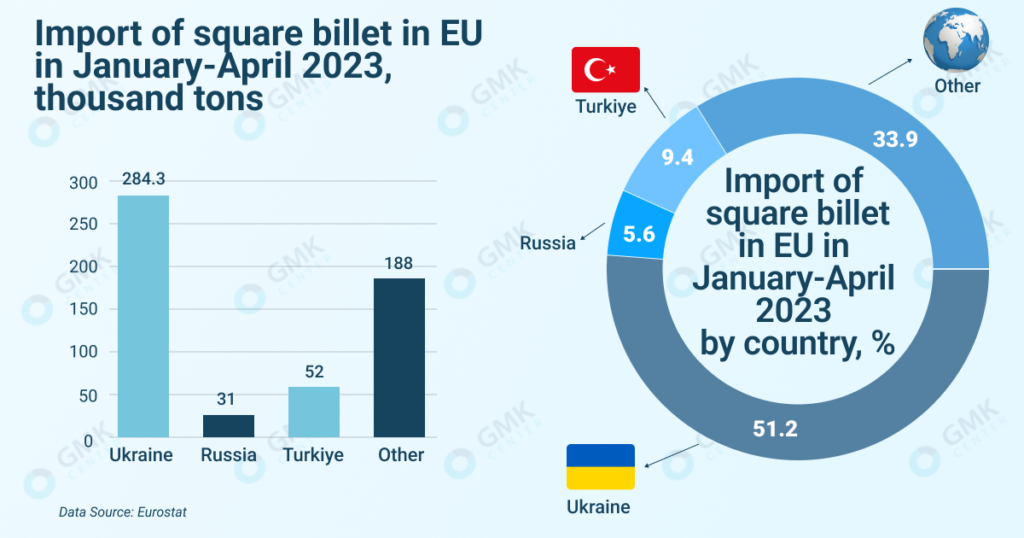 China and India do not play a significant role in the EU square billet market. Deliveries from these countries in 2022-2023 were at the minimum.
India: in 2022 – 9.2 thousand tons, in January-April – 1.7 thousand tons;
China: in 2022 – 2 thousand tons, in January-April – 1.1 thousand tons.
Potential impact of sanctions
In the future, the supply of square billets from Russia to the European Union will decrease even more. From September 30, 2023, the 8th package of sanctions will come into full force, under which a transitional period is provided for square billets. Thus, the import of a square billet (code 7207 11) is prohibited from April 1, 2024.
There are also quotas for the import of square billets from the Russian Federation. They provide for a gradual decrease in imports from Russia: in the first period of quotas – by 10.1% compared to the average monthly import in 2022, in the second period – by 37.1%, in the third period – by 64.1%.
Quotas for the import of square billets from Russia
| Code | Product | Quota period | Import volume, ths t |
| --- | --- | --- | --- |
| 7207 11 | Square billet | 7.10.2022 – 30.09.2023 | 487.2 |
| | | 1.10.2023 – 31.12.2023 | 85.3 |
| | | 1.01.2024 – 31.03.2024 | 48.7 |
More significant is that according to the 11th package of sanctions, the EU will demand from steel exporters evidence that the raw materials for processing in a third country were not imported from the Russian Federation. The new requirements will come into force on September 30, 2023. If a steel product is made from a Russian square billet (semi-finished product for rebar), it cannot be imported into the EU from April 1, 2024. Imports of long products from Turkiye, Egypt and the countries of the Middle East may suffer the most from this.
"On the one hand, the introduction of a ban on the supply of products made from Russian steel in third countries is a logical step aimed at eliminating gaps in the existing sanctions. However, on the other hand, it is not clear how it will be implemented in practice. Many open questions remain. For example, how will the verification of certificates of products' origin take place. It is quite possible that producers will use both Russian and local semi-finished products, however, when delivering to the EU, they will claim that the entire volume of products for European buyers is produced without using Russian raw materials. How will this be verified? It is quite possible that the new restriction will not work in practice," notes Andriy Glushchenko, analyst at GMK Center.
Turkish imports of square billets
Russia actively supplies its semi-finished products to the countries, which do not impose sanctions against its producers and their owners. The main sales market for Russian square billets is Türkiye. Key exporters are Metalloinvest, Novorossiysk Rolling Plant and Novostal-M.
In January-May, Türkiye imported 1.64 Mt square billet (HS 720711), up 51% year-on-year. Russia shipped 729.4 thousand tons of products, Algeria – 328.6 thousand tons and Oman – 170.4 thousand tons.
Russian export of square billets to Turkiye was largely of a dumping nature. Last spring, Russian suppliers discounted up to $100/t for their billets, compared with the export offers of local companies. Turkish steelmakers took advantage of this price offer, replacing scrap with square billets from the Russian Federation in their production processes. Scrap is used for the production of square billets in Turkiye, therefore, with certain ratio between the price of scrap and price of square billets, it is more profitable for Turkish producers to buy and use this type of semi-finished product from the Russian Federation.
Current square billet prices are at their lowest since November 2020. They started to decline from $615/t FOB Black Sea at the end of February and reached $460/t in mid-July.
Currently, the following factors negatively affect the supply of billets from the Russian Federation to Turkiye:
low demand for rebar in the domestic and export markets of Turkiye;
lower prices for imported scrap;
weak business activity in China.
In parallel with the growth of imports from the Russian Federation, the role of Ukrainian suppliers in the Turkish market has noticeably decreased. In 2022, Ukraine exported 117.5 thousand (-66.4% y/y) steel billets to Turkiye, ranking third in terms of billet supplies (4.7% of the total). In the first half of 2023, only 22.85 thousand tons of semi-finished products (of all types) were shipped to Turkiye from Ukraine. Thus, Ukraine has taken off from the leaders in the supply of square billets to Turkiye, although the Turkish market is potentially one of the most interesting for Ukrainian enterprises.
Export prospects
Despite the war, Ukraine remains a major supplier of square billets to a number of major regional markets. Customs statistics do not allow distinguishing a square billet from other types of semi-finished products. In the first half of the year, Ukraine exported 549.5 thousand tons of semi-finished products, which is 61.5% less compared to the same period in 2022.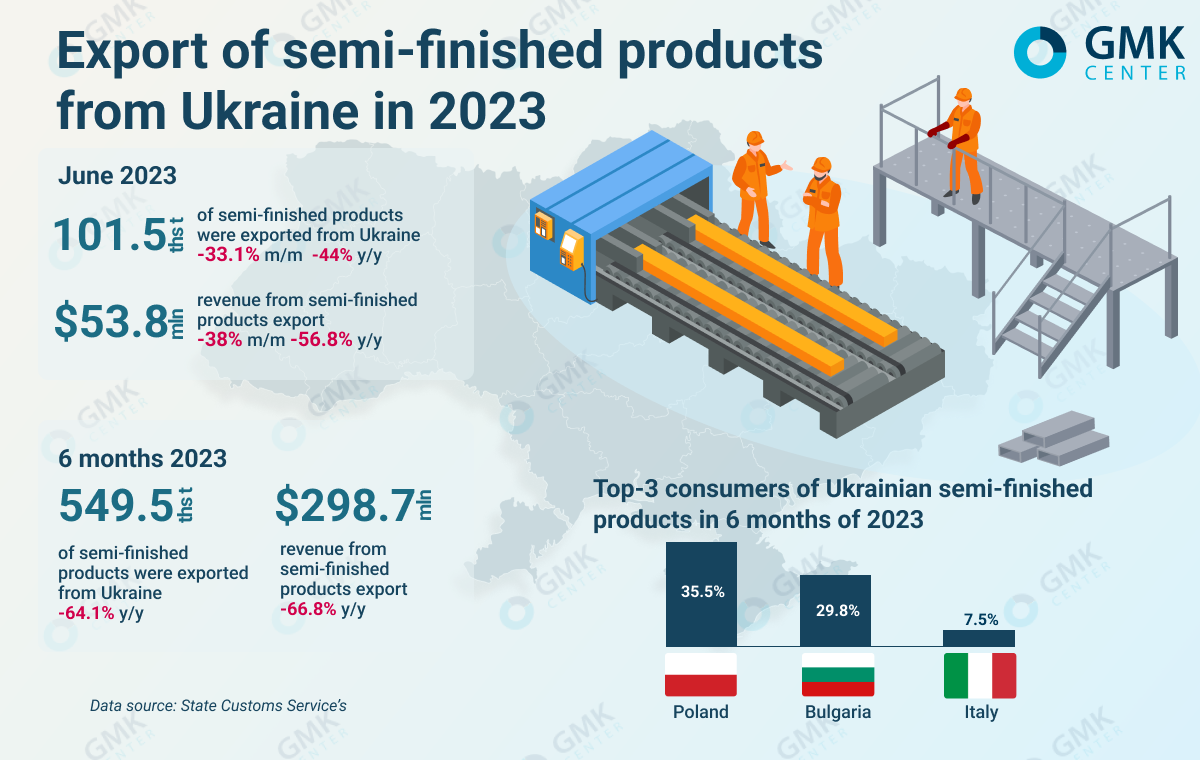 Prospects for Ukrainian exports of square billets largely depend on the situation in the industry. In particular, from the presence or absence of force majeure circumstances caused, first of all, by the active phase of hostilities. In Ukraine, square billets are produced by:
Kametstal – Metinvest's steel assets operate at 60-70% of pre-war indicators;
ArcelorMittal Kryvyi Rih – steel production operates at 30% of its capacity;
Dnipro Metallurgical Plant – operates at 25% of its capacity;
Kametstal and ArcelorMittal Kryviy Rih have recently experienced shutdowns due to power outages and problems with adequate water supply to production processes, respectively.
The main importers of semi-finished products from Ukraine in the first half of 2023 were Poland (35.5% of supplies in monetary terms), Bulgaria (29.8%) and Italy (7.5%). Separate European enterprises significantly depend on the Ukrainian export of square billets. In particular, Kametstal supplies square billets to the Bulgarian plant of the Metinvest group Promet Steel.
Further dynamics of square billets export from Ukraine depends on a number of factors. First of all, logistics remains the main limitation. Russia continues to blockade Ukrainian seaports. The latest shelling of port infrastructure indicates an escalation of military tension in the region. Withdrawal of Russia from the grain deal will lead to the fact that the Ukrainian railway will bear an additional load associated with the transportation of grain cargo. Steel enterprises will have fewer opportunities to export products.
In addition, the risks associated with interruptions in the energy and water supply of Ukrainian steel enterprises remain. Military action can lead to any unforeseen situations.
However, Ukrainian enterprises demonstrate flexibility and ability to adapt to new conditions. Ukrainian producers are oriented towards the European market and are trying to maintain the status of reliable suppliers, despite the war. Ukraine expects to maintain its place in European steel supply chains.
---
---