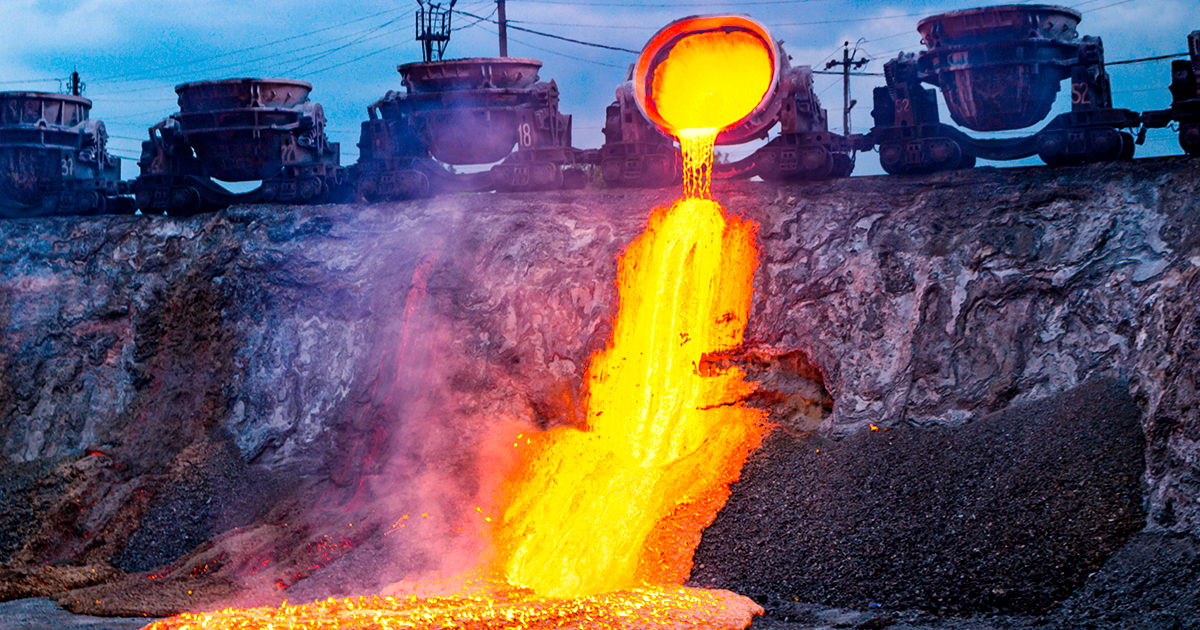 shutterstock.com
Manufacturers of construction materials and road surfaces can increase metallurgical waste consumption
Volumes of metallurgical slag processing in Ukraine have been increasing in the recent years. The interest of processing companies is quite obvious: slags allow manufacturers of dry building mixes, cement, roadway surface to reduce the cost of their products and at the same time improve their quality.
According to GMK Center, processing companies consumed around 5 million tons of metallurgical slag last year. Although they could have used at least twice as much. This suggests that man-made waste is still underestimated as a resource.
In Ukraine, there are not enough tools that would encourage the use of waste as a raw material or a material to replace natural exhaustible resources. Authorities and businesses are not yet sufficiently cooperating in slag disposal.
Size of the market
Approximately 35–36 billion tons of various industrial wastes have been accumulated in Ukraine. The volumes of ashes and slags accumulated in dumps, as well as solid products of coal combustion from thermal power plants exceed 250 million tons, and metallurgical slags total over 160 million tons.
Most of them are literally stored in the open despite being quite valuable as a resource. 54.5% of metallurgical slag is stored in dumps or in temporary warehouses after scrap and fluxes are extracted from them to be further used in technological process.
"Metallurgical slags in Ukraine are classified and often treated as industrial waste. In fact, these by-products are valuable and versatile building materials that can improve the environmental situation," says Andriy Babenko, Deputy Director of ArcelorMittal Kryvyi Rih Investment and Engineering Department.
Manufacturers
All Ukrainian steelmakers produce slags of various kinds. Metinvest Holding, ArcelorMittal Kryvyi Rih, Dnipro Metallurgical Plant and Interpipe are the largest among them. The largest suppliers of slag for processing are ArcelorMittal Kryvyi Rih and UMG, which was founded by SCM in 2006 to manage raw material assets.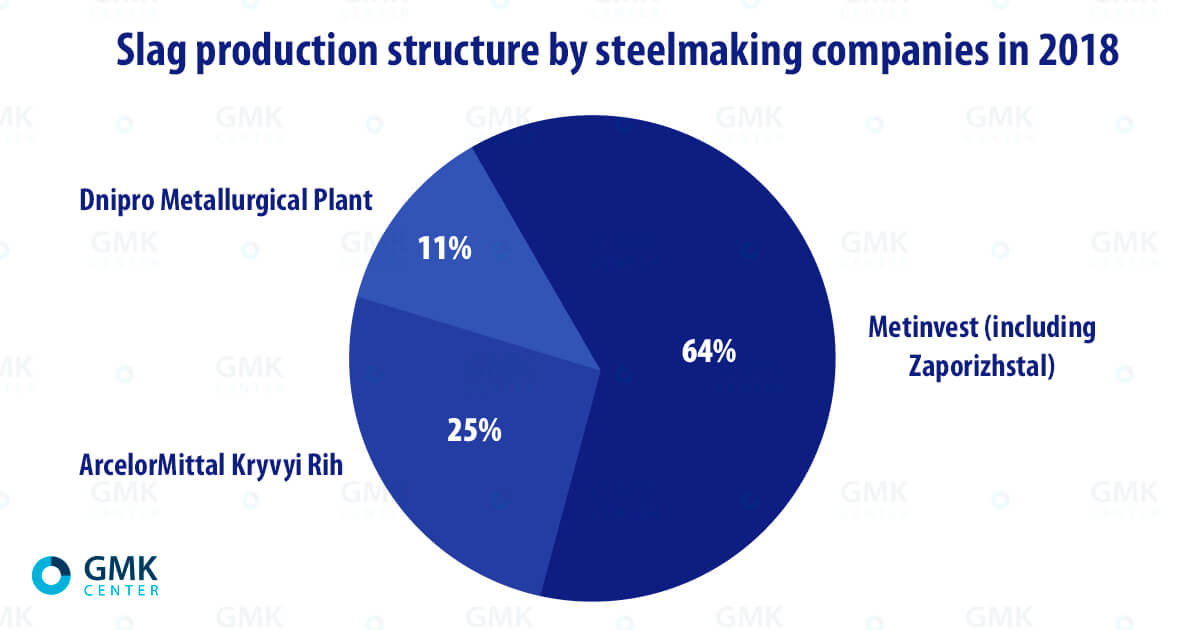 Metallurgical slag is divided into several types: blast-furnace, steel and ferroalloy. Blast furnace slag is the most popular in Ukraine: it is a byproduct of pig iron smelting in a blast furnace. This is a valuable raw material that is actively used in the cement industry.
"These slags have some specific properties. If you grind granulated blast furnace slag into a fine powder and then add water, the mixture hardens and can be used for making construction materials using autoclaving technologies," says Bogdan Rublyuk, Sales Director at Fomalgaut Group.
Converter slag is a result of two main processes: oxidation of iron sulfide by atmospheric oxygen and slagging of iron oxide with quartz flux silicic acid. The main advantage of the latter is high silicon content.
With a good run of BOF and high quality of quartz flux, the content of silicic acid in converter slag is 24–26%. Higher silicic acid content (28–29%) can be obtained using finely divided siliceous gold-bearing ores and at elevated BOF stroke temperature. Metal is extracted from converter slags and used in sintering and blast-furnace production.
Electric-arc furnace slags are byproducts of electric-arc steelmaking. They contain 8 to 10 components. Ferroalloy slag is most effective as a mineral raw material for production of high alumina and alumina types of cement, as well as refractory, heat-insulating and heat-resistant concrete.
Consumers
There is almost no systemic work on slag sales in Ukraine — every company tackles the problem in its own way. Some grind it using their own resources and then sell it to final consumers, others simply stack it as ordinary waste or sell it to third parties.
"ArcelorMittal Kryvyi Rih itself performs granulation of blast furnace slag, while third-party organizations are engaged in processing of dump slag. The volume of dump slag processing depends on the needs of the market," Andriy Babenko explained.
Approximately 42% of processed metallurgical slag originates from the cement industry.
The main consumers of metallurgical slag in Ukraine are the following cement producers: CRH Group (includes Podilskyi Cement in Kamianets-Podilskyi, Cement in Odessa, Mykolaivcement in Mykolaiv, Lviv oblast), Dyckerhoff Cement Ukraine (Volyn-Cement in Zdolbuniv, Rivne oblast, and YUGcement in the village of Olshanske, Mykolaiv oblast), HeidelbergCement Ukraine (factories in Kryvyi Rih and Kamianske, Dnipropetrovsk oblast), Ivano-Frankivskcement and others.
Fomalgaut Group companies, for example, autonomously grind slags and add them to dry mortars.
"Slag allows saving cement. When creating mixed formulations, we have succeeded to find the correct and effective techniques to grind slag, to introduce it into some dry building mixtures. For example, introduction of ground slag in some formulations allows us to save about UAH 200 thousand per month. We have received real savings," said Bogdan Rublyuk.
Approximately 20% of processed slag is used in road construction. For example, Mariupol — Zaporizhzhia, Zaporizhzhia — Dnipro, Dnipro — Kryvyi Rih and N-31 (P-52) Dnipro — Tsarychanka — Kobeliaky — Reshetylivka highways were built using blast-furnace slags.
Steel slag has almost zero application in our country. Whereas in the EU countries, according to Euroslag, 46% of its total disposal volume falls on road construction. It is also used in the EU as mineral fertilizers (2.7%) and for hydraulic engineering (2.2%).
"Slag is widely used in road construction in the U.S., Japan, Brazil. It can be used in both base and bearing course of roads. Since most of the roads in Ukraine are in a critical condition, we see great prospects in using slag in road construction. This will significantly reduce not only the costs of implementing infrastructure projects but also improve their quality and the environmental situation in the country in general," Andriy Babenko believes.
Vitaliy Grusevich, Executive Director of the Confederation of Builders of Ukraine, explained to GMK Center that road construction (highways and railway embankments) is the main consumer of slag. According to him, there is also significant demand from agriculture. Slags are used there as additives to improve the quality of soil, while there are all the necessary scientific developments for this purpose.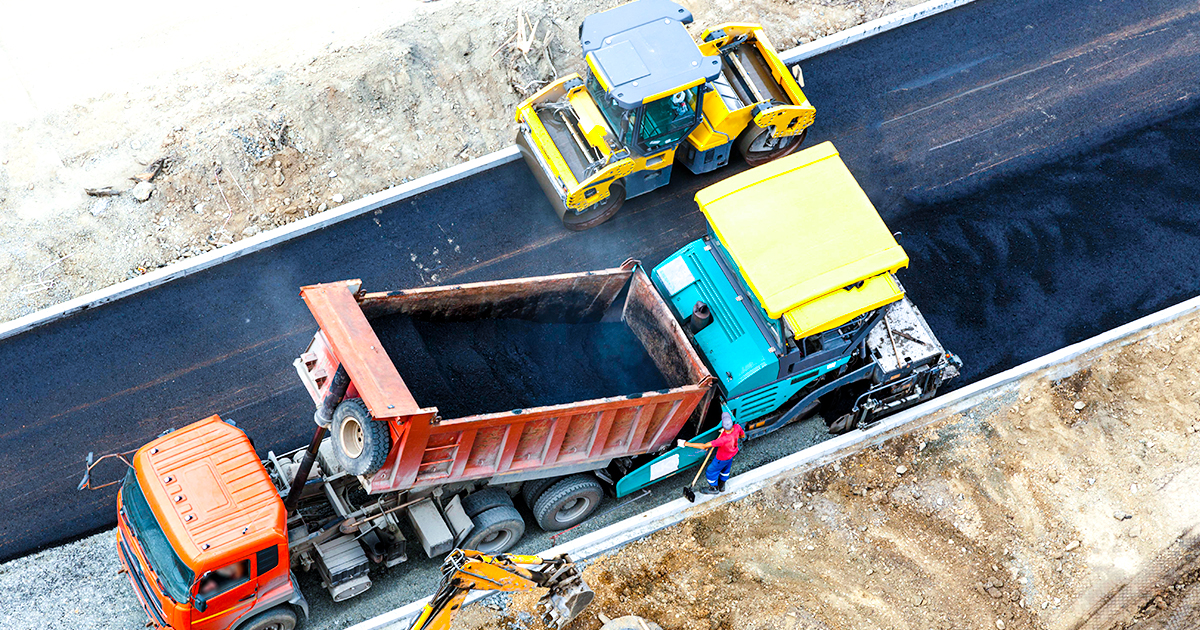 shutterstock.comIn Ukraine, 19% of metallurgical slag is used in the mining industry to backfill the mined-out space of mines. Manufacturers of mineral wool also have an eye on metallurgical slags in the recent years.
"Zaporizhzhia Iron Ore Plant is a consumer of granulated slag. The company purchases Zaporizhstal slag and uses it for stowing operations in mines. Over the past year, Zaporizhzhia Iron Ore Plant's demand for slag has increased due to the growth in production volumes and, respectively, the volume of stowing operations in which slags are used to prepare mixtures," said the plant's representative.
Prospects
Consumption of metallurgical slag in Ukraine can be increased several times. According to GMK Center estimates, processors and exporters have utilized less than half of the metal waste generated during the past year — 4.9 million tons. Although they could have used 11.5 million tons in different ways.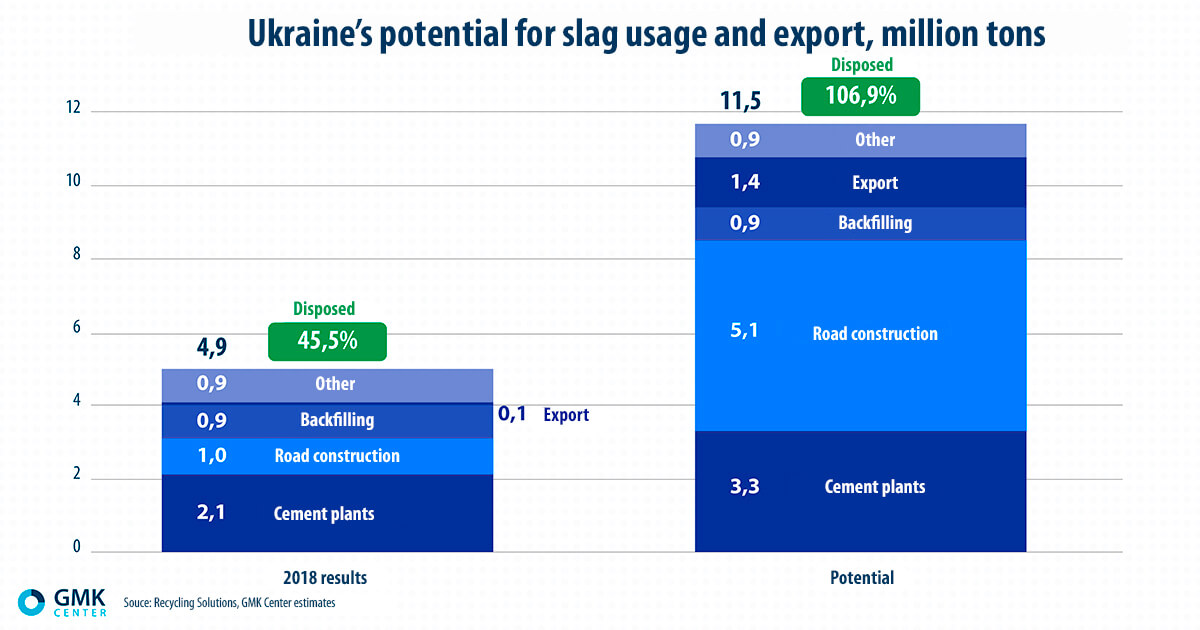 "All construction is about maximum use of local materials. To stimulate the maximum usage of slag, it should be used in other regions too. This is impossible without having government programs in place to make it profitable for the customer. Without the government's interest, all initiatives to use slag will remain local stories, like ArcelorMittal Kryvyi Rih," said Vitaliy Grusevich.
According to him, development of the industry needs a change in the environmental tax regulatory framework so that steelmaking plants had an opportunity to use this tax for its intended purpose, i.e. to resolve the problem of using slag in the industrial sector and logistics. Indeed, to use this kind of waste, it has to be surveyed, heaps must be taken apart, calibrated, prepared for removal. Each stage requires the purchase of respective equipment.
"We need to put the regulatory framework on slag usage to order. It should be clearly regulated: where, for what types of work or for the creation of which materials metallurgical slag can be used. Benefits in public procurement are much needed. For example, additional points and non-price preferences to those who offer usage of slags as evaluation criteria in road construction services procurements." These are the priority steps according to Vitaliy Grusevich.
Mr Rublyuk added that the country has poorly developed legislation on processing of industrial waste as construction materials. In his opinion, these processes should be well regulated.
"I believe that metallurgical waste cannot be a business. Companies that want and can process metallurgical waste in the form of granular blast-furnace slag should receive subsidies for this activity, which will incentivize the companies, allowing them to upgrade equipment etc.," said the expert.
Officials also took interest in slag usage. Ostap Semerak, the Minister of Ecology and Natural Resources, admits that some Ukrainian companies already have experience in using slag in road construction.
"We had a meeting with Volodymyr Omelian, the Minister of Infrastructure of Ukraine, and discussed slag usage in infrastructure. Some government projects are now underway," the minister told to a GMK Center reporter.
But experts insist this is not enough. Many representatives of steelmaking companies emphasize that all developed countries implement government programs for metal waste recycling. Their implementation is strictly controlled by national governments.
In Ukraine, metallurgical slags are classified and often considered merely as industrial waste. The scope of their use can and should be expanded.
"Slag is a valuable substitute for agricultural lime and a micronutrient supplement. This helps increase yield and improve soil texture," Andriy Babenko explained.
Slag sand is used as bedding in animal husbandry: it is an economical material that absorbs and neutralizes odor. Slag can be used as a permeable barrier to remove contaminants from water. When used as a percolating filter medium in water treatment, slag particles provide an increased surface area and a high degree of voidness needed for effective filtration. Slag also presents a potential method to remove phosphorus in fish farm waters.
---
---