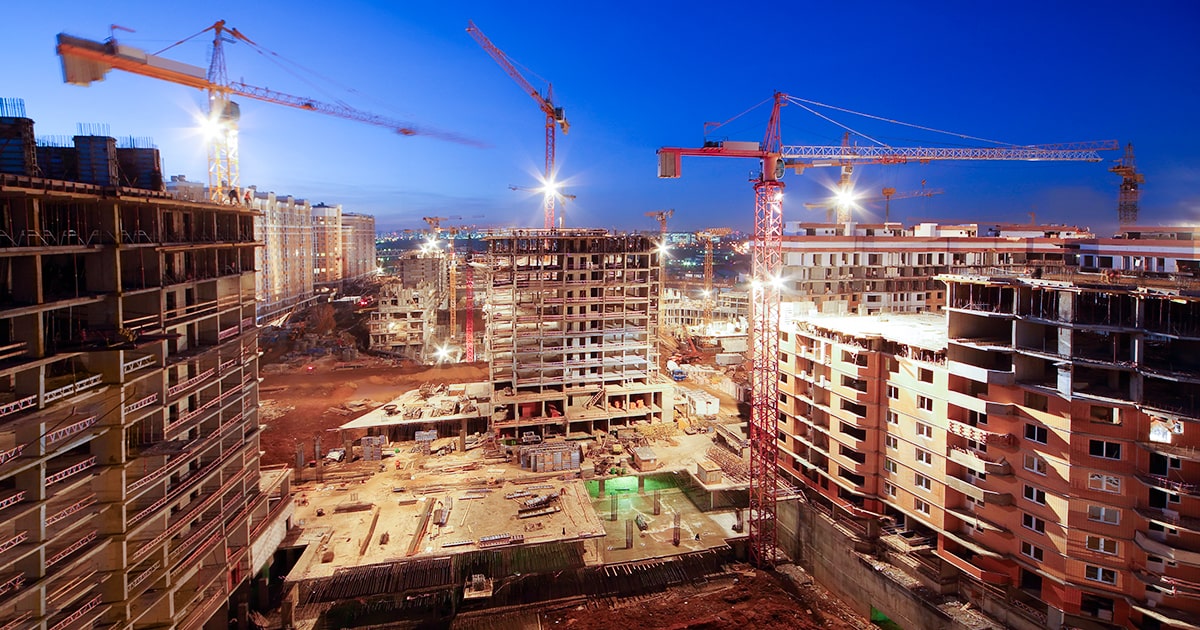 Rebar is the main steel product used in residential construction
GMK Center continues a series of publications about metal consumption in various sectors of economy. This time, we decided to find out how much steel is used in residential construction. This construction segment has shown rather good results in the current year.
In the first quarter of 2019, the amount of completed works in residential construction increased by 9.8%, up to UAH 6.3 billion, compared to the same period of the previous year. Last year, according to the State Statistics Service, residential construction volume grew by 23.6%, up to UAH 29.3 billion.
Rebar issue
Rebar is the key steel product used in residential construction. This is because it is used in the cast-in-place concrete method of construction, namely in foundations, walls and floor slabs.
"Foundations, monolithic sections, brickwork, some elements on the roof, including ventilation ducts, balcony parapet, etc. — all of it needs reinforcement. We should also include here reinforcement of some other components depending on the construction design," explains Vladyslav Kononov, Managing Partner, AVM Development Group.
In 2016–2018, Ukrainian iron and steel works produced 2.8 to 3 million tons of rebar. However, a large portion of it (2.1–2.2 million tons) was exported. According to the estimates of GMK Center's analysts, around 1 million tons of rebar are consumed in domestic construction. Given the specifics of construction, a large part of rebar is used in the residential construction segment.
According to Vladyslav Kononov, metal consumption per residential building depends on a specific project: for example, 21 tons of rebar is used for cast-in-place concrete construction of a 9-storey brick house with an area of 480 sq. m within the inside perimeter of the exterior walls; if the house has an underground parking, it means another 10 tons.
"Housing" metal
Other steel products are also used for site improvement and installation of utility networks: pipes, ground-floor window grates, armored doors of all service spaces (closets, control rooms), items for playgrounds, etc.
According to Anna Iskierdo, Director of АIMM design company, various types of rolled metals are used in residential construction and building renovation, including:
rolled metal channels and I-beams that are mostly used to arrange some extra office or living space without a substantial load increase, and make irregular (complex) geometric shapes for installations;
rolled metal closed sections that are used to make curtain or complex facade structures that can be installed on any surfaces and reduce environmental corrosion;
rolled metal small sections that are used to make hardscaping (shelters, advertising structures, equipment holders, emergency staircases, etc.)
According to Metinvest, Ukraine, unfortunately, has only begun to use metal framing for residential construction purposes, and this sector needs insignificant supplies yet.
Steel structures, which are widely used in non-residential construction, are scarcely used in residential construction. According to experts, there is no shortage of steel products for residential construction in the market — metal supply is high enough.
Cautious optimism
Metal consumption growth in the residential construction sector depends on an increase in construction volume. In its turn, increase in residential construction volume depends on multiple factors: macroeconomic situation in the country, household income growth, affordable mortgages, strong protection of investors' rights, etc. The projected growth of Ukrainian GDP in 2019 by 2.5% leaves room for cautious optimism.
At any rate, according to the State Statistics Service, the total area of residential buildings in Ukraine with construction works permits received (new construction) increased up to 12.9 million sq. m in 2018, which is by 13.2% more than in 2017.
---
---