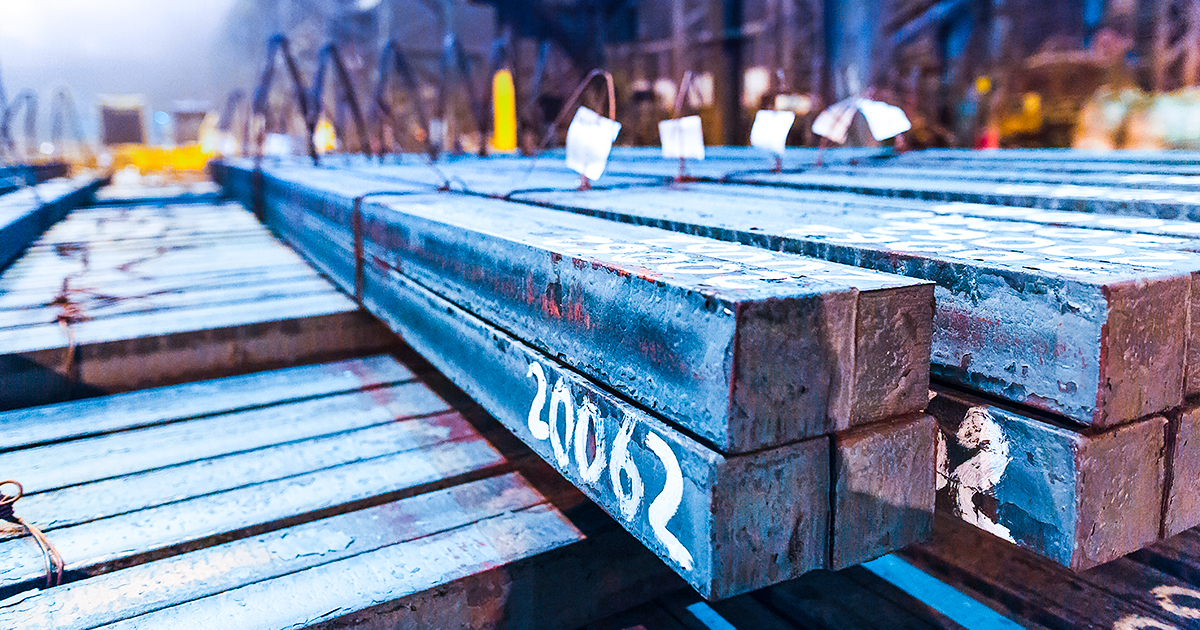 (с) shutterstock.com
The domestic steel market shrank in the first half of the current year: hoping to recover in 2020
The volume of the domestic market of steel products in Ukraine can only be estimated with certain assumptions. According to Ukrmetallurgprom, in 2018, 5.4 million tons of rolled steel were delivered to domestic consumers, of which 1.44 million tons (26.8%) were imported. According to the estimates of Metinvest-SMC, the domestic market of rolled steel grew by 4% last year to 4.32 million tons. The World Steel Association estimates the domestic market at 4.6 million tons, which is by 2.2% more than a year before. In general, the size of the domestic market is 4 to 5 million tons per year, or 15% of the outputs of Ukrainian companies, while 85% of all rolled products produced in the country are exported.
According to the results of H1 2019, the situation in the domestic steel market worsened. According to Ukrmetallurgprom, consumption of rolled products in H1 2019 decreased by 5.17% to 1.97 million tons. At the same time, imports of steel products grew by 1.3% to 661.8 thousand tons (33.5%). On the other hand, Metal Expert provides different data, and some steel trading firms declare an increase in their sales.
Half-year results and domestic steel consumption factors
Construction
In the first half of the year, specific types of steel products showed a variety of trends. According to Metal Expert, in H1 2019, visible consumption of specific types of steel construction products showed an upward trend: rebar (+5.5%), wire rod (+3.9%), hot-dip galvanized products (+4.3%), construction pipes (+12%).
Interestingly, consumption of other steel products used in construction has decreased: polymer-coated rolled products by 6%, to 124 thousand tons, shaped sections by 4%, to 168 thousand tons. Obviously, demand for steel for specific types of construction work has been decreasing.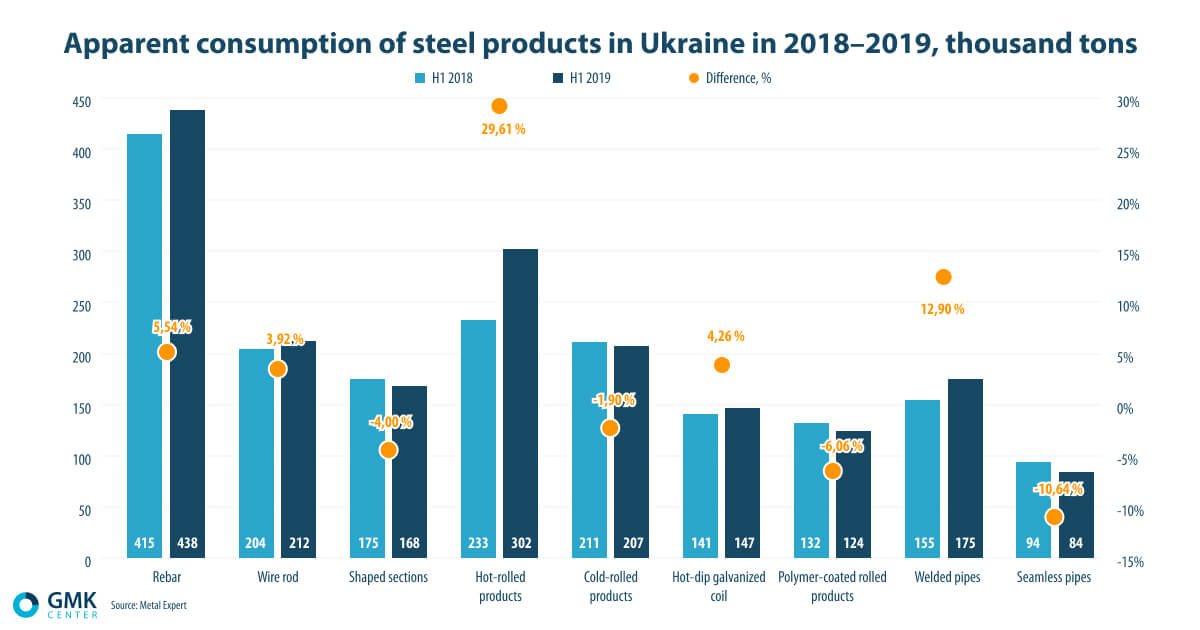 In general, construction volumes are growing. According to the State Statistics Service, the building products index increased by 21.2% in H1 2019 primarily due to the increase in non-residential (35.2%) and engineering (27.7%) segments. The volume of residential construction decreased by 2.9%.
The size of the construction market totaled $5 billion in 2018, which is not so much. Since the 2008 crisis, the specific share of construction in GDP has been declining, and it has been slightly above 2% since 2014.
According to Vyacheslav Kolisnyk, Executive Director of the Ukrainian Steel Construction Center, a less than 5% share of construction in GDP is a symptom of systemic structural imbalances in the economy. In contrast, construction takes about 10% in Turkey's GDP, while about 6% is the average indicator in Europe.
"Even if the GDP to construction sector ratio remains flat, like in the recent years, with a 5% increase in GDP, the construction segment grows by 15%, and the share of construction in the GDP structure goes up to 3% (an increase of about 10%). If the construction share in GDP is back to 5%, domestic steel consumption increases by 2–2.5 times," said Vyacheslav Kolisnyk.
Mechanical engineering
According to Metal Expert, consumption of hot-rolled products in January to June increased significantly, by 29.6% to 302 thousand tons, which was caused by an increase in production of freight cars, increased activity in a number of mechanical engineering and shipbuilding segments as well as a boost in non-residential construction. At the same time, consumption of cold-rolled steel decreased by 1.9% to 207 thousand tons.
According to the State Statistics Service, in H1 2019, the volume of production of mechanical engineering products grew by 6.4% to UAH 87.7 billion, including: vehicles, trailers, semi-trailers, other vehicles by 11% to UAH 36.7 billion; machinery and equipment by 8% up to UAH 29.7 billion. At the same time, production of industrial and domestic electrical equipment decreased by 2.3% to UAH 15.5 billion.
Basically, it is very difficult to evaluate steel consumption in mechanical engineering due to the wide range of products. However, we can distinguish the results of production in H1 in the following sectors:
freight car building — growth by 10.2% to 6,003 units (this is approximately 140 thousand tons of steel products: rolled products, rail wheels etc.);
metallurgical engineering — growth by 17 times to 1,700 units (BOFs, foundry machines, molds and ladles);
agricultural machinery industry (-3% to 11.8 thousand units of various types of plows, cultivators etc.);
processing industry (equipment: 40% increase for processing of crops, up to 3.5 thousand units; 2.4 times increase for processing of fruits and vegetables, up to 582 units; 12% increase for processing of meat or poultry, up to 5.4 thousand units);
transport engineering in terms of vehicles for transporting more than 10 passengers (+6.6%, up to 437 units), industrial vehicles (+7.1%, up to 225 units) and bodies for non-self-propelled vehicles (+30.6%, up to 1,431 units).
Oil & gas production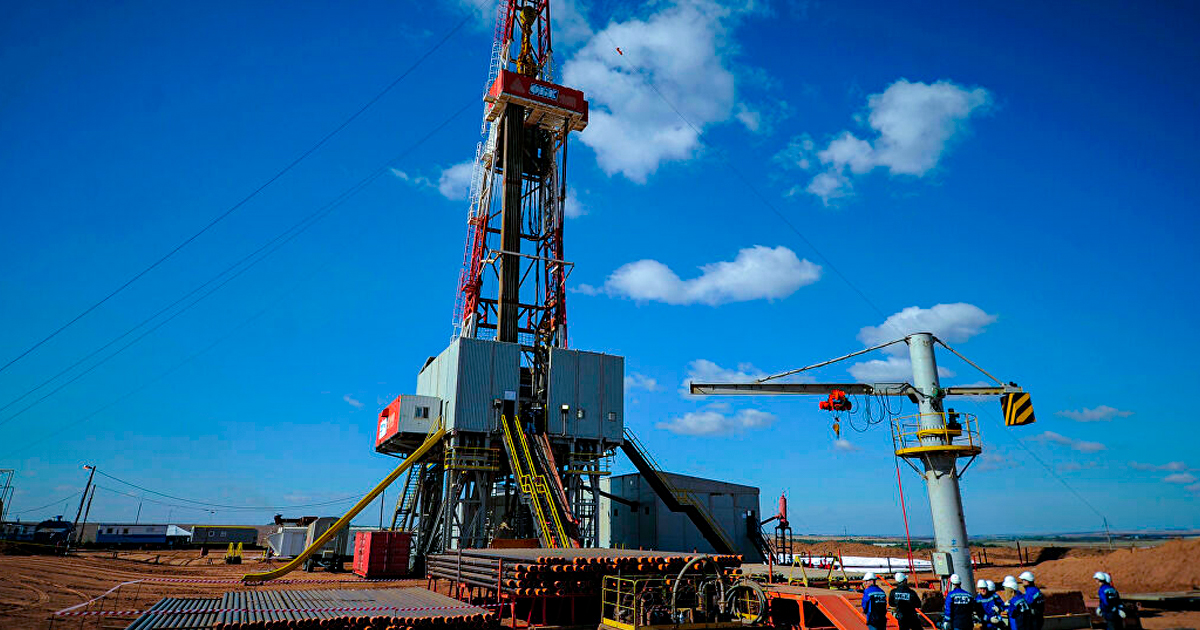 Certain changes in consumption of pipes for the oil & gas industry became imminent in the first half of 2019. NAK Naftogaz has changed its strategy: the company will focus on drilling at efficient fields instead of drilling of exploration wells as many wells as possible. Such strategy will result in a decrease in consumption of casing pipes, which is already evident from the results of the first half of the year, as there is a drop in visible consumption by 38.5% (by 15 thousand tons) to 24 thousand tons. It was this new strategy that caused the decrease in seamless pipe consumption by 10.6%, to 84 thousand tons (according to Metal Expert).
According to Roman Opimakh, Executive Director of the Association of Gas Producers of Ukraine, 110 thousand tons of casing pipes are expected to be used for all oil and gas companies in 2019.
Production of metalware and steel structures
This segment is important due to large consumption volumes. In H1 2019, the following components showed a variety of trends:
steel wire: 10% increase to 139 thousand tons;
other metalware, except for cables and ropes: 9.8% decrease to 38.7 thousand tons;
industrial steel structures: 25.5% increase to 231 thousand tons.
Road construction
This year saw the start of active construction of concrete roads. While steel products are scarcely used in holes patching (the largest portion of road works), rebar and other steel products are used in construction of concrete roads, especially in construction of overpasses and interchanges. Thus, AMKR delivered several hundred tons of fittings for the reconstruction of N-31 vehicle road in Poltava oblast early this year.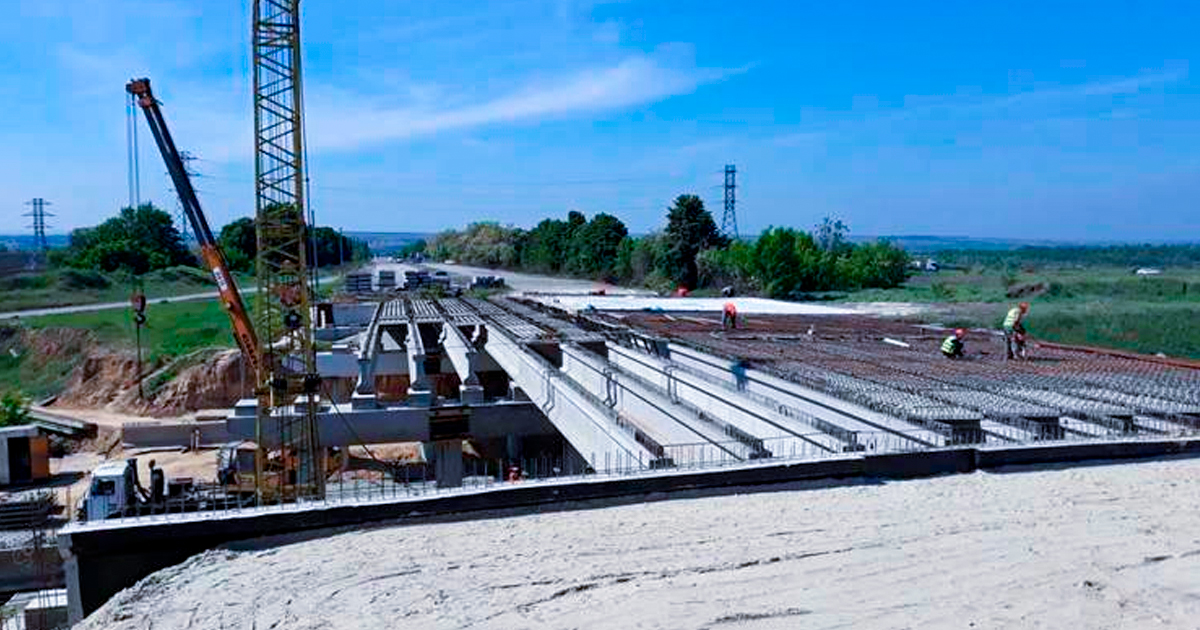 It is quite difficult to estimate the current steel consumption in road construction in the first half of the year (there are no operational statistics), however, an increase in construction of concrete roads (the total budget for repair and construction of roads in 2018 was UAH 55 billion with the probable increase to UAH 75 billion in 2020) offers good prospects for steelmakers. According to Ukravtodor estimates, the volume of road steel consumption is at least 30–40 thousand tons per year (galvanized steel, rebar, steel structures).
 Shipbuilding
The volume of steel consumption in shipbuilding (20–30 thousand tons per year) is not significant in its total volume, but it is important from the point of view of the great potential of this industry and steel plate consumption. Nibulon and SMG are the largest steel consumers.
In the first six months of 2019, Nibulon built one of the largest ships in the history of independent Ukraine — Nibulon Max, a 140-meter-long self-propelled unloader, the construction of which took around 5 thousand tons of metal. In total, the plant's steel consumption plan for the current year is approximately 7.4 thousand tons.
SMG used more than 2.4 thousand tons of shipbuilding steel for the construction of two chemical tankers delivered in March with a deadweight of more than 5 thousand tons. The company's plan for 2019 is approximately 4.4 thousand tons for shipbuilding and 3 thousand tons for ship repair.
Further prospects
Forecasts for the trends of domestic steel consumption for the current year vary significantly: early estimates predicted a 5% increase, however, taking into account the first half of the year, they have become more than restrained, from zero growth to a 7–9% drop. On the other hand, there are also positive forecasts from steel traders for the current year: Vikant expects a more than 3% increase in sales, Vartis anticipates a 12% growth.
At the same time, neither the current programs of the government or state companies nor private investment plans provide for a significant increase in the volume of fixed assets and infrastructure renewal. Without these conditions and a clear economic policy, the domestic market of steel products will show an annual increase of no more than 6–7% in the medium term (under favorable economic conditions).
---
---