Tougher import rules on Ukraine's key export markets jeopardize exports of around 0.5 million tons of steel
According to the forecast of GMK Center analysts, domestic steelmakers will suffer from an increasing impact of protective measures imposed in the foreign markets where Ukraine sells most of its steel products.
This opinion was presented by GMK Center Chief Analyst, Andrii Tarasenko, during a webinar of the Ukrainian Lime Industry Association (ULIA) on 18 June.
"Tougher import rules in different countries has jeopardized exports of some 0.5 million tons of steel products from Ukraine. This accounts for approximately 2.5% of last year's production results," explains the expert.
In his opinion, import restrictions imposed by Turkey are not yet sufficiently affecting Ukrainian products, while additional import duties on steel that Saudi Arabia is going to introduce may impact rolled products export volumes.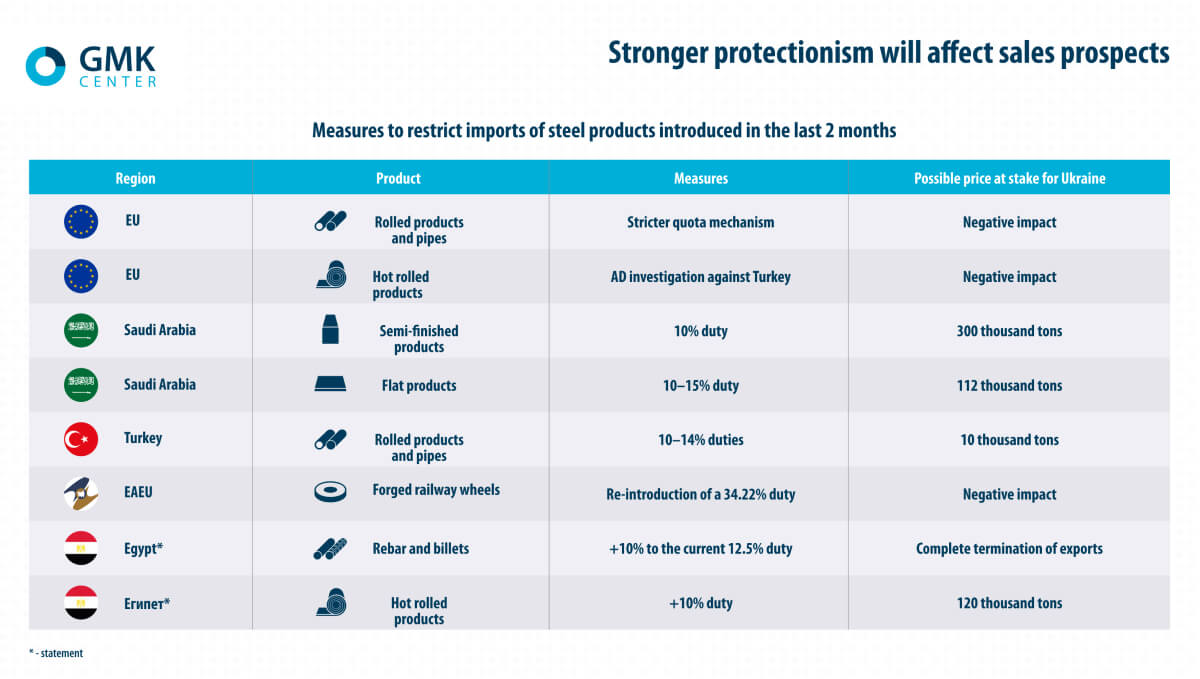 In addition, the pricing in the markets is not too favorable for exports of Ukrainian steel products so far, despite the current quotations being somewhat higher than in April–May. However, these levels are reaching the last year's crisis autumn figures.
"The level of the current prices justifies exports of semi-finished products. Yet, prices for finished products fail to cover variable costs," explains Andrii Tarasenko.
At the same time, the expert does not rule out a possibility that a favorable environment will not come back even in 2021.
"Following a 6.4% fall this year, global steel consumption will grow by only 3.8% next year. Excess capacities will put pressure on prices. So, we're quite likely to face another hard year," the analyst believes.
In general, based on the World Steel Association's global steel demand outlook, GMK Center analysts assume a 6% drop in steel production in Ukraine in 2020 compared to 2019, down to 19.6 million tons.
Provided capacity utilization rate remains flat, steel production may fall by 4.3% to 19.9 million tons.
Importantly, 2019 was the worst year in the history of domestic steelmaking. Last year, steelmaking companies reduced steel production by 1.2% to 20.85 million tons against 2018.
---
---