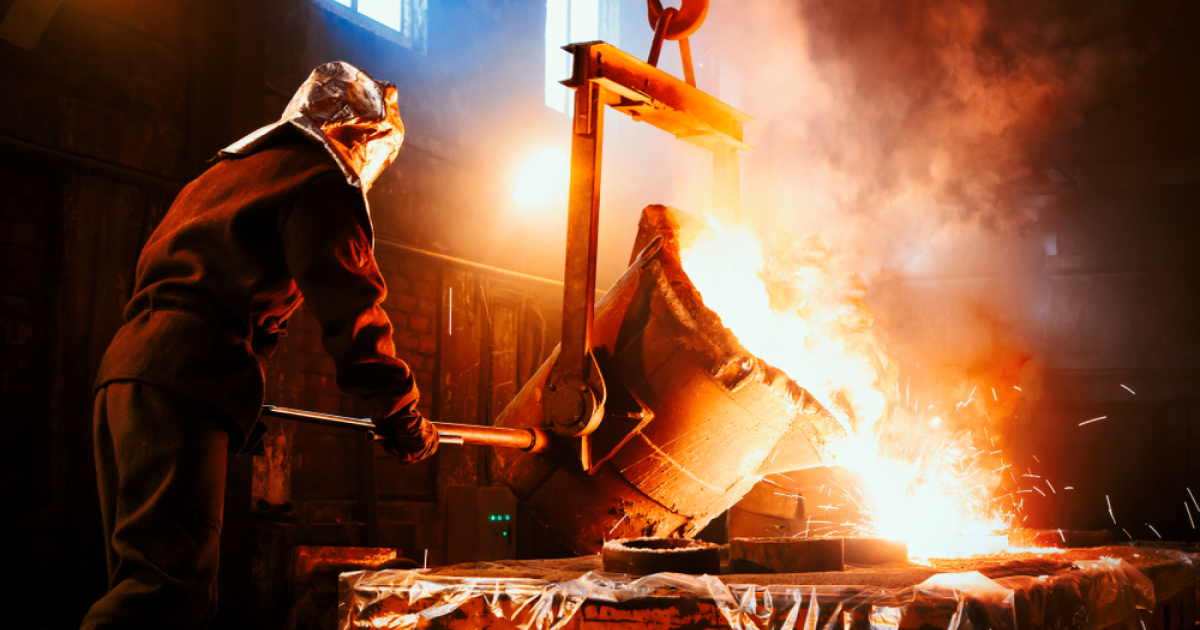 Steel production
In Germany, steel output fell by 11.8% m/m, in Italy – by 7.9% m/m
The monthly dynamics of steel production in European countries in November 2022 was downward.
Ukraine, according to Ukrmetalurgprom, in November 2022 produced 313 thousand tons of steel, which is almost 1.6% less compared to October 2022.
According to WorldSteel data, French steelmakers in November 2022 cut steel production by 6.2% m/m – to 910 thousand tons. Spain in this period cut steel production by 6.4% m/m – to 855 thousand tons.
Italian steel enterprises, according to Federacciai, in November 2022 cut steel production by 7.9% compared to the previous month – to 1.85 million tons.
Germany's steel production in November 2022, according to the report of the German steel association WV Stahl, fell by 11.8% m/m – to 2.77 million tons.
Simultaneously, Belgium increased steel production by 25% m/m in this period – up to 520 thousand tons.
In general, steel production in EU countries in November 2022 fell by 17.9% year-on-year – to 10.5 million tons. In January-November 2022, this indicator decreased by 10.1% y/y – to 127.4 million tons.
Turkiye, in turn, in November 2022, reduced steel production by 22.4% m/m. Compared to November 2021, the country's steelmakers reduced steel production by 34.3%.
In 11 months of 2022, according to industry associations and WorldSteel, leading steel producers reduced production (in an annual terms):
Germany – by 7.9%, to 34.16 million tons;
Turkiye – by 12.3%, to 32.4 million tons;
Italy – by 11.2%, to 20.35 million tons;
France – by 11.6%, to 11.44 million tons;
Spain – by 19.2%, to 10.77 million tons;
Belgium – by 0.8%, to 6.27 million tons;
Ukraine – by 68.6%, to 6.16 million tons.
European steelmakers are massively reducing or stopping production against the background of rising electricity tariffs. At the same time, they are forced to compete with steel imports from countries which producers have lower electricity costs and do not pay costs for carbon emissions.
In addition, European producers stop blast furnaces or postpone their start-up after major repairs or stoppage of work. In particular, ArcelorMittal Poland recently postponed the restart of blast furnace №3 at the Dombrova-Gurnych plant at the beginning of January 2023. The employees of the enterprise are afraid of the final shutdown of the blast furnace.
In Turkiye, since September of this year, the prices of gas and electricity for industry have increased by 50%. Currently, according to the Turkish Association of Steel Manufacturers (TCUD), share of energy resources in the total production costs of Turkish seelmakers increased to 28-30%. At the same time, capacity utilization has dropped from 75% to less than 60% as local producers cut shifts or shut down operations.
The low production of Ukrainian steelmakers is connected with logistical problems, the unfavorable situation of the world market, as well as with the destruction due to hostilities of the two largest enterprises of Ukrainian iron and steel industry – Azovstal and Ilyich Iron and Steel Works of Mariupol.
As GMK Center reported earlier, global steel production in November 2022 decreased by 2.6% compared to the same period in 2021 – to 139.1 million tons. This is evidenced by the global rating of 64 steel-producing countries of the World Steel Association. Total steel production in the CIS countries and Ukraine fell by 24.6% y/y in this period –to 6.5 million tons.
---
---