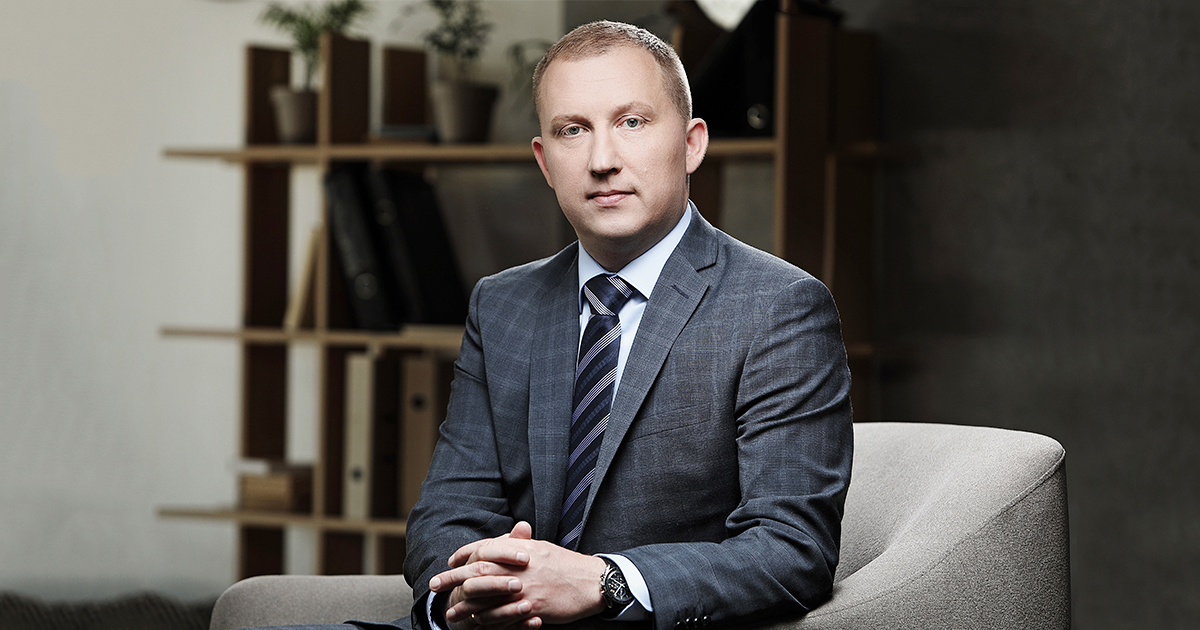 USPA CEO tells about relations with steelmakers, trends in transshipment of mining & metals products and infrastructure issues
On 30 May, Odesa will host the Ukrainian Ports Forum, organized by the Ukrainian Sea Ports Authority (USPA) and the Center of Transport Strategies (CTS). Ahead of the event, GMK Center decided to ask Raivis Veckagans, USPA CEO, about the Authority's relationship with Ukrainian steelmakers, trends in transshipment of mining & metals products between seaports, problems of the port railway infrastructure and ways to solve them, and the role of steel products in the development of the port infrastructure.
What is the share of steel cargoes in the structure of Ukrainian state-owned ports? Is their transshipment increasing?
— Steel cargoes remain among the main products in the transshipment at Ukrainian seaports. The share of ore and steel cargo makes up 33% of the total cargo turnover. Since the beginning of the year, steel products transshipment volumes have grown by an average of 13.3%. However, this does not pertain to all commodities. Transshipment of iron ore increased by a quarter compared to the same period of 2018, up to more than 2 million tons. This was due to export of Ukrainian products and transit transshipment. Meanwhile, the volume of ferrous metals going through Ukrainian ports insignificantly decreased, by 4.1%.
Transit of steel products through seaports of Ukraine increased due to the transshipment of products of Belarusian Metallurgical Plant in the seaport of Odesa to consumers in the EU, Israel, and Turkey.
We believe that the Belarusian direction could be quite promising in terms of transit cargo flows development. Last October, I met with representatives of the largest Belarusian companies: Belaruskali, Belarusian Railways, Belarusian Metallurgical Company, and Belarusian Oil Company. They seriously consider our ports as an alternative to the Baltic ports for exporting their products.
Total volumes of transshipment of steel products as of 13 May 2019 compared to the same period of the last year, thousand tons
Indicator
Total by ports
Export
Import
Transit
Cabotage
2018
22019
%
2018
2019
%
2018
2019
%
2018
2019
%
2018
2019
%
Ferrous metals
6362.03
6100.39
-4.1
6073.83
5680.75
-9.4
10.99
24.01
18.5
232.08
356.51
53.6
45.13
39.12
-8.7
Different ores
9315.35
11655.5
25.1
6034.69
8219.62
36.2
2705.81
2554.07
-9.4
567.28
881.83
55.5
7.57
0
-
Total
15677.4
17755.9
13.3
12108.5
13900.4
14.8
2716.8
2578.08
-9.5
799.36
1238.34
55
52.7
39.12
-7.4
How high is the economic efficiency of steel cargo? Is it profitable to deal with such cargo?
— USPA is not engaged in stevedoring activities, in particular in the transshipments of steel cargoes. Nevertheless, the growth in freight turnover ultimately has a positive effect on USPA's financial indicators. More traffic flows mean more vessel calls and, thus, an increase in revenues from port charges.
Has the port infrastructure and steel cargo handling equipment been streamlined after 2014? Are any future projects expected?
— In 2017, Transinvestservice (TIS) stevedoring company launched a terminal in Pivdennyi Seaport for transshipment of "blue rebars", manufactured by ArcelorMittal Kryvyi Rih РJSC. The sheltered warehouse is 7,000 square meters in area. The annual processing capacity of the terminal is up to 550 thousand tons of rebars.
On 20 November 2018, Ukraine's Mariupol Seaport and Italy's Porto Nogaro signed a Memorandum of Cooperation that provides for the expansion of the range of cargoes transported between the ports. To date, Mariupol Seaport mainly deals with export of steel products to Nogaro. By the end of 2019, the cargo turnover between the ports could more than double and reach up to 500 thousand tons.
Are there any new projects on the transshipment of mining & metals cargoes? Are you planning to set up specialized terminals in the market?
— As part of an EU-funded technical assistance project, EGIS international company drafted a feasibility study for the construction of an up-to-date transshipment terminal for bulked cargoes in Pivdennyi Seaport. It will be used for transshipment of imported coal for steel-producing and power companies. The investment project on the construction of the up-to-date terminal on a concession basis will offer alternative, independent from Russia, energy and raw materials supplies to Ukraine in the amount of up to 5–6 million tons per annum.
The project will be prepared by the Ministry of Infrastructure of Ukraine and international consultants with the assistance of USPA. It will be implemented by an investor to be selected through an open concession procedure. The project will fully cover the country's needs for transshipment of imported coal and contribute to the diversification of supplies of raw materials for the industry and energies for thermal power plants. Financial support to the follow-up project preparation is being discussed with international financial organizations.
Moreover, USPA is planning to reconstruct the jetties 1 and 2 in Chernomorsk Seaport for handling mining & metals cargoes. Potential sites for the development of transshipment capacities for steel-producing companies could be projects within the framework of concessions of state stevedores in the seaports of Olvia and Kherson.
What is the situation with the port railway infrastructure? Are there any plans on its updating?
— Docking railway stations in Ukraine were primarily designed for handling imports that used to exceed exports. Today, the situation has reversed, since the share of exported products in Ukrainian seaports makes up around two thirds of the total transshipment. Modernization of railway stations lags behind the reorientation of cargo traffic and the increase in the range of goods, which affects logistics.
The volume of sorting and shunting operations (car selection and spotting) at docking and port railway stations sharply increased on many unloading fronts. It is impossible for some stations to handle the necessary volumes of cargo. This especially affects the work of the largest seaports, such as Pivdennyi, Chernomorsk, Mykolaiv, and Odesa.
USPA with the assistance of Ukrzaliznytsia and its regional branches is working to enhance the capacity of docking stations. All possible tools are being used for that purpose: changes in timetable for the formation of trains and rail transportation tariffs, and attraction of investment by stevedore companies in designing and reconstruction of the railway infrastructure of docking stations.
In March 2019, we managed to reach an agreement with Ukrzaliznytsia on changing the formula for calculating the delivery rate by distance and, consequently, the amount of fee for rail transportation of steel products from Zaporizhzhia–Live station to Kherson Seaport. The rate for transportation of one car was cut by around UAH 2,200.
The 2019 draft financial plan of Odesa Railways regional branch includes reconstruction of the odd rail bottleneck of Mykolaiv–Gruzovyi station. The cost of the reconstruction works will be covered by investors — port operators of Mykolaiv-based branch of USPA — and are expected to increase the processing capacity of the docking station.
Also, a working group was created of representatives of stevedore companies, experts of USPA and Odesa Railways regional branch. Preparations are underway to implement a project on the reconstruction of the station park of Odesa–Port station. Design specifications and estimates have already been developed at the expense of stevedore companies.
UAH 3 billion have been earmarked in the 2019 draft financial plan of Odesa Railways regional branch for increasing capacity of the main railway lines. These funds will be spent for the electrification of the railway section and construction of two lines from Dolynska station to Mykolaiv station and farther, to Kolosovka station, in the direction of Odesa oblast ports.
Is USPA interested in developing river-sea multimodal transportation as an alternative to rail transportation?
— USPA supports initiatives and projects that increase cargo traffic through seaports. Development of river-sea multimodal transportation is very promising, which is explained by the increase in logistic costs of rail transportation and infrastructure problems of Ukrzaliznytsia. Both factors encourage shippers to look for alternative shipping methods.
Most steel products transported by the Dnieper river are those produced by Zaporizhstal. In 2018, the company shipped 674 thousand tons of products on river-sea vessels. This is 17.6% up from 2017. Exports grew despite the fact that Europe continues to protect its markets from Ukrainian steel products. Ukrainian rolled products are shipped to Turkey, Macedonia, Bulgaria and Serbia.
The Dnieper river terminal is connected with seaports by the rail container line ending in the TIS container terminal. The project is co-implemented by Ukrrichflot, TIS and Maersk Line. A special container train with the capacity of 100 TEU runs once a week 630 km in 19 hours from Dnipropetrovsk River Port to Pivdennyi Seaport and back.
Last year, Nibulon launched coastal shipping of steel products. The shipping division of the company delivered products on barges from Kamianske (Dnipropetrovsk oblast) to Pivdennyi Seaport (Odesa oblast) where cargoes were transshipped on vessels.
How do you rate in general the cooperation of USPA with steel companies? How productive is it? Are there any arguable points?
— USPA is in constant dialogue with cargo owners and stevedores. We are building the logic of port development and our investment plans in accordance with the needs of the business community and plans of companies to increase cargo traffic. So far, certain stages of major projects on capital dredging in Pivdennyi and Chernomorsk Seaports are nearing completion. We have already dredged selected sections to 19 meters and 15 meters respectively. This allows businesses to consolidate ship cargoes and get additional competitive advantages. Implementation of the next stages of the projects will largely depend on USPA's investment opportunities, which will considerably decrease this year as we will have to pay the government 90% instead of 50% of dividends.
Moreover, payback will be the key factor for us in any project. This means that USPA's investment should be made in parallel to the development of private business capacities and lead to a guaranteed increase in cargo traffic and, therefore, the number of vessel calls as well as port charges.
A good example in this context is a project on dredging the approach channel and the operating area at the jetties of Pivdennyi Seaport where the capesize discount was canceled as soon as we reached the draught of 18.5 meters. This became an additional source of funding, which will allow us to dredge the depths in accordance with the design parameters, 21 meters.
What is your opinion about the development and prospects of Mariupol Seaport?
— Mariupol seaport was and is among priority ports for USPA. One cannot overestimate its role in the economy of Ukraine's eastern regions. It is now in a difficult situation. Due to the hostilities in Donbas, construction of the Kerch Bridge and detentions of vessels in the Kerch Strait, the number of vessel calls has decreased almost threefold since 2014, from 1,417 in 2014 to 490 in 2018.
Notwithstanding the difficult situation after 2014, we managed to provide the port with dredging equipment. All these years, USPA's hydraulic dredger, Meotida, maintained depths in both Ukrainian ports in the Sea of Azov, i.e. in Mariupol and Berdiansk. We managed to prevent the worsening of the situation and ensure proper operation of the ports. This year, we could finally hold procurement procedures through ProZorro e-procurement system and select a company for large-scale works — dredging of almost 4 million cubic meters (!) — to restore the specified depths in Mariupol and Berdiansk. This will make transshipment in our ports in the Sea of Azov more profitable for cargo owners, and their products more competitive in the global market.
Besides, we actively support cargo diversification initiatives of a Mariupol-based stevedore company. This year, we will complete the reconstruction of the jetty 4, at which, according to the plan, a new specialized transshipment terminal will handle grain cargoes. This year, its first stage is scheduled to be put into operation by Mariupol Sea Trade Port state-owned company.
When the transfer of Olvia and Kherson Seaports in concession is expected? Will steel companies win from this situation?
— We expect that tender conditions will be agreed on by the Cabinet of Ministers of Ukraine in the near term. Hence, calls for tender in concession procedures will be published in the summer. Most likely, they will be held at varying times. By the end of the autumn, the government may sign concession contracts with investors. According to preliminary estimates by IFC and EBRD, pilot projects on the concession of state-owned stevedore companies in Olvia and Kherson Ports will attract investment in their development worth over $65 million, and ensure a two-fold increase in transshipment and in revenues of local budgets.
What is the amount of capital investment in the upgrade of the infrastructure of state seaports planned for the near future?
— Over the past two years, USPA increased the amount of capital investment in the port infrastructure development by 2.7 times. We are currently implementing eight major investment projects. Five of them should be completed this year. In Odesa Port, works are being completed on the jetty 1-з ('z'), on the basis of which a new grain-handling terminal of Brooklyn-Kyiv and Luis Dreifus will operate. As I've mentioned before, the jetty 4 in Mariupol Seaport was designed for the new grain terminal of Mariupol Sea Trade Port state-owned company. Jetty 8 in Mykolaiv Seaport can be used for transshipment of grains and oils. The next stages of capital dredging are under completion at the ports of Chernomorsk and Pivdennyi, which will significantly enhance the competitiveness of the ports in general as well as state-run and private stevedore companies in particular.
How many and what steel products are used to upgrade the port infrastructure? Do you buy steel from Ukrainian producers or import it?
— USPA directly buys a very small amount of steel products. We implement key material-intensive projects (reconstruction and construction of new jetties and other hydraulic structures) with the help of contractors, selected through ProZorro e-procurement system. They, in turn, provide a full scope of works in accordance with tender documentation, including procurement of steel products.
Naturally, preference is given to domestic producers. However, there are products that are not manufactured in our country. These are some types of steel channels, pipes of a certain diameter, and anchors. We buy these products abroad.
---
---