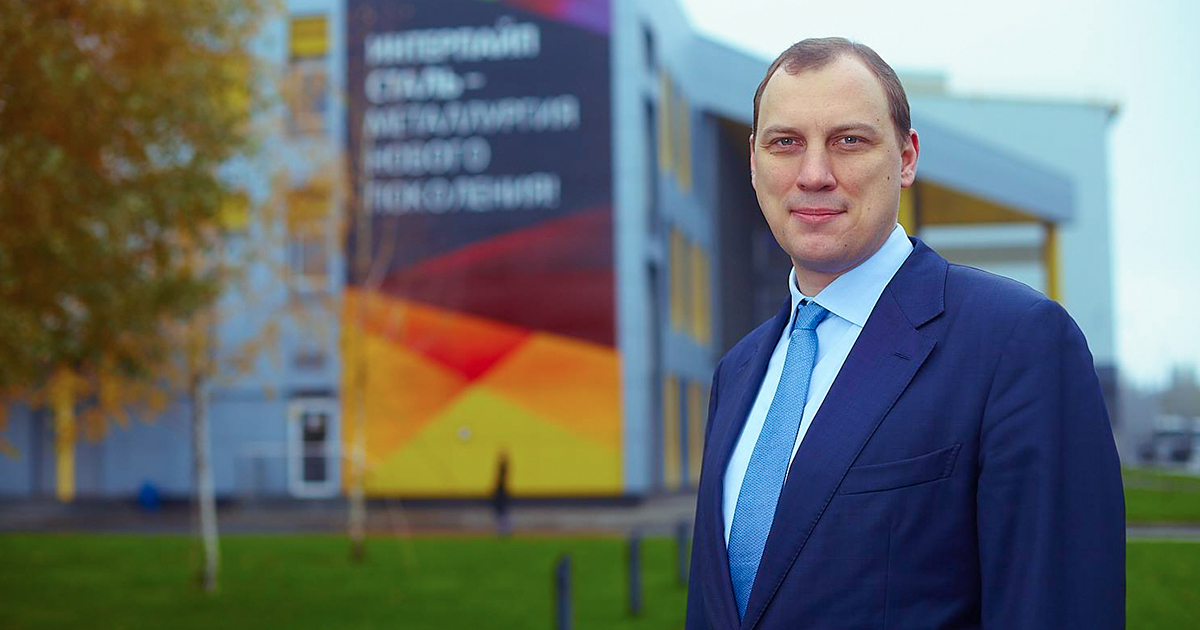 The temporary abolition of duties and quotas on the European market provided new opportunities and unique niches for the development of sales of Ukrainian pipes. And after the final closure of the Vallourec plants, the EU market is in for a radical reconfiguration
Ukrainians have been heroically resisting Russian military aggression for almost 600 days. Despite the fact that their facilities are located in close proximity to the war zone, iron and steel companies continue to operate, export their products and hold the economic frontline of Ukraine.
Interpipe is a producer of steel pipes and railway products, operates in Dnipro, Nikopol and Novomoskovsk. Despite the difficult security situation, the company not only maintains its 10,000-strong workforce but also develops sales abroad, especially to the European market.
GMK Center talked to Denys Morozov, Director of the Pipe Division, about this and many other issues.
What is the current state of the Interpipe pipe plants, how do they work? What is the level of capacity utilization?
— Over the almost one and a half years of war, Interpipe, like many other Ukrainian businesses, has shown a high level of resilience. The company operates in the current environment, which, unfortunately, is not very bright. The situation in Nikopol is very difficult at the moment – the city is under artillery fire every day. In addition, the Kakhovka reservoir is no longer in operation, which has had a negative impact on the operation of our Interpipe Niko Tube plant. In Dnipro, the situation is also difficult: air raids are sounded every day, and there are frequent rocket attacks and raids by the Shaheds.
But on the other hand, even in such conditions, all the plants are operating and producing products: the Nikopol site is about 50% utilized, and the Dnipro site has a similar figure. In Novomoskovsk, the situation is worse due to a more significant decline in production, so Interpipe NMTZ's capacity utilization does not exceed 20-25%.
Is the significant reduction in production in Novomoskovsk mainly related to the situation with the supply of raw materials?
— Yes, Mariupol-based plants were suppliers of raw materials from which we produced pipe products. We are now looking for alternatives, in particular in Europe, because unfortunately, Ukraine does not have the kind of steel and stable supply chains that Mariupol had. The problem is that the steel plate we need must be produced by blast furnace. Therefore, this rules out ordering this sheet from Zaporizhstal.
Can suppliers from Turkiye or SE Asia propose alternatives?
— Theoretically, this is possible, but in this case, the issue of price arises, taking into account delivery to Novomoskovsk and, accordingly, the economic feasibility of further export sales of the electric-welded pipe. Unfortunately, this double logistics is now killing the entire economy, and there is no way out of this situation. While we produce seamless pipes through vertical integration, starting with scrap, in the welded pipe segment we have to buy raw materials from third parties, so our profitability here is minimal.
You mentioned constant shelling. How do you ensure the safety of workers at the plants in such conditions?
— Since the beginning of the war, this has been and remains the number one issue. To ensure the safety of people in Nikopol, we studied many options and decided to purchase concrete domes that are placed throughout the plant. Every employee knows where to run in case of an alarm. Workers no longer go to the bomb shelter because it takes a lot of time, but hide under tested and certified concrete domes that guarantee the safety of their lives and health.
How did sales of pipe products change in Ukraine after the start of the war?
— Sales of general-purpose pipes have declined very significantly. Many companies that used to consume our products are now idle. The thermal power and machine building industries have reduced their consumption tenfold. The same is true for the products purchased by households – demand for them has fallen by two to three times. As for the oil and gas industry, the situation is more or less stable. Despite the war, Ukrainian state-owned companies continue to produce gas and oil. At the same time, unfortunately, the private gas production segment has seen a huge decline – by 2-3 times.
Before the war, Interpipe planned to increase sales of premium and semi-premium connections. Has the strategy changed? What premium pipe products are currently in demand? What new solutions does the market need?
— Our strategy has not changed. Increasing sales of premium products remains our number one goal. And this applies to all markets – Europe, the Middle East, the US, etc. Now, by the way, Ukraine is actively purchasing pipes with high-sealed premium connections. In general, there is potential in many regions; this niche is very promising and is growing every year.
What about the European market?
— Last year, we received great support from the European Union in the form of a temporary suspension of all quotas and duties. This gave us the opportunity to partially compensate for the rising cost of logistics. Moreover, the absence of quotas now allows us to develop in the European market, to search for and enter new niches and more complex products. And we are taking advantage of it! For example, we are talking about new unique artificial products, which require a lot of work to launch their production. We have set up more than 100 types of new products for Europe and will master more than 200 in the future.
It is interesting that earlier we were told that the role of Ukraine is to produce cheap and not very high-quality products, but as it turned out, this is not the case.

European countries gave us such a place, protecting ourselves from us with quotas. And if they are removed, then can we produce exactly the products needed on the market?
— Yes. For example, a new product is axles, not for railcars, but for trucks. These are unique tubular products in all respects. In the process of its development, we tried to produce these pipes to fit 100% of the customer's parameters. We had some questions about the selection of steel grade and heat treatment, but we gradually learned. Now we already have a product with which we are participating in a tender.
In general, it is not easy to become a supplier of well-known European companies. Working to common standards is one challenge. But almost every company in the EU has its own, more stringent standards, so working in such small niches of high-quality products, where you also need intelligence, is another, higher level. When we started working in this direction, we realized that we lacked highly qualified personnel. Before that, of course, we had new products, but it was not a massive undertaking.
Now it is the interaction of engineers and logisticians. Logistics is also a problem. For example, our client Liebherr needs a 14-meter-long pipe. How to transport it? At the moment, there is no transport that can deliver a 14-meter pipe to Europe.
Previously, you were actively supplying your seamless pipes to the EU construction industry, which is currently in crisis. How do you feel about it and do you see any positive trends? What are you hoping for in 2024?
— We are seeing different scenarios. For example, today construction volumes are down by about 10-15%. Equally important is the fact that the price of pipe products is also declining. So distributors are waiting for the price to bottom out. Consumption was stable in Q1 and Q2, but since the end of Q3, it has been declining. Many Europeans end their financial year at the end of September. Therefore, they suspend purchases to show a good result in their reporting. In addition, August in the EU, as you know, is a vacation month. Everyone expects that after this month, demand will start to pick up. Three weeks have passed, but so far nothing is happening, the market is cold.
Previously, Interpipe w

orked with Euro

pean

mechanical engineering companies

and 

supplied pipes for this sector

.

Did you manage to keep these customers, develop cooperation? After a
ll, the
mechanical engineering
and automotive market in general is growing in Europe.
— Yes, when I was talking about unique niche products, I was referring to pipes for the mechanical engineering. A very important factor that will affect the entire configuration of the European market is that Vallourec, a leading local pipe producer, is closing its plants in the EU. When this player finally leaves the market, I think it will lead to dramatic changes in the market.
And the OCTG pipe market? According to your estimates, by how many percent can it grow in Europe?
— Experts say that the OCTG market could grow by 20-30%. However, its volumes are currently small, and we are not recording any growth. Brussels says we need gas, but let other countries produce it, and we will import it. In Romania and Poland, where there are such needs, we participate in tenders.
Generally speaking, we are interested in the European OCTG market. We have plans for development. In addition, geothermal drilling is gaining popularity in the EU to extract warm water from the ground to heat not just houses but entire cities! We see great prospects in this area, with a possible 5-fold growth in this market, but its volumes are currently small.
What will b
e the
the impact of CBAM implementation
 on I
nterpipe's sales to the EU? What risks do you see?
— In general, we are already ready for this, as we have minimal CO2 emissions. Obviously, CBAM will be a new challenge for many Ukrainian companies, as they will have to change the structure of reporting, document flow, etc. Interpipe is already positioning itself as a producer of green or low-carbon steel. We expect that CBAM payments will not affect our sales. However, when implementing new investment projects, we always focus on minimizing CO2 emissions.
Many companies are now considering the transfer of production facilities or cooperation with European producers at their sites. Are you considering such projects?
— Our strategy, on the contrary, is not to Europe, but to Ukraine to transfer all possible production operations. We believe that it is necessary to create jobs in Ukraine. If possible, localize production in Ukraine as much as possible.
Currently, the Ukrainian economy is 70% dependent on the state of the European economy. This also applies to the pipe market.

What dynamics of the European economy and the pipe market do you expect?
— Indeed, the European economy is stagnating. This is likely to last for another six months, a year at most, and then the situation will stabilize. Of course, the EU pipe market is also declining by 5-10%. To offset this effect, we are constantly looking for new niches and segments. In general, I expect the pipe market to continue to decline in 2024, with a slight increase starting in 2025.
Are you currently understaffed? After all, many women went abroad, men were mobilized…
— Yes, there is such a problem. In particular, there is a shortage of qualified engineers, many of whom have left the country. As for labor specialties, that is, the main backbone of the team, there is no problem here, because we train specialists and take students for internships. We are in dire need of intellectual resources now.
What is the role of the Ukrainian producer in the European Union in the future, where Ukraine already exists? How do you see her?
— Many European companies are already expressing their support for us and saying: «You are already Europe!» At first, some of them were hesitant, doubted how cooperation with Ukraine would go, and said: «Let's see how you will meet the delivery deadlines.» But now they no longer doubt us, because Interpipe is a responsible supplier.
---
---