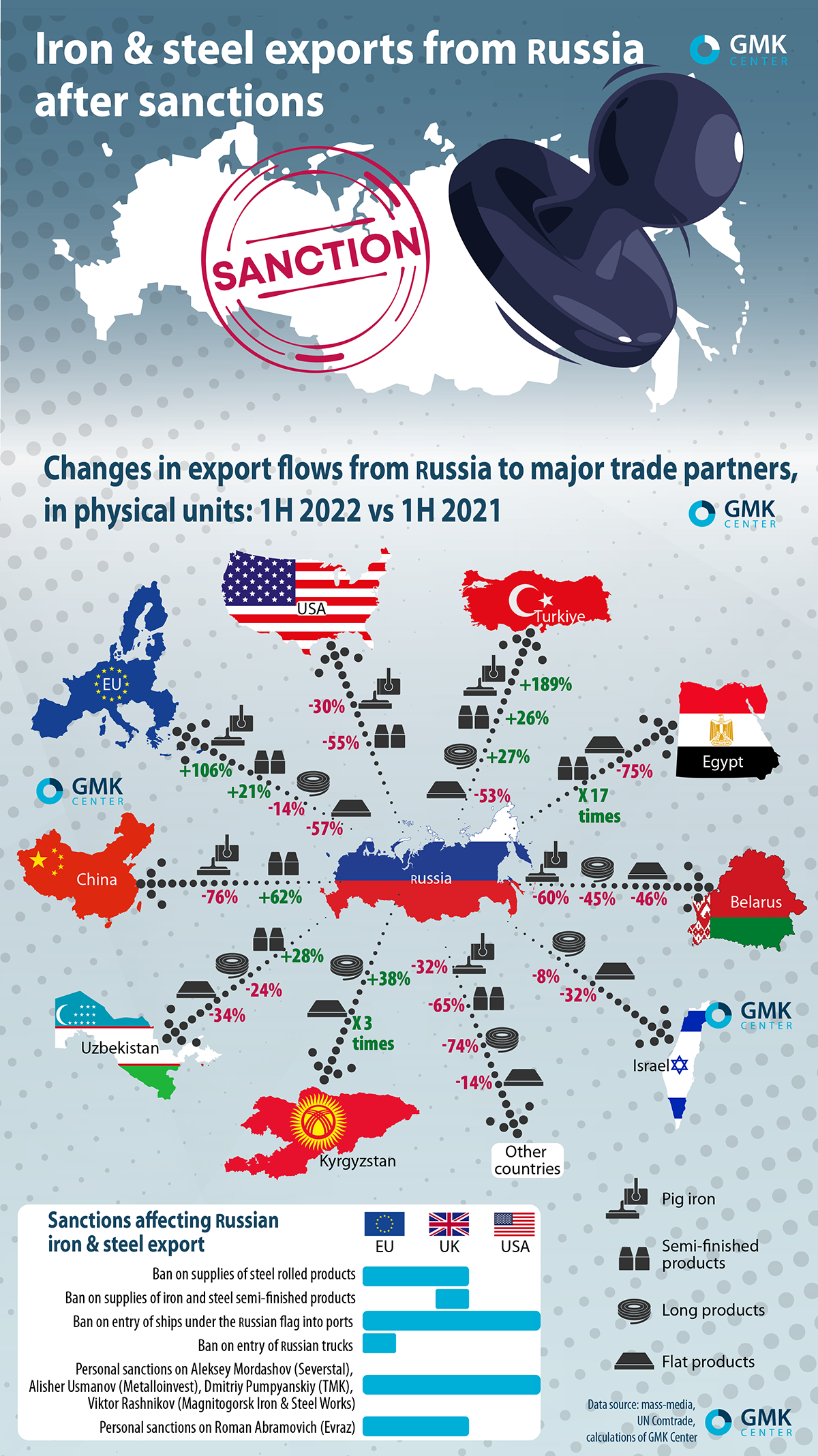 The most demanded Russian products are pig iron and steel semi-finished products
Due to the invasion of Ukraine, Russian economy faced up with sanctions, affecting, among other things, the local iron and steel industry. EU introduced ban on supplies of steel rolled products and pipes. UK implemented total ban on supplies of iron & steel products from Russia. EU, UK and USA banned entry of ships under the Russian flag into ports. EU prohibited entry of Russian trucks. Also, personal sanctions were Imposed on Aleksey Mordashov (Severstal), Alisher Usmanov (Metalloinvest), Dmitriy Pumpyanskiy (TMK), Roman Abramovich (Evraz), Viktor Rashnikov (Magnitogorsk Iron & Steel Works).
In general, Russian steel exports in the first half of 2022 decreased, in particularly, semi-finished products – by 5.5% y/y, long products – by 20.5% y/y, flat products – by 44.7% y/y. Pig iron exports from Russia, on the contrary, increased by 4.7% y/y.
Meanwhile, the dynamics of exports by country is different. Turkey expectedly increased imports of Russian products: pig iron – by almost 3 times y/y, steel semi-finished products – by 26% y/y, long products – by 27% y/y. China and Egypt raised imports of semis from Russia by 62% y/y and 17 times y/y respectively.
The deliveries of certain steel products from Russia to the countries of Central Asia have increased. Uzbekistan raised import of flat products by 38% y/y. Kyrgyzstan increased import of flat and long products by 3 times and 38% y/y respectively. The European Union increased imports of pig iron and steel semi-finished products from Russia by 106% and 21%, respectively. These shipments from Russia continue as there is no direct ban on them.
The estimates presented are based on UN Comtrade data about imports from Russia by country-reporter. These data may be incomplete, which may distort the results of the calculations. However, Russia currently does not disclose export data, making additional verification impossible.
---
---