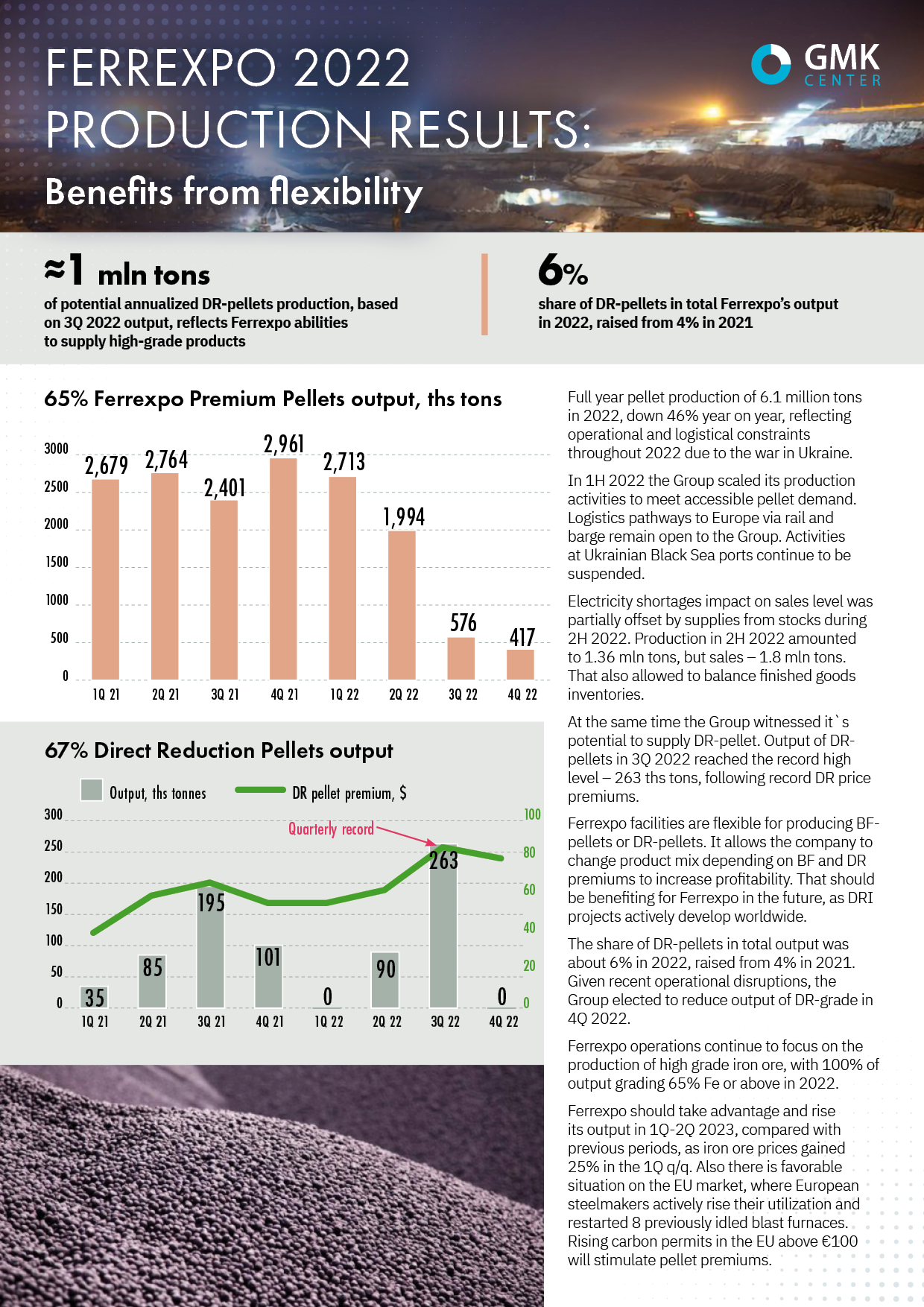 Ferrexpo facilities are flexible for producing BF-pellets or DR-pellets
Ferrexpo lowered its pellet output to 6.1 million tons in 2022, down 46% year on year, reflecting operational and logistical constraints throughout 2022 due to the war in Ukraine.
In 1H 2022 the Group scaled its production activities to meet accessible pellet demand. Logistics pathways to Europe via rail and barge remain open to the Group. Activities at Ukrainian Black Sea ports continue to be suspended.
Electricity shortages impact on sales level was partially offset by supplies from stocks during 2H 2022. Production in 2H 2022 amounted to 1.36 mln tons, but sales – 1.8 mln tons. That also allowed to balance finished goods inventories.
At the same time the Group witnessed it`s potential to supply DR-pellet. Output of DR-pellets in 3Q 2022 reached the record high level – 263 ths tons, following record DR price premiums. It could mean about 1 million tons of annualized potential DR-pellets output, based on 3Q 2022 results.
Ferrexpo facilities are flexible for producing BF-pellets or DR-pellets. It allows the company to change product mix depending on BF and DR premiums to increase profitability. That should be benefiting for Ferrexpo in the future, as DRI projects actively develop worldwide.
The share of DR-pellets in total output was about 6% in 2022, raised from 4% in 2021. Given recent operational disruptions, the Group elected to reduce output of DR-grade in 4Q 2022.
Ferrexpo operations continue to focus on the production of high grade iron ore, with 100% of output grading 65% Fe or above in 2022.
Ferrexpo should take advantage and rise its output in 1Q-2Q 2023, compared with previous periods, as iron ore prices gained 25% in the 1Q q/q. Also there is favorable situation on the EU market, where European steelmakers actively rise their utilization and restarted 8 previously idled blast furnaces. Rising carbon permits in the EU above €100 will stimulate pellet premiums.
---
---