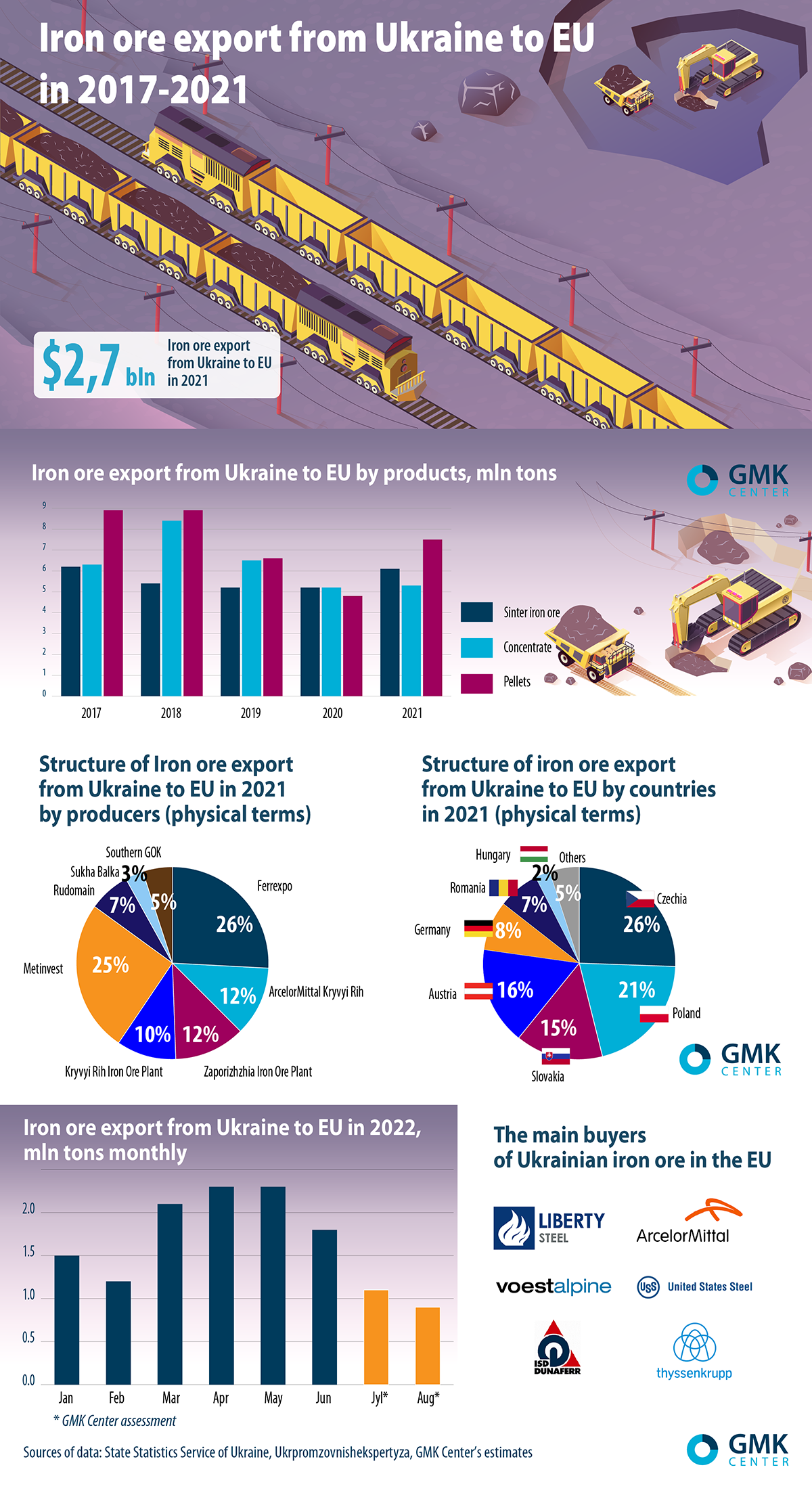 (c) GMK Center
Due to the war and unfavorable market conditions, supplies began to decline
Over the past five years, Ukrainian mining and processing plants have exported to the EU about 19 million tons of iron ore annually. 40-50% of supplies were pellets. For European steelmakers, Ukrainian producers have become a reliable source of iron ore with short delivery times (compared to Australia and Brazil), as well as suitable quality.
Ukraine exports various iron ore products to the EU: sinter ore (5-6 million tons per year), concentrate (5-8 million tons), pellets (5-9 million tons). Exporters are vertically integrated enterprises and stand-alone companies. In particular, the enterprises of the Metinvest group supply concentrate and pellets to the European market, ArcelorMittal Kryvyi Rih and  Southern GOK supply concentrate, and Ferrexpo supplies pellets. Several relatively small companies (Sukha Balka, Zaporizhzhia Iron Ore Plant, Kryvyi Rih Iron Ore Plant, Rudomain) supply sinter ore to the EU market.
Iron ore raw from Ukraine are delivered to the Czech Republic, Poland, Slovakia, Austria, Germany, and other EU countries. Leading European steel plants, in particular ArcelorMittal, US Steel, voestalpine, ThyssenKrupp, smelt steel from Ukrainian iron ore.
Traditionally, the share of Ukrainian producers in the European iron ore market did not exceed 15%. However, after the start of the Russia-Ukraine war, due to the blockade of ports, this share doubled, since the EU market remained the only possible direction for export. An alarming trend emerged in June 2022, with iron ore exports falling to 1.75 Mt from 2.27 Mt in May. According to GMK Center forecasts, the expected volumes of iron ore exports from Ukraine to the EU in July-August will be 2 times lower than in March-June and 50% lower than traditional export volumes to the EU.
Against the backdrop of falling prices, rising costs and logistical problems, Ukrainian mining and processing plants are forced to cut production. In particular, Metinvest Group announced the suspension of production at the Southern, Ingulets and Northern GOKs. The reduction in the supply of iron ore from Ukraine will lead to negative consequences for the European steelmakers, in particular, the lengthening of delivery times and an increase in the cost of purchasing iron ore from alternative suppliers.
---
---