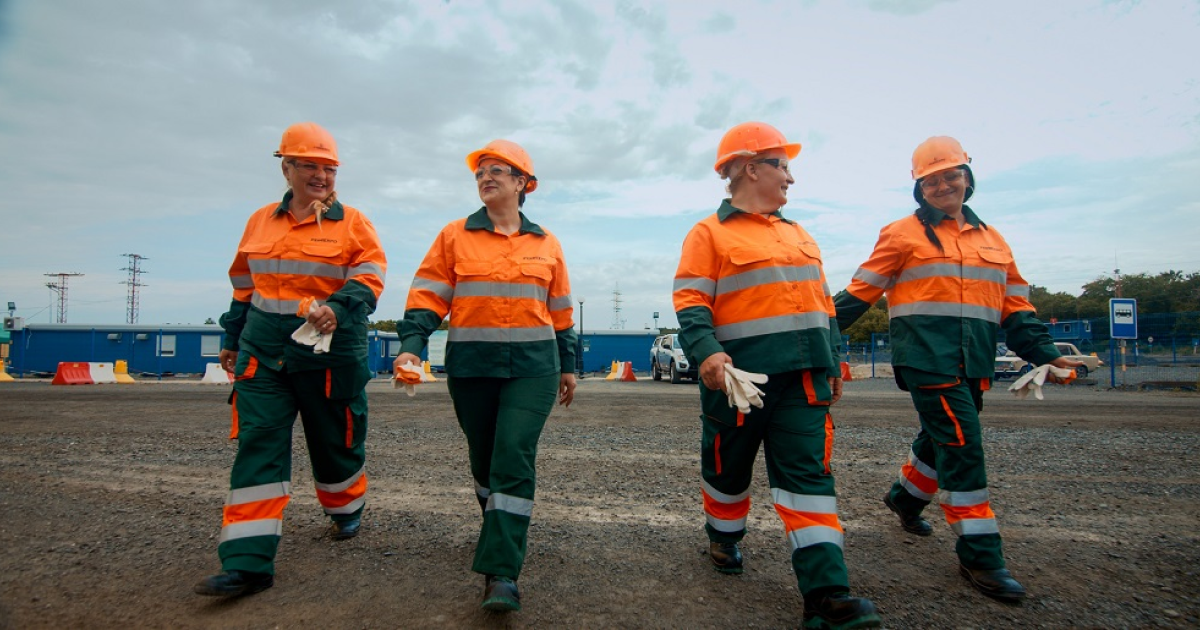 Ferrexpo is one of the leaders of large Ukrainian business that demonstrates a comprehensive approach to issues of inclusivity and gender equality
The mining industry, once considered a «boy's club», is currently undergoing a transformation. Although the sector lags far behind others in the representation of women in senior management, this trend is gradually changing. In addition, the number of female workers choosing "non-feminine" professions and successfully competing with men in these positions is increasing. Ferrexpo, an iron ore company with assets in Ukraine, strengthens gender diversity by supporting employee motivation and nurturing professional personnel within enterprises.
Encouragement for leadership
According to analysts, women consider the mining sector as offering a variety of work, opportunities for professional and career growth. Female representation in management and leadership positions in mining is growing, albeit slowly.
According to a study by the international law firm White&Case, even 10 years ago, the share of women on the boards of the top 100 mining companies listed on the stock exchange was a little less than 8%, and in the top 500 – less than 5%. In 2022, this indicator was already 22.6% and 17.6%, respectively.
Experts believe that diversity in leadership styles, problem-solving approaches and decision-making is critical to meeting today's challenges facing the industry, from improving production and financial performance to the environmental transition. In addition, it contributes to the sustainability of companies, improves their ESG ratings.
Ferrexpo is one of the trendsetters of large Ukrainian business, demonstrating a comprehensive approach to issues of inclusivity and gender equality. Thus, in 2022, the company signed the Principles of Women's Empowerment, which contribute to the maintenance of gender equality. One of the group's priorities is diversity at management level and the promotion of career opportunities for women.
Since 2020, Ferrexpo has implemented a comprehensive DE&I strategy, implementing the principles of inclusiveness and gender equality. Thanks to it, over the past three years, the number of women in management positions in Grade 10+ (managerial staff) has increased by 60%. The share of women in management positions in 2022 was 21%, the goal is to reach 25% by 2030.
The expansion of the representation of women in the company's top management allowed management decisions to be made, creating a balanced view of solving issues.
«Implementing the ideas of gender equality strengthened the staff's resilience, readiness for innovation and the ability to quickly respond to the challenges of the time. This decision allowed us to strengthen relations with foreign partners, because they are pleased to cooperate with companies where the same level of trust in managers and women managers» notes Anna Adom, HR director of Ferrexpo in Ukraine.
According to her, within the enterprises, this allowed to change the views of male skeptics and successfully overcome prejudices against female leaders. The employees of the enterprises felt their value for the production process, which motivated them to further develop their professional qualities.
«Women in management positions at various levels – from foremen to heads of individual services and departments – is the norm for Ferrexpo. When meeting with colleagues from other enterprises of Ukraine, I always note that our female employees have proven that they can not only cope with everyday duties, but also improve processes in general in the company, starting from iron ore extraction to shipping finished iron ore pellets on a par with men,» shares Sergiy Kanarskyi, production director of Poltava Mining.
In order to encourage women to lead and expand their representation in various business sectors, Ferrexpo implements a large-scale Femunity program. This educational platform increased the efficiency of the company's workers and specialists, helped to develop a number of soft skills that will be useful in any position and in personal life. According to the results of the survey, the Femunity school helped 80% of the participants to strengthen their personal qualities, 57% to improve their professional knowledge and skills, and 61% of the respondents said that they were motivated to change after the training.
«Unfeminine» work
The general trend in mining today is also to meet the demand for skilled labor regardless of gender. The share of women in the staff of Ferrexpo by 2022 was 29% (for comparison, at Rio Tinto – 22.9%, at Vale – 22.1%). As of July 2023, more than 900 women were involved in the company's production processes – almost 13% of the total number of personnel. These are employees of the production department and the maintenance and repair department.
In addition, about a hundred female employees of Ferrexpo work directly in a profession that is not considered feminine, such as drivers of heavy trucks in a quarry or loader, electric gas welders in a foundry and mechanical shop and a crushing and enrichment factory, technicians in the repair of technical equipment.
Olena Nikolaychuk-Neroda, who since 2018 has been working as a driver of motor vehicles in career at Yeristivsk Mining, dreamed of driving a car since childhood. She was able to realize this dream at Ferrexpo. At one time, Olena was offered a job as a BelAZ driver, and she agreed, even though she had no previous experience driving such a car. Experienced mentors taught the nuances of work during the internship. For 5 years of work, Olena worked in a car career, after obtaining a driver's license of category C, she started driving MAZ and KrAZ dump trucks. Then she switched to more powerful Bell and Caterpillar with a load capacity of 40 and 90 tons, and already has a license that allows her to drive a 220-ton truck. In the future, Olena plans to master other mining equipment – a bulldozer and an excavator.
In addition, the company does have a male maternity leave program, which allows women to continue their career growth. If a woman in a family of Ferrexpo employees wants to leave maternity early in order to continue growing professionally, a man can take care of the child until it reaches the age of three. At the same time, the company makes sure that the family income does not become less: if the husband has a higher salary, but goes on maternity leave and the family's total income decreases because of this, Ferrexpo compensates this amount.
«The hardest thing about maternity leave is not being able to work, I really missed my job. I am grateful to the man who supported my desire to return to the workplace already after a year. This is our second daughter, so I am sure that my husband will cope, and I can calmly perform everyday duties,» admits Olga Romantsova, a specialist in the production department of the foundry and mechanical workshop.
The practice of "male" maternity is gaining momentum, because the company understands the importance of development for both men and women.
«For families where mutual respect reigns, a "male" maternity is a normal thing. Both women and men are equally good at achieving success in their profession, taking care of children, and maintaining order at home,» said. Valeriy Stetsenko, a senior mechanic of Yeristivsk Mining and a father of four children, who took leave to take care of his two-year-old daughter in May 2023.
Pay
The global mining industry has one of the highest average gender pay gaps. This is partly due to the fact that higher paying positions in companies are dominated by men. According to researchers, this is one of the reasons why women leave the industry.
«At Ferrexpo, remuneration is carried out taking into account the level of professionalism and the presence of professional competences and personal abilities that allow you to perform your daily duties well, to take an active part in various projects within enterprises, designed to increase the level of well-being and growth of personnel» notes Lyubov Kozyura, Diversity and Inclusion Manager at Poltava Mining.
According to her, thanks to the implementation of the graded salary system at Ferrexpo, gender does not matter when calculating salaries: both women and men receive the same remuneration for the same positions. Lyubov Kozyura notes that, instead, the talents possessed by employees and the results they achieve at work are taken into account. This motivates women, on an equal footing with men, to take certain steps to move up the career ladder and use every opportunity to strengthen themselves both in their professional and personal lives.
The power of diversity
«The possibility of employing women in the mining industry and the ability to directly involve them in various production processes of the company appeared thanks to changes in the current legislation. This made it possible to increase the level of diversity at enterprises, to involve women leaders in solving everyday production tasks. A diverse team can more efficiently and quickly cope with any challenge,» continues Anna Adom, a member of the board of Poltava Mining.
Women also become mentors after achieving success in their chosen position.
Alyona Piddubna, the electric gas welding machine worker of the foundry and mechanical shop (FMS), has been working at the Poltava Mining since 2020. In 2023, she won the second place in the competition of professional skills «Best by profession», where she competed with experienced male colleagues. At one time, a woman did not get into the university for the specialty «mineral enrichment» because of an overcrowded group. In order not to lose a year, Alyona went to school and chose the profession of electric gas welding machine – these specialists are always in demand at any enterprise.
Alyona gained her first work experience at one of the mining and processing plants in Kryvyi Rih, she has a fifth degree. When fate directed her to Horishny Plavny, she started looking for a job at the Poltava Mining and got a job quite quickly. She recalls how colleagues at the enterprise were surprised to see a welding machine in front of them. Currently, she already mentors and interns students undergoing industrial practice at FMS.
Get the TREASURE
Ferrexpo employees – both men and women – have extensive training opportunities provided by the company. In addition to the Femunity School of Women's Leadership, Ferrexpo has a number of projects that help develop talents.
SKARB project (the abbreviation means setting up such processes as Career Growth Structure, Career Coaching, Automation, Manager Rating and Career Growth Without Limits) is designed to increase motivation and loyalty of staff.
Ferrexpo Technical Expertise Center (TEC) helps employees improve their qualifications, master related professions or those for which the company has open vacancies. During classes, teachers, who are also employees of the group, use visual materials, taking into account the specifics of work at Ferrexpo enterprises, modern technologies (VR simulator, VR glasses, Tesla Suit). It helps to acquire the necessary practical skills and abilities by creating real production conditions in one of the training classrooms.
TEC also has a driving school that enables company employees who need to be able to drive a company car to become confident drivers in a few months.
Since 2022, the Ferrexpo Qualification Center (QC) has also been operational. It helps to confirm qualifications for nine labor occupations with the necessary knowledge and skills. If a person already knows how to perform certain types of work, he can apply to the QC, undergo testing in the classroom, and perform practical tasks directly at the factory. If you get high marks, you can immediately get a corresponding certificate without several months of training in courses.
Equal opportunities
«To do your job well, you need to have the appropriate qualifications and the necessary list of abilities, because success and professionalism do not depend on gender. Our employees have realized that the company values ​​their contribution, and the «glass ceilings» are only in their heads, and in fact, all paths are open to them,» emphasizes Anna Adom.
According to her, the Ferrexpo workforce is a community where everyone has access to equal opportunities – mastering new professions, improving the level of qualifications, career growth, participation in projects aimed at personal development and the development of the company, regardless of gender. In addition, the company was able to replenish the team with professional personnel (both men and women), especially with regard to vacancies that became critical in the conditions of martial law.
---
---