In 2019, steel production in Ukraine will outstrip economic growth in real terms
Steel industry impacts almost all Ukrainians, to an extent. One in every eight hryvnias is generated in this sector or related sectors. One in every four dollars comes to Ukraine through steel industry. One in every ten workers gets his wage (and importantly, official wage) due to the operation of mining & metals companies. In the world's major economies, steel industry is a tool for ensuring national security and a source of employment and income for most people.
Strategic sector
Donald Trump often highlights the strategic importance of the U.S. steel industry for the country's national security. Of course, he might say it just to justify introduction of safeguard measures in the domestic steel product market as only a threat to national security can justify introduction of duties or quotas within the WTO. However, a gradual shutdown of the U.S. iron and steel works means that defence products will have to be manufactured of steel imported from China. This country is deemed to be the key military threat to the U.S. It is not reasonable, mildly speaking, to let it happen.
The strategic importance of steel industry also lies in the fact that no country in the world has implemented large-scale infrastructure projects using imported steel. Let's take China for example, that developed this sector to meet its domestic demand. Now India has the same plans as it is implementing large-scale residential construction and transport infrastructure projects.
Steel industry is also important for the world's major economies. Here indirect effects of related sectors are very important. For instance, raw material suppliers (refractories, fluxes, scrap), construction and transport services, energy supplies have an indirect effect, and consumer expenditure of employees and supply companies has an induced effect.
For example, in the EU, gross value added of products generated by steel industry and related sectors is 6.2 times higher than that generated by steel industry only.
In the EU, the number of employees engaged in related sectors is 6.7 times higher than in the steel industry. The value of the same indicator is 4.1 in the U.S. and 5.8 in India.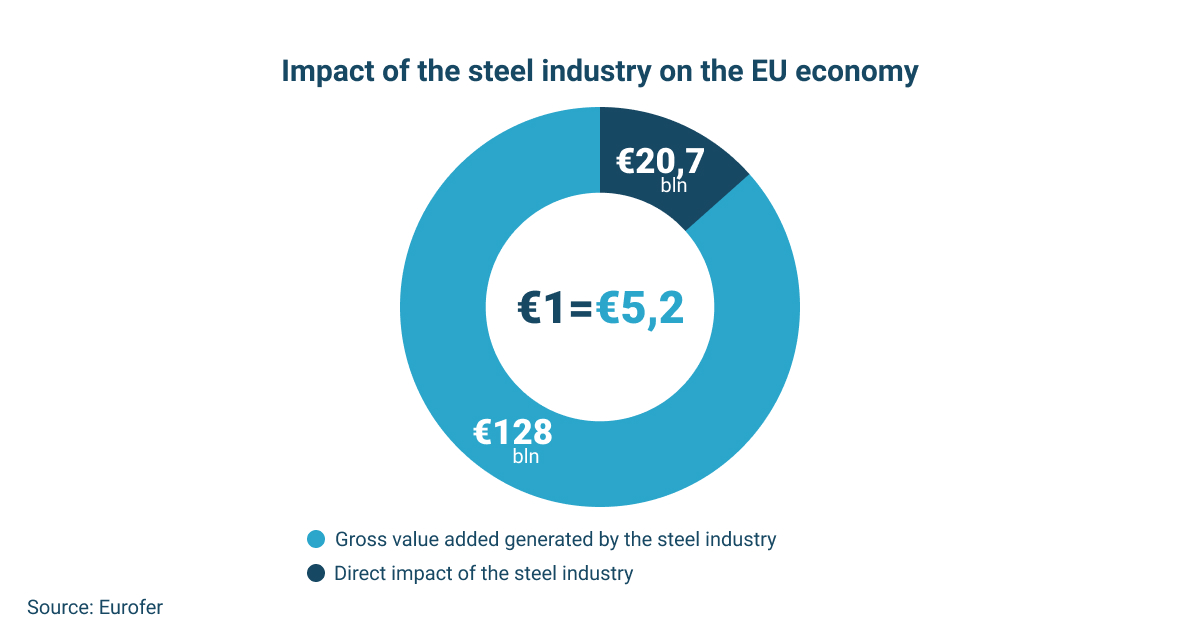 Unique contribution to the economy
According to statistics, steel industry accounts for only 2.3% in the Ukrainian GDP. However, the share of steel industry, including related sectors, in the economy amounts to 11.8%. Therefore, if the situation is dire in the steel industry, Ukrainian economy plunges into yet another crisis. Steel industry growth boosts total economic growth. We have observed and felt it in our country many times.
Steel industry's contribution to the balance of payments and currency inflow cannot be overestimated. The industry accounts for around 28% of total currency inflow to Ukraine. In 2017, it amounted to $12.2 billion, i.e. one in every three or four dollars. Very few sectors provide our country with currency. Apart from steel industry, it's only agribusiness, if we don't take into account workforce exports (labor migrants).
In 2018, steel industry was the main driver of exports growth and currency inflow to the country as compared to the previous year. According to the Ministry of Economy, at the end of 8 months, steel product exports increased by $1.6 billion. It means that if it weren't for steel industry, we would have a quite different USD exchange rate: it would be closer to the level provided for in the State Budget, i.e. UAH 29.4=USD 1.
9.2% of payroll employees in the country are engaged in the steel industry and related sectors. It is especially noticeable in small towns where the main assets of the mining & metals sector are located. Steel companies support the economy of entire regions. For instance, according to the State Statistics Service, the population of the main steelmaking regions (Donetsk, Dnipropetrovsk and Zaporizhia oblasts) is 9 million people, including the occupied territories.
The mining & metals sector provides Ukraine with 19.4% of capital investment within the entire industrial sector. Steel industry always requires large investment. If a company does not invest in increased performance today, it will find itself non-competitive tomorrow.
Now the market situation allows companies to earn and invest. Ukrainian companies are trying to keep up with the global trends. In 2017–2018, they invested $0.8 billion in new projects. This amount factors out investments in overhaul and capacity maintenance. Almost all companies invest in the growth along the entire production chain (coal-coke-iron ore-metal). In addition, they invest in increased performance and reduced cost. Implementation of environmental programs is another important area.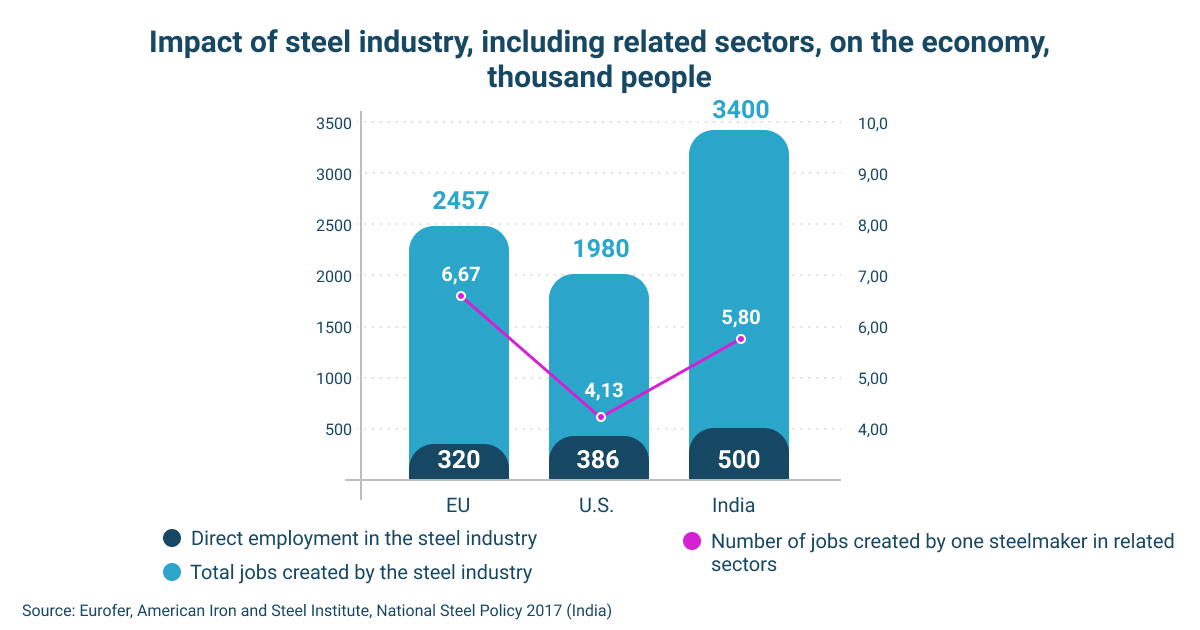 Basis for the new economy
Does it mean that one should bet on steel industry as an economic driver? Of course, no. Being a primary industry, steel industry should not shape the country's image and future. The Ukrainian economy is already dependent on cyclical crises. However, steel industry should be a basis for building the new economy.
"You cannot have a 21st century economy if you don't have 21st century infrastructure," says John Ferriola, Nucor CEO. And we have a room for development in the infrastructure sector. Roads, railways, bridges, utilities and energy facilities, etc. We have a big country with many facilities. According to Ukravtodor (State Agency for Automobile Roads of Ukraine), 4.5 thousand bridges out of 5.8 thousand need to be repaired because a half of them were built 40 to 60 years ago, another 20% were built more than 60 years ago. According to the Ministry of Infrastructure, in 2018, an overhaul of 45 bridges was planned under the bridge infrastructure rehabilitation program. It turns out that, given this pace is preserved, we will complete the repair of all bridges in 128 years. Motor roads face the same problem.
According to Ukrmetallurgprom, Ukraine's metal stocks amount to 300 million tons, and their depreciation is 90%. Given the current domestic consumption, the existing metal stock renewal will take around 60 years. During this period, infrastructure facilities will become totally unusable. The average useful life of steel items is 25 to 35 years. It means that it is important to start investing in the infrastructure renewal today, and there is no alternative. The things left over until tomorrow will become unusable the day after.
Infrastructural investment is not only a matter-of-course need, but also an economic stimulus. It's Keynesian approach to anti-crisis policy used by most countries in the world. According to this approach, infrastructural investment should keep the economy growing during cyclic crises. There is some evidence that every $1 of public investment in the infrastructure boosts private investment and increases the investment up to $1.6.
First steps seem to have been taken to change the situation. At least, they have been declared. At the beginning of the year, Volodymyr Omelian, Minister of Infrastructure, declared that in 2018, investment in the Ukrainian infrastructure will amount to UAH 86 billion, including UAH 50 billion in road construction and repair, UAH 18 billion in rolling stock renewal, UAH 10 billion in railroad infrastructure renewal, and a total of UAH 8 billion in development of ports and aviation infrastructure.
It is impossible to control performance of these plans due to the lack of publicly available information. However, at the end of 9 months, it is obvious that the declared targets have not been achieved. Still, it is important to note that there is some progress as compared to the last year. During the three quarters, UAH 18 billion were invested in road infrastructure development; in 2017, it was a total of UAH 20 billion. During the 8 months, Ukrainian Railways purchased 2.3 thousand railway cars as compared to a total of 2.7 thousand in 2017.
Still, it is not clear which sources of investment were used in the current year. So, we cannot put the blame on the Ministry of Finance and the State Treasury Service. In addition, other executive authorities play an important role here. They did not manage to ensure cooperation with international financial organizations and create public-private partnership instruments. The President and the Prime Minister also have a role to play, as they are central to political decision-making and creating the investment climate.

Impetus for the domestic market
In 1990, 68% of produced rolled products were consumed in Ukraine. Due to a downturn, drop in investments in construction and fixed assets, the domestic market became tight. Steelmakers started looking for markets abroad. Since then, the domestic market accounted for less than 20%.
In 2016–2018, an annual volume of the Ukrainian domestic market was 4 to 5 million tons. It was quite low compared to the population and the GDP. According to WSA, in 2017, annual steel consumption per capita amounted to 101.5 kg in Ukraine. It is 2.8 times less than in Russia, 2 times less than in Romania and 4.5 times less than in Turkey.
Ukraine has a substantial capacity for increasing domestic consumption, mainly through construction, infrastructure construction first of all. However, this capacity is limited by a low GDP growth rate. According to the forecasts of the Ministry of Economy, it will be 3 to 4% per annum during the next three years. The National Bank of Ukraine and international financial organizations are even more restrained in their assessment of economic revival prospects. Therefore, given the current economic policy, if no target programs and strategies are implemented, domestic steel consumption per capita in Ukraine will remain one of the lowest in the world and the domestic market volume will stick to the current level.
If the status quo is preserved, we'll have to rely on exports. Yuriy Ryzhenkov, CEO, Metinvest Holding, made a good point: "The European market is a domestic one for us as we sell 40% of our products there."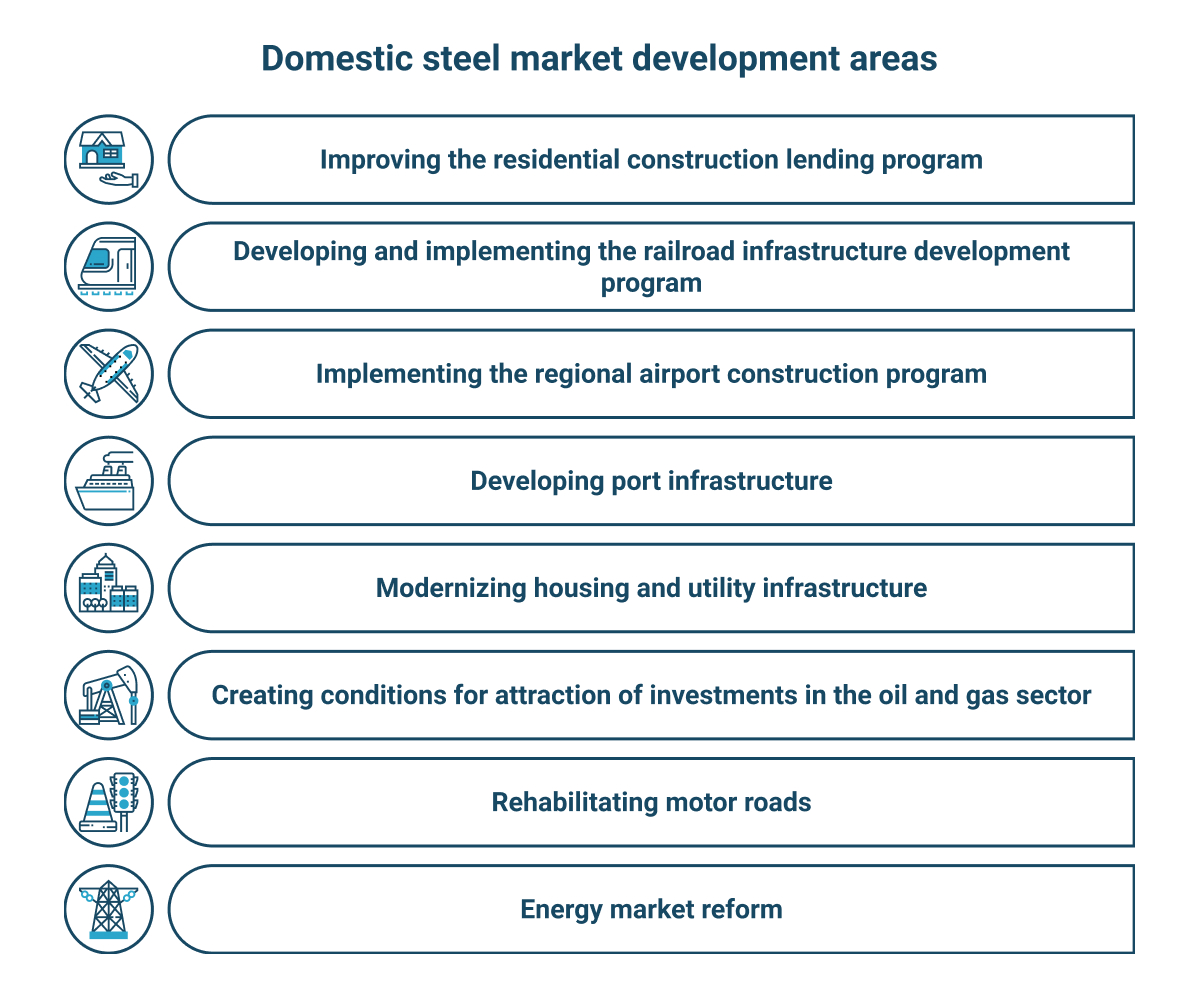 Expectations in 2019
In 2018, steel production remained at the level of 2017 despite the fact that the data on the companies located in the uncontrolled territory were included in production volumes last year. In fact, it means that production increased by 1.5%.
Market conditions are favorable, and this year's growth could have been higher. However, the situation was substantially influenced by ArcelorMittal Kryvyi Rih РJSC (AMKR) where blast furnace No. 9, the largest in Europe, with the capacity of 4 million tons of pig iron per annum, was stopped for repair. AMKR is expected to make a large contribution to production growth next year. Increased production is also expected at Ilyich Iron and Steel Works, where continuous casting machine No. 4 will be put into operation by the end of the year.
The 2019 forecasts are positive if favorable conditions in external markets and well-balanced regulatory policy are preserved. Next year, steel production in Ukraine is expected to increase up to 22.0–22.3 billion tons, or +3.5–4.5% as compared to the current year. It is higher than the overall economic growth forecasts. Steel industry is again among the leading sectors of the Ukrainian economy.
---