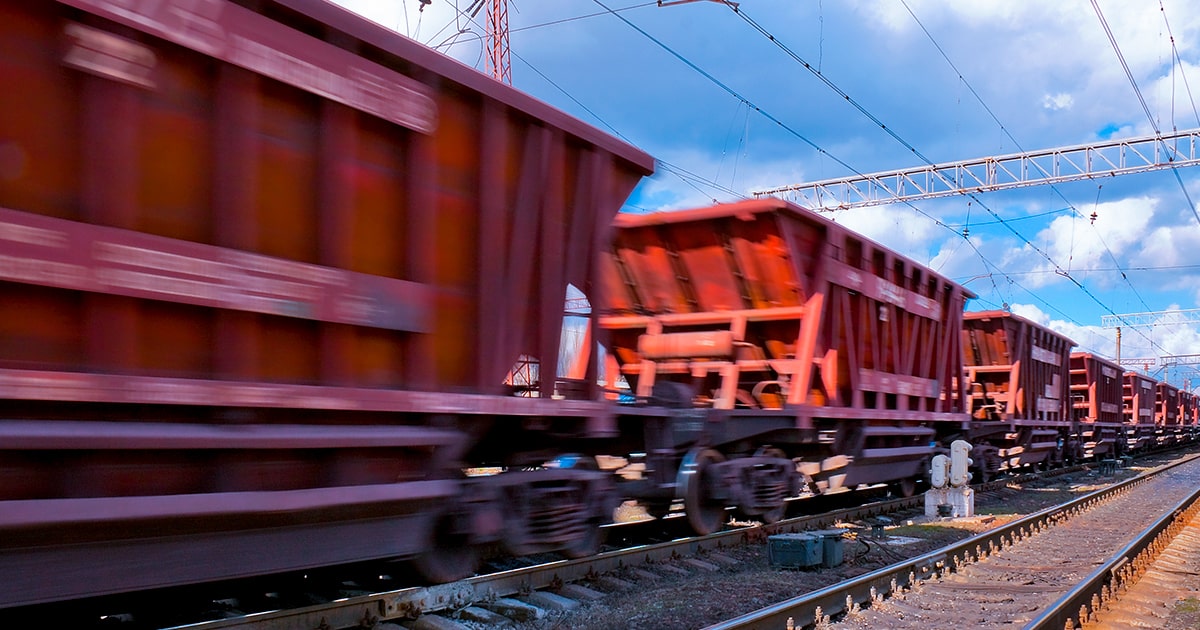 Ukrainian iron ore exporters prefer lucrative European markets with short haul transportation
Last year, Ukrainian steelmakers continued increasing iron ore exports to Europe. By contrast, exports to Asia decreased.
In 2018, iron ore supplies to Asia decreased by 22% as compared to 2017, down to 11.7 million tons. In particular, China reduced Ukrainian iron ore imports by 25%, down to 8.9 million tons, and Japan — by 17%, down to 1.01 million tons. At the same time, exports to Europe increased by 12%, up to 24.8 million tons. Serbia increased Ukrainian iron ore imports by 58%, up to 1.95 million tons; Poland increased them by 26%, up to 5.5 million tons; the Czech Republic — by 14%, up to 5.2 million tons; Germany — by 13%, up to 1.6 million tons.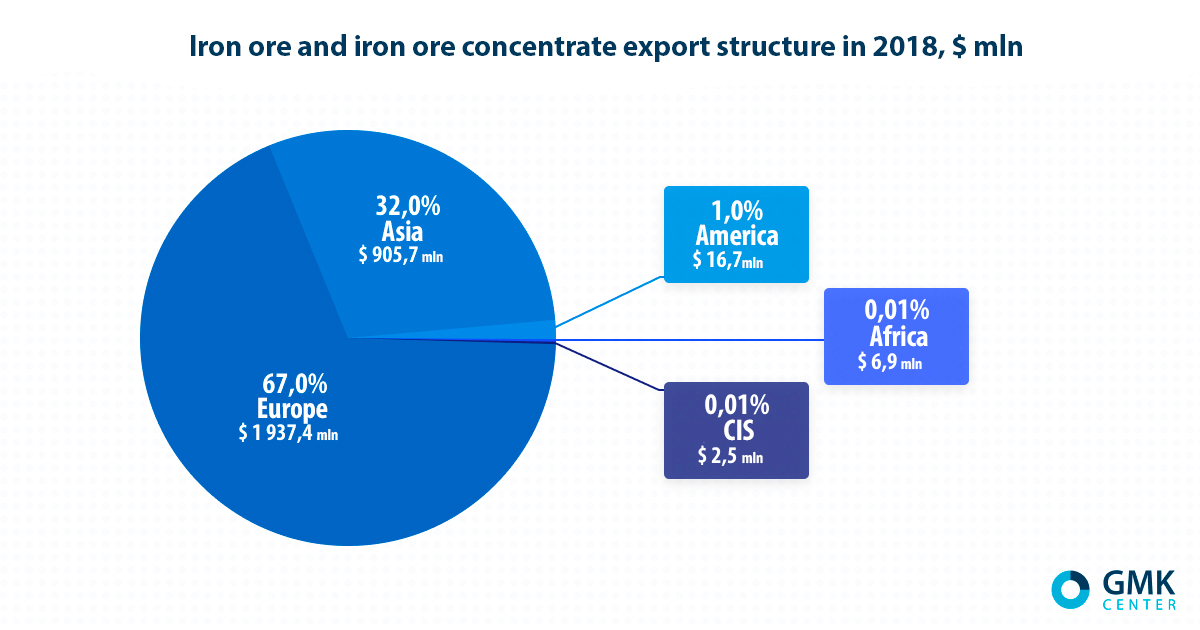 In general, during the year, the domestic mining & metals sector increased iron ore exports in monetary terms by 11%, up to USD 2.87 billion. However, the volume of exports dropped by 1.3%, down to 36.9 million.
Course towards Europe
The Ukrainian mining & metals sector has been increasing iron ore exports to Europe in the recent years. In 2016–2018, supplies to European countries were up by 15.5%, or by 3.3 million tons. In 2016–2018, the European market's share in the iron ore export structure increased from 54.7% to 67.1%. Supplies to the largest Asian markets (China, South Korea and Japan) declined by 36.5%, down to 10.7 million tons. In 2016–2018, the share of these three countries in the iron ore export structure decreased from 42.8% to 28.9%. The Chinese market's share decreased from 37.5% to 24.1%.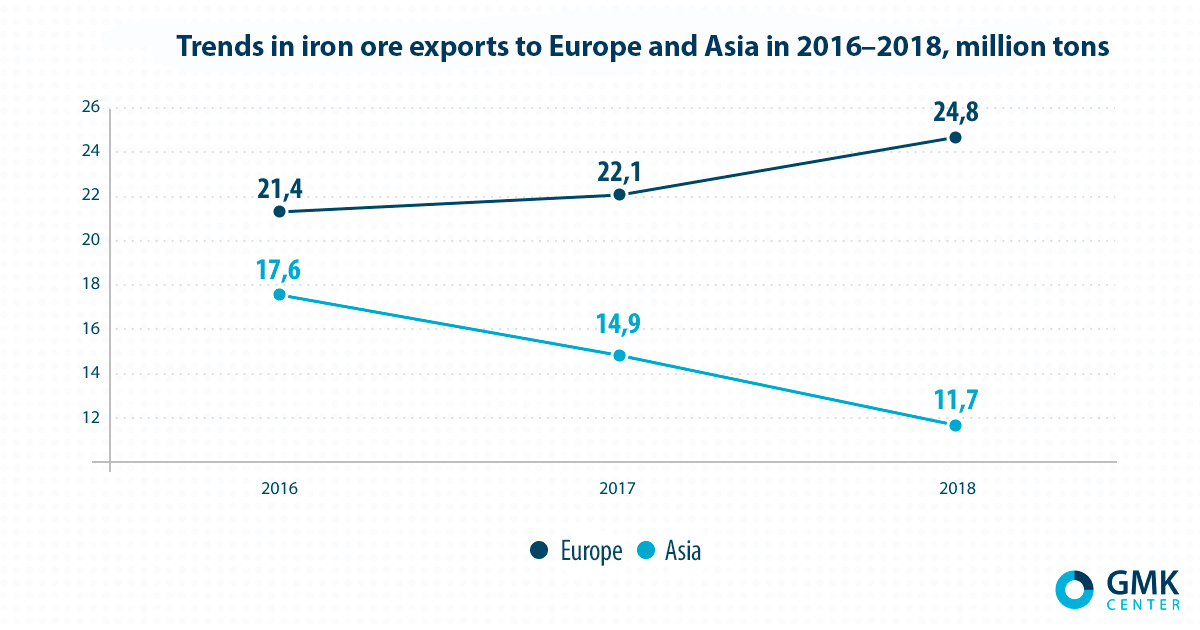 According to Dmytro Khoroshun, analyst, Concorde Capital investment company, Metinvest's supplies had a decisive impact on the increased exports to Europe. In 2018, Metinvest (Northern GOK, Ingulets GOK, Central GOK) decreased its supplies to China by 2 million tons, while increasing its supplies to Europe by 1.2 million tons. The expert assumes that the Southern GOK also cut its supplies to China by around 1 million ton.
Why this shift?
Experts identify purely economic causes of the increased iron ore exports to Europe. Andrii Glushchenko, analyst of GMK Center, believes that the European market is more attractive for Ukrainian mining and processing companies than the Asian market.
"First of all, it is due to lower transport costs," he says. "In the Asian market, Australia and Brazil are strong players because they are geographically closer, hence lower delivery costs."
The increase in supplies to the European high-margin market is a quite reasonable trend. Ukrainian exporters make more money in this market compared to other markets.
"I hope this trend will continue in 2019," Dmytro Khoroshun added. "Still, I would like to note that, according to my estimates, in 2018, exports of sintered iron ore (mainly pellets) to Austria dropped by 0.6 million tons, mainly due to the reduced Ferrexpo's volumes."
Decreased iron ore exports to Asia is not a prerequisite for the development of the European direction. In fact, Ukraine still has some free capacities. Though Ferrexpo works at full capacity, it has got an extra capacity of 1 to 1.5 million tons. While Metinvest might significantly ramp up its production. In 2018, the company produced 27.3 million tons of concentrate, while in 2013, it produced 36.9 million tons.
"I believe that in 2019, due to the Vale dam collapse in Brazil and expected shortage in the iron ore market, a question will arise whether Ukraine can substantially increase iron ore exports on all routes instead of switching some volumes from one route to another," says Dmytro Khoroshun.
At the same time, Denys Sakva, Senior Analyst, Dragon Capital investment company, reminds that decreased pellet supplies from Brazil after the Samarco accident in 2015 created an opportunity for Ukrainian manufacturers to supply high-Fe pellets. Ferrexpo and Metinvest seized this opportunity.
"European markets are natural for our companies due to their proximity and short haul transportation," Denys Sakva explains. "China is a low-margin market. Japan manufacturers set strict requirements to the raw material quality and stability."
Iron ore export prospects
According to expert estimates, this year regional directions of iron ore exports will not substantially change. Europe will remain a priority.
"In the past years, the European market has shown an increase in production capacity utilization rate", says Andrii Glushchenko. "Consequently, a demand for iron ore has been growing. According to our estimates, steelmaking capacity utilization rate in the EU increased from 71% in 2016 up to 79% in 2018. An increase in capacity utilization rate can also be attributed to the recently introduced steel import restrictions in the EU. They will be in force till 2021. Therefore, one may expect that in the nearest future, iron ore supplies to the European market will remain a priority for Ukrainian companies."
Generally speaking, optimistic expectations about Ukrainian iron ore exports have a negative basis. We're talking about the accident at Vale tailings dams in Brazil, which caused a raw material shortage in the global market. In Denys Sakva's opinion, the market will lose up to 70 million tons of iron ore and around 11 million tons of pellets due to the accident.
"Metinvest might have a chance to increase iron ore production and exports to the tight market after the Vale accident in 2019," Dmytro Khoroshun believes. "Decreased Vale supplies might create an extra demand in any market. This year, the strategy towards increased sales in the European high-margin market, announced by Metinvest, might cover sales in other various markets."
However, Ferrexpo might also take this chance. "The company declared its intention to maintain large supplies to highly solvent iron ore consumers. In particular, Ferrexpo needs it to maintain a sufficient value of contracts securing the pre-export financing facility. Both Ferrexpo and Metinvest will prefer selling at a good price, i.e. nearby (in Europe). However, Ferrexpo mentioned that Asian buyers (Japan, South Korea and Taiwan) are among the best as they are very resistant to crisis. That's why the company wants to increase supplies to this region. In other words, it is now apparent that after the default and debt restructuring, in its sales strategy, Ferrexpo provides for both here-and-now profit and long-term risks associated with stability of both sales and financing," says Dmytro Khoroshun.
At the same time, Denys Sakva believes that extra demand and exports will be limited by our manufacturers' capacity to increase production. This year, Ferrexpo will have a scheduled repair of its pellet production line, so production is likely to remain at the last year's level. Metinvest can increase its production by several percentage points.
 Price prospects
On the one hand, after the accident in Brazil, iron ore prices have soared.
"After the dam accident in Brazil, iron ore (62% Fe) futures prices shot up by 18% last month," says Andrii Glushchenko. "In the spot market, prices showed a modest growth by 10 to 15% depending on the iron ore grade. Raw material shortage will keep prices high until the issues related to increasing supplies from other sources are settled."
On the other hand, it is important to take into account China's demand. If China does not launch a strengthened monetary/fiscal program to boost the economy in general and the real estate market in particular, the effects of decreased supply in the iron ore market due to the Vale dam accident can be offset by China's decreased demand.
"In this case, the price can go down from the current $80 to 90 per ton (delivery to China included) to $60 to 70 per ton," Dmytro Khoroshun assumes.
According to him, if China takes another round of incentives, the price can remain in the range of $70 to 90 per ton in 2019. Unfortunately for Ukrainian importers, so far, China has been far from boosting its real estate market that is critical to the steel and iron ore demand.
However, there is a hope that 65% Fe pellet prices will be more stable. The Vale accident will result in the suspension of pellet feed production capacities in the amount of 11 million tons per annum. Pellet production is likely to decrease by the same amount, which accounts for around 10% of the global volume of free trade in pellets. Ukrainian pellet exporters, Metinvest and Ferrexpo, hope that the price will remain at the current level of $140 per ton or even go up.
---