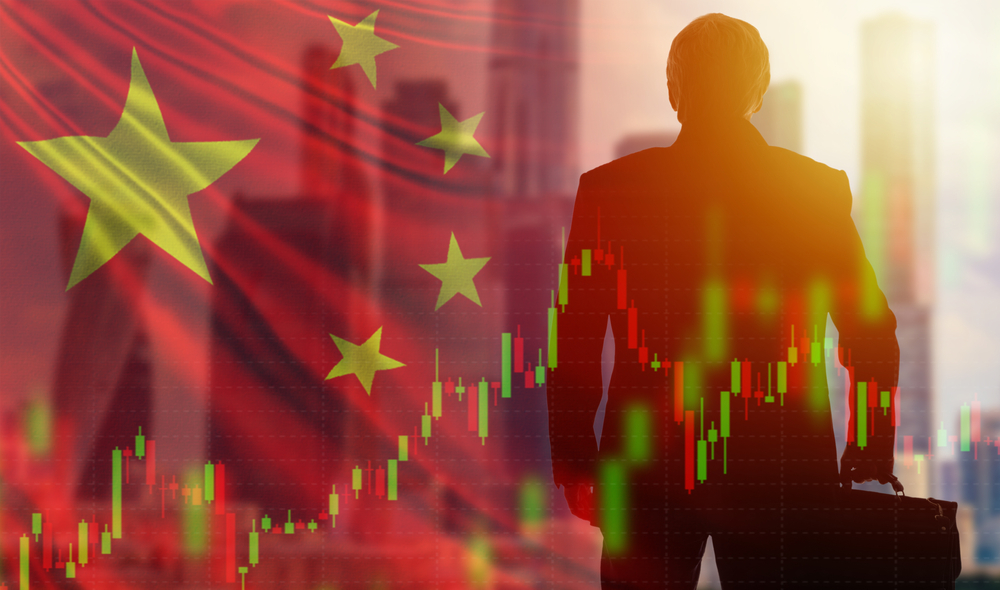 China wants to achieve economic growth by 5% in 2023, which will increase demand for steel and can support the steel sector in the world
Economists once again look to China as a possible driver of economic growth for the entire global economy. The country's authorities have set an ambitious goal of economic growth, but it is not yet clear whether this will be accompanied by an appropriate scale of economic stimulus measures.
Aim high
Amid high geopolitical risks, strong inflation and remaining energy risks, China may once again pull the global economy to acceptable growth rates. In 2023, the Chinese authorities set a goal of raising GDP by 5% in 2023. This is lower than last year's government target of 5.5%, which was never met. In 2022, the country's economy increased by 3% due to the impact of the government's strict COVID-19 policy. Simultaneously with setting the target, the Chinese authorities did not present the large-scale economic stimulus plans expected by analysts. No doubt there will be stimulus measures, but they will not be excessive and oversized.
The recovery of economic activity in China is not yet so obvious. The country's macroeconomic indicators are still mixed. In January-February, there is a certain improvement in certain indicators:
growth in industry amounted to 2.4% y/y (expected – 2.6% y/y);
retail sales increased by 3.5% y/y (3.5% y/y);
investment in fixed assets increased by 5.5% y/y (4.4% y/y).
Business activity indices also show growth. China's Purchasing Managers' Industrial Index (PMI) rose to 52.6 in February, much stronger than expected (50.5). The index value exceeds this level in the industrial sector for the second month in a row.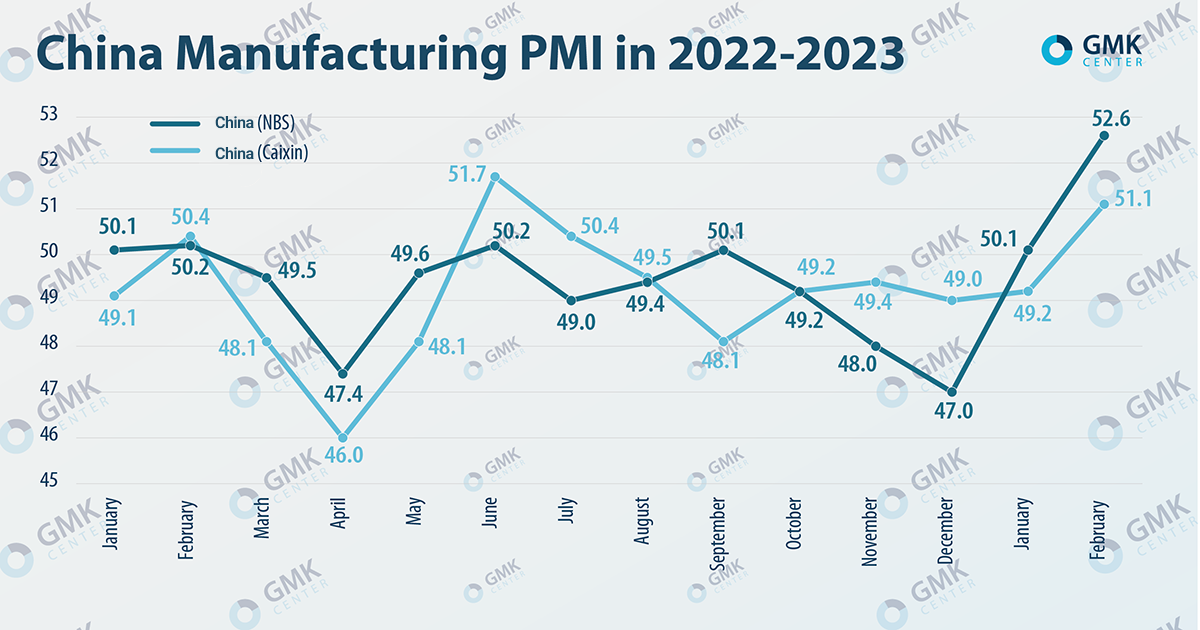 Reference: the index above the 50 points indicates an increase in activity.
The aforementioned NBS index is calculated by the state, and the other one – Caixin – is calculated by consulting companies. Therefore, the latter may be more objective.
At the same time, foreign trade is still showing a decline. In January-February 2023, exports fell by 6.8% – to $506.3 billion, imports – by 10.2%, to $389.4 billion. Chinese exports have been falling for four consecutive months amid weakening global demand.
On the one hand, the January lifting of COVID-19 restrictions in China, the resilience of consumer demand in the US and the improvement in global demand should support the high growth rate of the Chinese economy. Analysts have recently improved their forecasts for China's economic growth this year to above the target:
IMF – by 0.8 percentage points, up to 5.2%;
Fitch – from 4.1% to 5.2%;
OECD – from 4.6% to 5.3%.
On the other hand, the new goal of economic growth dynamics is quite difficult to achieve due to the country's systemic problems:
high debt load and debt servicing costs – the total volume of loans in China's non-financial sector reached $54.5 trillion, or 310% of GDP in 2022;
the exhaustion of the growth model based on the flow of the rural population to the cities, as well as the high level of youth unemployment;
the ongoing crisis in the real estate market – in monetary terms sales by the end of 2022 have almost halved;
the level of incentives may not be sufficient to accelerate the development of the economy.
In addition, China's intention to return to 5% economic growth will lead to increased competition with Europe for energy resources, in particular, liquefied gas.
"On the one hand, everything that is positive for China is favorable for the global steel and raw materials markets. But today there are fears that Chinese stimulus could sharply increase demand for LNG imports to China, which would raise energy prices in Europe and prevent inflation from returning to target levels. One of the main risks in the energy sector," says Andriy Tarasenko, chief analyst GMK Center.
Steel rebound
Just as the Chinese economy is important to the global economy, the situation in the Chinese steel industry is important for the development of the steel market in the rest of the world. China determines not only market trends, but also prices.
For the past two years, China has been reducing steel production. In 2022, steel production in the country decreased by 2.2% y/y – to 1.01 billion tons, and in 2021 – by 3% y/y, to 1.03 billion tons. Steel consumption in China decreased by 3.3% y/y last year – to 914 million tons.
There are many reasons for this situation:
falling demand for steel products from the construction sector;
zero tolerance policy for COVID-19, which forced to stop production and construction;
high energy prices and rising inflation;
administrative restrictions on steel production in China at the beginning of 2022 to reduce emissions, etc.
At the beginning of this year, the situation changed. China in January-February 2023 increased steel production by 5.6% compared to the same period in 2022 – up to 168.7 million tons. Pig iron production in January-February by 7.3% y/y – up to 144.3 million tons. The level of utilization of China's blast furnace capacities, which operate 247 steel plants in the country, as of March 16, reached a 5-month high since October 2022 – 88.3%.
Chinese steel mills are ramping up production, expecting product demand to pick up on pent-up demand after the lockdown eased and the start of the construction season in March.
The positive forecast for steelmakers is based on the improvement in the transport, shipbuilding and real estate sectors, which show the best trends amid state support.
Eastern incentives
To achieve the target of 5% economic growth, the amount of stimulus must be appropriate. But, according to Bloomberg, the country's top leadership avoids major stimulus to stimulate the recovery in consumer demand that has already begun.
Central and local governments are likely to reduce large infrastructure investments, and their growth will slow down.
On the other hand, support has already been launched – incentives for the real estate sector have been earned since November last year. The main changes included the abolition of limits on bank lending to developers, the extension of their repayment periods on loans and bonds, etc. So far, these support measures have not been able to intensify the construction or sales of apartments. Home loans grew by just 1% in 2022 compared to 11% in 2021. Therefore, in January, a new 21-point plan was announced aimed at providing liquidity to developers. For example, commercial banks are encouraged to provide financing for stalled projects.
The first months of this year showed the priorities of the Chinese authorities. The growth of investment in infrastructure in China in January-February 2023 amounted to 9% y/y, but investments in real estate in this period decreased by 5.7% y/y (in 2022 this indicator decreased by 10% compared to 2021). Rising investment in infrastructure can be contained by already accumulated debts. Previously, local authorities took out loans for infrastructure construction, but now their level has reached too high level. To pay off old debts, local authorities are forced to use even more expensive sources of financing. Analysts predict that real estate sales in China will increase by about 5% this year, while real estate investment will continue to decline. Real estate and infrastructure account for about two-thirds of China's steel demand.
Steel trends
The growth of domestic steel consumption in the country is likely to lead to an increase in imports of iron ore and coal, including Australian. China lifted trade restrictions on coal imports from Australia. The growth in iron ore consumption in China, in turn, will support prices for this raw material. Analysts at Goldman Sachs predict that in the second quarter of 2023, amid a shortage of supply, the price of iron ore will average $150 per ton.
In the medium term, China's iron ore consumption will decline as steel production stabilizes, as the use of scrap by steel mills does. Although China's scrap metal consumption decreased by 1% last year – to 225 million tons (in 2021, it will grow by 11%, to 245 million tons), but the growth prospects are very significant – the plans of the Chinese authorities include an increase in the share of use of electric arc furnaces.
China also plans to increase the consolidation of the steel industry and thus increase control over the prices of raw materials and accelerate the decarbonization of the industry.
Given the situation at the beginning of the year, China's annual steel output is expected to be at the level of 2022 or even increase slightly.
"Demand for steel products in China is expected to stabilize or grow slightly this year. However, problems remaining in the Chinese economy, such as weak export demand, decreasing margins due to higher commodity prices and geopolitical tensions, make it less clear that the recovery will last throughout the year. Leading producers will continue to consolidate China's steel industry, which will strengthen their bargaining power, especially with coal and iron ore suppliers", note Moody's analysts.
Earlier, the Worldsteel Association (as of October 2022) predicted that steel production in China will remain at the level of the forecast for 2022 – 914 million tons. At the same level and unchanged in relation to 2022, demand for steel in China is expected in 2023 – 914 million tons.
---
---