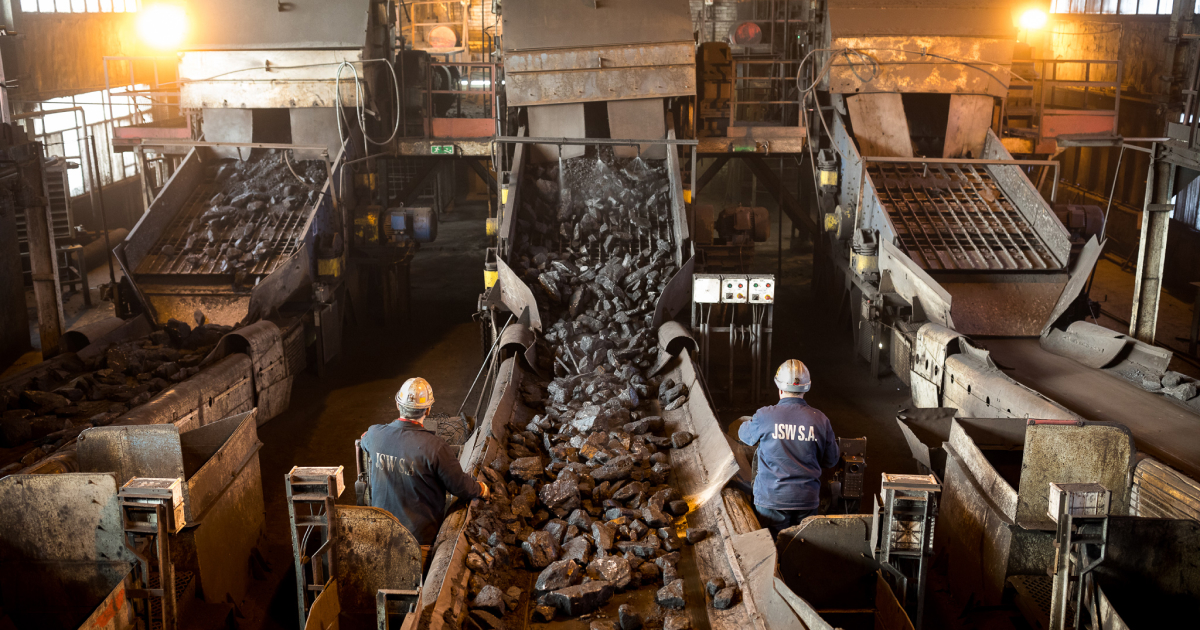 Jastrzebska Spolka Weglowa
Coal production decreased by 4% y/y, and coke production – by 11% y/y
In January-June 2023, the Polish producer of coking and thermal coal Jastrzebska Spolka Weglowa (JSW) reduced sales of metallurgical coke by 5% compared to the same period in 2022 – to 1.7 million tons. Kallanish reports about it.
Sales of coking coal during this period remained at the level of last year – 3.3 million tons. At the same time, the share of domestic sales fell by more than 3 percentage points – to 65.4%. Coal production fell by 4% y/y – to 5.4 million tons, and coke production – by 11% y/y, to 1.6 million tons.
The company's revenue for the first half of 2023 fell by 21% y/y – to 8.5 billion zlotys, and net profit – by 44% y/y, to 2.05 billion zlotys. The decline is mainly due to lower sales prices.
The main consumers of the company's products were Poland – 45%, Austria – 16%, the Czech Republic – 15%, India – 9%.
JSW's Q2 2023 consolidated revenue fell 31% y/y – to PLN 4.14 billion, while net profit fell 67% y/y – to PLN 786.8 million. The average selling price of coking coal in the second quarter increased by 1% compared to the first quarter – up to 1,235 thousand zlotys, and the selling price of coke increased by 7% q/q – up to ​​1,699 thousand zlotys.
«While supply disruptions boosted spot coking coal prices in the first quarter, prices fell consistently in the second quarter due to weak global demand for coal due to lower steel production and unmet expectations for a recovery in steel demand,» the statement said.
Deteriorating sentiment in the steel market in Q2, combined with an oversupply of coke and strong competition from Chinese suppliers, led to a drop in prices in Europe.
«Despite numerous risks, the war in Ukraine has strengthened JSW's position as a local reliable supplier of raw materials for steel production, as evidenced by the recently signed long-term contracts,» the company comments.
In 2022, JSW reduced external sales of coking coal by 7% y/y – to 6.4 million tons, while sales of coke fell by 11% – to 3.2 million tons.
In the IV quarter, the company reduced the total volume of coal production by –2.9% compared to the same period in 2021 – to 3.47 million tons. Production of coke during this period amounted to 680 thousand tons, which is 23.6% less y/y, and coking coal – 2.76 million tons (-0.4% y/y).
As GMK Center reported earlier, JSW recently signed a financing agreement under the Sustainability Linked Loan formula for decarbonization and sustainable development of its facilities in the amount of 1.65 billion zlotys ($392.3 million). This is the first such financing of the mining industry in Central and Eastern Europe.
JSW targets set out in the SLL include reducing greenhouse gas emissions (compared to 2018) by 27% by 2026 and 30% by 2030, increasing methane capture to 50% by 2026 and methane management at the level of 90% by 2026.
---
---