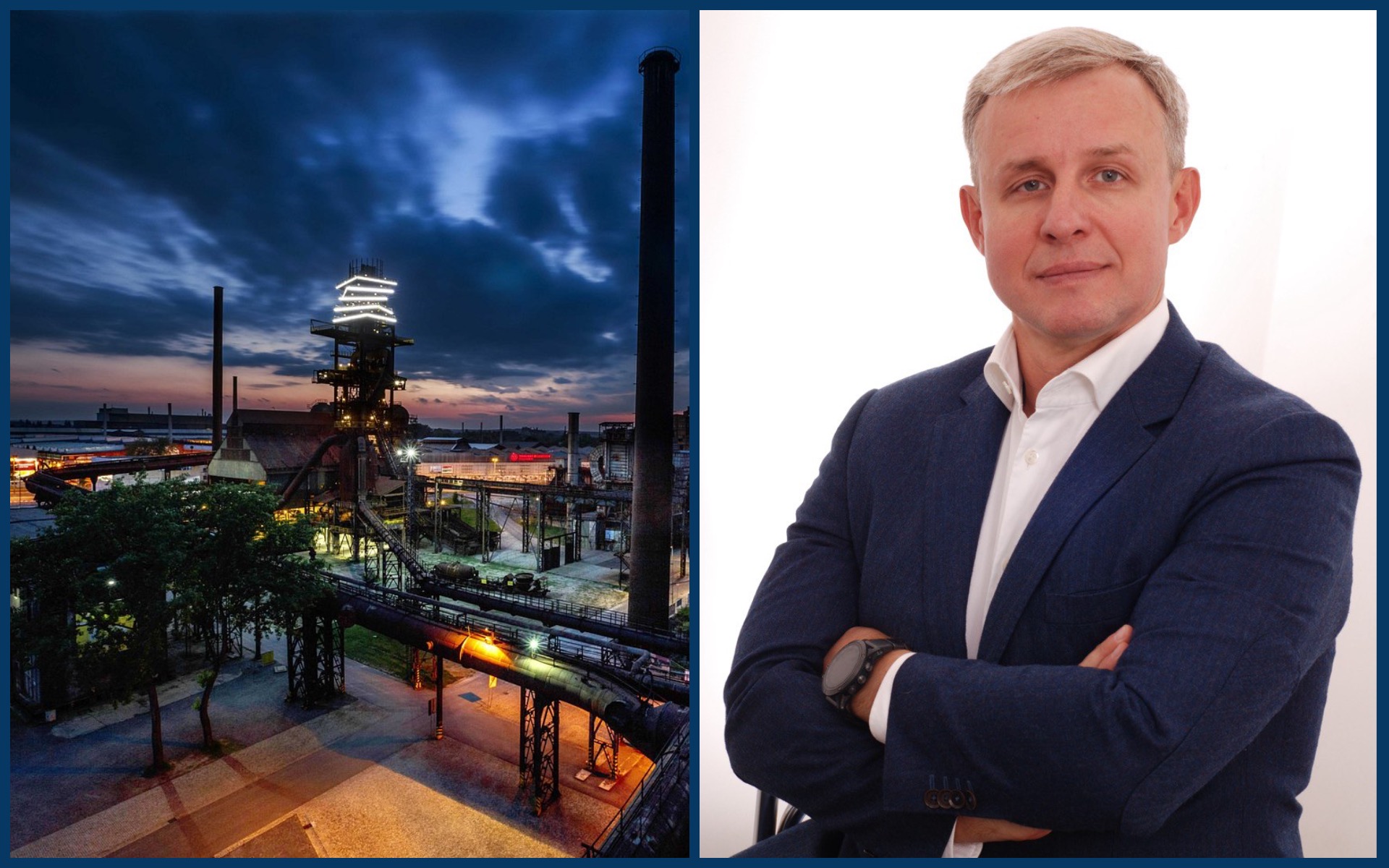 The company is currently increasing production and reorienting
Vitkovice Steel is the only producer of hot-rolled plates in the Czech Republic. The plant is located in the city of Ostrava, which is called the steel heart of the Czech Republic. Today the main specialization of the company includes three areas – production of Larsen sheet piles, hot-rolled thick plate with thickness from 5 to 200 mm, as well as complex-form of cut shapes.
GMK Center spoke in this interview with Anton Makodziob – representative of Vitkovice Steel plant responsible for development on the Ukrainian market.
Tell us a little about the company.
— Vitkovice Steel was founded in 1828 in the then small town of Ostrava, surrounded by picturesque mountain ranges. Back in the 16th century, coal was found in this place, various ores were discovered, and the first mine was launched in 1776. And where there is coal, there will be steel!
Vitkovice Steel, like many companies, was originally a fully integrated metallurgical complex – its own mine, coking plant, blast furnaces, pig iron foundry, steel production, rolled products and machine building. After the new regulations in the European Union were adopted, the coal mines were closed, the coke plants, blast furnaces and the industries within the city limits were shut down. There is only one combine left, which is far outside the city.
On August 30 we finished removing the last ton of waste left from the steel workshop. And on the place where the old factory used to be, one of the world's largest technology parks and museum Dolni Vitkovice is located. The plant was completely turned into a museum! The blast furnace was left just as it was after it was shut down – it was not even cleaned. Everyone can come and see what it was like from the inside. It is a large museum, and various exhibitions, conferences, excursions, discos, and performances by famous artists are held there now.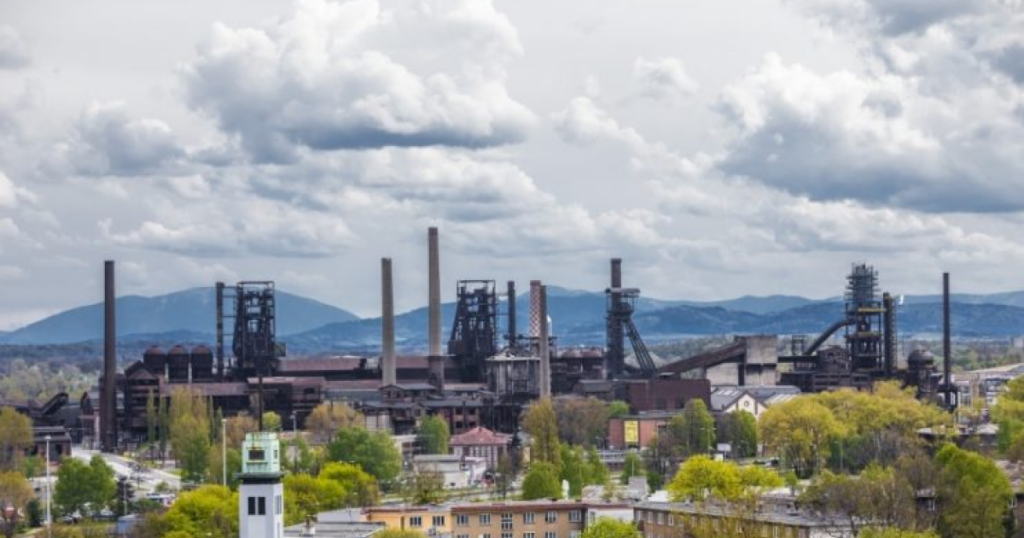 Interesting idea…
— Yes, the plant is out of operation, but there is a real museum there. Cyclists and parkourists gather there, and a restaurant has been built on top of the blast furnace – you can climb up and see the whole city in the palm of your hand. What they have done with the old mines is also a museum. People come here in cars, put up tents, camping, they made bicycle paths and the level of these paths is such that you can ride rollerblades – the asphalt is just perfect. People are happy, skating, having a rest.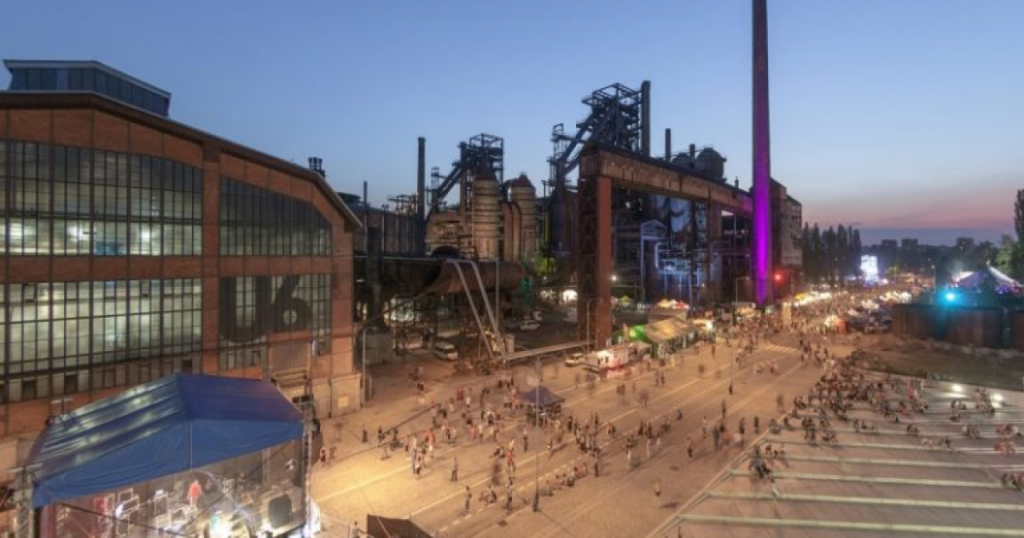 Therefore, today our company is exclusively engaged in rolling production: hot-rolled thick plate, Larsen sheet pile and groove and complex cut shapes according to drawings of any complexity from our customers in any scale for the most diverse projects.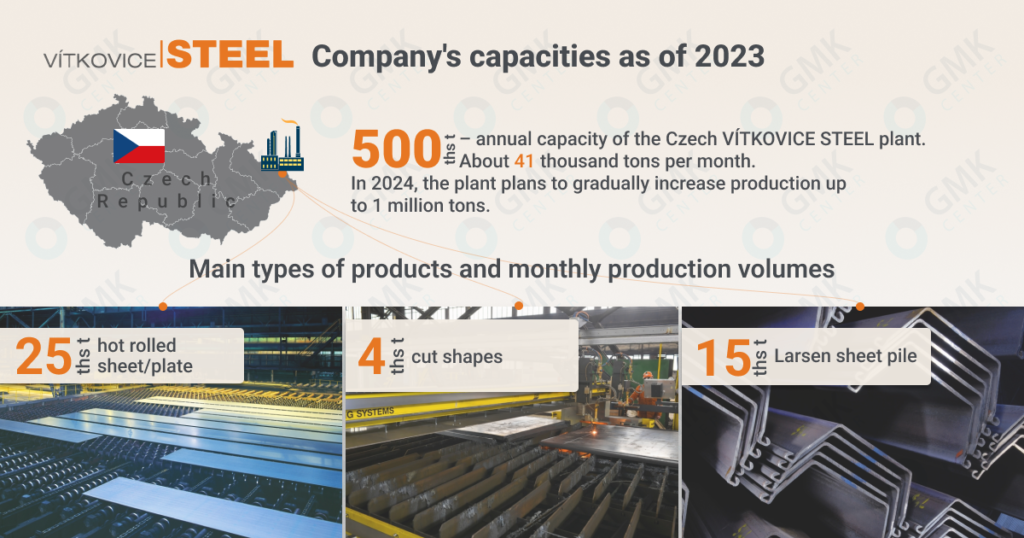 Why is steel becoming more and more in demand today?
— The construction of the future in Ukraine implies more and more use of steel. We will not go anywhere from this, because steel means speed of erection and accuracy of the construction process, reliability, high strength and flexibility of structures, and at the same time the ability to build at any time of the year!
I believe that in the future Ukraine will use advanced technologies, taking into account both economic parameters and aesthetic appearance of steel structures in design, which will play an important role. If you look at it, all steel structures look more graceful and beautiful, which makes them preferable in modern construction, and studies show that in 80% of cases architects prefer steel over concrete. Importantly, all steel structures are more environmentally friendly, both in terms of production and recyclability. Up to 94% of steel can be recycled and reused. This helps to reduce harmful carbon emissions and supports an environmentally friendly approach.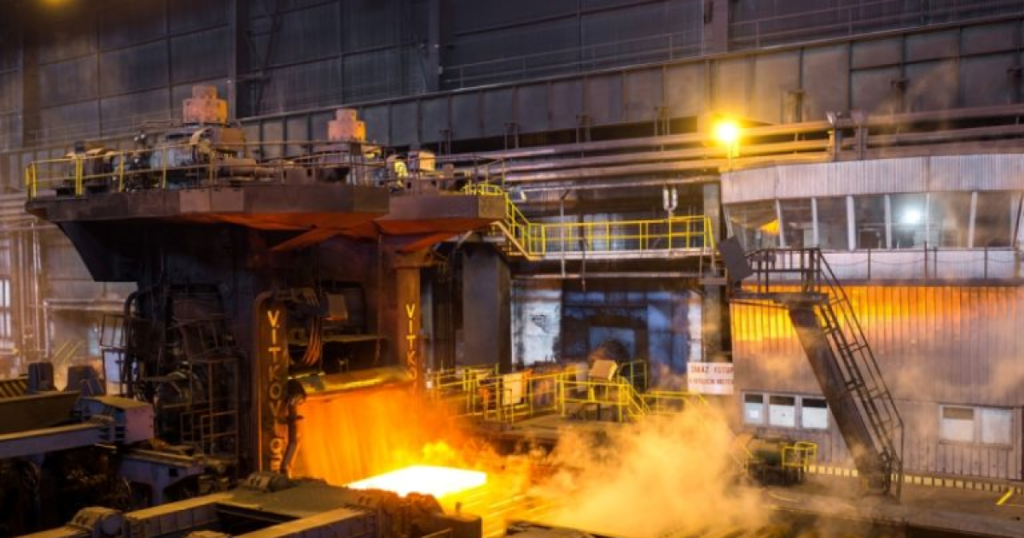 What about in Ukraine?
— We had certain steel utilization rates before the war – both in the construction sector and in industry – and they were gradually increasing. What do we have today? The two largest producers in Ukraine (Azovstal and Ilyich Iron and Steel Works) have been destroyed, and the country is facing a severe shortage of production capacity plus an increase in consumption, which is guaranteed to grow at least fourfold after the war. I can see this from the fact that thousands of bridges, tens of thousands of residential houses and buildings, and entire cities in ruins have been destroyed, add to this the increase in steel consumption due to the fact that there will be a change in the culture of using steel in absolutely all types of construction.
Taking into account all the combined factors, we are going to double production at our plant to 1 million tons per year.
Your plans for the near future are to expand production. What else?
— I will talk exclusively about plans that are relevant to the Ukrainian market. My main task is to analyze, research the potential and control the market situation in the short and long term. This work allows me to prepare various programs of participation of our company not only in commercial projects, but also in large-scale infrastructural and humanitarian projects in Ukraine through intergovernmental cooperation between Ukraine and the Czech Republic. It is not a secret that every company in the Czech Republic has ready-made solutions in its field of activity for restoration of objects in Ukraine.
The next point – I call it the elimination of mental barriers to doing business. One of the examples: in Europe everything is very simplified and clear, there are no such complexities neither with the document flow, nor with the execution of documents for customs and tax authorities, as in Ukraine. Therefore, many of the requirements that come from the Ukrainian side are, to put it mildly, bewildering in the Czech Republic, and in such trifles we get an increase in shipping times.
At the same time, we have already signed a large number of contracts, trial deliveries, work with banks, payments, logistics and quality checks are underway. It is very gratifying that we receive the highest evaluation of our products. What I want to note is that today any company that wants to buy our rolled products, whether it is one truck or thousands of tons, comes and buys – at this stage we are ready to work with absolutely everyone! We are looking for reliable predictable partners with whom we will build long-term relationships!
All this is done in order for us to lay the foundation that will allow us to thoroughly understand how we can guarantee production and just-in-time fulfillment of large-scale deliveries in the future. For example, the construction of even the smallest bridge means 500 tons of steel. And if we are talking about a large project, say, a bridge over the Dnieper River, it is thousands of tons. Strengthening or construction of port infrastructure is at least 4-10 thousand tons of Larsen sheet piles.
How do you assess logistics risks?
— We've gone the other way. Almost all of our deliveries are made by truck. Accordingly, we accept that in the current situation, no one is immune to either a drone attack or a missile attack. But we realize that if something should happen, it will happen. And because of this, we should not stop our work or our intentions to work in Ukraine, to develop our business here. Absolutely not. We do not put this in our price, but we simply understand that these are the conditions in which we currently live.
What prospects do you see in the Ukrainian market? What request arose for your products?
— Now we receive requests every day. But all of them are based on the principle of «we need it for yesterday», it is hard to say any specific figure – approximately it is about 10 thousand tons of steel plates and 5 thousand tons of sheet piles per month. But these requests can both stretch for two months and reduce to two weeks. To tell the truth, unless you are a regular participant of the Ukrainian market, you will never thoroughly understand the interrelated processes of production, demand and supply.
Are you planning to build any warehouses on the territory of Ukraine or will it be only direct deliveries?
— This is an important point, we are definitely planning it. The first warehouses will be in Kyiv, Lviv and Dnipro. Because we want to respond quickly to market demands. But in the case of deliveries to large infrastructure facilities, no one will bring the products to the warehouse – only directly to the facility directly from the factory. After all, this process will be affected by price/time.
Do you plan to work with government orders on restoration issues?
— Of course, these are our priority plans – the State is always the most important and demanding customer, and to avoid speculation and supply failures in any projects where the State is the customer, only a system manufacturing company like Vitkovice Steel wins on all parameters – best price, delivery guarantee, quality guarantee! We have one of the best certified and modern testing laboratories!
Can you tell us more about the laboratory and quality certificates – how does the certification process work in the EU?
— If we talk about quality, then in our company quality is included in the very essence of the company, quality is a priority and it starts with the work of top managers and is supported individually by each employee! That is why we are trusted and looked up to in quality standards.
VITKOVICE STEEL, a.s. has a quality management system certificate EN ISO 9001:2015 (TÜV NORD) and an environmental management system (EMS) certificate EN ISO 14001:2015 and ISO 45001:2018. We have very sophisticated products that are used in railroads, shipbuilding, power plants. So for each individual area, each product, including our testing laboratory, we have dozens of certificates from various specialized inspection and certification organizations such as TÜV NORD, Lloyd's Register, DNVGL, TZÚS, Deutsche Bahn and many others.
Besides bridges, what other projects are your products used on?
— Larsen sheet piles are used wherever there is a possibility of water management or land collapse, the prevention of erosion, landslides, landslides of coastlines, piers, embankments, bridges, tunnels, roads, dams, etc. d.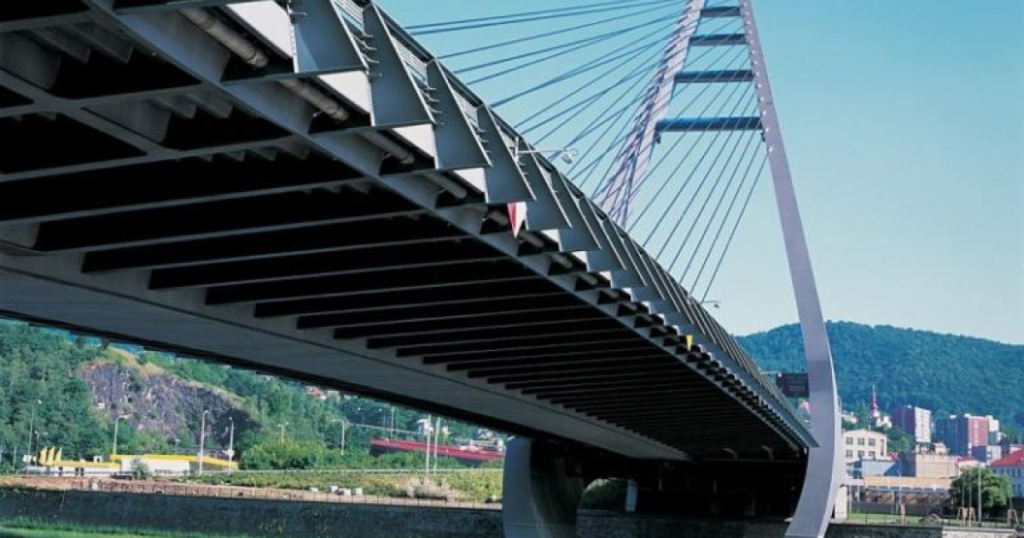 Heavy steel plates are used in applications where high strength and reliability are required: in the construction of bridges, viaducts, dams, dikes, high-rise buildings, airports, stadiums, arenas, subway and surface parking lots, railway bridges, tracks and crossings, subways, mines, tunnels, shipbuilding, docks, floating and underwater platforms, wind turbines, production of tanks and containers for storing liquids and gases, in the production and repair of special automotive, railway and industrial equipment, etc.
Can you tell us about any interesting projects in which your products were used?
— That's the construction of cruise ships. People travel on these liners and they understand that it is not only beautiful, but also reliable.
Our products were used in the construction of the most beautiful train station in Frankfurt, the Olympic Stadium in Berlin, the BMW exhibition hall in Frankfurt, the reconstruction of Charles Bridge in Prague. These magnificent structures were made from our steel, from our sheet. This is the beautiful stadium in Berlin, which is also made entirely from our sheet.
It is very important for us that our sheet was used in the large-scale reconstruction of the famous Bridge Tejo, the hallmark of Lisbon. The construction of beautiful bridges and railway crossings that were built in the Czech Republic, Hungary, Poland, Germany, France – our sheet was used everywhere.
How did the war affect steel consumption?
— At first, steel plate was used only for critical government projects such as the rapid reconstruction of bridges, roads, buildings and shelters. Steel plates were used on such projects. Only where there was a need for quick decision making to save lives – there was the same need as before the war.
As soon as people saw that it was possible to live in this reality, to fight in this reality, they began to settle down, to build infrastructure. Accordingly, steel consumption resumed. Because it is strength, reliability and durability. After all, steel structures do not fold like concrete ones, for example. They are able to withstand impact and do not collapse like brick buildings. Also, steel structures can be repaired, and this should also be taken into account.
Have sanctions against Russia in any way affected the work of your enterprise and sales markets?
— Markets have changed globally. Therefore, if we are talking about what is happening in the Czech Republic, then yes – there have been big changes in the consumption and substitution structure in the Czech Republic and in Europe. We have felt it directly – both in terms of logistics and orders that come to us – we analyze it all and try to fill these niches. As for the sanctions, after the start of the full-scale war, the EU adopted very strict rules restricting any cooperation with companies from Russia and Belarus, so we do not cooperate with such companies and check our contractors very carefully.
Now there is such a general trend in the world towards decarbonization, towards green transformation of the economy – how is your company joining this trend?
— Our company has been involved in all these trends for a long time. Any raw material that is purchased by our company is graded. We study the producer, who has to provide an act, certain documents that relate to the legislation of the countries where all these products are produced, how they promote and work towards decarbonization.
We need to separate such concepts as decarbonization and green initiatives. We definitely allocate money for the construction of parks, treatment facilities, reclamation and greening of territories!
How will your business be affected by CBAM, which will be fully implemented in the EU very soon?
— CBAM will affect everyone. No one will be able to get away from this innovation. We see that they say that the price of steel will increase. Some say 20 euros, some say 50, some say 80, and some say 150. But how does this increase add up? If at the current market price of 700-800 euros we are talking about an increase of 150 euros, that is 20%. That is a catastrophe. No economy can pull that off. If we are talking about an increase in value at a product price of 2000 euros, then it is still more or less possible to talk about it.
They say that steel industry is not a woman's profession. Do you have many women working in your company?
— Of course, we have a lot of women working at our plant in absolutely all departments and workshops, from top management to simple workers and in the most responsible positions and directions.
The world is rapidly moving towards the latest technologies. How does the company monitor them in order to introduce such technologies into its production?
— As at any enterprise that realizes that the future lies in technology, we have special departments that study the possibilities of introducing new technologies. Our specialists try to analyze first of all, and then make conclusions and proposals on how this or that technology can be applied directly at our enterprise. And all the top management of the enterprise, besides being engaged directly in their official duties, reads periodical and specialized literature, visits various exhibitions, conferences, learns what can be useful to us at the plant.
If we do not keep up with the times, we will definitely lose in the future, we simply will not be competitive. Yes, we will be able to produce products, they will be in demand, but the cost of these products will definitely be higher than that of our competitors who use new technologies. We are working actively in this direction.
Now in Europe there is talk about the use of green hydrogen in production. In your opinion, will hydrogen become the fuel of the future?
— It will. On the issue of hydrogen, this is the number one safety system, because it is extremely dangerous and the refueling system should be accordingly. As soon as we come to that, hydrogen has a great future.
You know, I would like to say the famous saying – «Everything that was once a fantasy is now our reality!» The future is in technology!
---
---