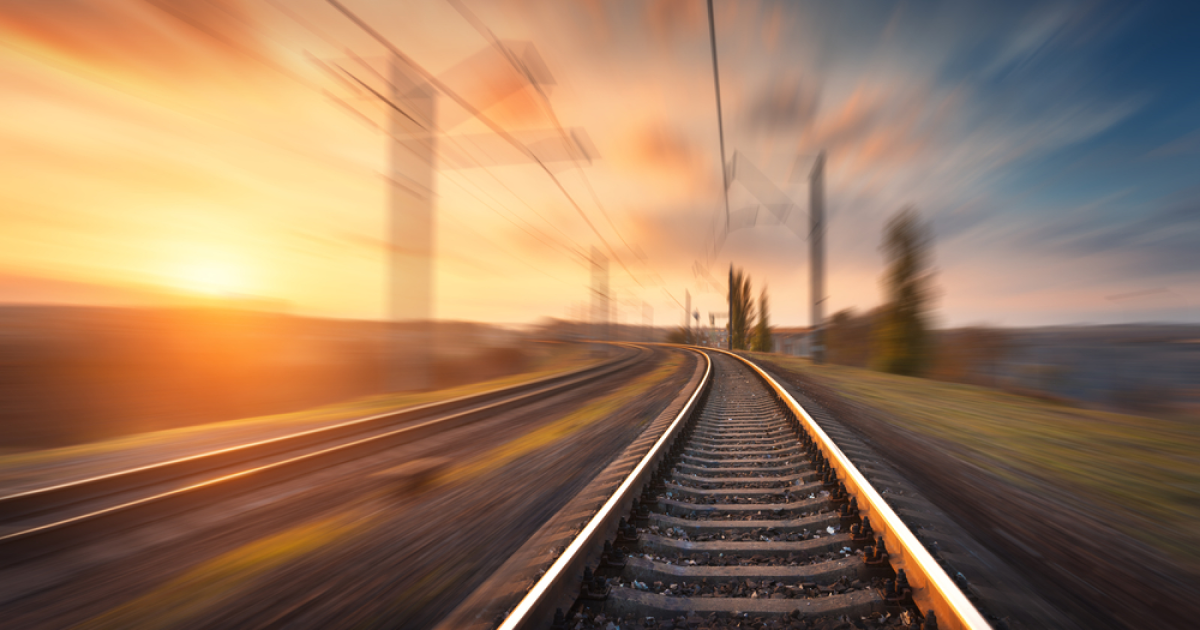 Railway tracks
In 2024, shippers will again see an increase in railway tariffs in the form of indexation and reform of the tariff system
Under the conditions of the war, Ukrainian Railways (UZ) has become one of the most economically and socially important state-owned companies. Its key performance indicators in 2023 continue to show negative dynamics, although UZ has already turned a profit in the first half of the year. Next year, the state-owned company wants to maintain its operating performance by increasing freight transportation tariffs as part of their indexation and, if lucky, a complete reform of the tariff system, which will also lead to an increase in the cost of freight transportation.
Current indicators
Despite the growth of business activity in the Ukrainian economy, the volume of freight transportation by UZ shows negative dynamics. In January-October, UZ reduced cargo transportation by 7.1% y/y – to 120.6 million tons. Over the same period, the decline in export transportation amounted to 15.5% y/y – to 43.3 million tons. The reasons for this situation were the loss of cargo base, closure of the grain corridor and capacity limitations at western border crossings.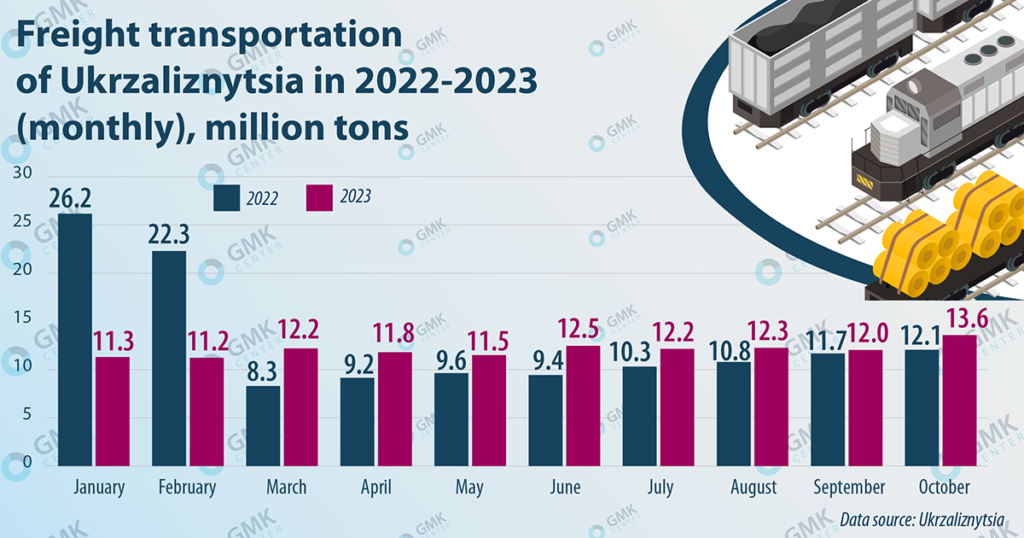 According to the financial plan-2023, Ukrainian Railways expected a loss of UAH 20.2bn this year due to the heavy social burden and restrictions on freight transportation. Recall that in 2022 UZ's loss amounted to UAH 10.8 billion, and this despite the fact that in 2022 the state allocated UAH 9.8 billion to UZ to maintain liquidity. However, the situation in 2023 was much better. According to the results of the first half of the year, UZ has already reached a positive financial result of UAH 4.8 billion, planning to end the year with a small profit.
Ukrainian Railways has already submitted to the Cabinet of Ministers for consideration a financial plan for 2024, which provides for a small profit. UZ does not disclose the figures included in this document. It should be noted that neither the financial plan for 2023 nor for 2024 is publicly available, which is obviously due to restrictions on the dissemination of sensitive information in war conditions.
Factors of influence
The work of Ukrainian Railways is affected by many factors, many of which are negative and difficult to predict due to the war. However, there are also positive ones, as the state-owned company is trying to maximize its functions even under the conditions of war.
The positive factors of the current development of UZ include:
Direct procurement contracts for the supply of diesel fuel, gas, electricity, etc. According to UZ data, more than 70% of annual logistics needs are purchased directly, which resulted in savings of more than UAH 1.6 bln.
Budget support for Ukrainian Railways for the first 10 months of 2023 amounted to UAH 3.5 billion, of which UAH 3 billion was allocated for the purchase of new passenger cars. In November-2023, thanks to additional budget financing, UZ announced a tender for the purchase of 22 more passenger cars for almost UAH 1 bln. The Cabinet of Ministers will provide state guarantees on loans for another UAH 6 bln: UAH 3.9 bln from the European Investment Bank (EIB) and UAH 2.1 bln from the EBRD.
Additional funding from international partners:
EBRD – €200 million loan for emergency financing of capital expenditures and working capital support, in addition to €150 million of emergency liquidity financing issued in 2022.
EIB – a loan of €100 million for the construction, modernization and repair of railway infrastructure, as well as the acquisition of fixed assets for the development of railway freight transportation.
World Bank – $25 million grant for the acquisition and construction of fitting platforms.
Also, Ukrainian Railways can receive funding on a non-repayable basis for the development of individual cross-border projects under the Connecting Europe Facility program.
Because of the war, the negative factors affecting the current work of Ukrainian Railways are much more:
The current performance of the state-owned company is largely independent of itself. The operation of the entire domestic railroad network and the temporary sea corridor are under constant threat of Russian Federation attacks. In other words, these factors and similar ones (e.g., the ban on grain exports imposed in May by five countries at once) can be classified as unpredictable. In addition, the western border crossings, although not utilized at full capacity, cannot be significantly increased in the short term.
Continuation of the practice of cross-subsidization – financing of operating activities at the expense of income from freight transportation compared to significant losses from passenger transportation. In 2022, the loss from passenger transportation amounted to UAH 13.3 billion, in 2023 this figure is expected to reach UAH 15 billion.
Low wages at the grassroots level and staff outflow. To partially address this problem, UZ plans to raise salaries for all employees by 10% in 2024, not including additional payments to employees in scarce specialties.
Increased dependence on imported products. For example, earlier rails were produced at Azovstal, but now UZ is forced to import these products due to the destruction of the steel mill. In addition, UZ will purchase 115 tank cars for euro gauge from Slovakia's Tatravagonka.
Systemic problems with operational inefficiency of freight transportation. Constant experiments and changes in the rules of the game for shippers make UZ an unpredictable logistics partner and everyone who can chooses road transport over rail.
Infrastructure actions
The 2023 financial plan allocates UAH 50 billion for capital investments, which is four times more than in 2022. However, at the end of this year, the actual investment utilization rate will be at least half as much. According to the CTC, in 9 months of 2023, Ukrainian Railways utilized UAH 10.4 billion of capex, which is 40% or UAH 3 billion more than in the same period of 2022. It is expected that the total level of capex for 2023 will amount to UAH 26.8 billion. Failure to fulfill financial and investment plans is a classic disease of UZ in recent years.
In January-August, UZ repaired 854.3 km of tracks, which is 22% more than in the same period of 2022. Among them, track repair on new materials was performed on 217.4 km (+55%), and average repair – on 517.5 km of track (+17%). In 2022 Ukrainian Railways electrified 82 km of tracks and overhauled 470.5 km of tracks, as well as repaired infrastructure at 11 border crossings. But based on the standards of UZ, this is 30-50% less than necessary just to keep the railroad from deteriorating.
Unfortunately, during more than 600 days of war, not enough money has been invested in the export infrastructure of western border crossings. But perhaps the situation will change soon.
Among the infrastructure projects being implemented on the border with Poland are the following:
The Rava-Russkaya – State Border section with an operational length of 8.2 km has been restored.
The reconstruction of railway structures with electrification of the Kovel – Izov – State Border section has been completed.
Two railway sections have been restored, which will add two additional crossings: Khyrev – Starzhava – State Border (14.6 km) and Khyrev – Nizhankovichi – State Border (24.2 km).
A major overhaul of the 1435 mm gauge was carried out on the Kovel – Yagodin – State Border section.
In any case, the current level of capital investments is insufficient to maintain the existing railroad infrastructure and partial reconstruction in the liberated areas. According to KSE Institute estimates, the total direct losses from the Russian military aggression for railway infrastructure are estimated at $4.3 bln. As of June-2023, the total volume of damaged railway track is up to 507 km, the number of damaged or destroyed railway stations and stations in the controlled territory is more than 53, the total number of damaged, destroyed and lost buildings owned by Ukrzaliznytsia is estimated at 5.5 thousand and about 4 thousand structures.
Tariff increase
Last time Ukrainian Railways raised tariffs in 2022: from January 1 by 20.4% for first class cargo and by 6.5% – for second class, and from June 29 by 70% for all types of cargo. The latter increase, despite its significance, was passed without discussion with the business community. By increasing freight tariffs by 70%, UZ planned to receive additional UAH 11.3 bln of revenue by the end of 2022.
There was no increase in freight tariffs this year, and the financial plan of Ukrainian Railways for 2023 did not envisage it. However, next year UZ management will propose to the Cabinet of Ministers to index tariffs for freight transportation.
Indexation of tariffs for railroad freight transportation is made at the level of growth of the price index of industrial producers. At the same time, the State Statistics Committee has not announced the price indexes of manufacturers of industrial products since February last year, when the full-scale aggression of the Russian Federation began. In other words, if Ukrainian Railways plans to index tariffs for railway transportation, there is officially no benchmark for the increase. At the same time, it is methodologically incorrect to increase freight transportation tariffs based on the level of consumer price growth (inflation).
Apparently, the indexation will be held without discussion with business (as in 2022), because in the conditions of war, management decision-making may follow an abbreviated procedure. Business will not evaluate this initiative positively, but it is unlikely that it will be able to influence the decision. In turn, Ukrainian Railways has a powerful argument for raising tariffs – their tariffs are still many times lower than those paid by Ukrainian companies when delivering export cargo by rail through the EU.
Another initiative of Ukrainian Railways stands on a separate line. It is not the first year that the state-owned company wants to reform the tariff system of freight transportation by equalizing classes and establishing a single tariff for transportation of empty cars. In particular, it is proposed to reduce the number of prime rate schemes from the existing 29 to one and the number of coefficients from 15 to one. UZ proposes to take into account only the distance of transportation, cargo weight, specifics of transportation and routing. Perhaps, Ukrainian Railways will try to implement this idea in 2024.
The strategy of UZ (a classic state monopolist) continues to cause surprise and incomprehension among all shippers. Any business with problems in the market:
first of all works on quality of services to get back customers;
secondly throws all efforts to improve operational efficiency to reduce losses and costs;
thirdly thinks where to invest to get new opportunities and create new markets.
Unfortunately, apparently, Ukrainian Railways uses only one method of working with a constant drop in cargo transportation – a constant increase in tariffs. Which, in the future, will lead to an even greater loss of cargo transportation by rail. In pursuit of simple solutions, ГЯ has led itself into a vicious circle. Such measures do not solve systemic problems in the company. The scheme "Rising tariffs – falling freight traffic – falling UZ revenues – rising tariffs again" does not work and, according to many experts, leads the country's largest carrier to a "dead end".
---
---