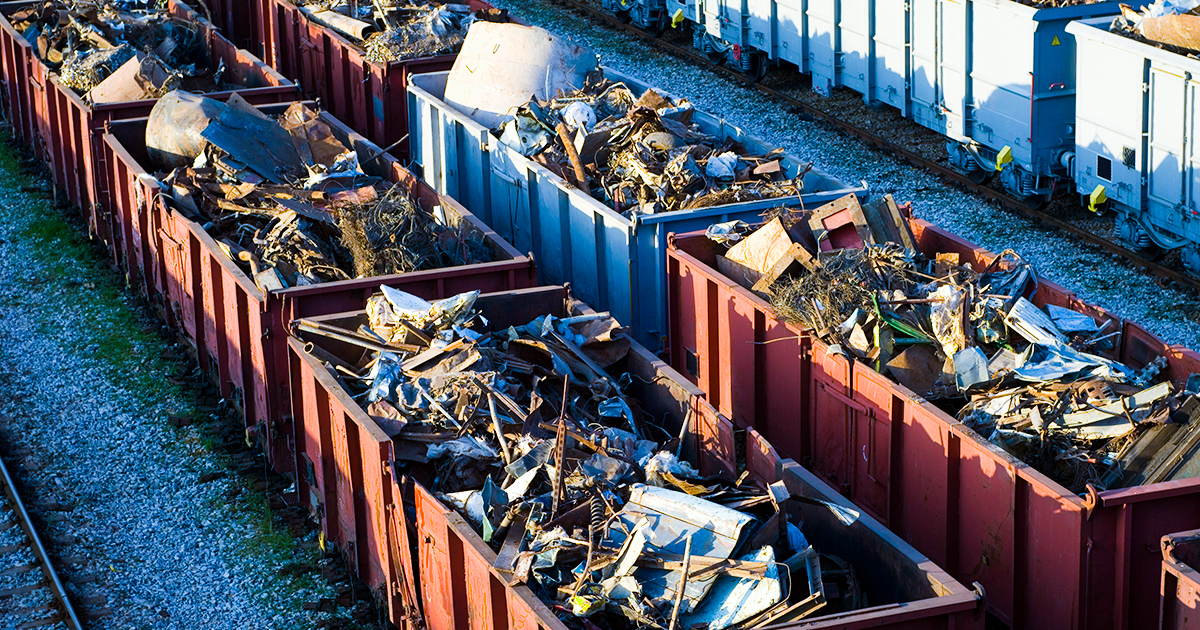 shutterstock.com
In 2018, scrap imports amounted only to 1.3% of consumption of this raw material by Ukrainian steel companies.
Russia will introduce quotas for scrap exports from 1 July till the end of the current year. It was a decision sought by Russian pipe manufacturers since December 2018. $1 billion of additional revenue is at stake. This revenue will arise after some scrap volumes and electric arc steelmaking capacities are switched to the domestic market.
The quota volume depends on the exports from a specific region during the last two years with the application of adjustment factors. However, starting from 2020, scrap will be exported only through sale at the exchange.
According to Metal Expert, in 2018, steel scrap exports from Russia amounted to around 5.5 million tons, including 2 million tons from the Northwestern District and 652 thousand tons from the Southern District, located close to Ukraine.
Current situation
The increase in the scrap export duty in Ukraine up to €58 per ton has taken its toll. In January — May, scrap supplies from Ukraine to foreign markets dropped almost ninefold, down to $10 million. The volume of exports decreased eightfold, down to 36.5 thousand tons.
As a result, scrap supplies to domestic customers went up. According to Ukrmetallurgprom, during the first five months of the current year, Ukrainian consumers have got 1.36 million tons from the procured 1.4 million tons of scrap (90% of the volume in the same period in 2018). It is by 5% higher than in January — May 2018.
However, during the five months of the current year, scrap collecting dropped by 8.9%, down to 1.56 million tons, as compared to 3.67 million tons in 2018. In addition, raw material buyers started reducing scrap purchase prices. As of 15 June, Ukrainian plants paid UAH 5,860–6,060 ($223–230) per ton of scrap. It is around UAH 100 less than on 5 June. In ten days, global prices have decreased by $10–20 per ton, down to $250–290 per ton.
According to UAVtormet Association, in 2019, scrap imports may amount to 80–100 thousand tons, scrap collecting may reach 2.9–3 million tons, supplies to iron and steel works — 3–3.1 million tons.
Role of Russian scrap
Russia ranks 1st in scrap exports to Ukraine according to the results of the first five months of 2019. In finance terms, its supplies have reached $7.26 million, or 49.1% of total imports. In 2018, Russia ranked 2nd in this context: $4.75 million (13% of imports) with an amount of 13.4 thousand tons.
According to Andrii Andreychykov, President of the Ukrainian Association of Secondary Metals and Resources, metal supplies from Russia were occasional, and importers (steelmakers) wanted to show to the domestic market that they can buy raw materials abroad as well.
"Interpipe and Metinvest were end users of Russian scrap. The inclusive price was much higher than the domestic one. In addition, there were some logistics difficulties," explained Volodymyr Bubley, President of UAVtormet Association.
Russia ships large consignments of scrap in freight cars or rail containers or by road through Kharkiv Customs Office. It is not quite economically feasible. In this regard, scrap transportation by trucks from Finland (with an unidentified country of origin) seems totally irrational, though several of such shipments took place in 2019.
Impact on Ukraine
Experts believe that Russian quotas will have no significant impact on the Ukrainian market due to low supplies.
"Introduction of metal scrap quotas has no significant effect on the Ukrainian market. Scrap imports from Russia are low as compared to the total scrap collecting. At the same time, quotas do not mean a total ban", explained Andrii Tarasenko, Chief Analyst of GMK Center.

"Currently, there is a surplus of scrap in the Ukrainian market, for this reason introduction of quotas by Russia will not affect us, at least in July and August," says Andrii Andreychykov. "Iron and steel works are supplied with scrap by around 200%, therefore steelmakers reduce purchase prices."
Due to the introduction of quotas, scrap prices in Turkey (in the primary market) can go up, while in Russia they can decrease, with no implications for Ukraine.
"These quotas won't affect domestic scrap prices and scrap collecting companies. In addition, the niche in the Russian scrap exports will not be filled with Ukrainian scrap due to the duty of €58 per ton. Such duty does not make Ukraine a player in the global scrap market," says Volodymyr Bubley.
The customs duty on scrap export in Russia is only 5%, but no less than €5 per ton. Given the current level of global scrap prices, the Russian duty is around 4 times lower than the Ukrainian one.
Russian quotas will have a slightly larger impact on the global market. Russia accounts for 5% of the global market, with scrap exports of 5.5 million tons. According to estimates, the quotas can result in a decrease in Russia's scrap exports by 1.5–2 million tons. It will affect the largest importers: Turkey, South Korea and Belarus, but not Ukraine.
Domestic risks
Scrap collecting companies are rather concerned about the reduced prices in the domestic market. They have reasonable concerns about the business margin and expect that providing customers with scrap might be a problem already in autumn.
"It will take scrap processing companies a month or two to ship their remaining stocks and "empty" their facilities. Still, as early as in autumn, there will be much less strategic raw material for steelmakers, i.e. scrap, in the domestic market. It won't be collected due to the reduced purchase price. To preserve the commodity output, steelmakers will have to import scrap at a high price. However, domestic scrap collecting will not be able to restore in a day," says Mykola Potylko, Chief Commercial Officer, UkrMet Centre LLC.
In general, in 2018, scrap imports amounted to 1.3% of the total supplies of this raw material to Ukrainian steel companies, or 42.6 thousand tons. It means that imported scrap makes no difference in the Ukrainian market and caters only to small needs of some companies.
In order to avoid dependence on scrap imports, Ukraine should bring order to the scrap collecting market, bring it out of the shadows, and improve investment climate in the country. It should also boost renewal of Ukrainian metal stocks. Little easily accessible scrap (except for household scrap) is left in our country. In the future, it can affect the volumes of its stocking and the need for imports may increase.
---