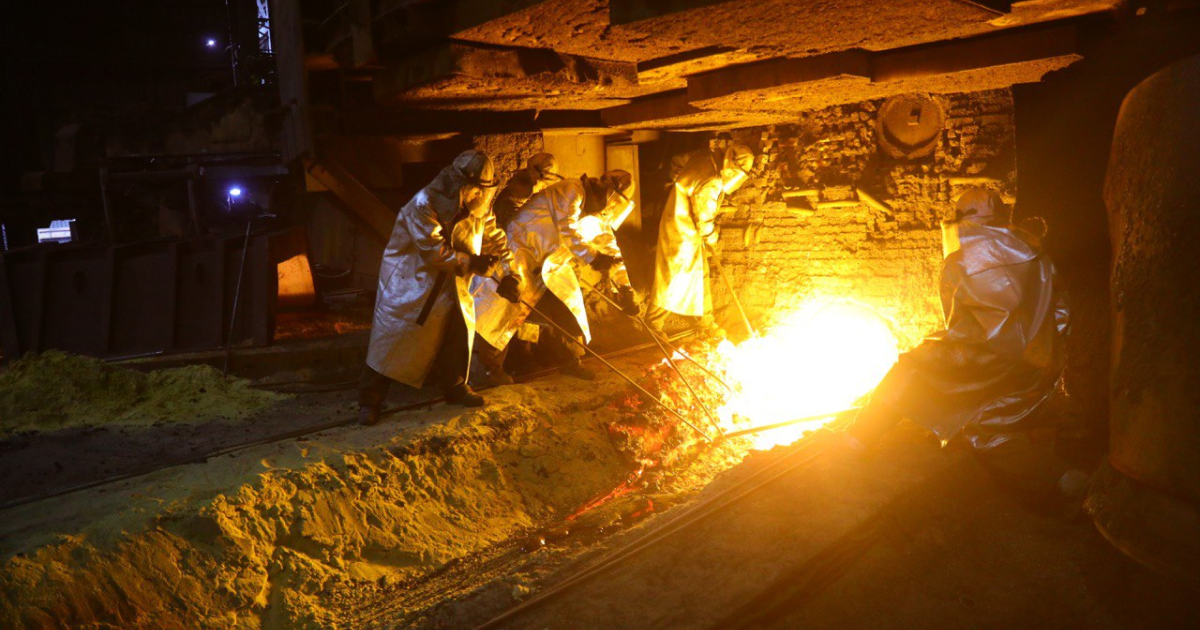 Zaporizhstal
The blast furnace will reach planned production capacity in the first decade of April
Zaporizhstal Iron and Steel Works, a joint venture of the Metinvest group, is taking blast furnace (BF) №2 out of forced hot preservation. From now on, the blast furnace shop of the enterprise will operate with three blast furnaces. This is stated in the press release of Zaporizhstal.
DP №2 has been in hot preservation mode since March 2022, it is being put into operation for the first time during the full-scale invasion of the Russian Federation into Ukraine. Blasting of the blast furnace is currently underway, it will reach the planned production capacity already in the first decade of April.
With three blast furnaces, the productivity of the Zaporizhstal blast furnace will increase to more than 8,000 tons of pig iron per day.
"The launch of the blast furnace was preceded by thorough work on ensuring production with sufficient volumes of raw materials. Today, we have such a solution that will allow us to increase production and, at the same time, increase payments to state budgets and the attraction of foreign exchange earnings to the national economy," noted the CEO of Zaporizhstal Roman Slobodyanuk.
During the period of forced hot conservation of BF2, specialists of the blast furnace shop and engineering services of Zaporizhstal performed comprehensive research, maintenance and repair of the unit's main components. In particular, a deep revision of the mechanical and electrical equipment of the blast furnace and its air heaters was carried out, a technical inspection and testing of the gas cleaning equipment was carried out to ensure the reliability of the unit's operation in accordance with the current environmental protection legislation.
Zaporizhstal is one of the largest industrial enterprises of Ukraine, the products of which are in demand among consumers both in the domestic and foreign markets. Plant specializes in the production of high-quality steel hot-rolled coil, hot-rolled and cold-rolled sheet, carbon steel and low-alloy steel coil, as well as steel strip, black tin and bent profile.
As GMK Center reported earlier, from the beginning of March 2022, the steel plant was put into hot preservation mode. On March 25, the company partially resumed work of the cold rolling shop's units – training machines 1700-1 and 1700-2, as well as longitudinal cutting unit №5. At the beginning of April two blast furnaces – №3 and №4 were launched, and later they  began to smelt iron.
In February 2023, Zaporizhstal produced 99.6 thousand tons of rolling stock. The volume of iron production for the month was 125.2 thousand tons, and steel – 119.4 thousand tons. In 2022, the enterprise reduced output of pig iron by 54.3% compared to 2021 – to 2.01 million tons. Steel smelting decreased by 61.7% – to 1.49 million tons, and the production of rolled products – by 60.4%, to 1.304 million tons.
---
---