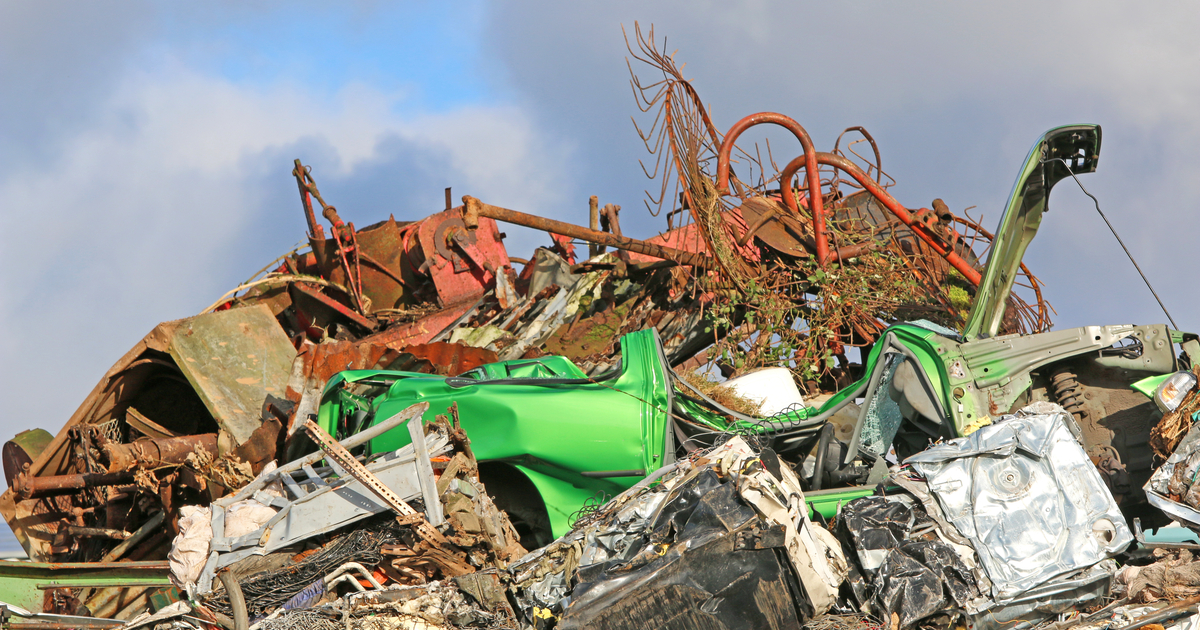 Scrap
Activity in the Turkish and Chinese markets picked up as commodity prices reached operational levels
World prices for scrap continued to fall during the past week, although some positive signals are already visible in the market. In particular, Turkish steelmakers have started to replenish raw material stocks amid sharp increase in domestic demand for steel. Chinese steelmakers have achieved optimal margins from sales of steel products at the expense of low raw material prices – accordingly, we can expect that the pressure on raw material prices from China will weaken.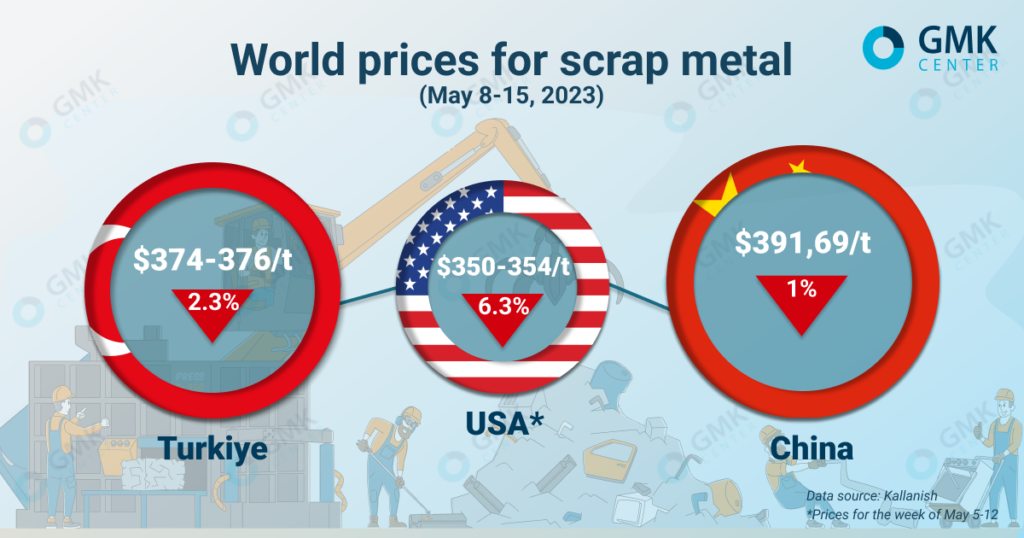 Prices for HMS 1/2 scrap in Turkiye for the week of May 8-15, 2023, decreased by 2.3% compared to the previous week – to $374-376/t.
Prices for imported raw materials on the Turkish market last week continued to decline for the fifth week in a row. Suppliers are forced to gradually reduce the margin from scrap sales in order to restore the interest of Turkish steelmakers in the purchase of raw materials.
Last week was marked by a revival of raw material purchases by local steelmakers, as domestic demand for steel began to rise sharply. This gave impetus to active scrap contracting for June. Agreements were concluded with European and American suppliers.
The recovery of domestic demand for steel has allowed steelmakers to increase activity in scrap purchases, but uncertainty about the outcome of the presidential election continues to weigh on the market. Based on this, the plants will cover only urgent needs and avoid large contracts.
In addition, a significant problem for the purchase of imported scrap is the fall in the exchange rate of the lira against foreign currencies. Plants face restrictions on the purchase of foreign currency and cannot pay for scrap. It also inhibits trade.
Some market participants expect that after the Turkish election, scrap prices will recover slightly and the market will see another round of purchases. At the same time, some of them predict a suspension of demand, as many contracts were signed last week, and Turkiye has a 9-day holiday in June.
Chinese market last week also saw a decrease in scrap prices – by 1%, to $391.69/t.
During the week of May 8-15, 2023, the capacity utilization level of plants operating on electric arc furnaces remained at the level of the previous week – up to 52%. Average daily scrap deliveries to the country's steel enterprises increased by 15% – up to 473.7 thousand tons, and average daily consumption – by 1.2%, up to 455.5 thousand tons. Steel plants restored the profitability of steel production after a sharp drop in raw material prices, which led to an increase in steel output and an increase in demand for scrap.
Imported scrap is not interesting for Chinese producers, as domestic prices are much lower than foreign offers. In addition, Chinese scrap quality standards are stricter than international ones. Currently, import offers are $390/t.
On the USA market for the week of May 5-12, 2023, scrap prices fell by 6.3% compared to the previous week – to $350-354/t. The dynamics of the US market match the trends of the Turkish market, as US scrap suppliers depend on exports to Turkiye.
After a long fall in raw material prices, demand has finally recovered as Turkish steelmakers have tapped into international markets. At the same time, it is noted that supply still outweighs demand, which may continue the downward trend in prices.
Most market participants are still undecided on the outlook for June trading, as Turkiye's presidential election carries a lot of uncertainty. Since the first round of elections did not determine the winner, the country will hold a second round scheduled for the end of May. This negatively affects market activity and the confidence of its participants.
«At the current level of scrap prices, Turkish steel producers will lose competition on the European market: quotations of Turkish plants for rebars are higher than those of other producers. Turkish plants refuse to buy scrap and put pressure on suppliers to reach an acceptable and competitive price level. The search for equilibrium will take time, and in the next 2-3 months, the drop in scrap prices may continue,» notes the GMK Center analyst Andriy Glushchenko.
As GMK Center reported earlier, Ukraine in January-April 2023 increased the export of scrap 7.9 times per year – up to 56.4 thousand tons. Scrap production decreased by 40.8% y/y – to 366.6 thousand tons. Scrap supplies to Ukrainian steel plants decreased by 49.8% y/y – to 292.8 thousand tons.
---
---