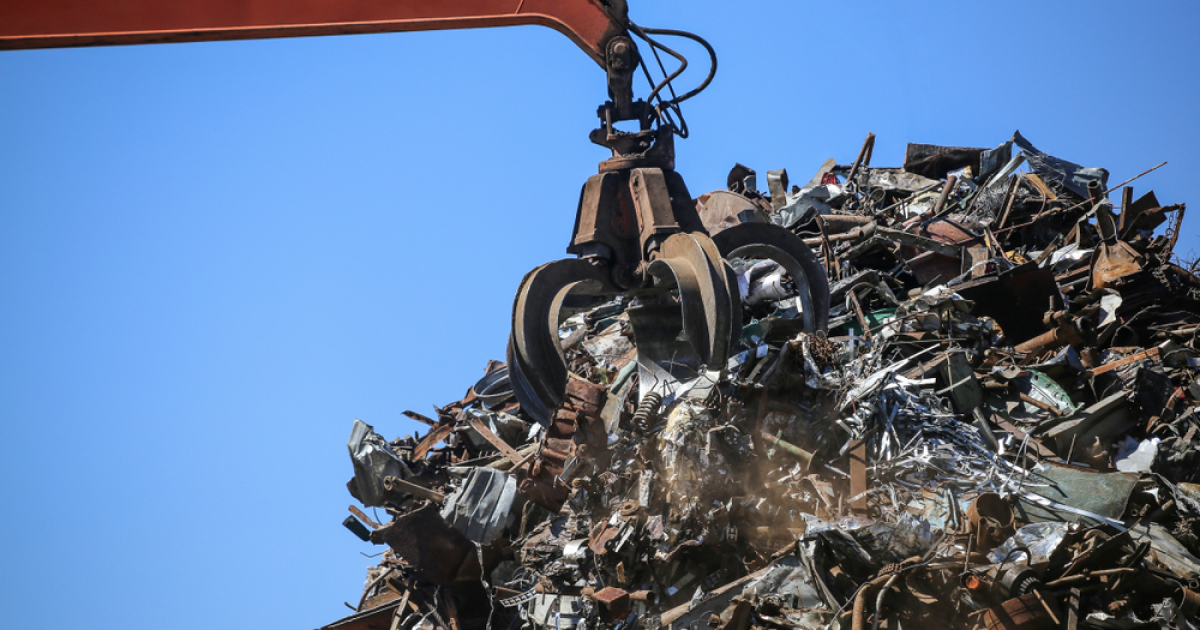 Scrap
China is breaking out of the general trend thanks to a recovery in steel demand
Global scrap prices continued to decline last week due to lack of trading activity in the Turkish market and uncertainty in finished steel markets in many parts of the world.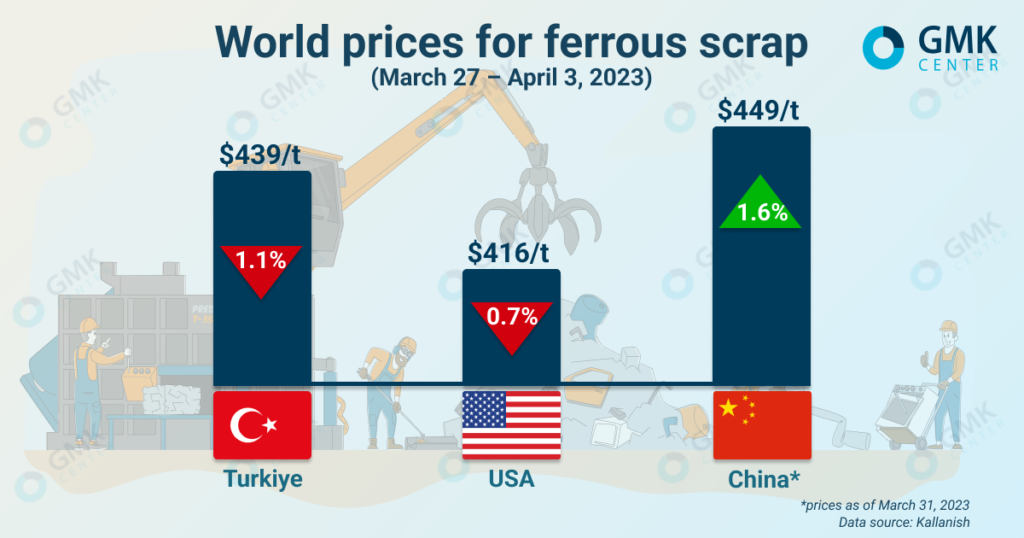 Prices for HMS 1/2 scrap on the Turkish market, according to Kallanish, during March 27 – April 3, 2023, fell by $5/t, or by 1.1%, compared to the previous week – to $439/t. Thus, quotations of raw materials on the Turkish market have fallen for the second week in a row.
Scrap quotations continued to decline last week as Turkish steel mills refrained from purchases. Although local steelmakers' inventories are low, no contracting is taking place as most producers await a recovery in steel demand before resuming purchases of raw materials.
Demand for rebar in Turkiye is low, with prices continuing to fall due to Ramadan, upcoming elections and uncertainty over the recovery of earthquake-hit cities.
According to traders, soon steelmakers will have to return to the market, as the reserves of raw materials will gradually run out. Holding back purchases by steelmakers in the future could be reflected in a sharp jump in scrap prices, when everyone needs raw materials and supply is limited due to low collection rates.
In the short term, Turkiye's scrap market should recover, as electricity and gas prices for the country's heavy industry have been reduced by 15% and 20%, respectively, from 1 April 2023.
Increasing the margins of the mills by reducing the costs of non-energy resources will allow the purchase of raw materials, in particular, scrap at market prices, so a further decrease is not expected. Traders indicate that the current price is the lowest that can be offered amid high freight costs.
The recovery of the scrap market will be restrained by uncertainty in the finished steel market. Sales of Turkish rebars are at a low level, but the recent decline in energy costs has allowed local producers to lower product prices to win orders and regain competitiveness in the global market, although there has been no uptick in purchases so far.
Despite the current unfavorable situation in the Turkish scrap market, most participants expect the recovery of domestic demand for rebar and scrap in Turkiye this week. The May purchases of raw materials to the local steel mills have mostly not been completed, and some plants have not even finished booking their April shipments.
On the USA market scrap metal quotations repeat Turkiye's trends. For the week of March 27-April 3, 2023, prices for HMS 1/2 scrap on the East Coast fell by $3/t, or by 0.7% compared to the previous week – to $412-416/t. The decline in prices has been observed for the second week in a row.
Sentiment on the US market weakened amid falling prices in Turkiye and lack of demand from Turkish steelmakers. Although most market participants did not expect a downward trend, recent contracts for American scrap from Turkish customers point to the inevitability of price declines.
Overall export demand for US scrap is also low due to a slowdown in global trade, which is also putting pressure on prices. On the other hand, scrap supply remains tight and restrains the decline.
Strong domestic demand is restraining the fall in prices in the local market, but the pace of production growth at local steel mills is gradually slowing down, so this trend is not long-term. Many local mills are expected to experience seasonal maintenance shutdowns during April, making the market more dependent on export demand.
According to market participants, on the eve of April trading, prices will continue to decrease for depreciation scrap, but for crushed scrap and high-grade raw materials will increase. On the US East and West coasts, scrap quotations will fall due to weak export demand, while the Midwest will likely rise.
Chinese scrap market (Eastern China) for the week of March 24-31, 2023, recovered by $7/t compared to the previous week – to $449/t amid the revival of steel production.
Steel enterprises of the country, which work on electric arc furnaces, last week were loaded by 82.3%, which is 5.3 percentage points less compared to the previous week. At the same time, the average daily scrap consumption during this period increased slightly – by 0.4%, to 323,000 tons.
China's scrap import market is quite calm. Negotiations on import agreements are not underway. According to steelmakers, the highest viable price for imported scrap in China is currently around $400/t, but imported raw materials are offered at $450-470/t. In general, there is currently no interest in foreign raw materials, as price levels for imported scrap significantly exceed domestic supply.
As GMK Center reported earlier, the volumes of scrap metal collection in Ukraine in January-February 2023 decreased by 70.8% compared to the same period in 2022 – to 152.2 thousand tons. The export of raw materials during this period amounted to 24.8 thousand tons, which is 3.5 times more y/y, and import – 0.04 thousand tons (-60% y/y).
---
---