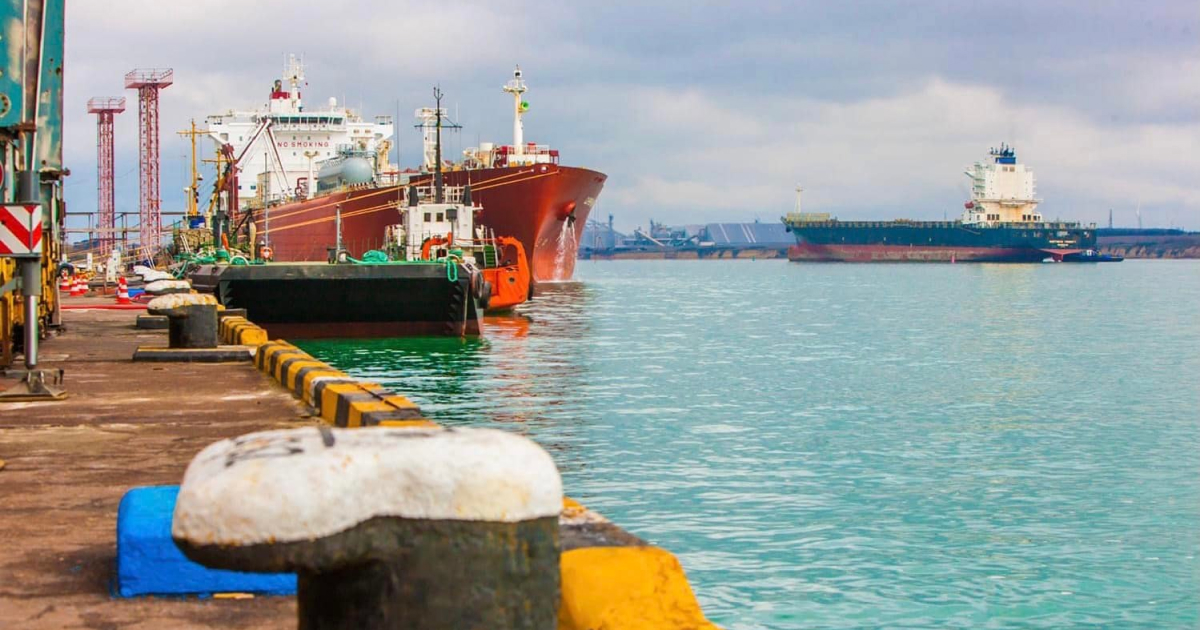 (с) facebook.com/uspa.yuzhny
In 2021, the port shipped 77% of all ore that was exported by sea
What does the Pivdennyi sea port mean for the iron&steel industry of Ukraine? According to the results of 2021, the port shipped 77% of the total iron ore export by sea.
The Pivdennyi port was founded in July 1978. The length of the mooring line of the warehouse reaches 5.5 km, and the depth is 20 m. The port is adjacent to the railway stations Beregova, through which almost all cargoes of the mining and metals complex are shipped, Khimichna and Promyslova stations. The operation of the port ensured the transshipment of more than 54 million tons of cargo, or 35% of the entire cargo turnover of Ukrainian seaports.
In 2021, the Pivdennyi port processed 29.14 million tons of iron and manganese ore, reducing the index by 15.3% compared to 2020. In total, seaports of Ukraine handled 37.75 million tons of ore last year (-14.8%). Thus, Pivdennyi accounts for 77.2% of the iron ore exported last year. In addition, ore is one of the main cargoes of the port, accounting for almost 55% of the total cargo flow.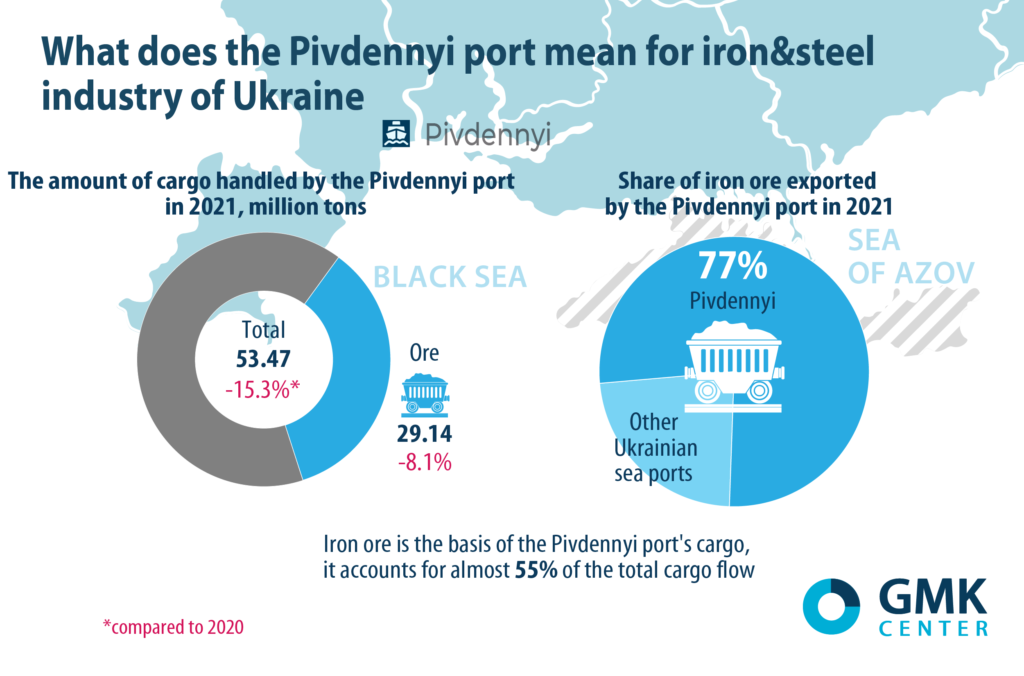 The port started 2022 with positive indicators, increasing ore transshipment by 5% compared to January 2021, to 2.247 million tons, and total cargo handling by 37.9%, to 5.105 million tons. After the war beginning cargo transshipment continued as long as it was possible. In mid-March, the Ministry of Infrastructure reported, that the ports of Mykolaiv and Pivdenny continued partial shipment of ore and steel products, but later transshipment was stopped due to the mining of sea lanes and threats of piracy from the ships of the Black Sea Fleet of the Russian Federation.
Ukrainian steelmakers suffered and continue to suffer from the blockade of seaports. In the first half of 2022, the export of iron and manganese ore decreased by 24.2% compared to the same period in 2021 – to 17.01 million tons. At the same time, in the first quarter, about 10.6 million tons of ore were exported, and in the second – 6.4 million tons.
It is possible to resume the export of iron&steel products, as on July 22, Ukraine, the Russian Federation, Turkey and the UN signed a contract on the export of grain, related food products and fertilizers through Ukrainian ports, and the Minister of Economy Taras Kachka called for the extension of the grain corridor agreement for other goods, in particular for iron ore.
Port Pivdenny is a commercial seaport in the city of Yuzhne, on the Black Sea coast, in the water area of ​​the Small Ajalytsky estuary – the largest and most profitable port of Ukraine. The main directions of cargo flows: the Black Sea and the Mediterranean basin, the USA, Latin America, the Middle East, Southeast Asia.
Currently, 14 companies, including two state-owned, handle cargo in the water area of ​​the Pivdenny seaport.
---
---